WhartonBrooks gives us a peek at Cerulean Windows phones!
Connecticut-based Windows phone OEM finally gives the world a subtle peek at Cerulean phones!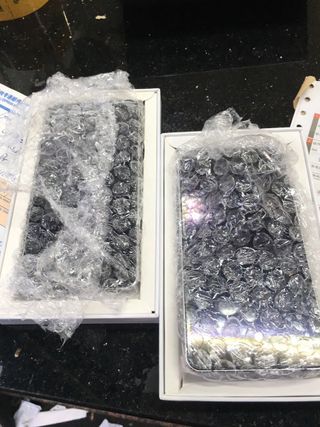 In the popular film Jerry Maguire, the main character famously shouted, "Show me the money!" As I have taken the opportunity to chronicle the unique story of WhartonBrooks, the only phone OEM making Windows phones for the Windows fans, many fans have shouted "Show me the phone!" I have asserted over the course of this journey that that reveal would come when we reached that stage in the journey. That time is now. CEO Greg Murphy provided me with the following image to share with the fans!
Here is your first peek.
For the last couple of months WhartonBrooks has been relatively silent. Per Murphy the company was advised by Microsoft to communicate "hard facts only." I exclusively reported an "experiment" Murphy is conducting where he supplied skeptical fans with more detailed information in an attempt to win more support:
Now, in a late night tweet, Murphy has given us a peek at the company's Cerulean phones with the tease, "Should we name them?"
What do fans think?
Stay tuned to Windows Central for your WhartonBrooks updates, as we'll have the latest on this unique story of the only Windows phone company founded by a fan, for the fans!
Follow the journey:
Jason L Ward is a columnist at Windows Central. He provides unique big picture analysis of the complex world of Microsoft. Jason takes the small clues and gives you an insightful big picture perspective through storytelling that you won't find *anywhere* else. Seriously, this dude thinks outside the box. Follow him on Twitter at @JLTechWord. He's doing the "write" thing!
Thanks for reading folks! Stay tuned to Windows Central for your latest updates to this unique story. It looks like the WhartonBrooks journey is on a solid course to bringing a Windows phone to the fans. Of course there are still hurdles to cross, but progress is being made. Finally, as the old saying goes, a picture is worth a thousand words. Hopefully this image helps to assuage at least some of the criticism skeptics have. As the most recent piece in this story provided, Murphy is attempting to connect with the fan base by offering more information. Do his latest efforts at transparency help? And what do you think of what you can see of the phones? Well you know the drill LET'S TALK!!!

Well done Jason. The hyper skeptics appear to be wrong, which is good news for the rest of us.

I think the main scepticism is more that these will be rebadged phones that are already dated at release, being in the UK and already having a Lumia 950 I'm not really every going to buy one of these, but I hope they do well and are able to make more phones in the future.

I think that at version 1.0 it doesn't really matter what these phones are.... this first phone is a learning process... Heck, the Samsung Galaxy S1 was a piece of shiznit, and at 4.3" was criticized for being "too big"..... It wasn't until version 3 those devices really took off..... Same might be the case here,,, and also might not be the case. We have to wait for more details...... But, the prospect of a V2, or 3 WB device sounds tasty to me............... Especially if WB tries to match an alleged Surface Phone.
No need to worry, at this point. This is a huge personal win for "WP" fans.

Appears to be over 5.5".. Looks like at least 5.7".

Let's hope for 2 sizes...

What it looks like is a Nexus 6P sans speaker grills.

I'm sorry, the hyper skeptics aren't wrong. Really, the "peek" is not a peek, Jason, you've got to be kidding, I mean they're covered in bubble wrap LOL. Any number of Chinese ODM devices could have been wrapped and presented in this manner, what is Greg hiding that he feels the need to present a picture that is all but worthless in terms of the market being able to assess viability. Geez, these guys don't even know how to do a proper "leak"/sneak peek, what a joke.

OMFG. Thank you! Thank you! Thank you!! I can't believe what you've allowed us to see. Unreal. Never seen anything like these before. Black slabs. Who would of thought! Brilliant. These will absolutley change the wireless world. I'm so excited I cannot wait to drop hundreds of dollars on these special looking black slabs.

Stop..... Nobody owes you anything... Your pretentiousness is doing more harm than good... We must be encouraging in order to keep transparency, well,,,, transparent!... Lol. Free your mind, and your ass will follow.

The sneak peak is actually the bubble wrap. They are marketing a new bubble wrap to protect all phones.

Did you read the last article he wrote about them? This is part of Greg Murphy's quote: "We are so concerned about false information that we have been silent for some time. We had several podcasts recorded, but the details changed so we did not release them. This happened several times with press releases and tweets that we planned. So here is the latest. The latest sample will be shipped this Saturday. We should receive it in 7-10 days from China. I will run a test with SIMs from several US carriers. If they work - there will be a lot to talk about. Otherwise, we will press on." While I understand about a bubble wrap picture not really being a leak per se, it does at least show that there are actual devices being tested. Furthermore, where they are in the process of everything what would be the point in actually leaking something that they don't know yet is the final product?

eryker, I think it's way off-base to say this peak is aimed at allowing the market to assess viability. I've seen startups go through excruciatingly long delays. Believe me, Greg Murphy is just ecstatic to finally get test devices in house and let everyone know about this important and concrete milestone.

eryker, I think it's way off-base to see this peak as aimed at allowing the market or anyone to assess viability. I've seen startups go through excruciatingly long delays. Believe me, Greg Murphy is just ecstatic to finally get test devices in house and let everyone know about this important and concrete milestone.

So because an item is wrapped in bubble wrap it doesn't exist? The government should start using bubble wrap as a cloaking mechanism.

Jason, can someone confirm/deny if they at least are shooting for a Verizon release? Due to my geography, Verizon is my only viable option. If new devices don't show up soon, I have no choice but to change to another platform.

Possibly! https://twitter.com/ceruleanmobile/status/794589665215004677

Needs band 13 on CDMA LTE for Verizon. Just 2 and 4 won't cut it. This is disappointing.

Yes, please include Verizon. Unfortunately, from the link @MAUXIIS provided, it looks like it can't. As @buzzard75 said, Verizon needs LTE band 13.

Jason, tell them, simple names please. I'm begging, cuz I've seen some pretty dumb and complicated names from manufacturers. Lol

I'm excited and cautiously optimistic.

We have phones! Can't kill us!

That makes it look like 650. 😀

At least 650 look isn't that bad, especially if its really a aluminium sides or unibody, we can't tell in the photo. As look as it actually looks sleek and elegant, as long as it won't be bland looking it's all good. I hope this is going to be really good one!

650 looks amazing. My friend who has a S7 edge was ready to trade his S7 for my 650 (of course jokingly) because of the looks and the AMOLED display. I was looking at my 650 from a similar angle just to compare. The metal part of that phone looks a little thicker than the 650's. Anyway let's hope it not only looks good but also has everything we want.

I like the look of the 650, my dad has one, i have the 950, if the 650 could do everything the 950 can (camera, processor ram sensors etc) i'd choose the 650 any day, and I love my 950 even with its flaws, still love my 1520 (RIP) if only the screen hadn't died. Looking forward to see what Cerulean bring to the table!

Or could be plastic with metallic coating.

I hope they get some good deals with local carriers.

"Carrier Exclusives"? No way, that's never worked before and doomed for failure from the off.

It works were I live. You sign a contract and they give you a phone for free if you are paying monthly with a CC or bank account. My phone is contract free but I'm one of a few.

They did say the last delay was to add more bands. After all it's good for them to release everywhere, at least to all US carriers for starters. Finger crossed we see it at MWC

And also sell it online unlocked at Lazada or something.

So... They look like phones.

I know right, I don't know what I was expecting. Space ship maybe ???

I was expecting more than a black slab in a bit of bubble wra. .

Well... That "black slab in a bit of bubble wra" is my next hope, since in my country the beast WP available is the one I'm using, a lumia 930...

Haven't you heard the saying "don't put all your eggs in one basket?"

Well, let me say it again. There is no current "flagship" smartphone here. I have one egg, and no basket, gotta put it somewhere right? Lol

But don't take me wrong, I'm also a bit skeptical about those things... Its just that when you're a WP fan you have 2 choices, be optimistic, or go home

Huawei Mate is a line of nice products. Oh wait...

The 930 even though its now very old is still a pretty decent phone overall, I had one when my 950 was in for repairs then passed it down to my mum to replace her 920 that needed a new charging circuit.

Not saying that it is bad, it is really good, bad side is that it doesn't have continuum... I love my 930, but i admit that its "glory days" are over

Loved the 930 until the current slow ring release (14965.1001), which's been running for way too long. Nightmare with random restarts, obnoxious wifi drop outs and more...

I'm still using my Lumia 920, as second phone. Slow but works.

Why were you expecting more? You knew this was coming? What was promised to you?

Rodney, well it was promised that this phone would be ground breaking and a game changer

It was.... But, we don't even know what it is yet.. Lol

Exactly like all iterations of Samsung Galaxy and Iphones look like phones. You are very observant. Thumbs up for you.

Yeah, and I care just as little about the outside of them too. I care about the internals, but we don't get that information just yet.

I agree with you about outward appearances. I have never seen another phone that made me envious. In fact, I seldom pay attention to another persons phone at all.

So when is a phone not a phone? Seriously, you people....

Have to give the CEO props, progress is being made. Thanks for the update Jason!

Verizon? I'm not sure how they differentiate otherwise.

Unfortunately, based on https://twitter.com/ceruleanmobile/status/794589665215004677, looks like they don't include LTE Band 13, which is at least one of the critical bands Verizon needs that is not used by AT&T. If Greg Murphy sees this, Greg, can you try to get band 13 so we have a shot at it working on Verizon? If it's a decent phone and not a step down from my Lumia Icon, I'd buy a few for my family just to support your guys, but we only get reception on Verizon here.

If it's for fans who shout yay 👏 at every random launch then buy android or ios then it's fine..if it for fans who are fans who love to have low end bad looking device then it's fine.. If it for fans who love Lumia designs and hate L950xl still bought & using Lumia 950xl because there isn't any good looking windows mobile for them this looks like dogshit.. Only saving grace will be to price high end to very very low and release in india/china/uk/japan.

Dunno, but let's hope it he meant good

Lol.. funny stuff. Best comment, on your part.

Yeah.what does that mean?

That means it isn't for fans who love Nokia Lumia designs, it isn't for fans who love windows but ended up buying ios or android.. It may be for those who love windows but prefer to buy only low end..in short design looks bad, camera will be obviously bad may compete with likes of Chinese android oems Xiaomi etc, if they want to success they must price it lower than Chinese oems android with high spec..ya I don't like design it looks like L950xl with 3rd party Chinese back cover(which I'm using now).

Dude... I know that you may not like the design (I really liked the 720...), but admit, that's a nice looking phone for a first glance, you may compare it to the 930, 830 (the difference is just that the Cerulean doesn't have such a sharp edge), if you take a closer look, it could even be compared to the 520, just thinner and with a metal frame... Besides, I know everyone is looking forward to see how this phone turns out, but keep in mind, I'm pretty sure that the purpose of this post (both on twitter and here) isn't to show the phone's design, it is to show that progress is being made, that they didn't forget about us, mere mortals. About it being a low end device... I know that flagships are the ones the get more attention, but given the WP history, low end has always sold more. This is their very first mobile phone, I would expect them to go with a design similar to some high end Samsungs and make a middle end phone, they need to prove to investors that they can make money, so they can get more money to make the goodies. And don't forget that the Frankenstein's monster is still around, if you don't like the cerulean, you can always try with HP's... Hope I helped... And also that I didn't disturbe the peace among the designs hardcore fans that are probably going to crucify me for saying that it looks like some old lumias...

Well written post. Thanks!

Seriously, you could see the design through all that bubble wrap? I am intrigued by your third eye. Tell me more. What processor, ram, expandable memory,size of camera, dual sim or not? They are a start up company, give them a F'ing break. Be glad they are trying to appease back people who like windows mobile. I would be buying one to support them even if it is priced high, hoping it will be coming to land down under.

They also said Brazil, please don't forget us! Lol

I could give a crap less about how my phone looks ( I case it up anyway), I care about how it works. Performance to me is superior to a pretty device that will break the moment I barely drop it.

I couldn't agree more, performance is superior.

I'm sure it would be dual, a single it kinda step backwards. Unless this is some cheap bargin model with a better one yet to come.

ROFLMAO... What the heck is this ???? Mr BlurryCam is better than Mr BubblesbagCam To me those are Samsung Galaxy S7 device ROFLMAO!

You need to get out more if that comment of yours makes you laugh that hard ;)

He he.Been reading through the contributions in comments and laughing my heart out.Oh,Windows fan zone is awesome.But about the slab,keeping my fingers crossed.

Hope they test well, and we can finally hear about some specs.

Those look pretty good even though they're still in bubblewrap.

Off the topic.The store is acting funny after the latest insider build 15014,Does anyone have the same issue?L950

Yea downloads don't start until I restart the phone. But please check forums, they might actually have answers

Also, leave feedback at the hub

Looks promising. ... something for the wp fans is better than nothing. I wish wharton brooks the greatest of successes!

If it works great in every aspect than L950 then I will surely buy this 😋

Expecting this phone to be greater than L950 is a tall order.All I want them to do is to reduce the bezel before releasing into the market.

Reducing the bezel, from what?

I looked more closely now.The bezel is ok.

It has to be better than the 950. Otherwise what is the point of this?

My lumia 950 battery performance is horrible. Any other phone with a FHD screen is an upgrade for me from that...

Pls bring those in Europe!!!

They should set up a website to sell internationally with fast delivery and not tied to and damn network.

Problem is, 90% of phones are sold through networks, either directly or via a third party. Luckily in the UK now though, most carriers sell their phones unlocked.

I would expect all of their phones to be international radio devices. It would be a waste of time to build otherwise.

I guess my expectation of any new windows phone, whether released by Microsoft, HP or WhartonBrooks, would be a bleeding edge folding screen 3-in-1 device. I just can't see the point of releasing another black rectangle. It won't have any defining features that set it apart. Ten out ten for effort but I can't see a market for it. I love w10m. Please let me be wrong.

Don't worry you'll have your turn. Me, I need an update from my L930 that is not a 950/xl, nor the expensive x3. That's why I really look forward to this release. Win10mobile is a whole other discussion though...

It's good to see progress finally being made. It can't be easy creating or launching any new smartphone in the current market, let alone a Windoes one that nearly 99% don't want. I really hope this gets released. It would be nice to see it available here in Thailand too.

There probably is a market to sell a few million of these if they are good. Strategically this could be really important in terms of raw numbers of phones out there, unless MS pull the plug on the Mobile OS and just go for complete or almost complete windows.

Less than 1% market share in sales does NOT = "99% don't want a it". Many potential buyers know little or nothing about Windows phone or can't get one in the country, carrier or model of their choice.

Popping the bubble wraps is so much saisfying while some one is having this joy, take another photo of the phone ;)

This looks amazing given it is in bubble wrap, looking forward to seeing how this goes. Please release this in Australia!!!

Yeah, hopefully somebody bless us more Windows phones here in Australia. Hopefully the cost would be really affordable to the point of good replacement with old Lumia phones on shopping centers and carriers that are mostly dominated by Android of course.

Pls bring this phone to india also,there thousands of windows phone fans here u can see for yourself that windows phone devices are in huge demand and x50 series lumia are out of stock and third party windows devices are also out of stock pls release this mobile in india

"What do fans think?" Seriously? Think about what? It's a black slab that could be literally any phone, wrapped in bubble wrap (and what kind of manuifacturer uses bubble wrap?). This WhartonBrooks circlejerk super hype is getting a little pathetic. Windows Central is the only site I've seen that keeps posting these no-new-info "articles". Really, how much are they paying you guys to write these?

Windows central is for Windows fans

Granted. Still does not explain why a twit about a photo about.... nothing, really - a black slab that can be literally any phone - deserves an article, particularly when such article is meant to "prove" that the much spoken about phone does indeed exists and that it is worth the hype. The photo is worthless as evidence of the former, let alone the latter. But hey, watch my comment being down voted for stating the obvious in 3, 2, 1....

It looks like it is this phone as rumored. https://mspoweruser.com/coship-moly-pcphone-w6-to-be-a-continuum-capable...

They could have sold a bunch even if its a rebadged phone but Jason seems to hv raised the expectations too much.

How many times will you make this baseless claim?

Look at them, from what we can see they are identical and it matches rumors from before. You really think they are capable of designing and manufacturing their own phones? No way, it is definitely going to be a rebadge.

Identical? the phone you posted a link of is white. I'm not sure you understand what identical means.

Are you serious?! The color! lol

Well considering all you can see from the photo is a black phone with grey/silver edges, yes, te color is all you've got to go on. You can't tell if there are any physical buttons anywhere, you can't tell where the speakers and mic are, you can't even tell what size it is. This literally looks more like a Galaxy S7 than it does the phone you posted.

https://mspoweruser.com/whartonbrookss-offers-a-peek-of-their-windows-10... There is the article. They claim the cutouts and button placement are identical. You can also see the edges and color are also very similar to the black one. It was already rumored to be a rebadged PCPhone. This isn't a crazy claim to make.

Actually, the phones in the tweet have 2 cutouts in the cardboard if you look closely at the right side of the left picture, the phones that MSPU (who are certainly not a good source of information BTW), and the PCPhone has only one set of buttons on the right side. So if we're automatically assuming that cut outs in the cardboard are for buttons (not a stretch to think that, I will give anyone that) It looks like the phone in the tweet has a button in an extra place, though I can't see any buttons on the left hand side. Try thinking for yourself instead of regurgitating something you read without doing any kind of research (especially when all you gotta do is look closely at a photo)

Maybe like was they did with Alcatal. No just badging change, but some different specs too. Otherwise it wouldn't have taken so long. Too early to tell. All speculation and guesses. Will judge the product if it does make it to retail.

Good news! Now we know they have a screen!!! What a relief...

The joke being that we are eager to have more choices,but the platform is cagey with Windows Phone news.Releasing information piecemeal.

Please WhartonBrooks, bring to Brazil!

It sadly shows the state of Windows Phone when Windows Central use exactly the same photo which shows pretty much nothing three times in one article..

Something is better then nothing

I can understand why they held back publishing earlier podcasts when circumstances changed. It was the right thing to do. It's encouraging to see the phones are nearly ready for prime time. I like its size. Looks pretty good. Thanks for showing a glimpse Jason!

Oh you big tease Greg. I bet the next photo will be of just the pulled down over the shoulder.

I count 11 bubbles long by 6 wide, but I don't have any bubble wrap lying about to measure for comparison. Anyone?

Does it look like iphone 6? 🤔

Pls windows phone fans and loyalist pls be patient,in the smartphone world where no one is building windows devices we need every oem we can get,we can at least be happy that someone is building a device for this community,pls guyz just be patient

Seriously, who cares? It's a phone. It looks like any number of other phones already on the market. What are the internals? RAM, internal storage, SoC, camera, fingerprint reader, continuum, double SIM, worldwide band compatibility, sd card slot, USB-c etc.. Those are the important bits.. Unfortunately, I think this may all be a little too late. Many people have already left the platform, more are leaving, Microsoft squandered double digit market share in large parts of Europe and even there the market is now non existent. People (well, companies) are finally starting to call them out on it though, no longer is the reason apps are being pulled just due to lack of usage or interest, but a clear narrative that Microsoft has abandoned ship a long time ago.

I sadly agree, but I'm still going to hang in here a bit longer. Going on 14 years of using only WM now...

Sadly you make a good point, what's left of windows mobile is for the fans as msft own ppl don't even use the phones. I'm going to hang in til further notice

Really want these to be great. let's hope they do not disappoint. And also lets hope they are marketed internationally.