What color Lumia 1520 should you get? Join the dicussion.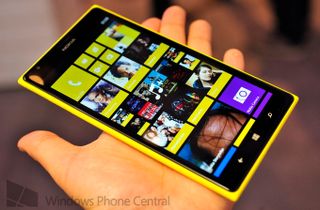 Your smartphone can say a lot about you, especially if your smartphone happens to be the massive Nokia Lumia 1520. There's just no mistaking that trademark Lumia look and the 6-inch 1080p screen. So when our fellow forum user, fawzib, who loves the yellow, but wants the professional vibe of white, couldn't decide, what did he do? He took to the Windows Phone Central forums for some input, that's what.
A large phone like Lumia 1520 is going to draw a lot of attention as it is, so choosing a color can be a big decision. And with this phablet, Nokia offers you four of its well-known choices: black, white, red, and yellow. What kind of person are you?
Does the classic black suit your desire to blend in with the business crowd, or does the shocking yellow appeal to your urge to stand out? Perhaps the white gives you that balance of sleekness and neutrality you are looking for.
Of course, if you're feeling bold, there's always glossy red, which is the preferred choice of our own Mark Guim (Daniel prefers white, but misses yellow).
If you're thinking of picking up a Lumia 1520 or already pulled the trigger on one, come join the discussion and tell us what goes into deciding your choice of colors. We're sure fawzib will enjoy your thoughts!
Yeah, definitely! Most beautiful color in the world!

Put the Yellow one on Sprint and I'll buy it. Posted via the WPC App for Android!

Got myself a yellow one and bought a thin blue flip case off eBay and I love how they blend.

Brown didn't work out so good for Zune. Remember the brown Zune? Neither does anyone else. It was even less well received than W8.

Picked mine up in yellow and then got a red cover over it. It really stands out that way.

No offense but that just sounds awful. Each to their own though.

You could get a job driving the Oscar Meyer wagon!

I'd get black... IT'S NOT AVAILABLE FOR T-MOBILE!!!!!

I would get yellow but i'm on the Anti High end WP8 network T-MO

This sucks. I got a 925 on Tmo. I guess I'll use my JUMP and get a note. I'd much rather get a 1525. Even though Tmo sells more W8Phones than any other carrier they don't have a High End phone.

Got a white one, with a red Nillkin Matte hard case, a looker

I got mine in red. I like it! Black or white would be more netural.

The color that's available to any other carrier besides AT&T. Duh.lol

Please bing or duckduckgo it!

Google one of the colours of the rainbow? Although if you're calling people "b**ch" perhaps you're not there yet at school :)

Once you go black you never go back...

You mean United Red! Nokia said so themselves! So its official! http://conversations.nokia.com/2013/05/08/a-parting-gift-for-sir-alex-fe...

That's why you have MAN. City blue around your photo? :D BTW i have yellow phone, so maybe red for new one.

I sadly had to go black bcuz it was the only color for the 32gb model. I would have prefered white,red or yellow as that's what makes this Nokia and wp8 stand out..(at least on the outside). I was sad to get the black but again I was not going to downgrade from my 920 to a 16gb just so I could have the flashy color. Once I went black I wanted to go back...to red or white!!

I bought yellow on day one. I figured expandable storage would be okay but now I realized it was a mistake. Both my 1020 and 920 deceived me by always having storage left but I didn't realize how much storage was assigned to apps. Now I find myself deleting apps whenever I feel the need to install a new game.

It's just that you can't install apps on expandable storage. This is likely to change with the next update, so you'll be much happier.

Wait! Is it really? Cause I'm in the same boat. I got the white one, and it's such a beautiful phone. I love it. It happens to get me peppered with questions, mostly "is that a phone or a tablet". I thought it would be no problem having 16GB internal since my media is on a 64GB card, but now I am deleting games every 2-3 days because I got one here or there that's too big, like Dungeon Hunter, and it's driving me crazy! I only had 2GB of apps on my 920. It was music and all the concert videos I was taking that went through that space. I can't imagine dealing with this indefinitely so I hope you're right!

Cyan 1020 was what I was hoping for, too.

Yes - we definitely need a matte finish cyan version.

Have got white, had choice of just that or black, And followed trend seeing as had white 900 then 920

always my mobile color is Black

I just wish it had the darn wireless charging and 32gb in other colors!!

Black is the only good color for phones in my perspective, aside from maybe a dark gray or a VERY dark blue. I'm really not a fan of the brightly colored phone trend, but to each his own.

To bad the Nokia Lumia 920 wasn't sold in grey in us :/

I have a white 920, and a perfect grey Nokia "case" when I want it, as well as all the other color cases they made.

We need neon green!!!!!! That's what i'd get. Love green on black.

YEEEESSSSSS NEON GREEN IS BADASS

Yes! I would be all for this.

I got red but not sure I'll keep it, not a fan of the glossy back

I love red, but can't do glossy anymore. I wish they made primary blue matte.

Get this case for it.. It looks awesome, it's thin, and doesn't add very much bulk at all.. It adds that seriously needed grip to the 1520, and still shows off the color of the device... I've been using it for about 4weeks now, and I can vouch for it's style, quality of fit, and durability... It's perfect❕

Got black cause it was the only one available, still happy. Would've loved one half glossy black and half matte black.

I got a black 1520 with a white nillkin slim case - the case gets absolutely filthy black. Very annoying.. So might need to buy a different colour case. On another note, I would do horrible things to get my hands on a cyan 1520 (despite not existing, but could you imagine how amazing it would look?)

As would I. Well to a point ;)

We need Gray over here in the US. Almost passed on the 920 back in 11/2012 because it was not offered.

Just picked up a yellow version with a white OEM flip case. Never been happier. :)

A year ago, I would have said yellow, but these days, I prefer white. Wish my 920 was white (I have black)!

Just hope it's gloss... Matte white will quickly turn grey

If the red was matte I would get that. Definitely need a cyan version though.

I got a yellow with a black Incipio feather case.

I got it in red,also have a gold colored case,and one on the way that has the Eiffel tower on the back!

I want it in cyan blue. Why Nokia left out this color from the new generation of lumias, except the AT&T version of 920, but it is not aviable worldwide. Lumia 800 was so sexy in this hue of blue!!!

I'd go for the yellow with a black cover or black with the red cover. The 1520 looks so good!

My 1520 is yellow, its beautiful...

Had a white 920 and loved it but figured I'd switch it up so went black for the 1520. Don't regret it. The black matte back with the glossy front reminds me of my xbox one controller. But I honestly lose this big ass phone often. My mind got used to looking for a white rectangle in the room that the black blends in with other electronics. Still love it though. best phone I've ever owned. They just have to fix the damn touchscreen issues and it's perfecto

Put it in a belt holster like a man and you will never lose it again!

Or he could get a batman utility belt :D

The red 1520 is awesome.. Especially with a thin, translucent, red TPU case.. It gives it a dual shot look..
................
Love my 1520... Best phone on the market.

I'm getting the color that comes to T-mobile or the Icon. Whichever comes first, that's what I'm getting.

is it ever coming to T-mobile?

Had cyan 920, white 1020 but for such a big phone I choose black

As a French military officers, I would like a mate (not glossy) camo central Europe but Nokia doesn't make it so I stay in grey or black.

White, like my 920. Or cyan if it existed.

It has to be yellow like any good Lamborghini would

Would have gotten yellow like on my 1020, but 32GB only comes in black. Haven't had a black phone in quite some time. I think I will like the black though. I think that might have been a little too much yellow. Don't care for the gloss that comes with the red. White is not my color. Likely to lose it if it gets up against my skin. ;)

Getting a 1520 with 32 gbs on at&t killed my color options I had to get black but it's inside a teal folio cover case which works because it is black

Very happy with my 1520 in Yellow. The matte is nice. I'm going without a case.

Black works for me, because I sometimes like to switch up the color of my tiles, and every color works on a black phone.

Mellow Yellow.... If you got black your boring. Your one opportunity to stand out and you eff it up. Lol

I got red but I miss my yellow

Got the 32gb one so mine is black, but bought the white Nokia cover. Nice color combo

Blue or Green (Metallic Car Paint) ;-)

My 720 is black as were all of my previous phones, however I now have a 1520 in white. I never would have opted for a white phone before but after a few weeks I am quite used to the colour. I have still to get a case however much as I know that it is very much required, I feel that it will spoil the image of the phone! (yeah I hear ya, not as much as a cracked screen will)

Actually I have a white one too,as well as a white 920. I hate cases as well. I didn't use any on my 920,finally cracked the screen after numerous drops just over a year with the phone. My gf's black 920 is well covered. Both our 1520's of the same respectively colors don't have any case,but we'll both soon be getting them. I love the clean look without them,however I already have two small nicks lol

If I wanted to buy it, I would go with red or white

To me, no smartphone should have any colour other than black. So IF I were to buy that monstrosity of a phone, it would be black. to add a bit of colour, I rather use cases. I would, however, open an exception to a dark purple one like Sony has on their Xperia line.

I chose the white for the same reason that I chose white on my 920.
Sophisticated and Professional look.

Think I would pick mine up in white. Haven't seen a red one in the wild yet though.

I'd want a black or cyan one, but preferred black since it's not that outstanding and just normal, don't like it if something's too outstanding.

None because MWC is right around the corner and I'm waiting to see what Nokia has in mind for the rest of 2014.

I wanted the 32gb phone but i wanted the red so i went on with it. This device is phenomenal hands down the best phone i have owned so far. This is coming from a iPhone and android phone user. I might just but a yellow 1020 as a back up phone also

I have the black one. I think it looks sleek and professional. Its a a safe color, that will never clash with anything and for the life of the device, is likely to always fit "emotionally" the color choice I am comfortable with. The color choice of a device can have an emotional component, and that initial emotional that may compel toward a bolder brighter color like red or yellow may not fit ones emotion s few months or years down the road. Black is also professional looking. And especially since it is a phablet which can be used more comfortably like a tablet professionally, black fits the bill. Finally as we all know, our cell phones exist in a dirty, dangerous world that is not conducive to the pristine condition we want to keep our phones in. And I know there are cases,(I use one), but this phone so thin and sleek and the matte finish feels so nice, you sometimes want to carry this baby in it's natural state. Though the Lumia of each color are polycarbonate and colored through and through - the black will likely conceal the inevitable war wounds best.

Also been debating on yellow or white. Stuck with yellow in the end. Still really want the white. Still don't know if I made the right choice.

I got the yellow 1520 and rock the incipio cyan feather cover. It looks great!

Got mine in yellow, my 1520 is the 32 gb international unlocked version with built in wireless charging. Never liked a phone as much as this phone . I have teken 3 , twisted metal 4, Mario , Zelda, pokemon ruby ,street fighter. This phone is a masterpiece

I wanted the cyan when I bought my 920, but the store didn't have it so I went way out of character and got the yellow and I'm lovin it!

Red and white but no more gloss. Matte is the way to go. Gloss has too many stains that you can't rub or wipe off. You have wax, buff, and shine.

I would love any of the colors, however its not available in Canada.

I'll get black if I get a 1520 because I'll be getting the 32 GB version

I got the black but will be taking it back to get the 32gb model or to get the 1020

Black or white IMO. Or if possible, gunmetal grey or carbon fibre black =)

Once you go yellow, you never go mellow. Best color I ever chosen. Always bought black phones before.
Yellow hides dents and all very good also.

Pinstripe! Makes it look taller.
;)

Got a matte yellow with a cyan Nilikin leather folio case. I'm an artist, not afraid to stand out!

That is quite the color combo!

RED!!! It's gotta be red, but I bought a black one because I could not be bothered to wait until Nokia released a red one in the UK, I'm too impatient lol.

Yellow if they bring this thing to T-Mobile

Red is the only color I buy , but I want the 32 gig 1520 , I gave up on QI charging. Any body want to buy a red 16 gig 1520 gently used.

It doesn't really matter as the decent colours will be exclusively linked to outlets with limited stock.

I got black (only color available in the Czech republic), also I got white frost Nillkin case on it...nice black&white combination. But corners of nillkin case were dirty in three days.

Y2kern where do I go to get the international 1520 , if you could post the web address, I would really appreciate it. Thanks in advance

I got the black one with a nillkin thin red case. Looks kickasss with two tone effect

I also have the Nilken red case, and I do have to say it looks good and doesn't add much thickness to the phone.

I Got The red one. Har The red 920. Love ut.

If I had a choice, I would get the red one. Unfortunately, I'm on Verizon and still waiting on the 929/Icon and the limited selection of black or white.

I bought the black version, only because I thought fewer people would make fun of me. I would have loved to get the yellow version however.

I would kill for a yellow VZ WP8 phone of any kind. Yellow is my favorite color.

Popular subject ;-)..... I have a yellow 1520 and all 4 nillkin's covers, I stand out with my phone wherever I pull it out, it does not matter what color it is :-))

Gloss White > Matte White (for my personal taste). I hope that the future flagships will offer glossy white. Matte white is just too....dull. :p I would prefer white, but if Canada ever gets the 1520, I might take red, just because it's glossy. White looks great with any live tile colour though. Glossy white phone + black screen background + live tiles = awesome visual package.

Champagne! Hahahaha.... Jk

The 1520 would look gorgeous in cyan and also grey

If only i can afford it. It would be BLACK!

Orderd mine in white yesterday and get wait to get it delivered.

Already has got the White one! King of colors !!

I like black but not matte black i mean glossy black
so I had installed for my lumia 1520 sticker on back http://imgur.com/WSGquEx.jpg http://imgur.com/DnIwhoP.jpg

Blue would be incredible!

I've always had black phones til I got my red 920. The red really attracts good attention... I think I'll go white with the 1520 though because I've never had a white phone and I think I might be getting a case to protect it and colored cases look nice over white!

And I might just get a Qi case anyway so it could only be a temp thing

Ordered mine in black because I'm just going to put it in a case any way. I hate having to wait till Friday to get it. +920

I would love to get my paws on a Yellow 1520! But I live in the Great White North (Canada) so no carrier wants to give it a chance. Oh well, sucks being me.

I would choose cyan, of there was any!!

White! Goes well with everything.

I have black but want a red one so bad

got black 1020. used 2 months and than got yellow cover. 3 months later, now got red cover. colourful world.

I got red, but wish they had it in Cyan. Damn focus groups

I've always been traditional, going for classic black or metal, but I felt a need to be bold! Red is what I went with and haven't regretted that decision. My wife went with yellow 1020, (but then she's always been a little on the loud side!) Lol

After having a Lumia 900 black matte, I just bought a Lumia 1520 yellow matte. I will receive it next weekend ! New toy arriving home! Finally upgrading to WP8 and it looks like the WP8.1 is not that far.

Cyan was their trademark and they dropped it why exactly?

I would have gotten that or the grey in a heartbeat!

Copped the snow bunny for myself and the red lipstick for my wife. Can't wait till Thursday!

Yellow no question!!!! It looks fabulous in my hand , can't stop staring at it!

I had black 900, white 920, yellow 1020 and went with red for the 1520. I still have the 1020 so I don't have to miss yellow. I'm not a fan of yellow in most cases, but so far its been my favorite phone color. It certainly got attention.

Yellow is marvellously fantabulous!

Yellow with the white folding case.

Had a red, took it back for the murdered out Black look!

You said it right, sleek and neutral WHITE!

As I already have Yellow 920 & 1020, I'll go with Red or White.

I have the matte white. For a phone like the 1520, its the perfect color. :) My friend has the black one, though, which looks quite good too. But white trumps all. Muahahahahaha.

Hey, Seth Brodeur.. I have something that I would like to shoot at you..

I got yellow Lumia 1520 already!

I literally just rejoined the windows family 2day I have the 1520 in yellow. Red is my favorite color but I like the way the yellow stands out

I got the white. You can then dress it up or down with the Nokia cover. Yellow on white, red on white looks great.

I got mine in yellow. My phone's been getting ooohhs and aahs from people..

The color I WISH I could have gotten was white but since the Lumia 2520 and 1520 both were only offered in black on AT&T, that's what I went with. I wanted both to match.

What do you mean? My white 1520 is AT&T. Is the "both" part containing a hidden meaning or something? Is that all the had at your store, cause I ordered online. They had all colors except gray for AT&T online.

Cyan! That color should've stayed!

I'd love the 1520 in White, Yellow, Red, Green, Orange or Cyan on Telus in Canada

I consider myself to be a professional and bought and use the yellow, Proudly!

Cyan is my pick, unfortunately, not many WP's come in this colour

Mine is Red, although I have a black Amzer case on it.

I'm amazed this even made it to the homepage! To be serious I never faced this dilemma when I choose the color of my first car; any color would do! But for my "Nokia" device nooo! this is serious matter and the funny thing I am reading and taking everyone's consideration! Keep up the spirit wpcentral!

Got the yellow. Really thought about red but you can't lose the yellow anywhere!

Any color that does not have the STUPID 16GB downgrade of my Black one

Was between the black and yellow. But chose the yellow and using with nokia's black cover.

Had a red 920, got a black 1520 so that ALL theme colors would look good on it!

More like stupid comment day.

I ordered mine yesterday. It was a toss-up between red and yellow. At the last minute, yellow won. I wanted a 32gb but I don't like black.

Yellow!! Because everything else is just not good enough.. :)

Does it come with cyan? I would choose that!

I got the black one. But wish id got yellow instead

I have a cyan L800, yellow L920 and my L1520 is red. I did buy a black casing for the L1520 where the red peeks out from some places, but red and black is a good color combo.


I got it in white with a red official Nokia cover on it, really nice

Black looks really classic and bold. I'd go for it.

I'll get the black one. I like the neutrality of black & all my previous Lumias have been black.

I have red,with brown leather wallet/stand cover

wish there where glossy yellow..

Currently got a yellow 920 and will be upgrading to a yellow 1520. Can't get enough of my banana phone :D

I would definatly like to see CYAN color lumia 1520, coz neither i got cyan lumia 920 nor can i see Lumia 1520.. Please see forword on this.

the one without touchscreen issue...

Firstly I don't want smartphone larger then 4,5" so I don't want Lumia 1520. But in general I dont like bright colors. Nokia should learn design from Samsung. at least the look, because Samsung material quality is crapy.

PINK!!! just kidding....I'de love to get in lime green.

Pass. I want a mobile phone, not a comedy prop (or to have people think I'm 'compensating')

Red all the way... Got my 920 in red and my 1520 follows suit..

I got the red, but yellow is great, too. Would also love a bright green - earth-friendly!

Got a yellow 1520 :) outstanding color!

Yellow, stands out at work a lot.

The one that slides without tapping everything in your path. Otherwise black, because it goes with anything.

Got mines in black cause it looks smaller when you are on a call. Love the phone. will never go back to anything else

Yellow international-version, with black case. It wirelessly charges even with the case on!

Black 1520 looks cool.
I have white Lumia 925, love it :)

Definitely red; it was both my High School and College color.

I got a yellow one and in a slim black case it looks great; the yellow highlights add a little splash of color but it's still subtle enough that people don't yell "Ring Ring, Bananaphone" when I pull it out, lol.

what colours can you get i dont know if i want a black or white because iv only seen yellow,red,black and white someone tell me the colours i can get
Windows Central Newsletter
Get the best of Windows Central in in your inbox, every day!
Thank you for signing up to Windows Central. You will receive a verification email shortly.
There was a problem. Please refresh the page and try again.