What to consider before buying a laptop as a graduation gift
By Rich Edmonds published
These tips will help you choose the perfect laptop for a graduate.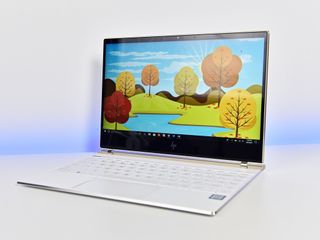 Graduates have overcome the stress of achieving high marks and an academic degree, but that's just the beginning. The next step involves deciding on what career they wish to enter, (hopefully) taking advantage of their newly-acquired qualifications. Whatever the case, they may need a new laptop to help with post-grad studies, search for work online and perform a whole range of tasks.
A laptop also makes for an excellent graduation gift, but here's what you should bear in mind when looking to purchase one.
Ultimate power
The laptop in question is going to need to sport some horsepower. It won't necessarily need the best processor available for mobile platforms, but at least an Intel Core i5. Not only will a graduate need a capable machine for work, but also for projects on the side and general use. Something that can run Office 365, Adobe creative apps and other software without issue will make their lives easier.
The only downside to more powerful components is the fact they usually increase the dimensions of the laptop or the price for a sleek-looking notebook.
Take it anywhere
Portability is what a laptop is all about. It's why they exist. The beauty of being able to take a capable PC around with you makes the extra price worth it in the end. Ideally, the lighter the notebook, the easier it is to use outside (and more comfortable on your lap), but it's becoming less important as notebooks in general have become vastly more portable.
Going with the thinnest laptops (like the gorgeous HP Spectre can come with a few drawbacks, including heat dissipation (especially with more powerful components) and durability. Thick laptops — think more expensive gaming notebooks — are on the other side of the scale by packing a lot inside a massive chassis that can take a slight beating but they are heavy beasts.
A little downtime
What's a life full of work if you don't have time for a little downtime? Gaming is a perfect medium to lose yourself in a virtual world, removing oneself from the troubles of real life. To enjoy a few titles here and there, you're going to need to aim for NVIDIA's GTX line of mobile GPUs. Anything from the GTX 1050 upwards in a laptop will be enough power.
The higher spec you go, the costlier the notebook becomes. It's possible to go all-out and configure a gaming laptop with two GTX 1080 GPUs, but you really won't need all that performance in a portable PC — not unless the graduate plans to enter game development.
Make it your own (or rather, their own)
It's possible to customize laptops by going to vendors directly. Dell is a big brand that has offered personalization options for years. This makes it easy to build a laptop that suits the need of any graduate, but you may find yourself paying out a little more for the privilege. It's also possible to add a few personal touches to a laptop you can pick up off the shelf, like the Surface Laptop in the above photo.
Ready to shop around
Now that you have some idea as to what will be required by a graduate in a laptop, check out our roundup of excellent gift ideas.
Rich Edmonds is a word conjurer at Windows Central, covering everything related to Windows, gaming, and hardware. He's been involved in technology for more than a decade and knows a thing or two about the magic inside a device chassis. You can follow him over on Twitter at @RichEdmonds.
1) Consider the idea that they can now earn the money to buy their own...? I seem to remember my parents going as far as paying for a frame for my degree, that was about all. I was pleased with that.

Ruddy app double posted on its own... please delete.

We (my wife and I) are paying for all of our son's education, housing and stuff while he is in school. It's the least we can do to get him a better position for his future. We bought him his macbook, iPhone, etc as well. I see nothing wrong with it. I know for you, Andy, you live in a place where if someone has a nice device, they get their hand cut off by someone stealing it, but not so here. I love my amazing peaceful country...you should probably leave where you are!

When my daughter graduates she's getting a Surface Laptop i5/8GB/256GB with Win10 Pro. I love my Yoga 900, but the Surface laptops are fanless, lighter, are available in cool colors, have a solid keyboard, and have Windows Hello face sign-in.

I gave my daughter a budget, let her pick the laptop and the apps she wanted.
Windows Central Newsletter
Get the best of Windows Central in in your inbox, every day!
Thank you for signing up to Windows Central. You will receive a verification email shortly.
There was a problem. Please refresh the page and try again.