What gadgets do you want this holiday? Tell us for your chance at $600 for that new toy!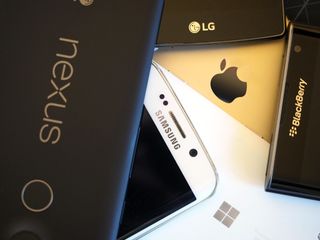 We've seen a lot of new gadgets come out in the past few months and the holiday season upon us. So we thought we'd ask what you're hoping to find under the tree — or maybe are just thinking of getting for yourself. Is it a new smartphone? Or perhaps a shiny new tablet? Maybe a computer? Tell us what you use right now, what you want, and what you think of it all for your chance at $600 to help you get the new gadget of your dreams!
Take the Mobile Nations 2015 Holiday Gadgets Survey!
Note: You have to take the survey linked above to be entered to win. While we like your comments, the survey's where you'll find the good stuff.
Derek Kessler is Special Projects Manager for Mobile Nations. He's been writing about tech since 2009, has far more phones than is considered humane, still carries a torch for Palm, and got a Tesla because it was the biggest gadget he could find. You can follow him on Twitter at @derekakessler.
Right! I would also be happy with a 950, the XL is just a little too large for a phone

!!! SURVEY IS LIMITED TO US AND CANADA !!!

I just want a surface pro. 3 or 4 will do for me :)

I have a Surface Pro 3 and a Lumia 930, and to be honest the only thing I want is the Surface Pro 4 keyboard, as these two products do everything I need. Letter on the way to Santa :) Edit - I have £90 Amazon vouchers and thought i'd go buy the SP4 keyboard but they don't sell it.....tears!

I've got something else I can purchase with the £90.. Could you help? Posted via the Windows Central App for Android

In India, holiday season is already over.

That beautiful Surface Book complete with a 950XL to show off when I leave the house.
mmmmmm *daydreams heavily*

Then get robbed, shot on the block...

I thought his palms were sweaty!?

I want a BB8 For Xmas!!!!! :P

I want the bb8 Windows app!

Already got one. Awesome phone. Now I want a Surface Pro 4. Posted via the Windows Central App for Android

Do you live in US or Canada?
NO
Thanks for participating. Ok :(

As soon as I saw first question I knew prizes wasn't for me XD

Yep.. That was a fun Survey :/

Microsoft Band2 for crimbo.

something tells me that we're definetly not winning this $600.

Yaaa!!!! Annoying..really. Regional limitations????

There is always another chance. I'm okay with it.

Yep I answered no waiting excitingly for the next part only to see survey is complete. What? Im definitely not getting it

That's the shortest survey I have ever taken. It was like 2 seconds. WTH! :(

That's what MS is all about...only America...i hate you guys

The survey is by Mobile nations, but sure blame it on Microsoft

They could've told about region limitation in the article,they did that trick in the survey purposely,annoying

Ha crazy right? So much for it being a worldwide site. As bad as Microsoft.

That survey took less time than Mark Wood's runup... Agree Derek should have noted in the article it's a US/Canada exclusive with the only reason I can think of as why not to note this is to collect data on where people are from.

I didn't know it was a survey to find how many users live in the US or Canada...

I know hahaha! I pissed myself laughing. Best survey ever!

Yeah wtf survey is this, shortest survey ever for answering "No", kinda feel rejected in a bad way. Guy A: What car do you drive?
Guy B: Happily answered "Hyundai!"
Guy A: Turns away
Guy B: ...

I want to build a Lego star destroyer with my boys! Cylon23@gmail.com

Nespresso! And a lumia 950xl with continuum box and of course an ms band! What else?

I wanted the 950 under the tree but my house burned down last week so no money left.

Survey for US and Canada only?

Lumia 950 XL ! With hololens included xD

A surface pro 3/4 would be perfect or a Lumia 950xl to upgrade from my Lumia 1020 . But what i really need is a new graphics card for my PC cause i managed to burn it just playin sc:go

The only thing I'd want is the Lumia 950 xl. The phone looks great and the specs are awesome.

Read the article properly,they said within 600$

They said 600.00 towards the item you want. He'll have to put up the rest..

Xbox1 elite yo give to my wife

I have a Nokia 1020 and a surface pro3, I want a surface pro4 and a band 2

Lumia950xl,i want so much!

My Darling Microsoft Lumia 950 xl with Display Dock..

As a MS fan, 950XL+ Band + Surface book :)
Alooot of cash....dreams!

All I want is the Turtle beach 800X headset, but at the moment I can't justify spending $450 on a pair of headphones

If you care about audio, it's not terrible. I have no clue if said headphones are worth it, been awhile since I needed to look at a new pair. But good audio costs and is a reward to use. Just take good care of them and they last you a long time.

Now have a Lumia 800, now really want Lumia 950XL

Wow, that would be a step up, all in good ways. But you really think you could handle the size? The 800 is a tiny phone.

Wouldn't mind getting a Lumia 950 but I would need to jump through hoops to get it. Up to this point I tried almost every lumia phone to date. With the excepts of Verzion Versions of the phone and the 1020. I think I might miss this one because of the price and other issues. It's a little sad because it has some features that I would love to test out. oh well.

Surface Pro 4 or Book,
Lumia 950XL and a Presonus Studio 192 interface for my recording studio. I have a surface 3 now. Some great opportunities have come up music wise and would like to go mobile. So a Surface pro or book would be amazing. Next purchase will probably be the Presonus interface at the beginning of next year. :-)

A Lumia 950 to replace my 925. Would love a band2 as well though

Seems to be the choice of 925 users including me. I don't see many 925 used saying they want the 950xl.

I am using Lumia 730 right now,and my dream phone is lumia 950xl

Lumia 950 XL dual sim will be perfect present

I DESPERATELY want the Lumia 950 XL...

Microsoft Lumia 950. Plus a Fitbit.

Microsoft Band 2, or even the first.

Entered for Lumia 950 XL : USA (TEXAS ) . hope best

I want an Official Red Ryder Carbine-Action Two-Hundred-Shot Range Model Air Rifle! :D

Would by chance like Five Iron Frenzy?

You'll shoot your eye out!

Well its a huge list for me..
L950 in my hands
Surface book with the best specs on the desk
Microsoft band 2 on my wrist
The elite controller lying around
And yeah, While seeing all these I don't want to be wearing HoloLens... Because I want all of these for real XD

Xbox one.... Cant get the HoloLens so this is my aim.

I have Lumia 640 Xl but I want the gorgeous and Fabulous Lumia 950 or the Bigger Lumia 950 XL.

LOL! The 950xl for me too!!!

Surface pro 4 with that gorgeous type cover and pen will be enough for me.. ;-)

I hope ill be able to get a surface 4

The gorgeous surface book. Thank you. Using a old pc now:(

LUMIA 950 XL, SURFACE BOOK, Or!!!! A Lego set of the death star

I'm currently weighing between the band 2 or the Lumia 950. My current phone (930) screen is cracked and the camera has problems focusing. The band is a cheaper fix which takes away from me looking at a crack screen and might get my butt off the couch. But come on who wouldn't want windows hello and a new camera. What would you guys do? Band or phone?☺

Phone! A 950 to replace my 925 with a broken ear piece speaker

I want a Lumia 950 and Fallout 4

The survey was so simple!

Presently I use Lumia 535 and I want 950xl coz I love big screen with killer specs like 950xl. I will use that phone to make short movies and for photography to earn money for my future this is what i want to do thank you

For wearables, I'm rocking a Fitbit surge that looks like it was dragged behind a pickup truck. I'm convinced they actually ordered Fluffy Bunny Glass instead of Gorilla Glass. Would love to upgrade to a Band 2! On the tablet/computer front, I'm good with what I have since it is a shiny new Surface Book! For smart phones, right now I'm using a Lumia 920 but plan to be upgrading to a 950 with Mozo brown leather flip case this season! I'm tempted by the better specs of the XL but think it may just be a little large for my taste.

What a piece of crap! Could you not at least mention in the article that non US/CA residents are excluded from the survey? Thanks for nothing!

Hi, I'm using a surface RT, a Lumia 640 and a Band 1 The RT is very slow. Browsing the web is painful. My Lumia 640 ($59) is way better than expected. I'm bough it to replace a 635 who was replacing a beautiful Lumia 920. The 920 was 20 month when I did a 5 hours river hike. It was not supposed to be in the backpack. L … So the 635 ($79) was a backup waiting for the next big Lumia. But the 512m of ram, cheap camera, no flash and lack of many littles features sucked. The 640 has almost the same feature as the 920. I'm only missing the wireless charging. The 640 may make me wait for the next Lumia or surface phone. BTW you can get a Lumia 640 for $39…This is by far the best backup phone. The Band 1 is a nice prototype. I use it for my hockey game. I also use it to see who is texting or calling me. The phone can stay in the pocket. I can reply to small txt. I also watch the time. Cortana is fine but a little slow. The hardware is not top quality and sometime charging could be painful. (Maybe I should clean the connector more often). Sometime the band crashes, so I don't have full data for my bike ride or hockey game. So, would the Surface 3 be a good deal or a Surface 4 with M cpu? This is not my main computer. The Lumia 950 looks good but I don't think I need it now. Like I said, I'm still amaze with the 640. I like the design of Band 2. I'll wait a few mounts to see if the hardware is good. So if I get $600, I'll use it to a new Surface tablet.

Erm... At least specify that this survey is usa/canada only :(

Exactly.....and that means they have to do one for every continent. I thought we were one here!!!!

I own a Lumia 640xl. And nowww...After three years of Lumia love and the beautiful experience, owning that beast (Lumia 950 xl)... Would be like a dream come true..
I sooooooo want to have it......

I'm trying to get the MS Band Gen. 1 because of that price drops it got lately. But to be honest would love to get the 2nd Gen Band... Yup yup!!!

I want a Lumia 950 and a surface pro 4..

Lumia 950! and I just ordered it!

Do you live in the US No Bye -Sadness forever-

band 2 please i was sooo good

Took the survey! :-) I would like a Lumia 950 to replace my 925. Hopefully they bring back the free Continuum Display Dock so I could snag one of those with the phone.

I'd really love a new Lumia 950 XL to replace my green Lumia 1520 that has a crazy bad phantom touching problem. But truth be told I'd really use this contest win to buy his and hers Band 2s. My lady deserves it.

Lumia 950 xl would be a awsome toy Posted via the Windows Central App for Android

I have Lumia 520 and Lumia 640xl . But I would love to have a new phone like Lumia 950 or the tablet Lumia 2520 with a Microsoft band.

Definitely a surface pro 4!!!

I'm certain I'll be the first Ugandan with a Lumia 950. I have a 640xl and I turn heads so with a 950 I'll be a king

I sooooo want a Surface Book!! I need to update from the Surface Pro 1. FYI the Original Surface is still pretty awesome!

Currently using a 1520, which I absolutely love. I wouldn't trade it for any android or iPhone. But I would definitely trade it for a 950xl and continuum. Everyone else can have their gimmicky curved edges and 3d touch, and i'll be carrying a PC in my pocket! :P

Debating the 950 on AT&T and the XL off-contract for a phone. Definitely want to get a new mouse, keyboard, and HDD for my desktop. Might upgrade the SSD as well, depending.

Like most people the Lumia 950 XL.

I'd love to have a lumia 950 :)

A Surface Book a lumia 950... and don't forget the continuum dock ;)

Microsoft Lumia 950XL and a Wacom tab

I want the 950 XL Unlocked so I can use it on T-mobile.