Microsoft's retail partnerships prove it's committed to consumers (but not how you think)
Disenchanted Microsoft enthusiasts bemoan its lack of consumer focus. However, the company's retail partnerships reveal a broad, "background" commitment that is succeeding where first-party consumer products failed.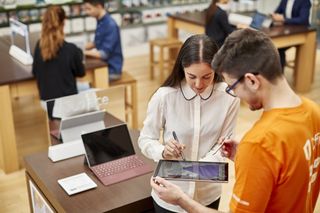 Many tech enthusiasts measure a company's current and future success based on its performance in product categories that interest them. Consequently, Microsoft, according to many consumers, is in its death throes due to failures in consumer markets. Admittedly, the long-term negative impact of Microsoft's failures in these areas is concerning and worthy of discussion.
Still, claims that the company is going to "die" as a result of these fumbles and that it has no concern for consumers are exaggerations.
No amount of highlighting Microsoft's multibillion-dollar cloud business and the growing number of retail partnerships that are contributing to it will appease enthusiasts who feel Microsoft burned them. Still, Microsoft's consumer commitment is not only reflected in its professional-and-personal strategy that bridges work and life with Surface, Office 365, and Cortana. Its commitment to its partners' retail customers through the cloud, internet of things (IoT) and artificial intelligence (A.I.) is a reflection not just of an enterprise strategy, but a strategy to empower everyone, everywhere.
Microsoft's partner success is Microsoft success
Microsoft CEO Satya Nadella expressed that Microsoft succeeds when its partners succeed. Microsoft needs its partners to succeed in their missions as they use Microsoft tools. If they fail, Microsoft fails, since its products are designed to function as "part of the means" to support partners achieving their missions.
As the provider of Azure cloud, A.I. and IoT that supports a company's interaction with customers, Microsoft is helping partners better serve customers, in the background. The company recognizes that its partners "customers, employees, and data" belong to that company – not Microsoft. It embraces its role of ensuring its partners have the best tools to manage all of its human and information resources.
First-line Workers
The Microsoft tools partners embrace have varying degrees of "visibility." For instance, Microsoft Azure may be used to analyze consumer behavior, employee time or manage inventory. Each of these impact how a company manages resources, utilizes employees, and serves customers. Though not providing shiny new smartphones, Microsoft's commitment to supplying tools, services and support along the breadth of this process reflects a commitment to consumers in a variety of industries.
Microsoft realizes that there are millions of first-line workers that are the primary contact between a company and its customers. To this end, Microsoft has provided first-line workers in retail and other industries with tools in Microsoft Teams that improve employee communication and puts useful job-related tools in a single hub at their fingertips. Also, because psychologists, management experts and nuerologists generally agree that "praise" is better than punishment and has a powerful positive physiological effect, Microsoft integrated a "praise" feature into Teams. Employees can easily receive and give praise which can potentially build individual and team morale and ultimately lead to better customer service.
Shelly Bransten, Microsoft corporate vice president of retail and consumer goods industries, said:
Microsoft's partners' customers are Microsoft customers
When Microsoft partners with retailers and others it becomes an integrated and ongoing part of how that company does business. Microsoft's tools and services are tailored for a partner's industry, business model, goals and how it uses other technologies. Its partnership with grocery store chain Kroger, which gives consumers a hybrid digital and physical shopping experience, is an example of this.
Other examples include the following Microsoft partnerships:
Craft and supply store Michaels helps build digital communities that impact consumers.
Starbucks helps improve opportunities for staff to engage customers.
Luxury lifestyle brand Stefano Ricci helps equip employees with the knowledge to support consumers.
Children's clothing brand Polarn O Pyret helps gives retailers the power to manage all online and offline store experiences.
Ultimately these partnerships help Microsoft's partners serve consumers. And these customers are arguably just as much Microsoft's as they are those of its partners.
Microsoft is targeting consumers
Microsoft has a lot of work to do to rebuild trust with enthusiasts, who represent a tiny fraction its customer base. And through steady growth of its work-life strategy that positions present (and future) products like Surface, Office 365, Cortana, Microsoft 365 and more as tools that encompass personal and professional life, Microsoft is attempting to do just that.
Enthusiasts should also realize that while Microsoft is pushing projects like Andromeda deeper into the future and we still know little about Project Centaurus, the company is aggressively positioning consumer-focused projects like Xbox streaming and Xbox Live cross-platform gaming.
Though not perfect, the story of Microsoft's interest in consumers is broader, more nuanced and perhaps less interesting than smartphone-focused enthusiasts would like to admit. But it's still a story worth telling.
Get the Windows Central Newsletter
All the latest news, reviews, and guides for Windows and Xbox diehards.
Jason L Ward is a columnist at Windows Central. He provides unique big picture analysis of the complex world of Microsoft. Jason takes the small clues and gives you an insightful big picture perspective through storytelling that you won't find *anywhere* else. Seriously, this dude thinks outside the box. Follow him on Twitter at @JLTechWord. He's doing the "write" thing!