Why Microsoft's Surface 'Andromeda' is critical to the Windows ecosystem
If Microsoft cancels Surface Andromeda the effects could devastate its mobile future, even though there is a successful cross-platform mobile strategy at work.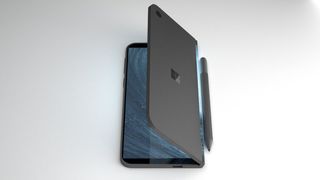 Since 2015 I've championed an analysis that Microsoft was working on an inking-focused, pocket PC strategy that would follow its smartphone efforts. I stressed Windows-on-phone was part of a larger Windows-on-mobile strategy that transitioned through mobile OSes from Pocket PC to Windows 10 Mobile with the goal of bringing the full power of Windows to true pocket PCs.
That post-smartphone mobile strategy was confirmed by Microsoft's recently leaked email boasting a new and disruptive inking-focused pocket PC category heralded by Surface Andromeda. Rumors recently surfaced that it may be canceled, however.
Sadly, in an iPhone/Android phone-centric world Surface Andromeda's cancellation wouldn't even cause a ripple among the oblivious masses. For Microsoft enthusiasts and techies, however, reactions would range from dashed hopes to contemplative discourse. What would the cancellation of a long-awaited, first-party mobile device that Microsoft CEO Satya Nadella promised would be an ultimate mobile device mean for Microsoft? Perhaps not much...perhaps.
Related: How Microsoft's Surface Andromeda pocket PC can disrupt the market
Ghost in a shell
In 2015 Microsoft retrenched from the smartphone space with the promise of making Windows phones if no one else did. That didn't happen. The last Lumia launched in 2016. Microsoft's lack of leadership led to OEM, developer, consumer and industry apathy toward Microsoft's mobile efforts and Universal Windows Platform (UWP).
With no smartphone to showcase its ecosystem Microsoft has aggressively executed a pervasive branding strategy by integrating its apps and services into iOS and Android. It's also making itself a cross-platform dev-box and making Microsoft Azure "the world's computer". Microsoft has succeeded in creating and maintaining "mobile" mindshare as consumers use Microsoft products like Office, Outlook, Microsoft Launcher, and dozens of other Microsoft apps on their smartphones. That trend shows no signs of slowing.
This Microsoft-on-mobile strategy, making iPhones and Android phones "Microsoft phones" to the extent each OS allows, is a component of the company's "Microsoft-everywhere" ubiquitous computing strategy. Additionally, Microsoft Graph, Cortana and the cloud, through features like Timeline, Your Phone and more, makes Windows PCs a hub that facilitates users experiences across devices. Microsoft arguably has a successful mobile strategy where the essence of its ecosystem — its apps and services — like a Ghost in a Shell persists in a body not its own. But is it enough?
Microsoft needs Surface Andromeda in the family
Image 1 of 11
An immature Windows Core OS, anemic app ecosystem and very niche market top the arguments against launching Surface Andromeda this year, if ever. The first two can arguably be addressed with dedication and time to fine-tune the OS and push Progressive Web Apps (PWA) and UWP, thus, requiring only a delay. A cancellation is being called for by those who see the device as too niche. But Surface is all about "niche."
Microsoft's Surface lineup is about a family of devices that work collaboratively across the cloud and UWP where each device specializes in a particular use case. No single Surface optimally "does it all." Thus, the device family should be perceived as a synergistic whole with "components", some super-niche like Surface Studio and Andromeda, that allow Microsoft (and partners) to address a range of use cases with a breadth of category-creating devices. This broad hardware strategy combined with ubiquitous computing and cross-platform mobile strategies is Microsoft's comprehensive approach to personal computing.
Still, if Microsoft doesn't fill the pocketable mobile device hole in its hardware line-up, the mobile-driven personal computing world that has spawned smart speakers and digital assistants, and inspires developers, consumers, and others will continue to ignore Microsoft's ecosystem-building attempts.
Abandoning Windows phone was a mistake
The HoloLens way
Microsoft's Surface Andromeda's target audience is lateral thinkers like researchers, educators, marketing managers and others who process their thoughts via notation before sharing collaboratively. Thus, even in the digital age, old-fashioned notebooks have a place in various industries. Surface Andromeda, working collaboratively with other Surface devices could be ideal in these niche industries. Even Surface creator Panos Panay still uses Surface Mini as a MoleSkine, and can therefore advocate for digital journal use cases.
Microsoft's HoloLens' methodic deployment to specific industries for targeted use cases is garnering developer and industry support for an expensive and niche new category. Microsoft can do the same with Surface Andromeda.
Your perspectives too binary. Its broader than no release or failure.
It can be delayed while PWAs are built out over 2018 and/or
MSFT can follow HoloLens strategy & strategically slow release #Andromeda in specific markets for targeted use cases to build dev/ecosystem support😉Your perspectives too binary. Its broader than no release or failure.
It can be delayed while PWAs are built out over 2018 and/or
MSFT can follow HoloLens strategy & strategically slow release #Andromeda in specific markets for targeted use cases to build dev/ecosystem support😉— Jason L Ward (@JLTechWord) July 6, 2018July 6, 2018
Microsoft's Steelcase partnership, where Surface is integrated into modern collaborative environments, is another avenue through which Microsoft could deploy Surface Andromeda. Even internal deployment throughout its own teams to demonstrate how Andromeda works collaboratively with Surface devices and Microsoft services should happen. The company should then promote an aggressive campaign showcasing Surface Andromeda at work as part of Microsoft's personal computing vision.
How Microsoft's prepping the enterprise for Surface Andromeda
Its a PC, leverage that
Image 1 of 4
Finally, Microsoft should build a sleek laptop-like dock, like the Razer Project Linda, to help frame this pocket PC as a capable "laptop" for comfortable stationary computing in addition to its mobility strengths. Since its a PC it should have the option of being packaged as one.
This would help downplay the unavoidable weakness of Microsoft's mobile ecosystem and also allow Microsoft to target users in the market for laptop experiences, while also providing innovative new mobile experiences when undocked as a phablet or unfolded as a tablet.
Microsoft must do all that it can to launch Surface Andromeda while aggressively building PWA and UWP support. If it doesn't, the industry will march on, and Microsoft may have yet another missed opportunity story to add to its smartphone, wearable, music, and digital assistant narratives.
Get the Windows Central Newsletter
All the latest news, reviews, and guides for Windows and Xbox diehards.
Jason L Ward is a columnist at Windows Central. He provides unique big picture analysis of the complex world of Microsoft. Jason takes the small clues and gives you an insightful big picture perspective through storytelling that you won't find *anywhere* else. Seriously, this dude thinks outside the box. Follow him on Twitter at @JLTechWord. He's doing the "write" thing!