What we expect to see at Microsoft Build 2018
Build 2018 starts today! Here's a list of all the things we think Microsoft will talk about at the event.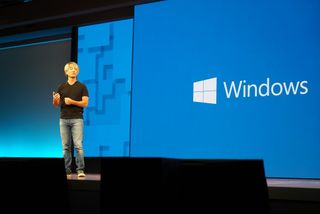 Microsoft's annual Build developer conference is a little over a week away, so it's time to round up everything we're expecting to see Microsoft announce and talk about at the event. This year's Build is bigger than ever, with three keynotes across two days, and hundreds of sessions talking about the Universal Windows Platform (UWP), Windows, and more.
Chime in: What do you most want to see at Build 2018?
New Windows features
Microsoft always dedicates a little time on stage to talk about the next feature updates for Windows 10. In the past, it has announced new features that end up trickling into the next few Windows 10 releases. Last year, Microsoft announced Timeline and Cloud Clipboard, and Timeline has only just showed up in Windows 10 for the public.
This year, we expect Microsoft to dive further into Cloud Clipboard and show it off live for the first time. The company should detail how that feature integrates with the OS, and how developers can tap into it for content sharing across devices. We're also expecting the company to showcase Windows Sets on stage for the first time and talk further about how it believes this new user interaction model is the way forward.
We might also see Microsoft announce upcoming changes to the System Tray and Start menu, with features such as Control Center in the works internally. Microsoft wants to try and clean up the taskbar in Windows 10, and Build would be a great time to announce those plans.
More on the Fluent Design System
Last year at Build, Microsoft debuted its new design language, now known as the Fluent Design System. Microsoft has always said the Fluent Design System is a journey, and as such it's supposed to evolve and improve over time, with new features, materials, and more. Microsoft will likely talk more about the next stage of the Fluent Design System at Build.
Perhaps Microsoft will showcase its plans for implementing Fluent Design in more of its software and services. It's likely that the next version of Office will feature Fluent Design, and Build would be a great place to showcase those enhancements. In fact, Microsoft may also talk about how developers can implement Fluent Design into their own UWP or Win32 apps and outline its plans for the future when it comes to design.
Windows Mixed Reality
Microsoft is just getting started with Windows Mixed Reality (WMR). We expect Microsoft will talk more about its plans for WMR this year, detailing new features and ideas it has for the platform. Microsoft has already expressed interest in building more social features into Windows Mixed Reality, with features such as being able to invite friends into your own WMR homes. Perhaps we'll see Microsoft talk more about these social plans.
UWP, UWP, UWP (and more UWP)
Guess what? UWP is far from dead. With over 90 sessions dedicated to UWP development, Microsoft is going to be talking lots about its modern app platform for developers. It's also going to talk more about progressive web apps (PWAs), and how web developers can enhance their PWAs by bringing them to the Microsoft Store. It's important to remember that a PWA on Windows 10 is a UWP app, as it allows developers to tap into Windows 10 features such as notifications, live tiles, and more.
Cloud, AI, IOT, and the Intelligent Edge
Build is a developer conference, which means we're going to hear a lot about Microsoft's developer-orientated projects. Cloud and AI are important to Microsoft, partners, and developers, and as such you can expect to hear lots about that at Build. We're also expecting Microsoft to talk more about Windows and IoT devices.
Lots more goodies
Build is always full of new things for developers and casual users, so be sure to stay tuned to Windows Central as we'll be on the floor looking for any new things worthy of note!
Zac Bowden is a Senior Editor at Windows Central. Bringing you exclusive coverage into the world of Windows 10 on PCs, tablets, phones, and more. Also an avid collector of rare Microsoft prototype devices! Keep in touch on Twitter: @zacbowden.
I expect to see Andromeda, if not I'm out. This is an important moment for me to decide where I'm going. I don't care about their bot-bullshit that can order pizza.

I could be wrong, but I highly doubt we will see hardware announcements. We will probably see a specific event for that.

They showed HoloLens at build as well. It was a complete surprise.

No they announced and showed it off at the Windows 10 event in January 2015.

HoloLens was a separate event, not Build. True, about three months later when Build happened HoloLens was there, but no, it was not announced at the event. Last hardware announced at Build was Lumia 630/635. So there's that.

Will they maybe talk about the software side of Andromeda? thats what that is right? I am guessing Andromeda is software, and the surface flipfone will be named something else?

Oh Jesus tek cop, don't start that **** again.

They won't announce a new hardware product. If you're ready to jump, jump. Me, I'm waiting for October. That's the magic date.

October seems likely for anything Surface.

Guys, that event is NOT for you. It's for developers, not consumers. They will not show anything to you, because that's not the purpose of Build.

bulls eye and to the point.

Andromeda will not be at Build, but I hope I'm wrong....
.....
Then again, I hope I'm right because I'd wait a little longer just to see you move on.

It's "Surface Journal" mark my words...

yes, that is the Name coin to the email I got.

@CRISE: Full Ack!! I already switched to Google with Docs, GDrive, Inbox, Google Keep, Maps, Google Play Music, Google Photos, Google Assistant (also available in my Country and Language!) lots of different Mobile devices (mine is a Samsung Note 8 with DEX DockingsStation and GearVR ) Microsoft was on a good way, but they failed :-(

wow I think you're the only one that uses all that wow lol

Wish I could tell you a different story but it's the same as you.
I went from a Windows Laptop, Desktop, Tablet and phone onto a Chromebook, Android tablet, Android Phone, Chromecast, Google Home and Google WiFi. I think we think the same I go all in into a ecosystem whatever is best.

I went All in on Apple. Finally got some bites at all my old WP hardware, and the Galaxy S8+ MS gave me to replace my lumia 950XL, i've got up on ebay. So IF i can sell my Surface Pro 3, then i will have gone all in on Apple for only a few hundred. MacBook Air, iPhone 6s, Apple watch S3, and Apple TV. I tried Android, but i hated the messiness of it and i really don't like Google.. I never wanted to go Apple, but they have the ecosystem that MS always promised and never delivered.

So why are you here? Similar to as if you bought a Ford and then go to a Mercedes store open the door and then shout "I like Ford more". Pretty pathetic isn't it?

To laugh at our stupidity… I don't blame him.... I am in process of converting.. laptop refresh happening towards the end of the year, phone changed... don't like it but at least it works and has apps. Alexa already running the home... so he is right... and we will watch MS become the next RIM.

Will we see a new Microsoft Surface Dock?

- It's important to remember that a PWA on Windows 10 is a UWP app, as it allows developers to tap into Windows 10 features such as notifications, live tiles, and more. - Yes, because that's what makes up a UWP app.

Well, your comment ranks higher in that regard. Cheers. Also, clean up your act.

Rubino -I actually created an account (well, I had one and hadn't used it in a long time) so I could 'heart' your comment. AWESOME!
Have a great day and stay happy, always. :>

Yes. An app that's available in the Microsoft Store, runs across all Windows 10 devices, and taps into UWP APIs, is absolutely a UWP app. PWA in the Store are UWP on Windows 10. No question.

No. It's just a website inside a WebView control. Stop trying to make UWP happen. It's not going to happen. WC is really good at semantics

Thats just wrong. It is still a web app that can interface into a tiny fraction of UWP.
And being in the store does not make an UWP app. A store app could as well be a Win32 app wrapped by Centennial - still no UWP app.

PWAs in the Store have access to ALL 30,000+ UWP APIs. So no not a tiny fraction, ALL, and yes they are UWPs. A store app is not Necessarily a UWP it is Store App. A UWP is an API, not the store. UWPs don't have to run in the store. For instance, Adobe's newest app for UI design is a UWP app but not in the store, while Adobe's basic Photo editing software IS in the store but is WIN32. So you are all sorts of WRONG.

Yup. This is still complete BS. MS is free to define "UWP app" any way they want. Obviously, it's in MS' best interest to use a definition that results in the most marketable (inflated) numbers. An informed journalist who cared about technical reality rather than just MS' marketing tactics would take this into account. Isn't it your job as a journalist to un-fudge the marketing BS and serve your readers with an honest account of what is going on? Isn't a journalist supposed to validate claims of the entities they report on and keep them honest? It's not easy to take WCentral seriously if this doesn't happen. This would be a more reasonable definition: it's in the Store = Store app
it's in the Store and uses the UWP API exclusively = UWP app
it's in the Store and uses the UWP API not at all or non-exclusively = bridged app A bridged app will be either a PWA or a Win32/Centennial app. There is absolutely no requirement that a bridged app use any UWP specific feature at all. Most won't. Pretending they will is just dishonest. The whole point of bridging is to save the developer the cost of having to deal with the UWP for an app they've already built using another technology. For this reason, if a bridged app supports any UWP features at all, it will be very limited in that regard. More importantly, due to cost, bridged apps will not support any of the main/big features we'd typically associate with UWP apps, like Continuum! Wiping all the differences under the rug doesn't help anybody. For consumers, it just makes everything more confusing and less transparent. For would be real-UWP developers, it makes it much harder to have their real-UWP apps and their direct support of the MS ecosystem stand out. Your stance here is counterproductive for the Windows community!

The writers in WC aren't technical people.

Unofficial Microsoft marketing division.....

Here's what I predict: stuff.

Cloud cloud cloud. Nothing else.

Andromeda or at least hints to it, or to Polaris and the rest of the Cshell stuff. Otherwise it's all at least one year away.

I believe no hardware announcement at Build. I believe we will have something solid about Andromeda in August or September, Polaris in 2019.

edge inside win32 and xaml2!??

Just watched your live Mixer podcast and like you quipped, if they don't release Andromeda, I hope they at least tease Andromeda at Build. It's been a really tough couple of years for developers who bought into the whole UWP vision. Without a mobile device to run our "universal" apps on they're NOT really "universal" are they? I really wish there was a bloody "end of the tunnel" and a Steve Jobs-esque "one more thing" moment at BUILD 2018 where Satya and Panos together released the Surface "One" (Andromeda) the first true pocketable PC, but if not then we at least need some "light at the end of the tunnel". Tease away! Give us some hope for October!

I have a feeling you will be really excited this time. There have been hints that something really awesome is happening with XAML. My guess is that we are going to see the Merger of UWP, Xamarin, and ASP.net (Via WASM) into a truly write once run everywhere platform. I think they will call this Universal App Platform or something like that.

I believe at Build we will hear a lot about the Intelligent Cloud, Intelligent Edge, Azure, AI, IoT and surprisingly Linux as it relates to the Enterprise. We will hear about PWAs, UWPs, the Edge browser and cross platform development. We may hear about Windows OS Core, CShell and Composers.

Understand they won't talk about hardware (Andromeda) but won't they have to talk about Windows on Arm/ UWP/PWA apps and their "Universal" deployment and the next Windows 10 build which will include the recently included phone APIs....they'll have to at least talk around the edges of Andromeda or else the supporting apps etc won't be ready?

I think they should if nothing else confirm that they acknowledge the rumour of "Andromeda", and that they understand why developers would welcome such a device. Even if it's done in a tongue-in-cheek, joking, sort of way, it would give devs some hope that some day in the near future there will once again be mobile customers for our "universal" apps! And yes it may even give devs a reason to spend May to October building PWA and UWP apps that target all promised form factors... PC, HoloLens, xBox, and mobile so that Andromeda can hit the ground running.

"What we expect to see at Microsoft Build 2018" Lots of empty seats.

Dude, you won WC today! Made me lel :D

You won't see any new device announcement at Build. But you can expect announcement about foldable device and how it will work and how you can build applications for it, to take advantage of its different form factors. Expect to see device simulator for Dev. This would help to have some apps when the device launches end of the year. If the above does not happen, not sure if the device will be launched this year 😐 Also waiting to see Azure Sphere details.

a lot of talk about Windows Core os lol

Dear Windows Central, are we likely to hear about Blazor & WebAssembly do you think?

I expect something more exciting than Blazor. There are hints that something awesome is coming to XAML. I think they are merging UWP, Xamarin, and ASP.net (Via WASM). I think they will call it Universal App Platform. I believe there will be some packaging tech that will even allow them to deploy to older versions of Windows.

Expect to see the Linux logo instead of windows since the windows division now is under Linux.
Time to switch to java development

Well none of that is remotely realistic

If I don't see preview of UWP file explorer (and task manager) and promises to be released in October, I am out of MS ecosystem once and for all

Both of those will be
In Andromeda/Polaris/CShell devices

Best of luck for a windowless future.

Wow I know will probably be talking all about windows one Core OS at Build like Andromeda CShell
Polaris CShell.

Does UWP have C++ support?

I would like to see something about UWP expansion to iOS and Android. One binary running in all major mobile platforms.

MSS has a serious problem going back at least 10 years. It is forever announcing stuff that for all intents and purposes it "never" delivers. In this context, "never" is longer than 4 weeks from the announcements or even never ever as w10m was for most of the Lumia range.

Well, with Satya Nadella being involved all I expect we'll hear about is Cloud, Cloud and more Cloud!!!!!

Cloud makes money, what would you like to hear about instead?

Okay, acknowledging that PWA apps in the Store ARE UWP apps, what does that even matter? Just because devs have ACCESS to all the APIs doesn't mean they'll even bother to USE them. The Twitter app is absolutely a joke compared to 3rd party apps like Tweetium. So, Build is for devs. I get that. But like every previous Build, what of any substance has come out of Build that devs have been (or will be) genuinely ENTHUSIASTIC about and make any significant impact WITH consumers? Let's be candid here. I see POTENTIAL with the WMR. I just don't a future with UWP, though, outside of simply packaging old desktop programs to load from the Store. Where's the enthusiasm that would in any way complete with Apple or Android?

I excpect to see absolutely NOTHING of interest from Nadellasoft. Now when that f... has firmly installed himself and his cronies the company has no outlook to produce anything of interest for former loyal Microsoft consumers.
Windows Central Newsletter
Get the best of Windows Central in in your inbox, every day!
Thank you for signing up to Windows Central. You will receive a verification email shortly.
There was a problem. Please refresh the page and try again.