What to expect from Microsoft's hardware event in China this week
New Surface PC, accessories, speakers, and features — we expect all of these things to be talked about at this week's hardware event in China.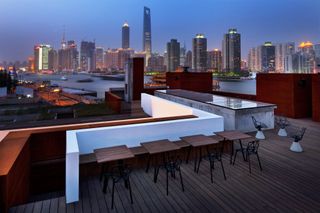 Microsoft is holding yet another event this week, this time in China, to announce some new hardware and possibly other interesting things coming soon and later this year. As with all Microsoft-related events, we thought it'd be a good idea to tell you what to expect (and what to not expect) at Microsoft's China event. Let's get started.
What we expect
Based on rumors and reports, here's what we're expecting Microsoft to announce in China this week. It's worth keeping in mind that we're not expecting a whole lot, this event will likely be similar to Microsoft's most recent hardware event held in New York on May 2nd, where it unveiled the Surface Laptop. We're expecting a similar amount of announcements.
New Surface Pro
Panos Panay will be at the event in China, so it's highly likely we'll see some kind of new Surface device announced. What's more, with recent leaks from VentureBeat, we may already know what device Microsoft will be unveiling. Several Surface Pro 5 renders have leaked, being referred to as simply the "Surface Pro."
From the leaked renders, it doesn't appear the new Surface Pro will change much in the design category. However, that doesn't necessarily mean the new Surface Pro won't do something new that the older Surface Pro 4 doesn't do.
New accessories
Alongside a new Surface Pro, we're expecting Microsoft to unveil updated accessories for the Surface line too. New Type Covers, Pens and maybe even updated peripherals for the Surface Studio or other desktop products.
Fall Creators Update features
Although we just had an entire three days dedicated to the Fall Creators Update at Build, we wouldn't be surprised to see Microsoft take a more consumer-focused approach at everything announced at the developer conference earlier this month, with Fall Creator Update demos such as My People, Story Remix and more.
We may even see announcements of even more Fall Creators Update features that the company didn't make at Build.
More Cortana-powered devices
This one is a little less likely, but still not entirely impossible. We're expecting Microsoft to announce more 3rd party hardware for its Cortana-based line up that was first introduced at Build with the Harman/Kardon. We already know HP is working on one too, so maybe we'll see that make an appearance as well.
What we're not expecting
With a list of things we are expecting, there's also a flipside of things we're not expecting to be announced in this week. If any of these things do get announced, you can color us surprised.
Surface Phone
Obviously, we're not expecting a Surface Phone to be announced anytime soon. In fact, we're not expecting a phone from Microsoft until at least fall 2018 at the earliest. So there's really no point holding out for one at this upcoming event.
Surface Book 2
We're all waiting for a Surface Book 2, but we don't think it'll be making any appearances this week in China. It's highly likely that Microsoft will hold yet another event in the Fall, where the Surface Book 2 and maybe another Surface will be announced.
Are you ready to upgrade your Surface Pro? Are you expecting something else? Let us know in the comments.
Zac Bowden is a Senior Editor at Windows Central. Bringing you exclusive coverage into the world of Windows 10 on PCs, tablets, phones, and more. Also an avid collector of rare Microsoft prototype devices! Keep in touch on Twitter: @zacbowden.
Full windows on ARM tablet. Not a 2-1 just Windows tablet

That would be nice however, I think it is a bit to early for that.

Microsoft has a bad habit of announcing way too early

The Surface Book was a pretty epic announcement.

I agree. It's been said devices could ship Q4 so if it's a ground breaking device, maybe they'll say at Inspire in July.

Being that the event is in China, my bet is still a reference design for a new hardware form factor (Windows on ARM reboot for OEMs). I would also suggest that there is new considerations for OEMs in building new hardware for Windows 10 Fall Creators Update. I do not anticipate any first party announcements. This is why it's not live streamed, because it's boring to the masses.

Been using my RT Lumia 2520 recently and hope they bring back the awesome tablet experience of RT when they bring back Windows to ARM. Search (now Cortana) in the top right hand corner works so much better than in the bottom left hand corner.

Well, it's "show the World what's next"; hopefully there's something more than just refreshes. I can think of a few things, that could happen (which would be interesting, by likelyhood.): Virtual Reality stuff (Hololens) That Cortana speaker/A.I. talks Surface technology refreshes (since Panos Panay is around): a SP (5 with Kaby Lake/ARM architecture), an N-trig Digitzer upgrade for the Surface Pen [fix jitter, add tilt; finally toe-to-toe with Wacom EMRs or Apple Pencil], from leaks: more Surface colors More demos of Windows 10s or hints upon Redstone 3 update

Evleaks hints on a surface phone talk.

But why show something entirely new and anticipated (by fans) at an event that can't be live streamed?

Haha, that mystery is being created right now.

I heard that that's actually false and it can be livestreamed. But then again I can't verify that so...

full win10 arm with 5" or 6" screen and I'm ready to give up my Nexus.

And, would you be too mad if it feel into the "Surface" category of devices?....

You know I used to think that too, but I think people are fed up with the performance on ARM devices that's why tablets are not selling well anymore.

need a new wearable. my second band 2 is splitting, about to jump to Android wear for this as well since MS continues to not compete in the mobile / wearable market.

I'm close after having the Band2 and going to Fitbit blaze and Vivoactive hR they just come up short to Band2.

I moved on to a Gear S3 Frontier as Samsung Pay with MST beats Android Pay with NFC any day and in most places where there aren't NFC terminals. I am speaking from a USA perspective though. Tizen on the Gear S3 is fantastic but it really is Samsung Pay that gave it the win for my money. I travel a lot and a lot of stores do not have NFC terminals but they have standard credit card terminals and with the Gear S3 being able to emulate a magnetic strip, it just works. I've also made a few calls from the Gear S3 since it is also an optional stand alone phone. I left my phone in the car by accident, not realizing it until I got a call from my wife....went to reach for my phone...and it was the call, but on my Gear S3. I would have rather replaced my Band 2 with a Band 3 but Microsoft isn't ready to take my money again.

Me too. Mine is being held together by some electrical tape.

Just re-taped mine. for the 3rd time.

Just try some shrink wrap. Trust me it helps a lot

MS should get back in the wearables department. All they had to do was fix the rubber band cracking issue and the band 2 would've been perfect.

Yep I think it's stupid of them to quit...you sell wearbles for the data...that you can feed to your meachine learning AI...shortterm loss but long term gain

Try Fitbit Blaze. They already beta testing Notification and Music Control. Most other things are already there. My Story: I had Band 2 for 18 months, clasp collapsed and I had to find some wearable and I ended up getting Fitbit Blaze. 2 months and I am liking it.

my band 2 is replaced by Garmin fenix 5s awsume device.

I hope for a new wearable too, but I just recently had to abandon my original Band 1 as it was falling apart. I called MS and found out that they would sell me a new band 1 at a discount, but they did not have any band 2's that could be bought under this plan. So I have a new band 1-hope it lasts longer than the old one or at least until someting new comes along.

After the band of my band broke...i bought a Samsung Gear 2 very cheap at Kijiji ($100 CAD)...very happy with it...

Yeah, hopefully the new Wearable would have a better quality Strap. i used Tape to keep mine in one piece

We need a Windows 10 Chinese version for US...

Any news on streaming devices? Was rumoured at some point. MS does need a Chrome cast competitor

I think i saw a wireless dongle from microsoft at the store. but if your TV is miracast enabled then you do not need a device like chrome cast.

Don't you mean the Microsoft Wireless Display Adapter? I have two of these, one plugged in to the back of our projector and one for the road, which I use to stream Netflix, other apps or Continuum to hotel and airbnb TV's. I carry a Microsoft foldable BT Keyboard and a mouse as well, altogether a very compact Continuum package. It's basically wireless screen sharing. The dongle itself is HDMI with USB power. Works with Windows 10 Mobile and full Windows 10, easy access through the actions dock (either trough 'connect' or 'project').

Hoping to see more exciting hardware just in time for back to school and Christmas shoppers. I still have money on Hololens news as it begins shipping in China the next day. :)

I remember when it was Summer 2016 for mobile improvements on Redstone. That got pushed back, and we were told Spring 2017 because MS wanted to align it with nee hardware. Then we got told that wasn't so, and it was Spring 2018 for a phone. Now, it's Fall 2018 AT BEST. I get this stuff isn't easy, but given how consistently wrong these timelines have been for what is now going to equate to two-plus years, why even bother guessing anymore? I'm just going to stop caring about the Surface Phone until I see it. I'll go get a One Plus and tether it to my 950 or something because I have 0 faith in Microsoft with anything now.

Or you can just continue to use your 950 like I am. It still works right?

Yeah, my 920 with a 5-year-old SoC still works too. However, the app situation has gotten increasingly atrocious on the platform, and it's to the point I finally am missing out on things. The 950 does not get it done on the software front, and even MS gives the other platforms better support. I'll still use my 950 for calls, texts, photos, and web browsing, but it's almost impossible to get by with the W10M app situation these days. I mean, why should I continue to force myself to support the platform when Microsoft won't support it or do right by its customers with any consistency?

Microsoft home hub. It has windows for the whole family but it is windows in some sort of kioskmode It can only run uwp apps like Windows S Instant on Cortana powered Touch screen Camera for skype etc, but also people tracking as seen here for games or making appointments It has smarthome features It has NFC for seamless connecting your other devices.

wasnt the tagline for this event something along the lines of "show the world what's next"......none of the items WC listed as "expected" really match the hype of that tagline.....but the "What we're not expecting" list seems more fit 👍

"Showing the world whats next" HAS to be more than a surface refresh, or some extra cortana devices. I dunno what it is, but there has to be a surprise with a tagline like that. Maybe a new hololens type offering, or a proto of windows on arm surface device being released in the fall.

A Surface Pro with a larger screen and thinner bezels would be nice :)

I was thinking the opposite, a smaller surface pro for people who travel alot but want power. My surface 3 was ok, but not powerful enough for what I wanted!

MS will show off the ultimate mobile device that is capable of doing everything.... Oh.. the Galaxy S8!

What is it with the wild overuse of the word ultimate these days?

You should've said "Ultimate Overuse".

More Cortana-powered devices seems unlikely for this type of event. This is a hyped-up Panos-event, i.e. it will be relevant to their coolest devices. They will want to show the vision of Microsoft's hardware division. The third and final remaining question mark from the teaser image of their offices back in the fall (the other two being Studio and Laptop). Devices like the Harman Kardon Invoke are things they introduce in passing, like they did at Build 2017. It's also unlikely that the Surface Pro will be the star of the show, unless they have some significant surprises in store for it, such as digital bezels that can disappear entirely. I'm also thinking that it's kind of susipicious that they are hosting this high-profile event in Shanghai, at a super cool venue right inside one of the hottest districts of all of Asia. The Asian market loves mobile devices and large mobile devices specifically. So I'm betting on a Surface Mobile device which is based on ARM, but running Windows 10 Mobile for now. Once it's ready in the fall, it'll recieve the upgrade for Windows 10 ARM.

You done did it now with Surface Mobile prediction.....hope you are 100% right.....anything less and the tagline should have been "Show the world what's next to nothing"

Well, at this point anything is "next to nothing" regarding mobile right?

So maybe we'll see the previous collaboration between Microsoft and Xioami result in the first full-Windows-on-ARM device, a new Mi?

Was hoping for a cortana powered thermostat....but since MS continues to drag their feet, may just get an EcoBee 4 with alexa instead.

Agreed, it's got to be mobile. Possibly their own hardware running on ARM/W10S, or possibly hardware from other OEM's for the existing OS.

Lay off the cheap crappy drugs. NO SURFACE MOBILE/PHONE etc....keep dreaming.

I want to see a Cortana Dot so I don't have to buy an Amazon Dot. I don't need a speaker - I have a Bose home theater system. All I need is a dot-type device.

Maybe a high end camera with cortona and windows 10 ARM in it. Microsoft can handle photo thing imo.

What good would a camera with Cortana and Windows be? You already have a smartphone.

Microsoft NEVER developed their camera technology. That was Nokia's baby. Microsoft has ZERO interest in any of that. They fired everyone that dealt with NOKIA image quality...which was the 950 series camera. Please, fanboys' be real. You KNOW that microsoft shitcanned the entire mobile /imaging development team. Why would you think they are developing a phone....or a camera. Most of the imaging and phone team have moved to the NEW NOKIA....if you want good cameras and phones, go there!

David Fredh still works at MSFT...

What about a Home Hub device with screen?

That'd be cool...I'd like a hub with just sensors (and a speaker) no screen... instead connected apps on phones, PC and Xbox

I expect new hw with incremental improvements and probably a few Cortana powered devices. Not much to get excited about, considering Cortana and bing don't do much in my part of the world anyway.

Yeah but cortana doesn't support china does it?

If you look at the latest panos Twitter pic those shadow of computers aren't sitting like a surface pro. They are more in the air like a surface book. So maybe that picture is of a alcantara surface book keyboard. Additionally the last time a product was totally leaked in pictures it was the 950. It seemed like that was on purpose so he didn't have to spend much time talking about it. Maybe it'll be the same this time around. The surface pro will be sort of a footnote since there is nothing major about it, and then ​on to better newer things.

When I enhance the shadows on the picture (that Panos posterd) in Photoshop I can clearly see that the middle and the left laptop are Surface Books. The right laptop doensn't seem to have a Microsoft logo and is a bit bigger than the other two. I don't think the girls in the picture are holding a the product. I think the picture is more of a teaser for the new coloured alcantara type covers.

Folks, the hidden message is in the picture for tomorrows event. Strange nobody noticed.....

The picture at the top of this article.

What? They're gonna give us walls to go with their Windows? :D

Maybe the Windows Home stuff from wich we have seen some experiments only so far...?

Microsoft has already shown the world Surface Pro for replacing tablet, Surface Book for replacing laptop, Surface Studio for desktop, Surface Laptop better than Mac, what else next???? It shouldn't show the same things to the world this the "next", right? The only last big thing that show to the world what's next is a device replacing smartphone, that is a tablet can be foldable to as a phone and put in your pocket, and just call it "Surface".

What about a surface 4 table???

We saw a spectacular IoT table at their last event ;)

Too bad for no live streaming!

Starting to give up on MSFT in the consumer space. The battery on my band 2 died. Wearing my band 1 again. Would love a band 3 however it seems like that ship has sailed. Using a Lumia 830, with MSFTs mobile first statement with no plan that can be shared with the common folk reality; what to do? I may have to switch to Android. Puke....My mobile device is my main computing device. if there is no w10 mobile option regardless of what flavor of w10 it is, I could care less about w10.

As this is all about speculation, well let's turn speculation in to some existing lyrics... since any speculation still is euh... speculation
The picture contains the hidden message for all loyal WP fans (you need to know your Rock classics) :-) "
Now the seats are all empty
Let the roadies take the stage
Pack it up and tear it down
...
Oh won't you stay
Just a little bit longer
Please please please, say you will
Say you will
Oh won't you stay
Just a little bit longer
Oh please please please stay
just a little bit long
...
"

Didn't I say "Rock classics"

By the time we reach the Fall of 2018, MS will say..meh..lets not bother with a Surface Phone, or any other phone from us or an OEM. We are at 0.000000000000000000000000000000000000000000000000000000000000000000000000000000000000000000001% market share now, so...meh..just get an iphone 9.

Well it will be good to be able to buy Surface Book from Spain ... doesn't matter 1 or 2

Call it a mobile PC, call it a phone, call it whatever you want, but if there isn't some sort of Windows 10 telephony device announced, I'm done as I'm sure others are as well. I don't care if it's a Microsft device or a third party. We need to see something and it needs to be supported by all major carriers, not just one or two, and it needs to be a flagship device.

If it's a pony running Windows 10 that also serves as a telephony device, I'll take it.

So what exact time is the event? Eastern time.

I looked for it but didn't find anything!

would be great to hear about windows on ARM

would be great to hear about full windows on ARM

The creative cropping of the Alcantara tweet is interesting. Can't see the tops of the keyboards. Wonder if those are docks? https://www.thurrott.com/wp-content/uploads/2017/01/laptop.png

Folks as you know we have seen 2 different patents Microsoft has got for tablets smaller than the Surface Pro tablets. 1 design was for a Fold-able single screen device and the other patent was for a 2 separate screen device like the Old Microsoft "Coureir" Tablet design was. Maybe a Redone Surface "Mini" Tablet will finally make it to the market place The theme of the event is Microsoft will show the world what is "NEXT" A refreshed Surface Pro Tablet is not enough o a big DEAL device to show the World nor would a NEW Surface smart phone be a big deal to the world. I THINK that Microsoft has to show a new device that is a next step in Technology to fit the theme of this event

I am with you. Doesn't make sense for Panay and MS to do a full scale even t for a product refresh. If they do, they should reassess their marketing strategies. Something new is bound to be shown.

But why China instead of US?

Probably to have a more global impact, and get the attention of chinese OEMs.

I'm curious to why Daniel seemed it worthy enough to fly over there. I can't believe it would be for the items listed in the article....

Would love for an announcement out of the blue for WindowsAuto. Although with no phone to integrate into, I guess this is probably in the not gonna happen for 3 more years category. Although didn't Volvo debut some Cortana integration a few months back? some middle class Swede talking to his phone, "Cortana, prepare my Volvo." and it started and warmed it up?

They had some car cortana mock-up in the build keynote day 1. There must be something in the works.