Microsoft's 'Surface Pro 5' leaks ahead of official announcement
Microsoft's upcoming Surface Pro appears to have leaked in a plethora of new renders.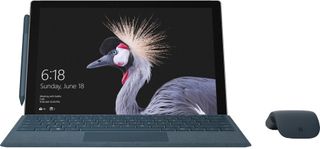 If you're a fan of Microsoft's Surface Pro line of devices, and have been waiting for a new Surface Pro since the Surface Pro 4 was released back in 2015, it looks like you may soon be in luck. A new leak from VentureBeat has taken the wraps off what appears to be the successor to the Surface Pro 4, simply called "Surface Pro" and sporting a design not much different from the Pro 4.
The new Surface Pro appears to very much be a minor release, sporting an extremely similar design to the Surface Pro 4, but with updated internals and specifications bringing it up to par with other products being released in 2017. Outside of renders, not much else about the new Surface Pro has been revealed, with VentureBeat saying they'll have more to report on regarding specifications on Monday.
Alongside the Surface Pro renders, a number of new Type Cover and Surface Pen renders have leaked too, revealing new colors that are similar, but not identical to that recently announced for the Surface Laptop. Apart from new colors, it appears the Surface Pro accessories remain the same as the Surface Pro 4 accessories.
It's highly suspected that Microsoft will officially unveil a new Surface Pro at its China hardware event next week, alongside other announcements. The event will not be livestreamed however, soyou'll have to wait for an on-demand version of the event, or stay tuned to Windows Central as we'll have coverage on the event as it happens.
Zac Bowden is a Senior Editor at Windows Central. Bringing you exclusive coverage into the world of Windows 10 on PCs, tablets, phones, and more. Also an avid collector of rare Microsoft prototype devices! Keep in touch on Twitter: @zacbowden.
Cool, I'm feeling ready to update my SP3, all I need now is a spare $2000.

Yep, I was waiting to hear about the SP5 before dumping my SP3 as well. Hopefully there's some surprises other than spec bumps though ... that's what put me off moving to the SP4.

The Pro 4 had a bit more than a spec bump. Namely the Windows Hello camera and the PixelSense display that could differentiate between hand and pen (If you're into that)

Differentiating between hand and pen has been a feature since the original Surface.

Pixel sense is a new tech by Microsoft that embeds the screen a lot more closer to the screen that allows the editor to make more accurate and precise pixels edit for pro's. The pen trigger has 1024 levels of pressure but the precision is what keeps the work correct and perfected!

Sounding like a marketer mearly parotting what they told you...

That's been here since the first SP came out. I have a SP3 which works the same!

My Surface Pro 2 is already well capable of differentiating between hand and pen...

It will be expensive as I have only saved around $1200.... If I buy a surface pro 4 now. For how many years will it be good?

Well, I'm still rocking my original Surface Pro and I've had it since January 2013. My point is, if you want the Surface Pro 4, then I think it will be a good investment, considering that you will still get OS updates.
By the time the new Pro comes out, you should be able to get top of the line Pro 4, with accessories for about the amount you already saved, if not much less. I'm thinking between $900-$1200 range.

Thanks! But are we supposed to get updates till 2020?

Updates on pcs don't stop until the pc dies

This is not a mobile phone xD Windows XP still get's updates sometimes. They just recently stopped with XP and Vista. Windows 10 is still brand new. They will update for atleast 10 to 15 years I'm sure of it. They even give new windows editions for free now.

what? M stopped to support older version of W10 so.. if you didnt update or the process is stuck than W10 wont get any new updates which means no support... so 10 - 15y. of support is... not realistic http://www.windowscentral.com/microsoft-drops-support-original-release-version-windows-10

So if you don't update you don't get updates, er, ok. I'm sure if you have problems updating MS will be able to help.

They are not releasing updates for version 1507. If you have that version, you can just update it to the newest release and continue to get updates. If you haven't upgraded to at least the aniversary update, what's stopping you? You are two (three??) version behind. This is the standard support MS gives for pretty much all products. Current release -2 major versions.

They aren't doing maintenance updates to that specific build. You still have the ability to upgrade the OS to the latest build for free. Moron.

It all depends on what you mean by "good". If the SP4 can do what you want and those needs don't change much in the future then it will be good for a long, long time. If you're not the type to get envious of those with newer stuff then you'll definitely be able to get a SP4 at a discount once the new model is released. If you get it now then you might pay a bit more for it than you would then.

Me too... Flipkart has some really exciting exchange offers making it much more affordable than it was before.

Judging by what we know, by buying the 'old' SP4 you're now just buying a slightly cheaper variant of the device, there shouldn't be too much difference between them and they'll both have the same lifespan from new - thought just to be safe, maybe wait for the launch to confirm that. The largest thing I can see separating these two models are the chips (the current SP4 is still more than up to the job) and maybe the battery life.

I'm still utterly happy with my Surface Pro 3 and won't be upgrading it until it dies really... I have the i5/8gb/256gb and use it for photoshop and webdev stuff. Still more than suits my needs. So if you get an SP4 now, you'll be good for quite some time imho!

I've had my Surface Pro 4 for over a year now and honestly could not justify upgrading from it.

If you take care of your technology... in your case I would say about 10 or so years.

Given competition from AMD, about two years. Afterwards, expect to get quad cores (maybe with hyperthreading as well) for the prices we pay today for two cores with hyperthrrading. So CPUs in ultrabooks are about to become about twice as fast or more.

This is not good as MS was very secretive about its new launches.... Not a MS way if intentional.

They have been very leaky recently, they need a plumber lol.

They should be. They want their Lauches to generate excitement. The real question is if this will be 10s. Probably not with Pro labelling

I doubt it, but either way I'm not fussed since you can just upgrade to Pro for free at the moment anyway.

Well, looks from the render that at least something will happen to the N-trig Pen. Hopefully, an upgrade to solve the jittering and add tilt-support, at least on par with Wacom EMR or Apple Pencil in 2017. It's a good thing the Surface Laptop wasn't bundled with the Surface Pro 4 Pen; don't want products to cannibalize itself before launch.

I don't see much, this isn't much of a leak. Hope it has USB-C.

Well, $hit...... Isn't that something.... About an hour ago someone STOLE MY SURFACE 3 THAT WAS SITTING JUST FIFTEEN FEET AWAY FROM ME!.... Is this a sign?

Sorry to hear that. :( Try using find my device to help find the general location of the thief!

Yeah, we got him on camera. Just need to track him down.. Looks like an employee here... Hopefully he did the right thing, and returned it. I have insurance, but I'm thinking at&t doesn't have that in stock anymore😭😭😭.
...
Although it would be cool to have a new Surface, believe it, or not, the Surface 3 is very useful for what I do.. It's smaller, has TERRIFIC battery life, no fan, and is lighter weight, not to mention more affordable. It's a little more mobile than the larger "Must power down" pro versions. I love being able to just shut, and run, if need be.. We really need a real Surface 3 successor.
......
Update: They do, indeed, have them in stock for replacement. Cost me $160 deductible!!!!! BS😬😬😬😬... Jerks gonna pay big time when the police track him down Monday.. "Lose your job over a Surface because they are that bad a$$"... That should be MS's marketing pitch.

Sorry to hear that. I really love my Surface 3 too so it would suck much if someone stole it from me. Hope your get it back soon.

Surface 3 owner here. It is an excellent device for the right person, no doubt. I'm probably going to get a SP5 (or whatever it may be called) to replace both my Surface 3 and my aging XPS 15 laptop at home but the Surface 3 is definitely great for mobility specifically. I would be very surprised if we don't see a Surface 5 (as I would expect it to be named by then) when we start seeing ARM devices for Windows released. My guess is that it will be about the same size as the Surface 3, although maybe thinner and perhaps smaller overall with a narrower bezel, and it will have Windows Hello via iris recognition, like the Lumia 950, but not facial recognition.

Would love a new surface 'amateur' device. My 3 has been going strong for a long time now.
I would really love to see one the same size but using the new virtual bezel system they demoed a while back and the new thumb + pen controls. Would be all over that..

So, as we've learned today, keep one as a backup. Lol

Am pretty sure the ARM version is going to be the successor for Surface 3. And I know its gonna be awesome!

I'm surprised a thief even knew what it was and that it was valuable. Are you sure they didn't think it was a tray and just picked it up when clearing your table :-) I joke. If you have insurance they'll probably replace it for a surface pro 4 if they don't ha very 3s in stock.

I hope they have something, but this is att we're talking about, so IDK.

AT&T wouldn't have Pro's in stock. The sold 3's because you could get them with a SIM. They'll probably offer a Galaxy S8 is a suitable sub...MS would. ;)

Man, that would've been bad ass if MS/ATT offered the pro.. Damn! Guess the cost would've been too high to pitch.

"Find my device" has that feature of activating camera?

I tried to use that, but my phone is the primary device for my account. Unfortunately, it wouldn't let me sign up for FMD because support for Windows & BB end June 1st, says the website.

The closest thing to a Surface 3 replacement is the Core M powered Surface Pro 4. While i loved the Surface 3's portability I never really liked that Atom processor. The SP4's battery life is quite good.

You know, I love that damn S3, but my biggest gripes are that it need just a tad more ram, and tad more power, a USBc port( I know), magnetic pen grips on the sides, and more positions to the stand, like the SP3/4.... It only affixes to 3 positions.. But, the size is cool. Not that it needs to be thinner, but if it could go thinner they could go up on the screen size .5"... All that would make for a lovely little device... No, I'm serious. The feel, and look, of Surface devices is so nice, you want to rub it on your face.. Like cuddle it. Lol. Seriously! It's supreme! It feel like the nicest quality thing I've ever owned, and I got some nice ****.. My Harley is about the only thing as beautifully crafted. ****.
....
Can you guys imagine why we want a Surface Phone so bad? Just the thought of a device that "lustrous" makes my balls tingle.... ****, it would feel about how nice an iPhone feels, but sharper.. Trust me, I know! Every woman I've ever dated had an iPhone, and they just feel great. They feel like mini Surfaces. They do... Might sound crazy, but it's true.... Please, MS! PLEASE give me some new Surface $hit. 😭😭😭😭😭😭😭

I want an updated Surface 3, same screen. Smaller bezel? Just a touch smaller would be awesome!

How about a touch thinner, larger screen, smaller bezel, same overall size?

Aaaaaagggggh
Just pulled the trigger an a pro4 i5 this morning

So? You have 30 days to return it. If you ordered it from the Microsoft Store you can even return it for free, Microsoft will e-mail you a prepaid shipping label. Just print it, and stick with transparent box tape over the old one, and call the appropriate mail carrier to pick it up (or drop it off at a location, up to you) and done! :)

Think it was kinda obvious when they announced a hardware event for may 23rd event :)

Their photos still show a mini-DisplayPort port. No deal.

They're small. How about one of each?

Yeah, better if they just replace it with Thunderbolt 3 Type-C port. This upcoming Surface hardware is missing the growing benefits of Thunderbolt accessories. Yes, Surface proprietary connector does basically what Type-C in terms of capability, but not in terms of wide support for wide range of accessories. The Surface Dock is good but not as flexible since Type-C docks are already growing in the wild, especially the Thunderbolt ones. It would be nice if they will have new Surface Dock that use Type-C, but since it use a standard port, you can use the Surface Dock for non-Surface devices. That's additional thing that Microsoft can sell and competition to accelerate the saturation of these Type-C docks.

Unfortunately Microsoft has decided to go the Apple route and rob people for proprietary accessories. Same with Xbox, no native USB webcam for Skype and Cortana. Getting really frustrating.

At least Apple was quick to jump onto USB-C with their computers.

they are not proprietary accesories. they are common standard adaptors for mini display port to otherr display standards.

Its a leak you sure you are just gonna base your decision off of that. Man...

Leaks these days are pretty accurate, and seeing how pointlessly-against USB-C Microsoft is (see: Surface Laptop), the Surface Pro 5 likely won't have it.

Yup, I have been waiting for this, but without USB-C/Thunderbolt 3 there is no chance I will buy one. Panos seems to have his heart set against modern standards. Proprietary charging and old USB ports at a crazy high price is unacceptable.

Im not disappointed, but I think this is a sign that the 2 in 1 is now a mature catagory.

Which is the nice way of saying MS needs to get onto the next product soon.

Still no Thunderbolt 3 port in 2017, definitely not worth the upgrade to my Surface Pro 2...

If you would have SP3 or SP4 then it wasn't worth a upgrade but with SP2 you should go for it.

Surface Pro 3 and 4 offered nothing compelling enough to replace my 512GB SSD, 8GB RAM Surface Pro 2 setup. I buy my tools to make use of them, not merely for the numbers, and there's no major added use in any of those compared to my Surface Pro 2. With this one lacking Thunderbolt 3, it's no different from the other 2 successors...

Just asking, but other than Apple products, what other devices use Thunderbolt 3 ports, and why would you need it built into the Surface, if it has USB that a Thunderbolt cord can be plugged into?
I'm just curious...I don't know much about Thunderbolt ports

Thunderbolt has much higher bandwidth and so can support things like docks with multiple hi-res monitors attached. This is not such a big deal for Surface devices as they have their own proprietary port that can connect a Surface Dock and multiple peripherals from there but it means that you can't use a third-party dock. Personally, I wonder whether this will even be called Surface Pro 5. Someone prominent at Microsoft did say recently that the SP5 doesn;t currently exist. That doesn't mean that a device that does exist won;t be officially named Surface Pro 5 at some point but it may also mean that this is a just a refreshed SP4 and a SP5 with USB C and Thunderbolt will appear later. I'd like to see Surface Connect and USB C Thunderbolt ports and a USB C to Mini DisplayPort adapter in the box.

Prominent: it was Panay (the father of all things Surface) himself that said the Surface Pro 5 does not exist as a product. I doubt anything revealed at Shanghai will be the Pro 5. Possibly just a refresh of the current Surface Pro 4. M