Microsoft's 'Surface Pro 5' leaks ahead of official announcement
By Zac Bowden last updated
Microsoft's upcoming Surface Pro appears to have leaked in a plethora of new renders.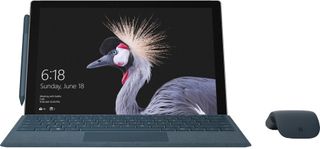 If you're a fan of Microsoft's Surface Pro line of devices, and have been waiting for a new Surface Pro since the Surface Pro 4 was released back in 2015, it looks like you may soon be in luck. A new leak from VentureBeat has taken the wraps off what appears to be the successor to the Surface Pro 4, simply called "Surface Pro" and sporting a design not much different from the Pro 4.
The new Surface Pro appears to very much be a minor release, sporting an extremely similar design to the Surface Pro 4, but with updated internals and specifications bringing it up to par with other products being released in 2017. Outside of renders, not much else about the new Surface Pro has been revealed, with VentureBeat saying they'll have more to report on regarding specifications on Monday.
Alongside the Surface Pro renders, a number of new Type Cover and Surface Pen renders have leaked too, revealing new colors that are similar, but not identical to that recently announced for the Surface Laptop. Apart from new colors, it appears the Surface Pro accessories remain the same as the Surface Pro 4 accessories.
It's highly suspected that Microsoft will officially unveil a new Surface Pro at its China hardware event next week, alongside other announcements. The event will not be livestreamed however, soyou'll have to wait for an on-demand version of the event, or stay tuned to Windows Central as we'll have coverage on the event as it happens.
Zac Bowden is a Senior Editor at Windows Central. Bringing you exclusive coverage into the world of Windows 10 on PCs, tablets, phones, and more. Also an avid collector of rare Microsoft prototype devices! Keep in touch on Twitter: @zacbowden.
Cool, I'm feeling ready to update my SP3, all I need now is a spare $2000.

Yep, I was waiting to hear about the SP5 before dumping my SP3 as well. Hopefully there's some surprises other than spec bumps though ... that's what put me off moving to the SP4.

The Pro 4 had a bit more than a spec bump. Namely the Windows Hello camera and the PixelSense display that could differentiate between hand and pen (If you're into that)

Differentiating between hand and pen has been a feature since the original Surface.

Pixel sense is a new tech by Microsoft that embeds the screen a lot more closer to the screen that allows the editor to make more accurate and precise pixels edit for pro's. The pen trigger has 1024 levels of pressure but the precision is what keeps the work correct and perfected!

Sounding like a marketer mearly parotting what they told you...

That's been here since the first SP came out. I have a SP3 which works the same!

My Surface Pro 2 is already well capable of differentiating between hand and pen...

It will be expensive as I have only saved around $1200.... If I buy a surface pro 4 now. For how many years will it be good?

Well, I'm still rocking my original Surface Pro and I've had it since January 2013. My point is, if you want the Surface Pro 4, then I think it will be a good investment, considering that you will still get OS updates.
By the time the new Pro comes out, you should be able to get top of the line Pro 4, with accessories for about the amount you already saved, if not much less. I'm thinking between $900-$1200 range.

Thanks! But are we supposed to get updates till 2020?

Updates on pcs don't stop until the pc dies

This is not a mobile phone xD Windows XP still get's updates sometimes. They just recently stopped with XP and Vista. Windows 10 is still brand new. They will update for atleast 10 to 15 years I'm sure of it. They even give new windows editions for free now.

what? M stopped to support older version of W10 so.. if you didnt update or the process is stuck than W10 wont get any new updates which means no support... so 10 - 15y. of support is... not realistic http://www.windowscentral.com/microsoft-drops-support-original-release-version-windows-10

So if you don't update you don't get updates, er, ok. I'm sure if you have problems updating MS will be able to help.

They are not releasing updates for version 1507. If you have that version, you can just update it to the newest release and continue to get updates. If you haven't upgraded to at least the aniversary update, what's stopping you? You are two (three??) version behind. This is the standard support MS gives for pretty much all products. Current release -2 major versions.

They aren't doing maintenance updates to that specific build. You still have the ability to upgrade the OS to the latest build for free. Moron.

It all depends on what you mean by "good". If the SP4 can do what you want and those needs don't change much in the future then it will be good for a long, long time. If you're not the type to get envious of those with newer stuff then you'll definitely be able to get a SP4 at a discount once the new model is released. If you get it now then you might pay a bit more for it than you would then.

Me too... Flipkart has some really exciting exchange offers making it much more affordable than it was before.

Judging by what we know, by buying the 'old' SP4 you're now just buying a slightly cheaper variant of the device, there shouldn't be too much difference between them and they'll both have the same lifespan from new - thought just to be safe, maybe wait for the launch to confirm that. The largest thing I can see separating these two models are the chips (the current SP4 is still more than up to the job) and maybe the battery life.

I'm still utterly happy with my Surface Pro 3 and won't be upgrading it until it dies really... I have the i5/8gb/256gb and use it for photoshop and webdev stuff. Still more than suits my needs. So if you get an SP4 now, you'll be good for quite some time imho!

I've had my Surface Pro 4 for over a year now and honestly could not justify upgrading from it.

If you take care of your technology... in your case I would say about 10 or so years.

Given competition from AMD, about two years. Afterwards, expect to get quad cores (maybe with hyperthreading as well) for the prices we pay today for two cores with hyperthrrading. So CPUs in ultrabooks are about to become about twice as fast or more.

This is not good as MS was very secretive about its new launches.... Not a MS way if intentional.

They have been very leaky recently, they need a plumber lol.

They should be. They want their Lauches to generate excitement. The real question is if this will be 10s. Probably not with Pro labelling

I doubt it, but either way I'm not fussed since you can just upgrade to Pro for free at the moment anyway.

Well, looks from the render that at least something will happen to the N-trig Pen. Hopefully, an upgrade to solve the jittering and add tilt-support, at least on par with Wacom EMR or Apple Pencil in 2017. It's a good thing the Surface Laptop wasn't bundled with the Surface Pro 4 Pen; don't want products to cannibalize itself before launch.

I don't see much, this isn't much of a leak. Hope it has USB-C.

Well, $hit...... Isn't that something.... About an hour ago someone STOLE MY SURFACE 3 THAT WAS SITTING JUST FIFTEEN FEET AWAY FROM ME!.... Is this a sign?

Sorry to hear that. :( Try using find my device to help find the general location of the thief!

Yeah, we got him on camera. Just need to track him down.. Looks like an employee here... Hopefully he did the right thing, and returned it. I have insurance, but I'm thinking at&t doesn't have that in stock anymore😭😭😭.
...
Although it would be cool to have a new Surface, believe it, or not, the Surface 3 is very useful for what I do.. It's smaller, has TERRIFIC battery life, no fan, and is lighter weight, not to mention more affordable. It's a little more mobile than the larger "Must power down" pro versions. I love being able to just shut, and run, if need be.. We really need a real Surface 3 successor.
......
Update: They do, indeed, have them in stock for replacement. Cost me $160 deductible!!!!! BS😬😬😬😬... Jerks gonna pay big time when the police track him down Monday.. "Lose your job over a Surface because they are that bad a$$"... That should be MS's marketing pitch.

Sorry to hear that. I really love my Surface 3 too so it would suck much if someone stole it from me. Hope your get it back soon.

Surface 3 owner here. It is an excellent device for the right person, no doubt. I'm probably going to get a SP5 (or whatever it may be called) to replace both my Surface 3 and my aging XPS 15 laptop at home but the Surface 3 is definitely great for mobility specifically. I would be very surprised if we don't see a Surface 5 (as I would expect it to be named by then) when we start seeing ARM devices for Windows released. My guess is that it will be about the same size as the Surface 3, although maybe thinner and perhaps smaller overall with a narrower bezel, and it will have Windows Hello via iris recognition, like the Lumia 950, but not facial recognition.

Would love a new surface 'amateur' device. My 3 has been going strong for a long time now.
I would really love to see one the same size but using the new virtual bezel system they demoed a while back and the new thumb + pen controls. Would be all over that..

So, as we've learned today, keep one as a backup. Lol

Am pretty sure the ARM version is going to be the successor for Surface 3. And I know its gonna be awesome!

I'm surprised a thief even knew what it was and that it was valuable. Are you sure they didn't think it was a tray and just picked it up when clearing your table :-) I joke. If you have insurance they'll probably replace it for a surface pro 4 if they don't ha very 3s in stock.

I hope they have something, but this is att we're talking about, so IDK.

AT&T wouldn't have Pro's in stock. The sold 3's because you could get them with a SIM. They'll probably offer a Galaxy S8 is a suitable sub...MS would. ;)

Man, that would've been bad ass if MS/ATT offered the pro.. Damn! Guess the cost would've been too high to pitch.

"Find my device" has that feature of activating camera?

I tried to use that, but my phone is the primary device for my account. Unfortunately, it wouldn't let me sign up for FMD because support for Windows & BB end June 1st, says the website.

The closest thing to a Surface 3 replacement is the Core M powered Surface Pro 4. While i loved the Surface 3's portability I never really liked that Atom processor. The SP4's battery life is quite good.

You know, I love that damn S3, but my biggest gripes are that it need just a tad more ram, and tad more power, a USBc port( I know), magnetic pen grips on the sides, and more positions to the stand, like the SP3/4.... It only affixes to 3 positions.. But, the size is cool. Not that it needs to be thinner, but if it could go thinner they could go up on the screen size .5"... All that would make for a lovely little device... No, I'm serious. The feel, and look, of Surface devices is so nice, you want to rub it on your face.. Like cuddle it. Lol. Seriously! It's supreme! It feel like the nicest quality thing I've ever owned, and I got some nice ****.. My Harley is about the only thing as beautifully crafted. ****.
....
Can you guys imagine why we want a Surface Phone so bad? Just the thought of a device that "lustrous" makes my balls tingle.... ****, it would feel about how nice an iPhone feels, but sharper.. Trust me, I know! Every woman I've ever dated had an iPhone, and they just feel great. They feel like mini Surfaces. They do... Might sound crazy, but it's true.... Please, MS! PLEASE give me some new Surface $hit. 😭😭😭😭😭😭😭

I want an updated Surface 3, same screen. Smaller bezel? Just a touch smaller would be awesome!

How about a touch thinner, larger screen, smaller bezel, same overall size?

Aaaaaagggggh
Just pulled the trigger an a pro4 i5 this morning

So? You have 30 days to return it. If you ordered it from the Microsoft Store you can even return it for free, Microsoft will e-mail you a prepaid shipping label. Just print it, and stick with transparent box tape over the old one, and call the appropriate mail carrier to pick it up (or drop it off at a location, up to you) and done! :)

Think it was kinda obvious when they announced a hardware event for may 23rd event :)

Their photos still show a mini-DisplayPort port. No deal.

They're small. How about one of each?

Yeah, better if they just replace it with Thunderbolt 3 Type-C port. This upcoming Surface hardware is missing the growing benefits of Thunderbolt accessories. Yes, Surface proprietary connector does basically what Type-C in terms of capability, but not in terms of wide support for wide range of accessories. The Surface Dock is good but not as flexible since Type-C docks are already growing in the wild, especially the Thunderbolt ones. It would be nice if they will have new Surface Dock that use Type-C, but since it use a standard port, you can use the Surface Dock for non-Surface devices. That's additional thing that Microsoft can sell and competition to accelerate the saturation of these Type-C docks.

Unfortunately Microsoft has decided to go the Apple route and rob people for proprietary accessories. Same with Xbox, no native USB webcam for Skype and Cortana. Getting really frustrating.

At least Apple was quick to jump onto USB-C with their computers.

they are not proprietary accesories. they are common standard adaptors for mini display port to otherr display standards.

Its a leak you sure you are just gonna base your decision off of that. Man...

Leaks these days are pretty accurate, and seeing how pointlessly-against USB-C Microsoft is (see: Surface Laptop), the Surface Pro 5 likely won't have it.

Yup, I have been waiting for this, but without USB-C/Thunderbolt 3 there is no chance I will buy one. Panos seems to have his heart set against modern standards. Proprietary charging and old USB ports at a crazy high price is unacceptable.

Im not disappointed, but I think this is a sign that the 2 in 1 is now a mature catagory.

Which is the nice way of saying MS needs to get onto the next product soon.

Still no Thunderbolt 3 port in 2017, definitely not worth the upgrade to my Surface Pro 2...

If you would have SP3 or SP4 then it wasn't worth a upgrade but with SP2 you should go for it.

Surface Pro 3 and 4 offered nothing compelling enough to replace my 512GB SSD, 8GB RAM Surface Pro 2 setup. I buy my tools to make use of them, not merely for the numbers, and there's no major added use in any of those compared to my Surface Pro 2. With this one lacking Thunderbolt 3, it's no different from the other 2 successors...

Just asking, but other than Apple products, what other devices use Thunderbolt 3 ports, and why would you need it built into the Surface, if it has USB that a Thunderbolt cord can be plugged into?
I'm just curious...I don't know much about Thunderbolt ports

Thunderbolt has much higher bandwidth and so can support things like docks with multiple hi-res monitors attached. This is not such a big deal for Surface devices as they have their own proprietary port that can connect a Surface Dock and multiple peripherals from there but it means that you can't use a third-party dock. Personally, I wonder whether this will even be called Surface Pro 5. Someone prominent at Microsoft did say recently that the SP5 doesn;t currently exist. That doesn't mean that a device that does exist won;t be officially named Surface Pro 5 at some point but it may also mean that this is a just a refreshed SP4 and a SP5 with USB C and Thunderbolt will appear later. I'd like to see Surface Connect and USB C Thunderbolt ports and a USB C to Mini DisplayPort adapter in the box.

Prominent: it was Panay (the father of all things Surface) himself that said the Surface Pro 5 does not exist as a product. I doubt anything revealed at Shanghai will be the Pro 5. Possibly just a refresh of the current Surface Pro 4. Maybe with some special Chinese market annoucements directly related to this refreshed device. Pannay clarified his quote further: "You'll see that same meaningful impact when Pro 5, or Pro Next hits the market, quickly qualifying that, "there's no such thing as a Pro 5." By looking at this render it seems to not meet that meaningful impact Panay implied by his own statement. As most of us know Pannay is passionate about all things hardware and means what he says. So, I suspect the Pro 5 will be something he will be on stage announcing it with that flower passiona he does so well. Not this rendered device. Plus, doing it in Shanghai gets Microsoft nothing on the free advertising side. Microsoft will announce the Pro 5 with a bang not a whimper of an event not devoted to the devices release. No streaming at this event and the middle of the night (in the states) means they lose a day of Western media attention. Plus, any announcement may get drowned out two weeks later with and possible iPad & Mac release announcements at Apples WWDC. They would want the media focused on Surface Pro 5 all by itself for a long time.

Was the Pro 2 not a revamped Pro 1?

Here is the marketing. Surface Hub. Surface Laptop. Surface Book. Surface Pro. What's missing? Surface Phone. Hello MSFT. My lumia 950 is working just fine after I replaced the battery. I can wait another year or so for you to figure out the surface phone. My assumption is Windows on ARM--ie a qualcomm chip good enough to delever windows 10 without compromises. But I dont really need a phone that can run a screen. But what if we are waiting for 5G and an Intel chip with the power efficiency of an ARM chip?

@John Mclihinney You clearly have no idea of what Thunderbolt 3 offers. A Thunderbolt 3 port further extends the versatility of the Surface Pro, by adding the ability to connect to a high-end Desktop Graphics card when docked.
Merely a USB Type C port isn't enough, that brings no real benefit over the Surface Docking Station as you said. It has to be fully Thunderbolt 3 capable. That will be the gateway to a Tablet not only replacing your Laptop, but also your high-end Desktop. Enabling you to have an extremely portable yet still capable device while on the go, and a high-end Desktop when docked at your desk. Then and only then will I have a compelling enough reason to upgrade from my Surface Pro 2.

Most all Windows PCs have it today, and have had it for the last year. In my family is a last generation Dell XPS 13 and current generation HP Specter x360. Both have it. Panos not putting it on the Surface Pro is a total deal breaker for me. I need eGPU and uniform charging of my devices. Microsoft is terrible at building devices. On another device note, where is a native USB webcam for Xbox One S?! Their hardware group has zero sense.

Unless I'm mistaken the 2 in 1 devices designed similar to the Surface Pro from Asus, Dell, HP, and Lenovo all have it, they also have more than one port. Surface Pro is becoming the inferior product with a higher price tag, it's basically the Mac of Windows devices. And I say this as a happy Surface Pro 3 owner, but the way Microsoft is going I won't own another Surface product.

If you say all devices have USB-C port, tell us how many gadget you use is connected to these USB-C ports today, without dongles of course. I am happy to hear it. Have you ever tried using them in different ways to challenge the 'confusing cords' MS is used for not including USB-C at the moment. Lastly, MS is always working with Universal STANDARD (e.g. Miracast). Admittedly, the port is under development (same port but different standard [3.1 & TB3]). When USB-C is standardised, MS will include it I think.

TB3 is a superset of USB 3.1 -- meaning that if it's a TB3 port, it can do everything USB 3.1 can do and more. Support for TB3 is also built-in on Kaby Lake processors, so it's as "standard" as it's going to get. Pro music gear is going to TB3 for connections (replacing FireWire, as even USB 3.1 is not considered "good enough" for real pro applications due to the CPU overhead) -- so anyone who is looking to future-proof a portable system for music production will want TB3. I would hope that Microsoft is courting those folks, since that is one of the last Mac holdouts.

Not to mention video editing. All of those peripherals have gone TB3. Surface is not for creators, it's for people who are living in the past.

You seem to think only film and sound producers are Creators?

I'm not defending his choice of wording, but music and video people are among those who need and use the most CPU power and I/O bandwidth. They are the top-level users who can justify high cost machines because only machines of that caliber can effectively handle their workloads (which means money in their pockets) -- Microsoft should be courting those leading-edge users with their hardware to wean them off Apple's products.

@L0n3N1nja Yeah, HP (Elite X2), DELL (Latitude 7275 2-in-1), ASUS (Transformer 3 Pro T303UA), EVE (V, Pyramid Flipper), and many other OEMS already offer Surface Pro-inspired devices with full Thunderbolt 3 capability. There's no reason why the Surface Pro can't have the same port, it's not like that Mini DisplayPort is a more wide spread standard than USB C at this moment. Unfortunately though, it seems only a Surface Pro with that port is going to be a worthy upgrade to my Surface Pro 2. Other OEM offerings are gimped in various aspects to make them more affordable. Be it the Pen experience (some no-name pen technology), the CPU (core M or i5/7 Y instead of i5/7 U), the Webcams (lower quality front/rear webcams), the Display (lower resolution/quality display), the Trackpad (some non-glass, non-precision trackpad), the Storage (no 500GB+ PCIE option), etc. I want a device with no gimps compared to the Surface Pro, in addition to that Thunderbolt 3 port.

One thing I have to say: Easier for 3rd Parties to make a Power Bank for Surface devices. Which is top-thing for me, since other than easier dongle selections and questionable eGPUs in gaming, battery is something "technically" very-limited in current technology. Surface devices I've seen only has 40-48Wh max for Lithium-ion capacity; which translates too 48-40/8 = 5-6 hours of real world-usage. So far, there are only 2 brands to cover a "Surface Power Bank"--Lizone and Qi-infinity (30000 Mah, 2-3x Surface Charge), and that is because they are the only ones that sells the magnetic Surface Power Connector adapter.

@Vincent McLaughlin A Thunderbolt 3 port further extends the versatility of the Surface Pro, by adding the ability to connect to a high-end Desktop Graphics card when docked. Unlocking the potential of replacing not only Laptops (as it already does), but also high-end Desktops when docked with an external GPU. Them Crapple DongleBooks don't even offer the full capabilities of Thunderbolt 3 unless you install Windows on them ( https://youtu.be/JirCwapScUs?t=5m54s ), so, they're far from what I'm looking for. HP (Elite X2), DELL (Latitude 7275 2-in-1), ASUS (Transformer 3 Pro T303UA), EVE (V, Pyramid Flipper), and many other OEMS already offer Surface Pro-inspired devices with full Thunderbolt 3 capability. Now, the Surface Pro is staying behind while OEMs are advancing over it with this future-proof port... Oh well, I'm in no hurry to upgrade my Surface Pro 2. I kept my 2008 HP Pavilion dv3510nr Laptop up until 2014 (where my Surface Pro 2 fully replaced it), don't mind keeping my Pro 2 until 2024 or even later. It already does the job and does it well enough.

Did you know the Surface Pro magnetic connector is actually a thunderbolt port that was modified into a proprietary one

Fecht is right. Panos even hinted at the future of that port with an eyebrow lift in an interview. The speed of data through that port is the same, when docked. The shape, for some reason was changed to what we have now.

If that is true and an updated dock with TB3 support is coming, that will sell me on a SP5 (replacing a Pro2)

Took the words right out of my mouth! If the Surface Connect Port is indeed a Thunderbolt 3 port in disguise, that would be the best of both worlds. While keeping the great Magsafe benefit of the Surface Connect port, the Thunderbolt 3 capability would enable us to connect to advanced accessories like an external GPU when docked. Replacing not only our Laptops, but also our high-end Desktops.

The shape was changed so that they can have a magnetic connector on it. Which at the time, everyone wanted.

I still want it today, and I'm still loving it on my Surface Pro 2. Only wanted the Mini DisplayPort to be repalced with a Thunderbolt 3 port, but if the Surface Connect port has the same capability of connecting to an external GPU, then I'm sold.

I would LOVE it if ms released a dock that unlocked thunderbolt function from the surface connector. Would really extend the life of these machines.

That's what I heard earlier during the release of the Surface Pro 3, but I've never seen an external GPU docking station for the Surface Pro ever since then. That's what I'm waiting for before I consider upgrading my Surface Pro 2.

Wait, what. The event isn't live streamed? Then why has Panos been so vocal about it? Only a couple of hours ago he sent another mysterious tweet about Surface.

I set 23rd May in my calendar so that I can watch the event live. But then Zac disappointed me.

This is NOT the SP5... it's just an additional version of SP4 :)... that's why this is not a major event. SP5 will probably come in the fall at the next major device event I'm guessing.

Why are people so obsessed with USB-TYPE C? This whole notion of "Future-proofing" seems absurd to me. What's the useful life of a computer- 5 years? Usb type C, might become the standard in that time, but by then you'll be looking to buy the Surface Pro 8. There are only a fraction of type-C accessories.. USB3 Will be standard for the near future (the next 2+ years. So I understand why it's a deal breaker to not have typeC. Thought I will admit I wish they'd get rid of mini display port. I only use this with an adapter to connect a HDMI.. Maybe they should eliminate that port for usb type C?. I'm interested to hear the new specs of the SP5.

Its reversible. That is enough reason.

It's the standard now on all PCs except Surface. Microsoft is clueless on building hardware. This is why I buy HP.

You have chosen HP, Good!

Clueless? Don't use such tough words :/

I'm sorry, but they deserve it. Trying to milk their customers for every cent on proprietary accessories is not something I will stand for. How about with Xbox One S? Why is there no native USB webcam or Kinect? I am not paying an extra $40 to have a kludge with a new Kinect. I just want to use Skype on my Xbox. By not giving customers any modern ports on the Surface, they are screwing us over. Plain and simple. They want to charge a huge price premium for a device that lacks basic functionality in the broader market. In my book, that is being clueless. It's no wonder Surface revenues have plummeted.

The only propertierary accessories are the charger, dock and the type covers (which all can be used by various Surface devices)... Surface uses USB... it's not like Apple where EVERY accessory is propertiery and you're locked in.

Uhm, no, not even close to being true. I own plenty of Apple accessories and the only one that is proprietary is the external cd drive.

Clueless??? While the other OEM's have upped their game on 2-in-1's, I still think the Surface is the best one out there.

The Type-C connector even the accessories and devices that use it isn't as saturated as older Type-A, it's been growing quite rapidly. Thing is here isn't just because people want that reversible port, but because this particular port standard is used for both USB 3.1 and especially Thunderbolt 3, and their capabilities. Thunderbolt 3 is something that is highly desirable here thanks for its very high-bandwidth compared to USB 3.1, that can drive 2 4K monitors at 60 Hz and can be used for external GPU accessories. That's just two most known capabilities you can do with Thunderbolt, but remember that since it's a new standard port, more accessories will support that benefits from Thunderbolt that USB 3.1 isn't enough. With Type-C Thunderbolt, they can replace the proprietary connector with something more widely supported standard that you can directly plug into without even hooking up to the Surface Dock then another Type-C hardware. They can always retain the USB Type-A for a while, while replacing the Surface connector with Type-C connctor. They can even replace the Displayport with Type-C, having 2 Type-C for greater flexibility. Yes, you may going to need dongle for other accessories that don't have it, but at least you can still plug a flash drive or any other Type-A devices into with without a dongle.

I actually prefer the mini display port right now. Usb type C is truly not yet mature enough in terms of accessories. All my high resolution displays have display port inputs not type C and I have 5 of them including a 2k and 4k monitor. Display port cables are everywhere. If you get a PC with only type C output, that means I have to get new type C to display port cables as well, and so on.

Many of the new monitors that have come out this year have USB-C. There is a large variety of accessories at this point. I can't understand people who say that since every computer and accesory doesn't have it yet, then no one should include it on any device. That is a pretty ridiculous argument. It should be on every device made today, period. There is no excuse from Microsoft. HP & Dell include it on most of their devices now. There are plenty of docks, including eGPU ones. It's here and it's now.

New monitors true, but do I throw away my existing (expensive!) monitors? Or have to get new cables for each one or new adapters because I'm getting a new computer? If there is an option of both type C and display port, then that's great, but if it is a choice of one or the other, I'd go with display port for now.

The advantage of having a USB Type-C with Thunderbolt is so that i can have one adapter that is able to charge my Lumia 950 as well as my Surface. That's a big plus for me. However, there are more advantages.

For me it's an issue of recharging while traveling. With Type C you can use the same portable battery that you use for a phone or tablet. Also potentially the same charges you already have laying around for phones and tablets. Essentially ,Type C lets you break away from porprietary charging ports. (Are you listening Apple?)

Oh god... NOW WHAT. Was panos trolling when he said there will be no surface pro 5? Call it Surface Pro instead?

I'd say that there are two possible interpretations. Either he was being coy and this will be the Surface Pro 5 but it wasn't officially named that at the time, or else this is actually just a SP4 with some components updated and the actual SP5 will come later with more significant changes.

This is likely _not_ the Pro 5, but an updated Pro 4.

If that's the case, I'd called him a troll too.

"Can you believe this pen has an eraser? There's pencils out there that don't have one. It's crazy!"

Lol, I loved that comment.

This is not SP5... this is either a refreshed SP4 or just an additional SP4 variant (similiar to how Surface Book got a refresh). He said himself they won't increment the number until it's a major refresh, which I respect them for... because competitors love incrementing the numbers for minor upgrades which is stupid. So I'm glad. That would also explain why this is not a major event.

I'll be interested in seeing if there is a compelling reason to replace my SP3. That thing has been a champ despite all my abuse. I'd like to see a USB C port, but not at the expense of the standard one. I agree with those who are saying we need a Surface 3 successor. For my needs I would probably grab one of those over a new Pro model.

I'm sure that we'll see that Surface 3 successor when ARM devices for Windows become available. We probably would have already seen a Surface 4 if Intel hadn't canned the Atom processor would presumably have been driving it.

Watch them name this the Surface Pro 4 Plus or something haha.

With a 17 inch screen. I'd actually probably buy that.

Are we sure this is a Surface Pro 5 and not just renders for the new accessories?
They are going with the same the as the Surface Laptop is this going to run Windows 10 S? I wonder...

This is definitely not SP5. He said himself there won't be a SP5 until it's a major refresh. It's either a refreshed SP4 or an additional SP4 option.

Well, it seem to be. The date on the screen is more than a year old, so I think this is not new Surface Pro .

That June 18 is 2017 (Sunday). If you check calendar, 6/18/2016 is Saturday

Microsoft is hosting a big Education Conference starting on June 18 https://blogs.msdn.microsoft.com/uk_faculty_connection/2017/01/27/save-t...

I think the pictures. is a surface pro 4.

Disappointed in seeing MS continue to do the bare minimum in harfware. They had momentum and let it fade. They let the Surface Pro (and, by extension, Surface Book) lines get neglected and take too long for a refresh. Now, they're possibly not giving it a SP5 name and messing with consumers a little, it seems like. Hopefully that Panos comment was just some BS to avoid answering about an impending release because there's no reason to not call it SP5. I'm hoping it's more than just a CPU refresh and an accessory paint job though. Then again, this device isn't market towards me. They WILL need to make some changes to avoid making the Surface Laptop look like a joke though, I imagine. If they come and throw a Surface Pro refresh out with better specs for less money, they'll eat into their own market some (because the demand for W10S isn't going to push the Laptop to great heights over better hardware and a full OS). I will be definitely keeping an eye out on what happens next week for work, though. We generally get 1-2 of the latest Surface Pros for staff to use (and we're up to buy a couple of new portable PCs in the next week or two). How they handle this one could change what we do going forward in picking hardware. If the Surface Laptop's price messes with the value of the Pro line or MS doesn't make any changes worth noting, I might look at going to a different OEM for comparable hardware at a lower price. I hope this is a pleasant surprise and gets MS back on track though.

I've gone to HP. They have modern ports on their devices. It's really no wonder Surface revenues have dropped significantly in their last earnings call. They aren't giving people what they want.

I'd never go back to HP. Their customer service is worse than Comcast's. I bought one laptop from them, it had one issue, and they went to flat-out lying about things to get out of repairs. They are the only PC OEM I will openly tell people to never buy from.

Cool. New accessories to **** after. Digging that shade of blue. Would've liked some variation on the Teal color from the SP4.

If you look at all the leaked photos on VentureBeat, this new device appears to have corners that are more rounded and outer edges are not angled as much as the Pro 4.

I kinda liked the angular look, I don't want MS trying to look like apple...

Looks the same to me, might be the lighting/angle but we'll find out soon!

I will have to wait and see. Might end up picking up a soon to be discounted SP4 if the new specs are slight.

Don't expect too much of a discount. I don't remember the SP3's being discounted by much when the SP4 came out.

No notification for Windows central App on Lumia 950

Didn't they say there wasn't gonna be a Surface Pro 5 until they had enough upgrades planned out to make one? Chances are they're just gonna released refreshed Surface Pro 4 with Kaby Lake and such.

Yes, Surface Pro has become very mature indeed. It doesn't make sense to name the new device as "Surface Pro 5". So "Surface Pro" makes sense. Microsoft has made good expectation manager this time - Panos said about 2 weeks ago there is "no such thing as a Pro 5".

I doubt it's actually called "Surface Pro"... because version 1 was "Surface Pro". They probably hid the name until the release date. It's probably just "Surface Pro 4" still because it's just a minor refresh.. similiar to how Surface Book got a minor refresh. Surface Pro 5 won't happen until the next major refresh, which is what Panos said.

I would love to have a device like this, but I can't justify the price. Not saying that its not worth it, just that its firmly out of my reach.

Try the surface 3. You get pen and keyboard capabilities and it's starting at 299 in Canada at least.

This thing is a let down.

Think of it as a Surface Pro 4 S instead of Surface Pro 5.

Seriously? It's been about 20 months since the SP4 came out, and this minor upgrade couldn't even bother to sport a USB-C port? Or even a 2nd USB 3.0 port? FFS.

No idea why you're getting downvoted so much. You're completely on point. They could've done a lot, but they apparently don't care. It's like the Windows Phone of their Surface lineup.

This is not a major refresh... it's just an additional SP4 variant... not the SP5.

Minor updates usually only replace hardware rather than add.

Tell me that isn't the product they were going to announce with 'telling the world what is next'. I mean its great, its attractive, surface pro fans will be happy, but its not wildly innovative, and the tagline they gave us demands innovative.

I'm 99% positive they'll reveal this refresh before moving on to the real announcement of the event. They announced the SP4 right before talking about the SB.

This isn't a SP5, according to Panay, its a refreshed SP4 https://www.theverge.com/2017/5/8/15577130/microsoft-surface-pro-5-panos...

I wish they made a new pen with tilt capabilities...

Just wondering, how easy or difficult it is to reduce the bezels of laptops and tablets. They have significantly bigger bezels than smartphones, yet it is the smartphone that is going bezel-less, while laptop/tablet/2-in-1s seems to be ignoring this area. I was just wondering if MS claims a bigger screen size but same dimension, OR same screen size in smaller form factor, for Surface Pro vis-a-vis SP pro 4, then how muchhappeir as windows fans would be.

Tablets need a bit of bezel to be held onto though, smartphones can afford to lose them as you would 'squeeze' a phone with one hand across its width, using the sides and back as points of contact. Very different to holding a tablet, where you are more likely to grip it via the front/back as the sides are way too far apart.
Also don't forget for this device, you need space for components such as the cameras, sensors, speakers and the bottom magnetic strip to allow the keyboard to snap up to the front.

@LondonLumia exactly! People should think before commenting.

Eh, it was still a fair question.

Just as an interesting point, Panos Panay could hold the original Surfaces like a phone. For a short guy he has an amazing hand span. Fof him it coul have had smaller top and bottom bezels ;)

Nice, my SP4 won't feel outta date. Well, a little, but I won't mind.
Let's face it, they pretty much perfected the overall design on the SP4, so it is just spec bumps from here on til the next big thing. Interested to see what the new type covers bring too or whether its just new colours of fabric.

4 colours must be US-Only?

SP4 in Thailand has 4 colours (black, blue, navy, red) since 2016. What's your problem?

Sooo... no USB-C then? Damnit.

It's exactly the same lol... only the internals are updated :P... It's just an updated SP4, not the SP5.

I never had Surface Pro, maybe I should wait till this one hit the market.. Let me guess this will come with Windows 10 s?

No, it shouldn't, as it's a Pro device. On the slim chance that it does there will be a free upgrade from S to Pro as per the Surface Laptop.

Actually Surface Pro is cheaper than Surface Laptop so no reason it can't have 'S'. Personally I expect that Microsoft will cut the price for 50$ at least for some models and ship it with 'S'. So you can always switch to Pro for the same price you paid before and get the same thing.

? The device hasn't been announced yet so we don't know the price. There might not even be a low(er) cost version, like the Core M SP4, so that 'might' have had S. It's Surface Pro which equals Windows 10 pro. (Then again no one really knows as it's not here yet)

I guess we can only guess, we'll see.

Looks like they gave the outside edge a slight rounding?

Pretty sure its the same as on the SP4, just maybe made more obvious by the lighting/angle.

Obsessed with colors Haa-a!
what users want are new features for 'easy of making business' not colors!

To be fair, 1st launch SP4 came with colours keyboard too. DO some research.

Colors are good BUT it better not be the main or only change. The color should have way down on the engineers list of priorities. I guess we'll wait and see.

Most of us were not expecting one. You're setting yourself up for disappointment if you are.

If this is just a refresh, I believe it shouldn't be called SP5 -- just like the Surface Book Performance Base isn't a SB2 -- as it is just a minor upgrade. SP5 should be something groundbreaking, to say the least.

Agreed. However, the original SP1 -> SP2 was not groundbreaking. SP3 -> SP4 although was a good upgrade, it wasn't exactly groundbreaking either.

This was not "leaked". Every new major piece of hardware is "leaked".

What I'm now wondering.... Is June 18 the launch date, or another event date? :D

https://blogs.msdn.microsoft.com/uk_faculty_connection/2017/01/27/save-t...

Why aren't they streaming it?

Probably because it's not a major event... also it's not a major product release, it's just a refreshed SP4... not the SP5.

Definitely thinking about getting one of these when it's out. Been wanting to upgrade to a new Surface Pro but I didn't want to buy an older model since I've been expecting a new one to come out this year. I want to replace my first-gen Surface Pro and an older Sandy Bridge-era ThinkPad T420 with a new Surface Pro, because ever since I finished school last year I rarely use the ThinkPad anymore, and it's 6 years old so it's due for an upgrade, and the old Surface Pro I have is starting to show it's age too, especially in weight and battery life which has never been awesome as any Surface Pro 1 owner will tell you.

My SP3 is an i3 and I have had it for 2 years, and I bought it used. Now if this comes out, the SP4 i5 8GB will drop in price and I can get one of those. I love my SP3, but I am not dropping $1500+ on a brand new piece of glass. Like, ever.

Has anyone noticed the date and time on the screen? Why did they take this photo on June 18 at 6:18? Why have both the date and time point to June 18?. 6:18, could be June 18 since June is the 6th month. It's like double confirmation. What do you all think?

Likely the release/availability date. But it's not impossible that the 6:18 also stands for something else. No idea what, though. Unless the Surface Pro 6 is expected in (20)18...? :-)

Well spotted. No idea what that might mean.

They are hosting an Education Conference on that day https://blogs.msdn.microsoft.com/uk_faculty_connection/2017/01/27/save-t...

So, what would be the point of denying there's not new Surface tablet at Build, but then announcing in China, of all places, shortly thereafter?

Because this is not the SP5... it's just an additional SP4 variant (similiar to how Surface Book got a refresh). It doesn't need a major event.

You should keep up with the articles already written on the next Surface tablet. Most have said it will be a mild refresh, but would NOT be going to USB-C or TB3 because, according to Microsoft, those technologies aren't "mature" enough or "mainstream" enough. I think that's complete rubbish, but that's their stance on this. It will likely be 2019 before they feel safe enough to put more modern tech in the Surface tablet.

There's two ways to look at this and I will benefit by them going either way. They might have decided against USB-C because they wanted all accessories to continue to work. I have a couple SP4 chargers that will no longer be needed if they went to USB-C. Hell, i still have some original Surface chargers laying around. If they went with USB-C, i'd be able to charge both my Lumia 950 and Surface with one charger that may be available everywhere once more phones manufacturers still implementing.

looking forward to this, hoping for a LTE model, otherwise I'll have to pick up a galaxy book

So I'm guessing this means we'll get a refresh of hardware and a TypeCover with Alcantara. Anything else expected from this even?

There is already an Alcantra type cover. They need to add a fingerprint reader to it, and to the other colors as well. Bought a black SP4 cover for my SP3 with the fingerprint reader and love it. Has advantages over the Hello camera.

I have they start offering a dock with external gpu

folks if Micosoft is reading this comment I hav great solution to solve the USB "C" port desires of those who use "Surface" devices. When microsoft updates the rectangular shaped "Dock" they sell for "Surface" Tablets they should install USB "C" "Electronics and a USB "C" port to the "Dock" this "Dock" should be designed to work on all Surface pro tablets, the Surface Books, and the new Surface laptop and the new Surface devices that may come someday. this way all surface devices easily get the upgrade to USB "C" technology

Brilliant idea Gregory! They probably have thought about it, if not, I hope they read your post.

Trying to be too cute dropping the 5 from the name...

Noticed the new pen has a restyled tip and no clip

The surface pro 4 have hardware issues. Almost 200 people are facing flickering screens. As a Microsoft fan website you should be pointing this things so they can improve their quality control. I can't post the link because is marked as spam. To all that want to buy a surface pro 4 second hand, be careful!
answers.microsoft.com/en-us/surface/forum/surfpro4-surfdrivers/surface-pro-4-screen-flickering-shacking/570165cb-50a0-4d71-bcb1-310ddd869d1d

I don't have those issues with my SP4... been 2 years and still works like brand new. Plus 200 people is a small amount of people compared to overall customers, though I agree those should be looked into. It could also be a firmware issue, which they released many in the last few months... so maybe try updating.

I have none of the issues you are talking about as I'm typing to you on my almost 2 year old SP4. This has by far been one of my best hardware purchases. If what you said exists, I'm sure it's in the minority as I know others with a SP4 who are going strong too. Let's not try to spread misinformation here.

USB 3.1 Gen2 with USB-C is what I'm looking for. If this refresh omits it, I'm passing on it. My phone and laptop have USB-C. Won't get any new device without it.

Three things: 1. Specs 2. Price 3. Marketing These will make or break the SP5. MS should be generous and throw in some goodies like free office 365 for say 20 months (or longer) or unlimited OneDrive capacity. MS definitely needs better marketing strategies. I know it will be expensive but some smart (they try but not enough, imo) software bundling might draw people. I'm also sure it will have the same color schemes as the Surface laptop which would be great but futile if they have not sorted the price, specs and marketing. Can't wait for Dan's in depth review.

Why many people are commenting without reading the article? It'll not be called a SP5. And besides, 365 20 months + unlimited OneDrive? Wake up...

Blame the author for putting it in the title. Most people don't read the actual article sadly.

The Surface and Surface Pro family of devices have been well received. You give away or discount new cheap stuff. New stuff with value has value. All they need to do is deliver on updated specifications and continue their marketing as they it was when SP were first launched and through debut of SP4.

Make or break a SP5? At this point it'll sell itself without any promos.

We own an SP3 and SP4. The difference is definitely noticable. The SP4 is a fantastic device as is the SP3. But the SP3 feels like a brick compared to the SP4! I'm not sure how you could really improve the SP4 but for upgrading its internals to modern faster, lighter, battery-friendly hardware. I'm glad they're addressing this dire gap in their product line-up coverage (mobile notwithstanding).

I can see them dropping the numbering and henceforth releasing only refreshes. They're unlikely able to improve much more on the Pro 4 apart from updating ports and internals going forward. And I'm OK with that.
My SP3 is due for an upgrade and the 5 might be it (since the overpriced underspec'ed Laptop won't for sure be it).

USB C option please, so I can have one cable to charge my phone, tablet and future PC.

I still don't think this is the Surface Pro 5... Panos himself said there isn't one, and won't be until it's a major refresh. I'm pretty sure this is just an updated Surface Pro 4 (similiar to how the Surface Book got a refresh), which is also why this event is not a major event. Microsoft doesn't just increase hardware version numbers for minor releases like competitors do, which I respect them for as it should be saved for major releases.

The Pro 4 was a minor increase over the 3. (So much so that most of us found no reason to upgrade to it).

Question- from a bit a tech noob. Is there a difference between Thunderbolt 3 and Usb- Type C.. Sometimes the 2 appear to be used synonymously. Othertimes they appear to be different,, sometimes It seems as though TB is Apple proprietary... So are they the same?

yes there are physical as well as coding differences. A device with "regular" USB C Port doesnt contain the wiring nor the coding necessary to support TB3 standard. A device with USB C w/TB3 includes the extra channels necessary to support TB3s dual channel trasmission standard and the coding to deal with it. Cables that support "regular" do not support TB3 but cables that support USB C w/TB3 do support "regular". It's sort of like how there are some microUSB ports that support OTG which is " On the go" which means that with an adaptor to full size USB tybe A they can support connections to keyboards/mice/external had drives/ flash drives etc but most microUSB are only for charging.

Thunderbolt 3 uses USB Type-C as its port just like how Thunderbolt 2 used mini-DisplayPort I think. Otherwise they're different standards, but if a port claims it's a real Thunderbolt 3 port, then it's also a USB Type-C port most likely, unless it's fake. Also, as far as I know, Thunderbolt 3 was developed by Intel. Maybe there were some other companies behind it as well, but I'm not sure.

Universal Connection does not mean Universal Experience..... USB-C actually uses the USB3.1 spec to deliver 10GB/s. This is the vast majority of USB-C connections. Thunderbolt also decided to use the USB-C connection but uses a different spec which delivers up to 40GB/s - four times the speed of USB3.1. So the confusion begins that since some devices have a USB-C connection they are Thunderbolt compatible - NO. To make matters worse, different cables support 5A (amps) while others use half that. And to make matters even worse you can use cables which will reduce speeds down to USB1.1 speeds. The problem is that there is USB-C confusion. Microsoft was wise in not delivering a user experience which confuses customers. Using USB-A, which admittedly only runs at 5GB/s, reduces any confusion and delivers a consistent experience which also supports thousands of current devices. USB-C has good intentions, but until it is universal, there is a serious issue.

My surface pro 3 is still going strong and I passed on the pro 4 mainly because it didn't seem to offer anything new beyond pen specific stuff (I rarely use the pen) I'm certainly not going be spending another 2k to buy something that looks nearly identical to what I currently have, spec bump or not. The battery life and not being able to use it on a non flat surface are the two main bugbears for me, so might explore the MacBook Pro once I'm ready to replace this.

If you can replace a Surface with a Macbook without it killing your workflow, why are you using a Surface in the first place?

I'm fine not having the USB type C port, as long as they improved the hell out of that battery life. Here's too hoping you get enough juice out of this that will last an entire day without needing to charge. That and as long as it doesn't overheat like my SP3 then I will finally upgrade my Surface Pro. Been waiting for this to come out!

Nope. For me, no USB-C = no buy. They have to jump on the USB-C train already, it's taking too long!

USB-C would be great along with a second micro SD slot
Windows Central Newsletter
Get the best of Windows Central in in your inbox, every day!
Thank you for signing up to Windows Central. You will receive a verification email shortly.
There was a problem. Please refresh the page and try again.