What you need to know about watching movies in VR
How do I watch movies in VR?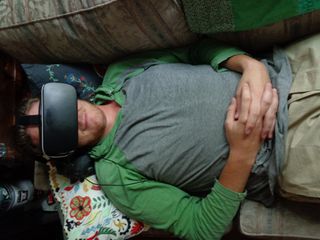 For many people, watching movies at home has become more of a background noise while they do other things, rather than a dedicated, sit-down watching experience. Blame smartphones blame waning attention spans, blame the movie industry itself — the fact remains the same.
VR users have discovered, however, how amazing watching movies in a head-mounted display (HMD) can be. There are no longer any distracting text messages to answer, and you can easily forget just where you are. You can even sit in a virtual theater or on the moon while you watch. Interested? Here's everything you need to know about watching movies in VR.
Is watching movies in VR really worth it?
Watching movies in VR is like getting into a time machine and going back to the first time you ever watched a movie, to a time when you were amazed by the screen in front of you.
The first time I sat back and watched the introductions roll on a documentary — something I find particularly hard to keep my attention focused on — my jaw hit the floor. I didn't have any expectations going in as to what the Gear VR would deliver, so I was really wowed by the visuals and by the customization options available.
I could move the screen, I could change the size of the screen, and I could even choose the landscape in which I was sitting. If you don't have an in-house theater, a VR headset is the next best thing.
There is a caveat: if you can't stand watching a movie that doesn't have a perfect HD image, you might find yourself at odds with VR movies. Don't get me wrong; the image isn't some monstrosity that you're forcing yourself to look at — it's actually not bad at all despite some screen-door effect. It's just not the same as watching a movie on a 4K TV.
Maybe it's the novelty, or maybe it's the nostalgia, but I certainly find it hard to go back to watching movies on plain old television. As VR hardware continues to improve, one has to wonder if big cinemas will find it hard to compete with a kickass movie experience you can have from the comfort of your own living room.
Keys to a great movie experience
There are a few things to remember while watching movies in VR.
Take a break once in awhile, no matter how enthralling the movie is. Your eyes will thank you, and you can make sure your house isn't burning down around you.
Use good headphones. Watching a movie in VR resembles a theater experience, so why not try to achieve theater sound? Over-ear headphones usually give the best sound, but earbuds can work if you're laying in bed. Don't forget, you can remove the Oculus Rift's built-in headphones.
Take time to properly fit your HMD. You're going to have this thing strapped on for quite awhile, so taking 30 seconds to get a comfortable fit is really worth it.
If you feel sick, close your eyes or remove the HMD. Action scenes can get a bit overwhelming at times, especially when watching 3D movies — closing your eyes should immediately begin solving the problem, but removing the HMD and taking a breather might be just what you need.
Movie-watching apps for Oculus Rift and HTC Vive
There are a number of apps for Rift and Vive that let you mirror your desktop within the HMD, but only a couple currently really deliver an experience worth noting.
Read more: How to watch movies on your HTC Vive
BigScreen Beta
BigScreen Beta is the first app that should be tried for desktop VR. You can sit in a virtual home theater and watch your movie on a big screen. Because the screen size is customizable, we're putting an emphasis on big. The best part? You can invite some friends who also have BigScreen to come sit with you in the theater. Only one of you needs to have a copy of the movie, so it's basically like a good, old-fashioned movie night with your pals. Who's bringing the virtual popcorn?
Because this app mirrors your desktop, you can watch anything you'd normally watch on your monitor or anything you'd normally send to your TV. Netflix? Check. Blu-Rays? Check. Downloaded videos? Check. Oh yeah; this app is completely free.
Virtual Desktop
If you're interested in watching a movie by yourself, Virtual Desktop can be your go-to app. You can change the background to anything you want (including straight black) to best suit the enormous screen located right in front of your eyes. You can then resize the screen and set the distance it appears at.
Like BigScreen, you can watch anything you'd normally see on your desktop monitor. Use a browser for Netflix, or a video player for Blu-Rays and downloaded content. Virtual Desktop also lets you watch any 3D movies you get your hands on, something BigScreen doesn't yet do.
Movie-watching apps for Samsung Gear VR
Samsung Gear VR has a few more options when it comes to watching movies, most notably Netflix, the built-in Video app, Hulu and Samsung VR. These are available in the Oculus store in your Gear VR, so you won't have to go far to find them.
You can also watch your own videos that you've downloaded on a PC. Just hook your phone up with the right cable, and drag and drop the video file into the Video folder your phone's storage. You can also use apps like Skybox to stream from your PC to your Gear VR for an experience that requires fewer wires.
I prefer using the Samsung VR app to watch files I've manually added to my phone's storage — it recognizes the videos immediately, and you can choose from a few different viewing areas. Want to watch a movie in a quiet, empty theater? Sure! Want to watch a movie while floating in an austere, dark, vacuum? No problem.
You can adjust the size of the screen to fit your preference, and there's even a travel mode that keeps the screen located right in front of you, no matter how many turns the car or airplane takes.
Movie-watching apps for Daydream
Daydream has a plethora of options when it comes to how you want to watch your movies in VR. Everything from HBO GO, to Netflix, are available. All you need to do is take a peek at the Google Play Store and you'll be able to find them.
Just keep in mind most streaming videos services that offer movies are going to require a subscription after the free trial wears off.Of course, you can always take advantage of Skybox to stream movies from your computer right to your headset, which means if you have your movies digitally, you can watch them.
Movie-watching apps for PlayStation VR
PlayStation VR probably has the most number of options when it comes to watching movies in VR thanks to its cinematic mode. Using this feature you want to watch movies from any streaming service that has an app, watch a movie that you own on disc — or digitally through the PlayStation Store. This means you have way more options because you aren't limited to digital media when it comes to your library.
There are apps for Netflix, Hulu and HBO GO, along with more genre favorites like Crunchyroll giving you tons of options to choose from when you're ready to sit back and relax with a film. You can also purchase and rent movies through the PlayStation Store if you want to add new movies to your collection.
How's your movie life?
Do you enjoy watching movies in VR? Which rig and which app do you use to watch? Let us know in the comments section below!
Windows Central Newsletter
Get the best of Windows Central in in your inbox, every day!
Windows Central Newsletter
Thank you for signing up to Windows Central. You will receive a verification email shortly.
There was a problem. Please refresh the page and try again.