What's new in digital pen settings for the Windows 10 Anniversary Update
Microsoft has invested heavily in digital inking capabilities in Windows, which stands as a unique selling point for their Surface line of tablets.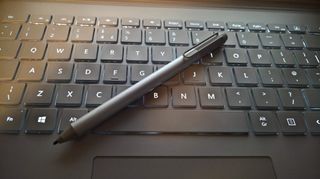 The upcoming Windows 10 Anniversary Update brings tweaked capabilities to the pen settings, in addition to all new features. Here's a quick look at what's changed when it comes to inking options in Windows 10.
Accessing settings on Windows is incredibly easy. Simply type "Pen Settings" with the Start Menu open to search for the correct screen. Alternatively, you can find the Pen Settings by clicking on the Start Menu, pressing the cogwheel icon, tapping Devices, and then hitting Pen and Windows Ink settings on the left.
On previous Windows builds, the pen settings only allowed you to set your handwriting orientation, toggle visual effects or show the positional cursor. The pen settings on Windows 10 Anniversary add a whole bunch of new ones. The entire list of settings is as follows.
Select which hand you write with
Toggle visual effects
Toggle digital pen cursor
Toggle touch input while using the pen
Toggle handwriting panel when not in tablet mode
Toggle recommended inking app suggestions on the Windows Ink Workspace
Customizable pen shortcuts
Most settings are self-explanatory, but here's a bit of clarification on the others. The handwriting panel setting refers to the alternate on-screen keyboard that allows you to produce text via handwriting inputs. It can be faster than tapping the on-screen keyboard on Windows 10, which still doesn't support Windows 10 Mobile's word flow swipe writing.
The customizable pen shortcuts allow you to change how the shortcut button functions. You can add a different behavior for clicking it once, double clicking, or when holding it down. The settings menu notes that only some pen models support the hold down function.
Each function allows you to set either a classic or Universal app on use, in addition to loading the Windows Ink Workspace. The single-click has an exclusive ability to open a new page in OneNote as usually, while the double-click exclusively allows you to send a screenshot directly to OneNote for annotation. Holding it down also has an exclusive option to launch Cortana.
Some of the Surface Pen-exclusive features still require that you download the Surface app (opens in new tab), as of writing. The Surface app allows you to tweak the pressure sensitivity of the app on a gradient and gives you a small test area if you decide further tweaks are needed.
Microsoft's investments in digital inking show no signs of slowing down. Given the popularity of the Surface line, it looks as though further improvements and features will continue into the distant future as Microsoft continues trying to court creative industries.
For more Windows Ink and Windows 10 Anniversary Update related content hit the links below!
Do you use digital inking on Windows 10 much? Let us know in the comments.
Windows Central Newsletter
Get the best of Windows Central in in your inbox, every day!
Jez Corden a Managing Editor at Windows Central, focusing primarily on all things Xbox and gaming. Jez is known for breaking exclusive news and analysis as relates to the Microsoft ecosystem while being powered by caffeine. Follow on Twitter @JezCorden and listen to his Xbox Two podcast, all about, you guessed it, Xbox!
Surface app got updated few days ago, it is broken :(

Is Press and hold option is supported on Surface Pro 3 Pen? Looks like it is not (looks like they added this note in parentheses in later buils) :(

The new Surface release did not fix the pen customization issue for Surface 3, Surface 3 Pro and perhaps other users, but this did. https://support.microsoft.com/en-us/kb/3166743

Can't follow link, what issues?

Link works fine for me, but the new release did not include pen customizations. The KB referenced added the customizations.

This article reminded me that we are a year or two after the appearance of the awesome WordFlow keyboard on Windows Phone and here comes the Anniversary Update and no sign of it finally making it to Windows 10? Pathetic! I often find myself using my SP4 with one hand holding the tablet and one working the onscreen keyboard. It would be SO HELPFUL to be able to have access to WordFlow in those situations vs. hunting and pecking with one hand!

Word Flow doesn't work worth spit on the phone. It's highly inaccurate, slow to GUESS at the word you're using, making it virtually useless. Both my wife and I have seen this on our Lumia 950's and I've seen it on the 640. Piece of junk OS.

Must be your phone, cuz mine on 950 works very well and fast.

Maybe with their SwiftKey acquisition, Word Flow will drastically improve in the near future. I don't see how they could get worse since they acquired SwiftKey.

I love the whole inking experience. I use it all day and night.

Like I said, I still don't see any of the Windows Ink features shown in Build... The ruler in PowerPoint and deleting words and paragraphs in Word, maybe a ruler in OneNote? I use Surface and Windows Ink every day almost all the day and was so excited about this.

It's all there, not sure why you can't find it

Where is my Ruler in Powerpoint and can I delete paragraphs and words by just striking them trough with the pen? If yes, since when? (I had an Office Update today, not tested yet.)

Please, if you know where tell me. I am not using the Preview on my Surface, only on my Desktop with no Pen Support. If you tell me, it's there, I will update again.

There will be also an option to make it working?

I've had an SP4 since launch, (and am on the fast ring for insiders), but still haven't really found myself using the pen much, if at all. (Things like sticky notes don't seem to add much value for me) Other than students taking notes, what use cases are people anticipating using Windows ink for?

I'm an odd cookie, I use pen for everything, exp with one note ink to text. Inking shines more so in one note than word. Word has no ink to text function.
I've also leaned that ink to text is more accurate with cursive than print

I really hope they fix the tapering issue and makes drawing in tilted mode be precise

For someone who does not have a Surface/stylus, can you explain this issue?

Is there a scrolling option yet, like, can I scroll using the pen instead of using my hand or the keyboard to scroll?

I just want them to fix some of the hiccups that happen when you start writing in the ink keyboard. Every once in a while it lets you write only one freaking letter and then types it out. It's infuriating the crap out of me. I can't write a complete word. I'm currently writing my notes in one note converting ink to text and pasting it to word. I wish word could convert ink to text. That would be amazing and more efficient. On another note can you join to words and or separate words on the ink keyboard. 8.1 would allow you to join and separate words and I cant figure out the trick in 10.

What are the visual affects you can turn off? Have toggled the option didn't notice anything different. Posted via the Windows Central App for Android

I think microsoft is doing great with the stylus integration with windows 10. I use the stylus regularly on my surface pro. It's a convenienst input device and given the opportunity to write in app that supports handwriting feels like a digital pen and paper experience. I do think microsoft can do better implementing a more natural and immersive experience with the pen. The basics are there, but I can't help feel it lacks cohesion. Can't exactly put my finger on why at this point. Was expecting that I could handwrite whole paragraphs in onenote where my handwritten ink would flow directly into text. There is a ink-to-conversion button in many apps but it feels mechanical. The handwriting pad does support live ink to text conversion. It's quite good, but it limits the user to only one line of text. I can't freehand write whold paragraphs like I do only real pen and paper. The handwriting pad with one line to work with feels digitally constrained. Maybe it's currently a hardwware or some kind of software limitation I don't know. But I think time will tell. On the positive side the inking experience feels similar to those experiences I've had with inking in windows in the last 10 years so the experience does feel familiarly microsoft.
Windows Central Newsletter
Thank you for signing up to Windows Central. You will receive a verification email shortly.
There was a problem. Please refresh the page and try again.