What's new with Microsoft Edge for the Windows 10 Creators Update
Microsoft Edge gets updated with new features and changes with the Creators Update. Here's everything you need to know.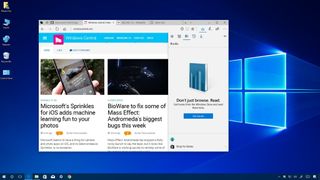 The Creators Update is the next major refresh for Windows 10, and it introduces a slew of new features and changes. New support for mixed reality and 3D out-of-the-box; Settings, Start menu, and Cortana improvements; and Windows Update and security tweaks and enhancements. But that's not all. The Windows 10 Creators Update also includes a new version of Microsoft Edge.
On this new version of Windows 10, the default web browser doesn't change its looks significantly, but there are a lot of new improvements and features, including new tools to manage multiple tabs, easier way to pay for goods online, 3D support, Windows Store e-books. And there a number of other small tweaks that makes the browsing experience faster and more secure.
In this Windows 10 guide, we'll dive deep and show you everything that has changed and improved with the Microsoft Edge web browser for the Creators Update.
Microsoft Edge new features and changes
Microsoft Edge tab management system
Microsoft Edge adds a new tab management system that allows to organize and reduce clutter for users who work all the time with a lot of tabs.
Starting with version 40.15063, if you're working with a lot of tabs, you can click the Set these tabs aside button on the top-left corner to save your active tabs, and start with a clean slate.
Tabs to set aside will be saved as a new group in the Tabs you've set aside section, which you can access by clicking the first button in the top-left corner. You can click a tab to restore, or click the Restore tabs link to restore a group of tabs.
If you click the More (three-dotted) button, you'll see the options to add tabs to favorites or share them using the new Windows Share experience.
Additionally, the web browser also features a new drop-down button (next to the new tabs button) to preview all the open tabs with a scrollable row that includes a thumbnail preview of each page.
Microsoft Wallet support
Currently, close to 50 percent of online shoppers do not complete a purchase transaction and leave then e-commerce site due to the complexity and the information required to go through the checkout process.
In order to address this issue, the new version of Microsoft Edge adds the ability (Payment Request API) to connect to Microsoft Wallet allowing access to payment information stored on your Microsoft account. This way you can quickly go through the checkout process without needing to enter the same payment and shipping information over and over again.
The new Microsoft Wallet integration aims to speed up and make the checkout experience across e-commerce websites more convenient and secure.
On the Windows 10 Creators Update, on supported sites, when processing the purchase payment, the browser will trigger and display the Microsoft Wallet with your payment and shipping information already populated, and a Pay button to complete the transaction.
Microsoft Edge Windows Store Books
The browser also improves the e-book reading experience on Windows 10. Now, when you purchase e-books from the Windows Store, they will appear in the new Books hub built in Microsoft Edge located next to "Reading list" and "History" sections.
While reading a book using Edge, you can quickly left-click or tab inside of the current page to access the different tools, including table of content, search and bookmarks tools.
On the top-right, you can customize the experience with the options to adjust the text size, spacing, font style, and page theme.
Microsoft Edge can read books aloud by clicking the Read aloud button on the top-right corner. In addition, you get controls to pause, play, jump to previous or next paragraph, as well as an option to change the speed and voice settings.
Flipping pages is also very easy. You can either click the left or right edge of the page, use the seek bar at the bottom of the page, or you can flip pages using touch, as you would normally do on any e-book reading app.
In addition reading books from the Windows Store, the browser also adds support to open unprotected epub files you store locally on your computer, and you can pick up where you left off because edge will always remember the last page you're reading.
Microsoft Edge Web Notes
The ability to annotate websites using digital ink is nothing new on Microsoft Edge, but on Windows 10 version 1703, Microsoft is updating Web Notes to align the design language with the Windows Ink experience found throughout the OS.
The only difference that you'll notice is new Web Notes icons, and tools now appear on the right side, instead of the left.
Microsoft Edge settings changes
This new version of the web browser also adds a few settings tweaks.
Although you can already import and export bookmarks from other web browsers, it's not until the Creators Update that you get an option to import and export bookmarks from a file. To do this, simply go to Settings > Import info from another browser, and use one of the available options.
In addition, under "Favorites bar", you can decide whether to show the favorites bar below the address bar.
Microsoft Edge also drops Reading list settings, and inside the Advanced options page, you'll see an option enable or disable sites that can open in apps.
For example, if you're trying to load Facebook.com, and you have the Facebook app install, you can configure Microsoft Edge to open the app, instead of loading the page.
To change this behavior, simply click the Choose which sites open in apps button, to open the Settings app and customize your settings.
Microsoft Edge 'about:flags' changes
Microsoft is also adding a few changes to the Developer Settings page (about:flags). This page is only meant for developers and advanced users to enable and disable advanced and experimental features, which may or may not become a permanent feature on Microsoft Edge.
While the "Developers settings" section hasn't changed, under "Experimental features", you'll find a number of changes, including:
Composition
Allow independent rendering of HTML5 Video elements
Styling
Enable individual transforms
Text input and editing (new)
Enable new editing command implementation
Enable new serialization for clipboard implementation
Mouse event for touch
Disable navigator.pointer.Enabled API
Enable Pointer event implicit capture for touch
JavaScript
Disable requestAnimationFrame callbacks for cross-origin iframes when not visible
Force setTimeout and setInterval to 1 second periods for cross-origin iframes when not visible
Allow background tabs to be put into low power mode
Service Workers (new)
Enable service workers
Enable push notifications
Enable background sync
Enable service worker cache storage
Fetch networking (new)
Enable media downloads over Fetch
Enable XMLHttpRequests over Fetch
Enable Fetch based network stack
Web Authentication (new)
Enable Web Authentication APIs for accessing scoped credentials
Alongside the new additions, remember that some features found in the previous version have been deprecated or are now part of Microsoft Edge, which is one of the reasons some of the options are no longer available.
For example, the browser now ships with WebRTC 1.0 API, and support for VP8 and H.264/AVC video codecs for RTC. This enables real-time communication without needing a plugin, and it's the reason the Enable experimental H.264/AVC support option is now missing from about:flags.
It should be noted that for the most part, regular users never have to adjust these options. The features available inside about:flags are to help developers create new apps and services, and for Microsoft to test future functionalities for the browser.
Microsoft Edge tweaks and improvements
In addition to the new features, Microsoft Edge on the Windows 10 Creators Update gains several smaller tweaks and enhancements that make the experience a little more complete.
Adobe Flash content blocked by default
On version 40.15063, the browser now blocks Adobe Flash content by default to improve security, performance, and battery life on mobile devices. However, you'll continue to be in control and allow Flash content once (or always) by clicking the puzzle icon that appears in the address bar.
Downloading files
Instead of downloading a file and then double-clicking to install an app, now you have the choice to Run the download without having to click the Save As button first.
New icons
Next to the address bar, you'll now find new icons for Hub, Web Notes, and Share.
Jump list support
Right-clicking the Microsoft Edge icon in the taskbar, you can now access the jump list menu that allows you to create a new tab or start the browser using InPrivate mode.
3D support
Similar to Windows 10, Microsoft Edge is also getting support for 3D with WebVR to allow websites to deliver virtual reality experiences, just like in desktop apps.
Extensions improvements
While support extensions has been available since the Anniversary Update came out, Microsoft is now letting developers get access to over 30 percent more APIs than before, including access to roaming data between devices, favorites, and the ability to communicate with other apps installed on your computer.
Page loading and security improvements
In this new version, Microsoft Edge includes support for Brotli (opens in new tab), which is a compression format that improves compression and decompression ratio speeds. This only means faster page loads without significantly impacting system resources.
Microsoft is also making sure the browser is more secure by introducing the Microsoft Edge sandbox to block Remote Code Execution (RCE) attacks, which makes it harder for hackers to exploit vulnerabilities.
Wrapping things up
Although most of the new changes included with the new version of Microsoft Edge are not groundbreaking, they're welcome additions that improve the overall experience and makes the browser more compatible and secure for PC and Mobile devices.
More Windows 10 resources
For more help articles, coverage, and answers to common questions about Windows 10, visit the following resources:
Windows 10 help, tips, and tricks
Mauro Huculak is technical writer for WindowsCentral.com. His primary focus is to write comprehensive how-tos to help users get the most out of Windows 10 and its many related technologies. He has an IT background with professional certifications from Microsoft, Cisco, and CompTIA, and he's a recognized member of the Microsoft MVP community.