What's on your Start Screen, Zac Bowden?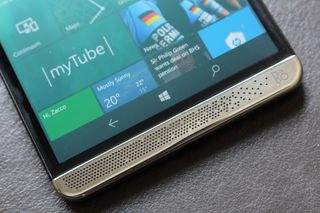 It's been a little while since we last did a "What's on your Start Screen?", and that's because so much has been changing within the world of Windows phone over the last couple of years. With the introduction of Windows 10 Mobile, the redesign of several Windows phone apps, and the slow transition from several different versions of Windows to one single Windows that works across every device, we just haven't found the time!
A lot of Windows Phone users have since left the platform since our last Start Screen article, and that's unfortunate. However, there's still a few of us left using Windows phones as our daily drivers, and I thought it'd be a good idea to share some of the apps I'm using on the lead up to 2017.
I don't have many apps pinned, and that's simply because I don't like scrolling on my Start Screen. I'm a huge user of live tiles, and I think live tiles should be on screen at all times so I can see what information they have to offer. Still, I try to make good use of my screen real estate.
My Apps
Messaging: I'm super big on SMS. I know that's kind of odd leading into 2017, but I much prefer it over any form of instant messenger such as WhatsApp or Skype. If I can, I'll always opt to send an SMS if trying to contact someone. Everybody has SMS.
Phone: The standard built-in Phone app. I don't make calls all that often, but I feel like I need to have this app pinned on my Start Screen just in case I am in a situation in which I do need to make a call.
Outlook Calendar: I like being able to see the date and upcoming appointments on my Start Screen, and the Calendar app does just that. Rarely do I open the Calendar app, this is definitely one of those situations in which the live tile does everything I need it to do.
Microsoft Edge: Edge is the best way to browse the web on a Windows 10 Mobile device, so I'm constantly using it to view websites, read news, watch videos and more. It syncs favorites across Windows 10 devices, and is lightweight and easy to use.
Windows Store: The Windows Store is home to all purchasable Content in the Windows ecosystem. Whether it be apps, games, music or movies/TV, I'm always in the Store looking for something new to spend my money on. I often find a movie, or a game that catches my interest.
Twitter: When it comes to Twitter, I opt for the official Twitter app from Twitter themselves. Yes, I know there are far better Twitter clients out there built by third parties, but I like the simplicity of the official app. It's universal and works across PC and Phone, and what's more, even though there are a plethora of bugs and missing features, it gets the job done.
Cortana: I don't actually use Cortana all that much, but I have it pinned just in case I want to mess with a setting or two with syncing notifications and whatnot. I like the news ticker that pops up on the live tile, and will sometimes open it up to check on reminders and adjust things.
Outlook Mail: The built-in Mail app is my choice of email client on Windows 10 Mobile. It does everything I need, from a reliable live tile all the way down to the simplicity of the app. I can add my Outlook, Google, Yahoo and other email accounts with ease, and configure notification popups from specific accounts if needed.
GroupMe: GroupMe is one of the best group messaging apps available on Windows 10 Mobile, and I use it frequently with some of the Windows Central team. It's great for team collaboration, goofing around, and just sharing things for later.
WhatsApp Beta: Although I'm big on SMS, I do have a need for WhatsApp too. A lot of my personal friends would rather be contacted through WhatsApp, so that's what I use when contacting them. The WhatsApp Beta app, although still a Windows Phone 8.1 app, is coming along quite nicely being updated constantly with new features and changes.
Slack: Slack is the main communication platform we use here at Mobile Nations. It's how I message the team, and how the team message me. It's still in beta, but the app is feature-filled enough to be usable as one of my "must-have" apps on my phone.
Groove Music: Groove is the best music streaming service available on Windows 10 Mobile. Sure, there's Pandora and Spotify, but those apps aren't all that great compared to Groove, which is arguable the best app available on Windows 10 right now. I'm a subscriber to Groove music, and most of the music I'd want to listen to is ready to stream from the service.
Windows Central: Of course, how could I not have this one pinned to my Start Screen? I love the Windows Central app, it's easy to use and is always updated with the latest articles direct from our feed. The live tile is super customizable too!
Weather: I live in the United Kingdom, so I need to know whether the weather outside is grey and raining. It usually is, but sometimes that live tile shows a bit of sunshine, and that makes me smile.
Instagram: Not a huge user of Instagram, I generally only use it when procrastinating. Maybe one day I'll be Instagram-famous.
Trello Central: We use Trello for article planning and scheduling here at Mobile Nations, so it makes sense for me to have an app on my phone that allows me to jump in there and check on things. It's not super feature-filled, being a 3rd-party app, but it gets the job done.
Uber: As a kid, I always wanted own my own car so I could drive wherever I needed, whenever I needed to. In 2016 however, all I need is Uber. Who needs to drive these days when you can get someone else to drive for you?!
MyTube Beta: YouTube has been around for over a decade now, and considering we upload all our videos to YouTube, it makes sense for me to have an app for it. I also like watching content from Let's Players, vloggers, news people, and more.
Skype Preview: I use Skype on a semi-regular basis, so the Skype Preview app is a godsend to have. Although not perfect, and still in preview, the Skype Preview app is good enough for what it offers, and is constantly improving. I really wish they'd make it look pretty though.
Just Eat: This one's self-explanatory. I need to eat, and this app allows me to do just that.
Microsoft Authenticator: I'm constantly signing into new devices with my Microsoft Account, and having to type in a long code to authenticate myself every time was getting tiresome. The Authenticator app simplifies this whole process by simply allowing me to press a single button to authenticate any new device.
Do you use any of these apps? Let us know!
Windows Central Newsletter
Get the best of Windows Central in in your inbox, every day!
Zac Bowden is a Senior Editor at Windows Central. Bringing you exclusive coverage into the world of Windows on PCs, tablets, phones, and more. Also an avid collector of rare Microsoft prototype devices! Keep in touch on Twitter: @zacbowden.
Alarms & Clock is very useful for me. We can see the alarm time without going into alarm app.

Ya me too! I also use the app TimeMe Tile to have a big "digital" style clock on my start screen.

TimeMe is awesome. Also, why does Zac use those large tiles? "Show more tiles" is much better.

Disagree about the "show more tiles". I like the look of less tiles

I don't think Zac mentioned what phone he uses. For some phones, 3 columns is the max when the 'Show more tiles' option is enabled. I believe this is determined in the OS by resolution and screen size.

He uses an Elite X3. I guess some people like larger tiles.

I'm not sure what you mean. He IS using "show more tiles". Having 3 medium columns is exactly what I have on my 950 with that option turned on. I would only have 2 columns (i.e. 1 large tile) with it off

I found this to be really interesting, thanks for sharing Zac! I have and use some of the same non system apps as you. I agree that GroupMe is great. I also use Slack Beta, Instagram and myTube (not beta though), and Weather is nice too, especially now that there's a transparent tile option!

Flipboard, Facebook, Instagram

Your start screen is so... clean :D Mine is crowded with a ton of folders containing like a 100 apps. I pin almost every app to my start screen :D

We need picture posting capabilities in this app... Agree?

But there are no apps for windows? where did you get them? lol

From the Store, I guess :D

Linus Tech Tips- It can't get more legit Zac! :D Props to you. Why is Richard the hardware guy around here when you most likely are the most knowledgeable on this field? Some of his suggestions are kinda off, especially when it comes to performance hardware. You can just tell he's been a console gamer for the most part...

Fun fact: Zac plays basically nothing but Halo. Have a nice evening! (Sorry I don't always agree with Lord Linus)

Well, then you win Richard. ;) I don't agree with everything he says either. His opinions on Windows Mobile and Surface products I definitely don't share.

Why have the Cortana app on the home screen, when touching the search icon on the bottom of the screen does the same thing?

Same thoughts on this. Some people tell me the Cortana live tile is quite useful though...

That's kind of what I was thinking, but why not do the same for your calendar and such? The smaller tile won't display anything.

*everyone runs after Zac...*

I thought about that too..but again, it might be just for the info on the live tiles..like reminders, news,
etc

Search icon fails sometimes. In my specific case (and some friends too), the 3 buttons on bottom get irreponsive, and I need to touch somewhere in middle screen to make them responsive again.

Microsoft Authenticator for the win, for the same reasons you mentioned!

He needs the Steam Authenticator too!

Thanks Zac! Wish I could afford a HP Elite X3! Rocking the 950XL right now. Looking at cleaning up my start screen. I have most of those apps pinned to my start screen as well.

Adding a new contact for a conversation in skype preview is very cumbersome in W10M..... Real ironic as It's a prime windows service.......

Explain what you mean. I've had no issues adding contacts. In fact, skype has even added contacts for me automatically as well which saved me alot of work of finding people.

Windows Central app still fails to send notifications daily on mobile! Where is the fix??

I think that is more of the os itself. Many apps just don't send notifications since there anniversary update.

I get notifications for the WC app no problem. Lumia 950XL on the newest Insider Preview Build

I use awesometube with new ui instead of mytube beta it is broken in some areas like you cant give like to comments or reply.

I'll have to try awesometube

It is recently got updated with big change in ui and full featured app like android one but still i like mytube beta ui more but because of lack of functionality i downloaded awsometube

Does it support uploading videos like mytube does?

No currently it won't let u sign in

Also trying out Awesometube thanks to your suggestion. I really like myTube but sometimes the random crashes are a nuisance.

Thanks for this article! It has motivated me to clean up my start screen :) What I've got outside of the basics (Mail, phone, messaging, people, photos, calendar, weather): Maps - So very useful, and much better than the nav system on my audi.A "games" folder with 4 games in it that I like playing. Enpass - password keeper! Flight aware - Best flight tracking app, bar none... for any airline Folder with all my office/MS apps - I really only use OneNote and occasionally Excel or Office Lens, but they're all here Manchester United App - All the latest news on them Sports - For all other sports (Warrior hoops, Giants baseball, etc...) Touch/Retouch - great photo editing app. I use this to remove words and other things from pictures where I just want a clean pic. For instance, I screenshot the bing lockscreen pic every day, then remove the words Microsoft Band - Because I have one and use it. Things on my start screen I never use, or can't justify having there anymore: Keeper - Old PW keeper Netflix - Dont use it enough NBC sports - Dont use it. Fandango - Maybe once a month usage Shazam - Um.. built into cortana Spotify - I only use Groove or Pandora

Zac, can you tell me more about the myTube beta app? I have it, but, don't seem to find all the features..there are probably not even half the features of the myTube app. I like the new UI of the beta app though. myTube is probably the best youtube client in the windows store. awesome tube is also quite useable. Thankfully, I grabbed the full version of myTube last year for free..maybe through myappsfree deals..much love for this developer.

Phone-Mail-Setting
Messaging-music-store
Edge-Awesome Tube-People-Steam-games
TripAdvisor-MSN weather
Event Countdown- news-OneFootball
W.Central-MsPowerUser-Photos-office

I used to have Pandora on my start screen, but it wont play more than one song before freezing up on any of my W10 phones so it has been removed.

The latest build thankfully fixed that. It drove me crazy!

Ya...it fixed it for me too!

When did that come out? As of yesterday, there is still no new build for me on any of my phones.

I even deleted and re-installed it and I still have the last build without the new icon.

I have about a single page of apps on my start seen.
There's money, weather, WhatsApp beta, phone, mail, people, messaging, calendar, edge, OneDrive, file explorer, store, power planner, Wunderlist, Eva, TV Plan beta, alarms & clocks, enpass, calculator, movies & tv, voice recorder, audiobooked, groove, uber, cooking fever, candy crush, equilicious and the Xbox app. Lol. It seems a lot when I list them.

I like how ,from the comments, apart from the staple apps like phone etc, we all seem to have different apps on our start screens. Interesting.

What I have on my Start Screen. People, Phone, Edge, Outlook Mail, Messaging, Facebook, OneNote, Adobe Reader, Settings, Instagram, Facebook Messenger, ProShot Classic, MSN News, MetroTube, Store, Grove, MSN Sports, Twitter, MSN Weather, 9Gag, theChive, GroupMe, Xbox, Shazam, Untappd, WinCentral, ShuffleParty, Candy Crush Soda, Wordament.

Outlook Calendar, Perfect Clock
Outlook Mail, Outlook Mail, Outlook Mail (3 different inboxen :-)
Groove, Cortana
Phone, Vera Mobile, messaging, Steam, Battery, Soundicity, Pocket Casts,
Edge, Enpass
Band, Store, Windows Central
Weather, 1st4Fans
News, Xbox (beta)
Tune-in, odds folder, Zendesk, Sport
Fanband, Wifi live tile, Mytube
Skype, BringCast

Perfect timing on this, just bought the HP Elite x3 and it arrived today. I am coming from a Samsung Note 5.

Lucky! How much did it cost you? Did you get the lap dock bundle?

670$ for phone and desktop dock new (on Amazon), no lapdock yet.... I own a Surface Pro 4 i7 so a little hesitant on the lapdock.

I used the lap dock in store with my 950xl. REALLY liked it! Wish I could get it just by itself. I'd ditch my laptop for it.

I can understand this Start screen but two things.
1) The Twitter app. Highly, highly recommend you take another look at Tweetium. Also a simple interface, but most important, it remembers where you left off.
2) Skype Preview. Why not use it as your SMS app? I have been doing so, and it works a treat for me and my wife. But maybe you have a different experience...?

How does skype handle MMS group text? Does it work well for sending videos or pictures via SMS/MMS?

Have to be honest, never send those things via SMS. Always have found it burdensome. Maybe someone else can fill you in on that? Sorry.

It's all good. I am considering using just skype...but not sure how it works for pictures and short videos.

You can send those within Skype, no problem. Just not sure via the SMS/MMS portion of it

No one use sms/mms these days

My Start Screen: http://imgur.com/a/GO0e0
Perfect Weather * 2 (first my student hostel city, second my home)
File Explorer, Outlook Calendar, Alarm
MEGA Privacy, OneDrive, Settings, Store, Phone, Messages, People
Outlook Mail, Edge, Groove Music, Messenger, Skype, Instagram, Twitter
Perfect Tube, Movies & TV, Photos, Camera
sRadio, MAL Client, Windows Central
wpTorrent, Feedback Hub, Maps, Bookviser Reader (I love it, it's really awesome)
Not on the picture:
Viber, WhatsApp, Perfect Recorder, Calculator
Facebook, Office Lens, PowerPoint, Word
SlimSocial, Battery (setting), OneNote note

My eyes hurt. How does your eye coordinate with a background like that?

The wallpaper main color is silimar the tiles color. Based on picture maybe hard to see the content, but the reality is the opposite, I see the tiles quite good.

I'm surprised to the Windows Central app on there, this app seems to just get worse and they've apparently given up on developing it.

The W10 PC app crashes constantly. It had more updates than I've had hot dinners. But still closes, the moment you open it up.

Check this guy on Instagram...windows10phone...

Mine!
http://i.imgur.com/tMRu91L.jpg

Third party browser-"coc coc browser"
Sports app-"sofascore"
Railway information-"Railyatri"
Facebook client-"slimsocial for Facebook"
New apps-"appraisin"

Why not do a Start Screen photo contest as photography contests done by Windows Central before?😎

That has to be one of the most ugliest start screens I have ever seen lol

A good article showing pride in w10m but your start screen is sparse and not very imaginative. My start screen is packed with live tiles feeding me information daily at a glance. I'll anyone can ask me @cestnoelito on twitter

mine still looks like this http://forums.windowscentral.com/microsoft-lumia-650/414497-%5Bshowing-o...

640 still looks like this http://forums.windowscentral.com/microsoft-lumia-640/344378-2.htm#post32...

Lack of drawer use? I mean I guess if you want clean one taps but I like to keep my phone organized to the very end so like everything but the top row is a drawer.

Across the top of my 950, my wife, four kids and my dads people contact with the smallest icons. Phone 1 & Messaging 1, wide Cal & email. The rest is Skype, social media, WC, news apps, Xbox app and a few favorite games.

No steam app? Maybe because Zac has a vac ban on his account:P

Mona Lisa, Mona Lisa man have name you..🎶🎵🎶

BIG question. I have a Lumia 640, and since it has motioncored feature, I have install Health&Fitness, without updating it, since it won't work out after that, and Microsoft Band really stinks.
I also use MetroTube, but I'd like to know if there's a chance to get the previous version of Youtube, created by Microsoft, before rejecting it, in order to download it, and install it from a sdcard?.
Thanks.

the microsoft youtube app is out there however it won't work, google has blocked it from working and there have been many updates to the youtube app, you would essentially install a broken app it was once a beautiful glorious working app that met an untimely demise

On my Start Screen: http://forums.windowscentral.com/attachments/microsoft-lumia-650/132973d... http://forums.windowscentral.com/attachments/microsoft-lumia-650/132974d...

Folder I (media): Movies and TV, Groove, Awesome Tube, Photos, SoundHound, Shazam, CC player.
Folder II (cloud): Dropbox, OneDrive.
Folder III (browsers): Edge and Monument browser.
Folder IV (tools): Alarm, calendar, calculator, hope calendar.
Folder V: favorite people pined to start screen.
Folder VI (social): Twitter, Facebook, Viber, Skype.
Then Windows Central, Store, linked inbox, settings, weather, My Note, Torex lite, translator, Files, Metro File Manager. I pin important sites to start screen. I'm very, very organized. I even make folders of pined sites, to be more neat. I'm sick! 😁

Was waiting to see if someone really utilized folders.

Rare species. There's only a few of us left... 😀

I use all those you mentioned. ..except the technical ones. ...and awesome tube. ..

Install build 14393.567 production ring
Here is my app list
WhatsApp beta
Skype for sms too
Office with one note
Xodo docs for pdf
Gdrive.net
OneDrive
File manager
My tube beta
Appraisin
Cortana
GMessenger uwp
Viber
Office lens
Autocad
Slimsocial fb
Groove music
Films and tv
Ouga
Windows central
Instagram
Edge browser
These are the Best uwp apps on the store

Great app list, pretty much identical to mine apart from the MSN NEWS app which is really nice.

I also have Podcast Lounge on my home screen, and more recently Grover for podcasts because it is amazingly good.

Anyone got link for 'Just Eat' app?
Windows Central Newsletter
Thank you for signing up to Windows Central. You will receive a verification email shortly.
There was a problem. Please refresh the page and try again.