WhatsApp announces Status, its take on Snapchat Stories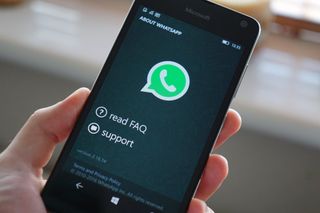 WhatsApp is gearing up to give Snapchat a run for its money with its latest feature, simply called Status. Essentially, Status boils down to a copy on Snapchat's Stories feature with one of WhatsApp's hallmark attractions: end-to-end encryption.
Rather than sticking with text, WhatsApp says, WhatsApp's Status feature lets you quickly snap a photo or video to share with your friends. You can spice things up by doodling on your creation, or adding things like emoji and text. Once posted, Status updates will disappear after 24 hours.
WhatsApp's Status is just the latest in a series of moves from its parent company Facebook to take on Snapchat. Just last year, Instagram, another Facebook-owned company, launched a similar version of this with its own Instagram Stories. Unlike Instagram's prominent placement of Stories, however, WhatsApp Statuses will live in a separate tab within the app.
Status is in the process of rolling out now on Android, iOS and Windows Phone, so it could take some time to show up for everyone.
Dan Thorp-Lancaster is the former Editor-in-Chief of Windows Central. He began working with Windows Central, Android Central, and iMore as a news writer in 2014 and is obsessed with tech of all sorts. You can follow Dan on Twitter @DthorpL and Instagram @heyitsdtl.
I hope snapchat hits rock bottom and so for its arrogant ceo

Oh that guy, he is so arrogant to a point made me even delete Snapchat on my android phone

Most obnoxious businessman out there, makes me gag

Can honestly say I've barely ever used SnapChat anyway other than to mess around with the face changer thingy. It's fun but not a messaging service I've any other use for. That's what I and pretty much everyone I know use WhatsApp for. So glad Windows 10 mobile is getting a fully featured, up to date app from them when so many apps are pulling the plug on us

Me too! It's nice to see a company dedicated to it's customers on any platform. There is probably a million or more wp Facebook users. 10 years ago 1 million people would have been targeted by everyone. Now it means nothing it seems and development has gotten cheaper...

Take that Snapchat!!!!!!!!!

Not my cup of tea, but every move to make Snapchat irrelevant is a good one. Hopefully one day we'll say "Snapchat? Didn't think anyone used it". Because you know, Evan Spiegel, karma is a b**ch.

Well, sweat. Now trying to get people on WhatsApp...

Most of my friends use it instead of Viber, Line, Snapchat and wechat actually. It's right up there with fb messenger..

Don't need Snapchat then cos WhatsApp is everywhere and I get to use the features that the stupid CEO thought Windows Phone doesn't deserve to have

Where do I find the favourites list??? This sucks....
But I love how they support windows phone!!

I haven't seen this in the beta even. I wonder if the production is now the newer version.

Just like Instagram did with it's stories thing (which is also available on Windows)... I hope that Snapchat will die off thanks to others who offer the same thing bundled with way more functionality. :D

I've had it in the Beta since the 18th.. Don't use it, so I didn't take notice until I read this article and checked when the last update was.

I don't see it in beta. I had an update on the 18th as well. I still just see the text only status update.

That isn't Status update.. Doodling is present way before the upcoming update..

Question is it possible to go live on insta for Windows phone?

Yes. You have to access it from the "Your Story" section.

but seriously where has the favorites section gone???

Thank you Facebook, Instagram, WhatsApp and especially Mark Zuckerberg. 😘

More like BIH (Burn In Hell) Snapchat

What?... Am I seeing it correct. Man just provide us the support of apps updation... Like instagram forsake... Though I like this.. Now just waiting to see.. How it works...

Really dig'n FB's Windows 10 support! Now please get live on FB on mobile a.s.a.p.!

WhatsApp in Brazil is more used than SMS, waaayyy more. There are other apps like Line, Viber and so on, but WhatsApp just dominate, it's on ALL devices!
Can't care less for Snapchat, to me it's useless, but it is very important for people on marketing.

How do I get to that point. Can't figure out how to see or use it.

Anyone seeing the Status update yet? I heard it's a server update. Guessing it hasn't hit Canada yet

I got it today without any announcement. Hell yeah!

See i had no issue with that, if it wouldnt have removed the contact tab and the actual status' Like now all my ******* 500 numbers can see my ****. Not my favorites, making my privacy setting totally useless. Thats so ******* dumbfuck stupid ..
Windows Central Newsletter
Thank you for signing up to Windows Central. You will receive a verification email shortly.
There was a problem. Please refresh the page and try again.