WhatsApp beta adds a camera icon for quick sharing of media with contacts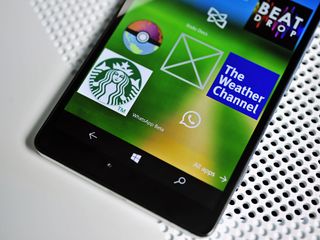 The latest update to the WhatsApp Beta app for Windows Phone adds a new camera icon to the bottom Settings bar in the chat window. It allows for sharing of images and videos with anyone on your contact list.
The new version number for the beta app (via NPU) is 2.16.208. This new camera icon will now allow WhatsApp beta users to quickly share media with more than one contact at once, rather than just going to each contact one by one.
As with the earlier WhatsApp Beta update, which added chat backups to OneDrive, we expect this new feature to be added to the regular WhatsApp Windows Phone app sometime in the near future.
Download WhatsApp Beta from the Windows Store (opens in new tab)
I have a question: How did they develop backup on one drive? I mean what API they used? There are some tutorials, but they need to login first. In whatsapp, it's just confirmation box. Login done automatically.

Daya, kuch toh gadbad hai!

Nice to read some hindi comments here. Lol

Aisa kro, tum ise Forensic lab bejho, Koi na Koi solid evidence mil hi jye ga. LOL! :-)

There is a method for doing this using a type of Single Sign On in WP8 apps. I'll try and dig up the documentation

https://media2.giphy.com/media/12EQduTaCLtFBu/giphy.gif

So if they ever switch to UWP, they'll have to start almost from scratch? I mean they're using old API here, aren't they?

They will port iOS app to W10. Not from scratch.

Ah.. of course. I forgot Facebook owns WhatsApp. They'll just make another ****** OSmeta port. -_-

I really wish they shouldn't. Their Osmeta port seems brings more issues and compromises, with only advantage for them to easily port the app but that doesn't even guarantee that it will be feature and Polish parity as those from iOS and Android anyways. Performance is really bad with those Osmeta app that even PC took time to launch it and even crash. Seriously I can launch Premiere light-year faster than those Facebook apps. Posted from alternate universe

They won't have to start from scratch necessarily. You can port over to UWP very easily in general. It still involves work and every case is unique, but it's not a case of wiping everything out

I am unable to install WhatsApp in the windows 10 mobile emulator from the store, it says error. But other apps I am able to install from store. Posted via the Windows Central App for Android

Noticed Pokémon go haha. Can I just say that I have been playing for months now and haven't been banned! Aaahahahaaaaa

WhatsApp is becoming a beast!

WhatsApp must update as to select messages and send them to multiple contacts.

An update in Sunday! I didn't see this coming :)

Now its time to make it uwp please

I don't get why they're still developing an 8.1 app instead of using UWP. They'd definitely benefit from the new feature set. Plus support is gonna be dropped soon enough so it only makes sense for them not to waste their resources on old developments. Side note, I haven't switched over to the beta yet but the regular WhatsApp app is painfully slow on my 950XL. To the point where it's embarrassing to use. I'm really hoping the beta isn't the same.

It is very simple: the majority of the users are unable to run UWP, but 100% of the Windows users are able to use this version. The user base is small as it is, it is not worth the trouble to develop from scratch for a group that now is also connected to their community. Yes, it would be nice to have all the advantages of UWP but it is highly unrealistic to expect companies to devote manpower to features only available to a handful of users (yes yes I know, still millions but let's be honest; it's peanuts and not worth the trouble). Posted via the Windows Central App for Android

Instead of whining about WhatsApp non uwp we should all hold our breaths and worship them for maintaining this crucial app. They could decide to leave the platform any minute. For me personally when this app would leave the platform I would have no choice but to leave windows mobile. Everyone I know communicates over it.

I'm extremely glad they're still supporting the platform, don't get me wrong. But for their own sake, it would only make sense for them to be proactive and start working on a new version of the app.

At this time it is simply too much too ask and I can't blame them. And hell, uwp are not the holy grail. Look at the new skype app. What a piece of **** that still is. WhatsApp is maybe a little slow but has always been reliable for me.

UWP may not be the holy grail but it's the future. Plus I don't think it's asking for much considering they're still actively developing for WP8.1. They have the team and the resources.

They will make a uwp when windows mobile is not an uncertain mess anymore. 99.99% of the planet thinks windows phone is dead. Microsoft is here to blame. Not WhatsApp. Microsoft is creating a self-destructing platform by failing to deliver in communication, marketing and qualify. Unless the surface phone has some mind blowing tech that appears from another planet or delivers over one week battery life on one charge, people won't buy it. The app problem is too fundamental. Chatbots are a joke and a fake future that will only materialize in decades when AI is not so dumb as now.

I'm sorry, are you a spokesperson for WhatsApp? Forgive me for not realizing... Windows Mobile isn't a mess at all, the foundation of the system is exactly where it needs to be. And you're right, Windows Phone is dead. Because Windows Mobile is the future. I never blamed anyone for anything, nor am I saying either of them are to blame. Besides, if they're STILL developing for Windows Phone with the beta app, then they obviously see potential in the platform and see a place for WhatsApp on Windows. I'm simply making a suggestion that WhatsApp moves their efforts to UWP. They don't have to abandon the WP8 app by any means, but considering UWP brings a larger set of features and could greatly benefit them in the future, it would only make sense. Facebook owns WhatsApp now. Even though they're just ports from iOS, they've updated the rest of their apps for W10M while still keeping their (sub-par) WP8 apps around, like Instagram and Messenger. It wouldn't kill them to do the same for WhatsApp.

Are we using the same Skype UWP Preview? They are doing a great job with it so far and it's IMO one of the best Skype clients for phones and keeps getting better. They still have work to do, but they aren't claiming it's final yet - I read there were some issues on the new Fast Ring build but we should really be going off what's out there on Production and Release Preview where it works very reliably in my experience.

Nah, they are gaining more than us from the app

Millions isn't "peanuts" and what about all of the developers that don't listen to your advice? Are they all just stupid?

WhatsApp really need to work on the UI UX, still the same old metro experience, move to UWP at least. Also fix the buggy notifications.

If you pay attention they are really slowly moving towards a new ui that matches uwp apps.

Did they remove the privacy "don't share accounts info to FB" thingy in the beta?? Or was that just in the non-beta??

Great News. I am using lumia 950 xl and i can use two whatsapp accounts now. WhatsApp and whatsApp Beta. Ha Ha Ha

thats why whatsapp is my favorite app!

They need to move to UWP to have access to this. I'm glad they keep updating the 8.1 app even though most of my social group are using either Facebook Messenger and Skype

which is the official ones.. beta or other..??

How can beta be the official?
Do you understand what is beta?

That's cool they added a quicker button, but have they fixed the camera yet? I only use it for quick pictures because it takes forever to focus and the selfie keeps the photo reversed unlike the main camera
Windows Central Newsletter
Get the best of Windows Central in in your inbox, every day!
Thank you for signing up to Windows Central. You will receive a verification email shortly.
There was a problem. Please refresh the page and try again.