WhatsApp closed beta update adds Group count, UI change for images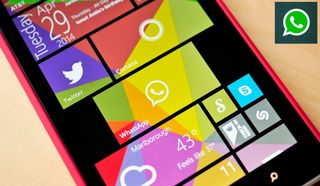 A new update for the closed beta version of the popular WhatsApp messaging app is now available to download for those folks who are involved in its testing, adding a number of new features that will likely be put into the public version at some point.
Updates for the WhatsApp beta had been on hiatus for a few weeks, with the last beta update arriving in June. It now looks like the WhatsApp team is back and further enhancing the messaging service.
According to our tipsters who have downloaded the closed beta version, the update includes:
New UI for the picture preview window
An option for adding captions to images you're sharing
You can now see the number of participants in a group
Speed improvements
Remember, this is for the beta version only. The public version of WhatsApp that's in the Windows Phone Store does not yet have these features.
Please do no ask about how to get access to the private beta, as there is no public sign-up method. Thank you.
Thanks to Rushab for the tip
Windows Central Newsletter
Get the best of Windows Central in your inbox, every day!
Waiting for the official app to gain the features..

I have asked the support if they can add me to the beta they said they will add me but it will take a while...

You sent mail to the beta team ?? And they replied you?? :O
When did you sent them mail?? I have been trying for months.. :(

Not the beta team the support team

But every time I sent to the support team , I only get the automated response..

You have to reply with the informations that they ask you about in the automatic reply

I contacted them and they said they are sorry but they don't need any new members , you can send a suggestions to them , they will hear you and reply ^_^

What's the use of that suggestion if we don't get to beta...i mean I give suggestions and feedbacks..but I would love more if i am in the beta ;)

I have also got the same reply a few months back......:)

Even for fb im waiting for the improvement

Waiting and fell asleep.......just got up thought this was for official app.....yawn.....back to sleep

please tell them to add support for selecting multiple messages and forwarding them at once

That should be compulsory!

It'll (probably) take a while...

I'd like to have:
- Cropping images before sending them (like iOS)
- More polish in the "info" section at group chats; the titles (like "subject" and "mute") are awfully big
- Enhanced sounds settings: disable notifications from normal chats and group chats
- More polished settings: put "inform friends" to "Info", make "blocked contacts" a separate entry
- give us the option to set rules for back-ups: weekly, monthly, daily (as seen in iOS)
- Show whatsapp in people hub when you view a contacts profile and go to "Connect" (WP8.1 only)

Add "set vibration off" to that and I'll be happy.

More closed betas while the public version sucks. Winning strategy, if you ask me.

I don't think there public version of what's app sucks. Not now atleast. I'd have agreed with you before that major update but ever since I've not had a single problem with what's app.

Agreed. Public version works perfectly well.

I'm looking forward to seeing these "speed improvements"

You can hidden the conversations now too!

Perfect for hiding the girlfriend from the wife. Which is basically what everyone uses WA for.

Let's wait another six months for getting the update!

That's exactly what I was thinking

Lolz, they already mentioned not to ask for the access of WhatsApp beta ;)

Might as well add File Picker & Option to send mp3 files

U will send your precious quality mix radio files to crapdroid ppl.

Yes! Now that third-party apps fo have access to storage...its about time watsapp made use of this!

Most narrow minded comment I've ever seen. Wtf

I have been waiting for this. I really need to send mp3s to my friends!

"Please to do no ask about..." Dude wtf, you guys seriously need some decent proofreaders.

No need to be furious.. These guys work real hard to keep us up with the latest updates and should be given appreciation!

But they are professionals. If a reader can find a problem with just one read of an article, they should too.

Well said. I'd love to see some of these linguists run a blog of this size and not transpose a word now and then. It happens everywhere.

@PuppyPopper Chill. We all make mistakes, no need to be a jerk about it. And your threshold for 'WTF' seems awfully low. I can't imagine how you react when something serious happens.

Yes WTF is uncalled for. But WPC needs to pay attention to this one request from their readers. People have been talking about the deterioration of quality reading on this website for almost a year now.

No, no they have not. You may think that but I have not seen the complaints either by email, twitter, forums, comments, etc. I'm sorry if you think our quality has deteriorated, but I completely disagree.

I don't think it has deteriorated, contrariwise, articles are pretty cohesive. Although I think some users are really annoying here. With dumps questions "How can I download the private beta WhatsApp?" "When Cyan will be available in India??" "Why I don't have a brain?" Things like these that discourage read this site..

I agree there. Part of that is because we're doing so well (we have many more commenters than one year ago). We do try to moderate and I occasionally email people here to tell them to improve, etc.

Yes, btw, Why I didn't receive these emails? Kidding.

When can we get these emails in India???

I don't think it has deteriorated.And I've only seen a couple of people complaining about it tbh.And from a WPC userbase of several thousand members,I don't think these couple of complaints means that the quality of writing has deteriorated :/

+620 for Daniel
Idk why everyone needs to act like a grammar nazi at small mistakes.You understood quite easily what he said,right?Many other people who commented didn't even notice so there really is no need to act so immaturely like you are right now.And yeah,your criteria/threshold for saying "wtf" is quite low xD

Seriously that wtf was so uncalled for....you can point at mistakes politely too!

Ha ha, threshold, I never knew how to make use of it in a sentence, other than Einstein's photoelectric phenomenon explanation.

I have no idea what you just said xD Photo-what? xD

hi hi go through physics textbooks at highschool

"Threshold" of hearing..are 20hz and 20khz you cannot hear bellow or above these frequency!!:D

When is threshold releasing? :P

While I agree that "wtf" is not warranted, I also understand the original point. Wpcentral articles often contain a number of editing and grammar mistakes, often ones that should be easily caught by reading through the article once or twice before posting. I am personally annoyed when I have to struggle through sentences, often needing to re-read and analyze to try and determine what the writer was trying to say. The content is top shelf, but I definitely think you guys underestimate the importance of editing... it definitely comes off a bit amateurish. I'm no grammar police, but the site would look a lot more professional. I have seen many complaints posted, and they are always brushed off. It is what it is... I come here for the information, but am often disappointed by the care put into writing. Still love this site though, it is certainly the best for WP news.

Apologies but my ocd flares up on seeing such atrocious spelling and grammar. Also, I would like to respectfully point out that even after "correction", it reads like this: "Please do no ask about." One is all right, two means you guys seriously have a problem, ignore it if you want though.

"Development of WhatsApp had been on hiatus for a few weeks (...)"
You know, it isn't because updates aren't rolling out every week that the developers are not working on the project and it is on "hiatus". Making software takes a lot of time, researching and testing - especially on multi-platform projects like WhatsApp. You should be a little more patient and recognize all effort towards better software as valid.

It was referring to updates. Updates were coming every other day on the beta--literally. Then they stopped for a month. Side note: A lot of you are super crabby today in comments. I'm going to pass on today for participation.

Daniel, I think people are just getting frustrated with MS's slowness to release the Cyan update for everyone.

Must be. All I see are complaints, half off topic, today. It's like everyone is in a bad mood, which makes me less interested in writing. There's a whole negative vibe, which is really frustrating.

If the updates were coming every other day and then stopped, it was much probably because they hit a development target within their plan and/or went back to the drawing board for other features and fixes. It doesn't mean they stopped working as a "hiatus" implies. Side note: I'm not super crabby, I'm having a wonderful day creating software that will be released weeks from now - and fortunately no one is saying that I'm not working my ass off until the release is made public :)

"and fortunately no one is saying that I'm not working my ass off until the release is made public"

Thing is, no one said or implied that here, either. Simply observing the history of beta updates and a gap is not passing judgment on the development team.

And u get a Lumia 930 u won hidden gems contest. Good comment

Well if its not for the public and private why are we told about?

To keep on dying and asking, when's the update would come for public

It's some kind of torture.

It's a good way to see what features will be added, or if WP will just be ignored. WP is getting better 3rd party support these days.

"Well if its not for the public and private why are we told about?"

Three reasons

. We have had many tips on it. You all comment endlessly when we do post about it. If you did not know about these forthcoming features, then technically this is still news. Should only report on things that are public and tangible? That would make my job much easier, but of course, you would miss out on the cool rumors and insider information. Your call.

What's wrong with commenters today?
Did Nadella fire you all?

How can I participate in beta program?

You can't unless and untill you are registered as a developer team in WhatsApp.

Ask the support they said that they will add me

Its getting better i hope....the current version is good but sometimes the spped is slow....

1 )Notifications don't get clear sometimes
2 if suppose I want to send any pic to watsapp from the photo hub sometimes it doesn't give me option of watsapp
3) need app lock for watsapp
4) Faster opening of app from notifications centre ( needs to get faster)
5 sometimes live tile don't get clear. Watsapp inc have told that Microsoft hasn't released that API TO THEM ( maybe in wrong about this)

Cool. Now we just have to wait 3 months for they to announce it coming in a few (5-10) weeks.

Actually if you really want WhatsApp beta then go to Windows phone hub.in ... There is a tricks section which tells you how to get it. Personally I couldn't be bothered to do all that

Wrong place to post such things. I guess you will soon get a warning mesr from mods for talking about illegal sites

Anyone can join the beta, you just have to mail them. It is not illegal, it is just telling you how to do it

enjoying these new features.

So we can expect these feature to arrive Mid November then

I want to be able to save audio files.

WhatsApp still looks ridiculously oversized on screens bigger than 4 inches.

Loosers thz whtsapp ppl r even bbm beta wrks better thn whtsap .

I wish they'd add face camera support for the video shooting for self-recorded messages... While it works for photos, in video model you just don't see what you're recording...

What weather app is that pinned on your start screen?

Is any hope to use google chrome in wp in a while ? Gooogle selfish... Suckzz

Microsoft won't allow alternate browser engines in the store. It would have to be just a wrapper around the IE engine, in which case there's not much point.

I didn't get bbm beta y ?

Correct me if am wrong was that delete and rotate option already in the current version?! The one in the screenshot.

I think you're right, that is new too.

Always wanted that. Otherwise, had to do the selection all the way from first, in case I chose a wrong photo.

wen do we get status time

Still waiting for the MP3 option! :'(

When we search for any word, it shows a list of where that word is used, either a contact or used somewhere in a chat. But, v should be able to go to that message directly, when v tap on it from the search list! Can that be possible?

Could you tell me what is the background picture of the theme?

Its been in beta for god knows how long.

In software development, there is always a branch that is beta. That is how you develop software. You have the public release, and then iterate on an internal beta. Once you hit your milestones, you convert that beta to public release, rinse and repeat. The difference here is we're sharing the internal development of the app. Otherwise, this is perfectly normal.

i just want to be able to select images from onedrive. is that too much to ask?

Hike is much better compared to Whatsapp, it seems pretty much underrated.

I can see how frustrated are ppl due to lag in cyan release but that's nt the way to talk shit to the people who are working hard day by day to bring latest news n rumors... Appreciate their effort or leave the comment section... Grow up guys... You are not the only one who is frustrated with things... Blog writers are also frustrated with the things in their personal life but they never involve their issues in their blogs or professional life ... Its kinda immature behaviour ... Peace ✌

Wowww!! So much frustration here!!! Θ_Θ

WhatsApp on my phone shows notification even after I have read it. +625

How to register in the beta program for this ? I wonder why the dont use the preview for developer

1- Please, read the article. 2- Cause Dev Preview it's a MS internal program (for the OS only).

It can be in future send mp3 files ..+1520

Daniel, does they fix the scaling for lumia 1520?

Ohh..WhatsApp devs still exist..lol.i thought they left developing for windows phone flatform after their continuous "various bug fixes and enhancements"..

i only wish that they dont bring a update which wont even allow me to to open whatsapp...i dont want any updates from whatsapp..they made it worse each time..

Photography Skills ... DBZ ... o.O

I recently hard reset my phone and noticed a change with my whatsapp account. Previously my NL 920 whatsapp account stated: Free or i think it was "Free for Life" ...now, after reinstalling whatsapp, my whatsapp account states that I have an expiration date in a year's time. I thought whatsapp was free to all windows phone users? Did I miss something?

Whatsapp is free for only one year, from then on you have you pay a yearly subscription fee.

Dunno abt everybody else but my subscription just renewed itself. I didn't pay. :/

Need to get the timeline to show the minutes hours or days of the status being updated at

Could some one please tell me
What's the name of the calendar app
That is above the Whatsapp tile in the picture ??
Thanks...!

everything is fine, but when r we getting support for pre-recorded audio sharing. What will we do with UI or speed if not able to share things.....

Where will be available in the store.....

How can I get new whatsap updates