WhatsApp now has 900 million active monthly users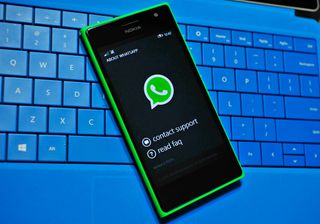 After Facebook announcing earlier this month that it witnessed one billion daily active users, it is now WhatsApp's turn to share some usage figures. According to co-founder Jan Koum, the service now has 900 million active users, up from 800 million in the month of April.
Acquired by Facebook last year for $19 billion, WhatsApp has seen its user base double over the course of the year, with India and Brazil representing key regions for the service. Other messaging services popular in emerging markets — such as Line, WeChat and Kakao — have leveraged some form of in-app purchases for monetization, offering stickers, emoticons and themes. WhatsApp, meanwhile, charges users an annual fee of $1, with customers in developing markets able to access the service for free.
It is possible that we'll see the service gaining integration with other services, becoming a platform for connecting brands with consumers. We're already starting to see this in India, with several mainstream brands offering exclusive deals and discounts through WhatsApp.
How many of you are active WhatsApp users?
Source: Facebook (Jan Koum)
Windows Central Newsletter
Get the best of Windows Central in your inbox, every day!
Harish Jonnalagadda is a Senior Editor overseeing Asia for Android Central, Windows Central's sister site. When not reviewing phones, he's testing PC hardware, including video cards, motherboards, gaming accessories, and keyboards.
So bbm... Ouch. Well Facebook done good.

How many of windows user?

I read an article in Softpedia. About 10% of total users.

Has Microsoft even sold 90M Winodws Phones? I find that figure extremely hard to believe unless it was created way back when WhatsApp had significantly less users. Even then... Have they even sold 45M Windows Phones since 2010 - and actually have at least that many users? I severely doubt that.

$1 billion dollars per year.... Crazy

Developing countries have it for free. With India and brazil the major ares of use its major usage is by free users so $1 billion per year isn't correct.

I've used whatsapp for a few years and never paid for it. I think there was a lifetime offer a while ago for windows phone users.

i have used whatsapp sense symbian... really cant remember when, maybe 2008... till now, i have never paid for it.

Yep same for me. My WhatsApp supposed to expired at 3/9/15 but the expiry date suddenly jumped to 3/9/16. No idea why

Mine too was 31st August and now it shows November!!!

At a span of 3 years using WhatsApp. Never paid a paisa.

Yep, and they don't care. Becasue others are, and the fact that you're there is incentive for other people - who WILL pay - to come to the service. The fact that you use WhatsApp more than i.e. Skype is a huge win for them, whether you pay or not. The money they're losing subsidizing you isn't that much. THey can do that for a big chunk of their users in an attempt to keep them on the platform and incentivize others to come and eat it. At the end of the day, it's kind of a brilliant strategy. It's a strategy Skype could have used [earlier on] with Group Video Calling by [not] making it a Premium Service. Because of that, few "average" folk used the service so when they finally made it free, those people didn't care because the use of it never became habitual. Since Skype is one of the weakest communication apps for Text/Multimedia Messaging out there, the people who left likely aren't going to come back to it any time in the foreseeable future. I am not sure what Microsoft's plan for Skype is, other than to simply embed it in thier OSes because people want to see them introduce some parity with other platforms (like OS X/iOS). It seems like the purchase of Skype had more to do with the Enterprise Market than the consumer market, which is why development has been fast tracked on that end while the consumer version has been largely stagnant since the purchase save for a few client redesigns.

For once I thought we are having a new update.
With all other apps giving different sticker and stuff I still use WhatsApp more because of its simplicity. Good to see their service base rise up so high.

I also like WhatsApp because of being so clean and straight forward. Posted via the Windows Central App for Android

Windows phone WhatsApp users?

They are over 10% as announced week or two ago

1/3 of that I think. But dont worry. they had 300Mio Users already before Whatsapp was even available :)

And they still have 300M users... That means they aren't growing, while iMessage/FaceTime, Facebook Messenger, WhatsApp and even Hangouts & BBM are seeing growth. Not to mention the hoard of other messaging apps on the market, some of them with very active user bases in the 20-50M range. I find that kind of pitiful, but that has a lot to do with the fact that Skype is HORRIBLE for Text and Multimedia Messaging. The people who use it use it largely to call Cell and Landlines. I don't even think many people use it for Video Calling, since the other options have eclipsed Skype pretty much across the board for 1:1 video calls, and group video calls are still pretty niche in the consumer market (Google found that out with Hangouts). Also, Skype Accounts are non-deletable and Microosft creates a Skype Account connected to your Live ID if you don't have one so it's easy for them to inflate their user numbers. I'm willing to bet half of those 300M aren't even Monthly Active Users, and those that are, barely use the Skype service for anything other than Phone Calls with the Occasional Video Call. The fact that Skype is doing so poorly compared to competing services is disincentive to use (especially) Windows Phone and to a lesser extent incentive to move to OS X for those Windows users with iPhones. More people are on those platforms. They're integrated better into the platforms. Microsoft can add Messaging to Windows 10, but why would someone who doens't even use Skype care about that? They aren't going to run out to get a Phone that uses services they don't even value, just because Microsoft released some integrated PC client for it. I don't think people "using Windows" is going to drive the numbers up, either. Microsoft has been pushing Skype for Desktop as a Recommended update on Windows 7/8.x for several months now, and people still aren't hopping on that train.

Two classes better than that Viber bloatware.

I hate whastall because you HAVE to use it in order to be connected with people. I hate everything that sucks you into his brand, like Apple also does

Just like fashion...if you are not in conformity with others you get exclude or in this case unaware of stuff because theses is only way of doing it...

All the IM apps works the same way. It's only sms apps that don't care what sms app the other person is using. The reason is that for sms messages, everything goes to the Service Provider (Carrier) servers and then to you phone. And you get to pay a lot of money for that long service. Posted via the Windows Central App for Android

Then you should get a Blackberry because there is nothing on there that you can conform to.

They have whatsapp - had calling before wp to boot. Bb10 isn't that bad lol

Yes, they need people like you :)

No you don't... I don't have Whatsapp. I use Telegram which is far superior and if anyone asks me for whatsapp details i make them install Telegram. They get hooked on how good it is and then they change their friends... win. Sent from the Windows Central app for Android... Running on my Lumia 1520 with Windows 10 Mobile

My Wife and I use it daily. We work in the same company and I'm IT so I have text, she doesn't, so we use this. Works great and painless to setup.

M pretty sure WhatsApp works out well for almost every one out there.But not for me, i am one of those few people who have had those bad experiences on WhatsApp.

We can use WhatsApp/Facebook/Twitter for free over 4G connection here (inside our monthly Data plan).

Yes this is cool. But that's why VIVO's CEO is complaining about this. I'm calling all my contacts with Whatsapp and its free... Correction: It takes data from my dataplan. But not much. And compared to the traditional call it's nothing.

Yep, he can complain how much he wants lol If companies don't embrace the future they'll lost! The new technology world moves fast and so the companies should.

Good for them, I use it too, it's quite fast

They need to improve the backup function for WP. In this state it's useless -.-

Or just use Telegram and never have to worry about backups ever again... ;) Sent from the Windows Central app for Android... Running on my Lumia 1520 with Windows 10 Mobile

Telegram is so much better for sending files and stuff, but doesn't have Voice calling. I use skype for that. Quit using WhatsApp and Facebook about a year ago.

I tried to use GroupMe. It is available on all platforms so it is universal and not a closed/limited service. I even was able to get several members of a study group to install it, but GroupMe sent disconnection notices to members who didn't post! We didn't like that. In the end, we just couldn't find a "use" for it. Email was far easier way to discuss topics and coordinate schedules for meetings. Plus, then there is a good record of the emails that can be referenced in a folder.

Easy to setup, easy to use.

I used to love bbm a lot and loves Skype. Their emojis are better than WhatsApp. Bbm Imo was the best IM application for youngsters and Skype is best for enterprise users.

May I ask, what is the purpose of this app? Email is better because it is universal and can be free, right? Why does anyone use these closed and limited services?
Just trying to understand.

There's a type of messaging service which starts with the word 'Instant', and Whatsapp falls into that category. E-mail is not an instantaneous type. Whatsapp can tell you when the message gets delivered, and also when it gets read. You don't have to wait for the response to know if the recipients have read your message, WhatsApp server will tell you. Then when it comes to chat groups, e-mail is way too bloated for such.

You have so much patience to reply....

there is a huge difference between instant messengers and email, since IM are, obviously, instant. you don't expect to get an answer to your email in seconds, do you?

Email is like sending a letter, WhatsApp is like making a phone call (sort of, as it's still text)

Microsoft should have bought it, because until they shortly make Skype an integrated part of messaging in windows 10, the implementation has been a mess... I don't even know my Skype ID :')

Microsoft had The messenger, they just should have made it available to mobile platforms sooner and better. instead they discarded it in favor of the inferior IM service of Skype. Skype is still nowadays way worse than the MSN/Live Messenger was

Facebook bought
whatsapp and yet they are forcing users to use their crappy messenger app, why not integrate whatsapp with facebook altogether.

WhatsApp use mobile numbers, facebook uses email address. And not everyone has fb

899 million cuz I remove it

You removed 1 million of those install ?

you are not a million users.

Haha hilarious...that's a joke of a calculation.... xD

lmao for the last line in the article

Does everything Rock in India?

why didnt whatsapp replace all messeging way yet. its just way more convenient.

I use both WhatsApp and wechat. WhatsApp is simple, but sometimes I do wish to have more emojis. And in WhatsApp I can easily get/share contacts but this brings risk of exposing my contact to strangers too (while wechat needs confirmation for adding friend).

Curious to why facebook still has messenger when they could just integrate WhatsApp

I'm on WhatsApp, it's very easy to use and easy to find friends. It would be nice though to see Skype getting such momentum after releasing its next version.:)

Woh rich rich .. Very rich

Where do i chk that windows phone is free for whatsapp

I've had whatsapp for over a year and it has never charged me even though it says it will. Unless it charge was automatic and I didn't notice it which I doubt.

...I liked it, I still use it. I just wanted a desktop app & file sharing. Telegram does that. Most of my important contacts has jumped to Telegram only because of these two reasons. I hope WhatsApp will implement those two features. So we all can move back.

Don't hope for Whatsapp to catch up on features... It will never happen... My entire company uses Telegram now... I switched 80 people from Whatsapp to Telegram and we are not looking back... We work in Telco so we are always using multiple phones and changing devices and never have to worry about losing messages... Its so much better than Whatsapp... Sent from the Windows Central app for Android... Running on my Lumia 1520 with Windows 10 Mobile

What Is so good about the whatsupp app?

It's a great IM if you don't have IM in your plan. At least that's what I use it for.

But will the messages stay encrypted? Or will fb, abuse us, and start spamming us with crap

I can't wait for it to die

I never understood the hype for this app.

in whatsapp attachment -Camera is not working in Lumia 720