WhatsApp for Windows Phone gets another minor update today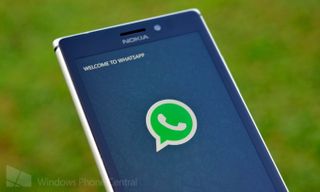 Looks like the folks behind WhatsApp, the super popular messaging app, aren't resting on their laurels anymore.
Last week we saw the long-anticipated "overhaul" update, which added fast resume, ditched the music streaming API (for Windows Phone 8) and even added a few features. Within hours, a second update rolled out for some, which seemingly fixed a few bugs here and there.
Now, version 2.10.506 is live in the Store, ready for your updating. Unfortunately, no change log has been released, so we'll just have to assume this has improved up on notifications and fixes some other lingering issues. For what it's worth, the WhatsApp developers are continually updating the beta version of the app, meaning this is still a "work in progress". That's okay by us, so long as things continue to improve.
How's the update been treating you? Sound off in comments and leave feedback for the developers!
Pick up WhatsApp for Windows Phone here in the Store. Via: Plaffo
Windows Central Newsletter
Get the best of Windows Central in your inbox, every day!
Daniel Rubino is the Editor-in-chief of Windows Central, head reviewer, podcast co-host, and analyst. He has been covering Microsoft since 2007 when this site was called WMExperts (and later Windows Phone Central). His interests include Windows, laptops, next-gen computing, and for some reason, watches. Before all this tech stuff, he worked on a Ph.D. in linguistics, watched people sleep (for medical purposes!), and ran the projectors at movie theaters because it was fun.
WhatsApp, if you're reading this: Please show us some respect by providing a changelog!

If its a very minor update, developers usually don't provide a changelog.

WhatsApp does provide the changelog at every minor update for Android...

I went through my friends app store on his iPhone and developers had changelogs left and right.

Microsoft should have a requirement for the developers to leave a changelog.

Might result in (even) fewer updates for some apps (lazy developers don't like writing those) - I guess

they write thousands of lines of code.

im sure one line of changelog is harmless.

Obviously you don't know many developers ;)

True, most dev are notorious for avoiding documentation.

I think it's got to the point where wpcentral don't need to post unknown bug fixes for apps as newsworthy. Official apps get updates nearly every day on iPhone and they don't even make the news on iMore. If it's an update with a changelog, sure, that's probably newsworthy but I think we're finally in the world where Windows Phone is keeping up with all the big name apps so we don't need to act so grateful when we get tiny bug fix updates. Windows Phone is a big boy now, not just 'lucky to get an update or two'.

But this misses the point: for some folks, their Store tile won't show up an update for 24 hours (or more) depending on the cycle; for others, it never works. When we do a post like this, it's for the more hardcore users who want to know the update is out right now and not wait until they are notified. Also, sometimes we can tease out update features that aren't listed in the changelog--either by us or you guys in comments. In fact, people will come to this site to see what we wrote on it and whether we know anything... So, I respectively disagree :)

Yep, I like to know when updates are out.

Well said Daniel please continue informing us about updates, I (and I'm sure many others) greatly appreciate it

I'm with you, Daniel. WPCENTRAL is my immediate source for updates. Forum comments from fellas in the community are often insightful and valuable.

I am just wondering Daniel, when the WP appstore reaches 600,000+ how are you guys at WPcentral going to keep up with app updates ?!!??! :)

You respectfully disagree lol respectively is for order clarification :)

Come on, we know what he meant!

I totally agree with you, because in my wp sometimes it's not showing that there is an update for application that i've installed although only for a few app.

IDK if this already showed up or not, (WPCentral comments don't work too well on my laptop for some reason) but Daniel, I believe you meant that you respectfully disagree :P, respectively is for linking objects in a specific order. Haha anyways I agree w/you and I appreciate the updates, cuz my store live tile takes forever to show my updates after they become available... on a sidenote, is there any way to turn off the counting number for a specific app... I have the MS youtube app from when it was actually good and no matter what the update stays there and its annoying. However i will not update the app as IT'S A TRAP, they'll take my beloved YouTube client and give me a web shortcut... SO... what i'm asking is: how do i get rid of the update notification for that app only???

Exactly, thanks Daniel for all the update and new app reports, you do this community a great service, there will always be whining turds that troll every story

I love getting these posts so that I can get update immediately

Actually, I haven't received a single update notification for the past 3 weeks. I would be stuck with quite a few outdated applications if not for this site. Any idea why some people like me just don't get any notification?

Try this to get your tile notifications back.
1. Unpin store tile.
2. Clear explorer cache.
3. Soft reset phone.
4. You may need to set up the time when the phone restarts.
5. Pin back the store tile and wait for about 24 hours.
Your mileage may vary.

I tried Octonabz's method earlier, helped me at least.

i tried this way suggested by MJS9 in this thread http://forums.wpcentral.com/windows-phone-8/222038-store-not-showing-app-updates.html#
Search manually through the store to find an update for one of the apps you have installed, but don't install it.
Exit to the Start screen and look at your store live tile (should be showing "1" for the update you manually found)
Unpin the store tile
Settings --> Applications --> Internet Explorer. Delete History
Exit to the Start screen
Soft Reset (Press and hold Volume and On/Off button until phone resets)
Settings --> Date + Time (set your date and time)
Exit to start screen
Power Off (hold power button and swipe down when prompted)
Power On
Pin your Store tile to the Start screen Following that procedure, my tile updated immediately with several update notifications. Best of luck

Keep up the good work daniel. It means a lot to me as my updates notification does not work at all.

I totally agree with Daniel. I saved myself from updating TeamViewer last night because of the comments on the article (I cancelled the update just in time). Otherwise, I would have ended up with a broken app. WPCentral is the best site for Windows Phones.

Also with you on that one, Daniel. Personally, I appreciate the work you guys put in immensely, I love knowing what's happening, as it happens, even tiny lil updates for apps I use. Thank you!

Yup! I'm one of those people who never gets a notification when there's an update, so I'm grateful to you guys for telling us when there's a new update!

Thanks for the information and hard work Daniel. Keep it up, your efforts are greatly appreciated by a majority of the readers here.

You're doing a great job Daniel, keep it up.

Yes, please continue posting updates to keep your readers informed... I just found out about this update by checking the news here. Keep up the good work.

I don't get a notification for an update for at least 24 hours after it is posted.

Windows Phone store is lacking everywhere. Doesn't notify users properly, no way to access installed apps, no force update check. Every time I want to update the 9GAG paid app I have to search for a link since it's hidden from the search.

UGHH its the worst part of the OS except maybe not having independent volume profiles imo.

agreed, I mean how hard can it be to implement a simple button that says "check for updates"? And the unified volume controls are bugging me since day one with my old Venue Pro. This stuff is missing but they have time to create kids corner... ridiculous

You can launch the newly installed apps right from the store (at least it will come to the app list) by tapping the app's name.

Also people here test the updates And inform if it is something wrong with it. Like one app from today that had a minor bug

::conspiracy keanu::
what if the store has a way of notifiing us, but we keep interrupting it by getting the news from WPC first, and manually updating apps??

My Store Notification have problems after flashing my Lumia 820, thanks to WPCentral i don't miss any update for the relevant apps, like Whatsapp.

I saw the update notification, so I open the wpcentral app to see if this update has problems. Apparently none. so thanks wpcentral. keep it up. :)

But the app store gives a notification if there is an update available, you want to check it out as soon as possible and than it is useful that wpcentral posts about it.

How can I participate in the WhatsApp beta?

The beta is now closed I think.

Whatsapp send out an update yesterday to iOS , the ability to now send multiple photos 10 photos being the limit at a time, hope this is coming to WP8 soon.

In the menu where is the Diffusion put a message at the end. Do not remember seeing before.

The last major update whatsapp released was really good. Don't forget that ios users pay 0.99 for whatsapp so its understandable that they get more features and quicker updates..

You also pay on Windows Phone. You pay on all platforms. First year free, then 0.99€ PER YEAR after that.

Not entirely true, I am using WhatsApp for almost several years now and never had to pay, and under settings > account it is saying ''lifetime'' so I don't have to pay forever :P. But on my mom's phone (she has finally a smartphone) her account expires early next year, she is on android.

Not anymore, that was changed today to be the same as all the other platforms

So WhatsApp doesn't support FFC for sending video clips as attachments???

Finally, the most annoying bug is fixed.

I noticed that at the latest update, the app will not give you options to choose between 'Ok' and 'Cancel' when it said that you have connectivity error (Which is why they told you to reboot your phone) Instead, the app will just give you an error and the only thing you can do is to press Cancel and then you have to press back to exit the app. So far this is the only changes I have noticed which otherwise might be just bug fixes.

Can't they update it so the new message shows up in multiple lines instead of just one on a large live tile? It's kind of annoying to see a long message getting cut off when there are plenty of spaces on large live tile.

Oh yeah it feels... Not sure if it's placebo

"New Broadcast" is it new or was it there before?

Voxer was updated today as well. FYI

Well if they just remove it from WP7 (or even offer it as an option on WP7), then I will be happy.

exactly! they should just give an option to turn it off for those (many of them) who don't need all time wifi connection and background upload/download of media..
i even sent a mail to the whatsapp support team, but they apparently didn't even read my mail, and responded to something totally different. (this was after i replied to the automated reply they send to every query by looking for keywords in the text.)
if anyone reading this is in touch with the whatsapp team (through the beta programme or otherwise), please ask them to give an option to switch off audio api for those wp7 users who don't need it, and want more battery life instead..

I know this is a really weird thing to say, but you write in such a similar way to me Pratham that I almost thought I was reading something I'd forgotten I wrote.
As I say, I'm aware that's a weird comment :)

well, nothing weird about it! :)
feels good to know i got a "bro" out there.. :D

the update notif not comes out in my phone, i just go to the store, look for whatsapp, and press the update :P

Just noticed yesterday that WhatsApp now has VOIP. Awwwright, there's officially no advantage to using Kakaotalk (except "friend inertia" of course).

IIRC, it's not VOIP. It just makes a call to the friend's number using the cell network.

No it doesn't support VoIP. It makes a standard phone call.

But I think it will be supporting VOIP at some point because in the store under requierments, it says ''call via VOIP" But that is weird because it isn't supported yet but it says so in the store...

I'm with daniel here, wpcentral is my go to app everyday hoping there is something new, it gives me a bit of excitement everytime the landing screen fades out coz i knew something was coming

I hope the whatsapp team take a closer look to the windowsphone platform.
The whatsapp for windows phone is clearly the worst, considering IOS and Android.

Now the BIGGER problem is the fact that whatsapp is forcing my lumia 720 to restart. Sometimes my phone is getting frozen also.

I clearly see a "VoIP call" in the feature liat in this update. Yet can't find any option or button on voip calling. If whatsapp can do VoIP calling, then there's no reason to keep Viber. Anybody managed to find or use VoIP call in this new whatsapp?
I tried viber and BBM voice on same wifi connection and somehow BBM voice seemed to be more reliable and clearer. Plus point from viber is it can do VoIP call through 3G/data, whereas BBM Voice only WiFi.





One problem I noticed with the last update was that notifications stopped working for me if I turned on data and WiFi. Maybe this update fixes that.

had some problems with hard notification delay. they popped up minutes later after i read th msges. so i wrote an supp ticket. 1 day later they answered with an link for a update. i think it fixed this issue.

The only changes i see are when exiting using the back button, you don't get the Push Notification-Reboot Phone message that use to free the use of apps. Also the speed it opens is much much quicker without much delay.

Freeze* and required a boot up to function the phone again

Thank you Dan for informing us about the update. I always have to check the store manually to see if updates are available here in te Indian store on my HTC Radar. Now for what's updated:- in the group chats my previous messages wouldn't load, now they are loading and the app works fine. I can't find more stuff of what's updated.. I guess they are all under the hood updates. :)

WpCentral app gets updated!!!

Yeah, I just wish it wouldn't appear as a mostly-transparent ghost of an icon in the updates list.

Whatsapp, are you joking us? That music API has returned in this update! Horror!

No it hasn't. Stop acting stupid.

I think the Share->Whatsapp option directly from the Photos app was broken. Now it seems to work. And that the change that I have observed.

Daniel,
Thanks for posting this. It helps those of us who want to get the updates without waiting for the Store notifications. I like these types of blog posts and find them helpful.

After using Line for a few days, I am wondering if I will ever use whatsapp again except of course to tell my friends that they should rather use Line. Where Whatsapp developers are obviously not very good or interested, Line has fabulous clients on WP, WinStore and Win desktop in addition to iOS, OSX and Android. Oh, and I can save on the desktop a video recorded on the phone by my friends. Laurent

I had uninstalled WhatsApp after the penultimate last update. Beacuse I had faced the following problems on my L720 : 1) The app exited everytime I was scrolling through old messages in group chats 2) My home screen tiles, bar 3-4 used to freeze (not respond) at all, after a while, requiring me to do a hard reset every time this used to happen. 3) Even when I disabled Battery Saver option, I seldom got notifications in real-time. I was hoping the latest minor update would address these issues, but I read from the reviews even more reports of the problems that I have mentioned. In spite of that, I re-installed WhatsApp, and the issues still persist. SO, I am uninstalling it again till I hear better news.

The recent updates to WhatsApp have met my crucial requirements. Quick resume being the main thing. However I would love to be able to send videos , songs and multiple images. The problem seems to be the OS limitations. I am guessing WhatsApp guys are waiting for all those restrictions to be lifted and for a more proper SDK from MS. They just don't want to give their 100% just yet I think.

Just got the connectivity error message even after the update. Such an annoying bug!!

they are working! at least no reboot is required again and again!

I had uninstalled WhatsApp after the penultimate last update. Beacuse I had faced the following problems on my L720 :
1) The app exited everytime I was scrolling through old messages in group chats
2) My home screen tiles, bar 3-4 used to freeze (not respond) at all, after a while, requiring me to do a hard reset every time this used to happen.
3) Even when I disabled Battery Saver option, I seldom got notifications in real-time.
I was hoping the latest minor update would address these issues, but I read from the reviews even more reports of the problems that I have mentioned. In spite of that, I re-installed WhatsApp, and the issues still persist. SO, I am uninstalling it again till I hear better news.

m not able to send audio and video.....nd cant even send multiple images..what the solution for it..???

Microsoft has the solution. Just have to wait for them to release the SDK. There is nothing that Whatsapp can do about it. But multiple image selection I think can be implemented.

Now it is usable. Notifications work fine now. Thank you!

You now swipe left for more smiley's

I've no idea if this is connected but for the past 4 months, my Store tile has failed to show a notification when an app update is available. I've tried all the tricks on all the forums but nothing has worked.
I just installed this new Whatsapp update (after installing the major update last week) and within a 4 hours, I suddenly had 21 updates waiting to install! I'm interested to find out if thats sorted it forever or not but have to wait for a new update before I can be sure.

Anyone else find this?

Whatsapp now supports white os background

I noticed one thing. In the last version if you tap on the name of a person, it's profile pic opens in large mode, while in this update, it opens in proper contact info page.!

i can really see a noticable speed boost when opening the app

Music api left for wp7.x?

I was noticing timestamp inconsistencies before this minor update, no the timestamps are consistent and fine...so i guess that's one of the things they ironed out.

Why does Whats app need location information, is this the price we pay for using a free app ? i am not comfortable with this, i would rather pay a nominal fee to use this app than share my location.

You can send your location with the app.

It used to crash when I tried to see all the media that has been send in a conversation and there were a lot, now I can see it all :D


Hi There. I see you have the nice emojis on the screenshot. How do you install those? I still have the ugly windows phone smiles ... :(
thanks

There is a button for emoticons, not the one in the keyboard.

FOUND IT!, I think I found what got changed on this version, when you click on create new broadcast it will show a notice that you cannot broadcast to people that they dont have you added in their address list, probably to stop all the spamming in Whatsapp