WhatsApp for Windows Phone gets major new update, loads of new features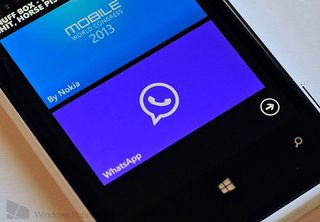 Now that Kik is on the sidelines for Windows Phone, WhatsApp has become our default international messaging app on Windows Phone. Luckily for us the WhatsApp team is busy updating and adding new functions to the app, evidently back on their 30-day schedule.
Version 2.9.2 is now live in the Store and it's the one update you've been waiting for, as it really brings this app into its own.
New features include:
Lock screen notification support
New Tile design (less cartoony, more Metro)
Backup function
Hit "enter" as send
Mass message
New Attachment screen, including Audio, Video, Location, Picture, Camera and Contact
Some new UI layout changes
Overall, it's an impressive update. The lock screen notifications go a long way to improving the app's usability on Windows Phone 8 and the message backup feature and new layout should also please long time users looking for a more robust experience.
Notifications have been more consistent for us than on Kik and hopefully that will continue with this app update.
Did we miss any new features? Let us know in comments. You can download WhatsApp for free here in the Store. All Windows Phones supported. Thanks, Dennis and others for the tip!
Daniel Rubino is the Executive Editor of Windows Central, head reviewer, podcast co-host, and analyst. He has been covering Microsoft here since 2007, back when this site was called WMExperts (and later Windows Phone Central). His interests include Windows, Microsoft Surface, laptops, next-gen computing, and arguing with people on the internet.
At last! Seriously, this update was needed very badly. Especially the lockscreen notifications.

It has become much faster and they updated my subscription for one more year of free usage too.

Free usage???
Its ALWAYS going to be free....

They pretty much all say your 'paid' account ends in 2110...

..Mine ends in March actually. They kept extending it unnecessarily for a friend of mine. But I'm yet to get a single extention.

Always niice to see a major update for a windows phone app.

Seems to be up for 7.x as well. Edit: that's probably what you meant by "supports all Windows Phones"...

I'm just hoping it doesn't reportedly kill the battery anymore!

don't hold your breath, it eats battery exactly as before.

Is funny how Daniel used to say that whatsapp was irrelevant and recommend everybody else to use KIK instead.

I only use apps that are good. Kik used to be better than WhatsApp. Now that Kik has withered and WhatsApp has finally improved, I can finally support it (likewise, the amount of customer complaints for WhatsApp have dropped off). It's not funny, just logical.

yeah that's not how IM clients work. you don't switch them like clothes. you go where your contacts are.

This is why proprietary chat apps are annoying. The apps should aggregate contacts from multiple platforms. The Messaging app in Windows Phone should have framework hooks that allow other apps to "tap" into it. No matter the chat platform you use, if the app integrates into the Messaging app, your contacts will have threads that are a grouping of all the applications they are associated with. This is the ideal way to go and as a developer, I cannot understand why Microsoft hasn't allowed this yet.

Because it would create a whole mess of crap in the messaging hub. I want all apps separate so I can easily have settings specified for each and can easily keep track of conversations.
My response to a Facebook notification is different, it's different to whatapp and its different to Skype. With these integrated in the messaging hub I'll get the same notification and it will be impossible to tell whether my phone just beeped for an SMS or for a Skype notifications. So it's best to have separate apps.

I fail to see how that is a problem? You can always open the app itself. Just like facebook, it has Message hub integration AND you can use messaging in the app itself. The message hub also shows you which chat channel the message originated from and defaults you to the last one you or your contact used, whichever is the latest.

Ya I miss my N9 for that, messaging hub, though whatsapp was not integrated there, it was homebrew too not official whatsapp client. But other accounts were able to be set up and used with the messaging hub in meego. WP8 seems poised to be able to do this too once developers figure it all out. Or at least I hope.

Nice update, but...............
1- Alert is a shame i.e why should the phone vibrate when my sound profile is on silent and vibrate is set to off?
2-Inability to view a contact's profile picture when I click on it. Same for twitter.
3-Having to close the app sometimes in order for new messages to come in.
I used it on the Nokia E7 and blackberry and it was cool, not cool at all on my L920 though.

My experince of the update is that its not very stabel at all. Evertime I try and attactch a photo, be it to a message or to my profile pic, the app crashes. Anybody else have this. HTC 8X. The photos are on my albums in the cloud not local to the phone does that matter?

There was a time when blackberry was awesome and android blew chunks. Shit changes and unbiased opinions usually follow

Been checking for this update for a long long time. Happy it has finally arrived.


Wow. This is really good news.

Hope it doesn't use the audio APIs to stay alive in the background. Downloading now.

It does and I don't expect that to change anytime soon.

Yes, just verified that myself. I'm guessing that means it is still going to be a battery hogger. smh

Is there a reason for them using it? why don't you expect them to change this? its a very annoying feature

The only way they'll stop,using it is if they develop a different app for WP8 & WP7, since WP7 doesn't have the wifi always on feature...

Your assuming that people only use it on wifi, why can't the app just use the data connection available to it, if a WP8 phone is on sleep then use data, unless the user has specified to keep wifi on then it would use wifi as default.
WP7 users and other smartphone users of similar apps i hope realise that chat apps use their data allowance when they use it.

I'm not asuming anyting, that's the reason for which whatsapp started using this method, because people wanted it to work even if the don't have a cellular connection. I don't know how long you've been on WP Central, but the wifi not staying on when the screen is locked was one of the MAJOR issues for users in WP7.

Could someone explain this audio ALI please

Why not? The Facebook app manages to give notifications without using the audio API. Not consistently, but still.

This is starting to get surprisingly annoying. It interferes with my bluetooth streaming. If I get out of my car and use WhatsApp, when I get back in my car, typically it tries to continue playing from where it stopped, but of course WhatsApp shows up as the last track played, and everything gets fucked up.

Same issues as others with the Music API, just so frustrating that they haven't changed the "keep alive" method.

%$^^&*$^&#& DAMMIT. That's the ONLY gripe i have with Whatsapp....

I just uninstalled it because of this.
I like apps to use the most power friendly method of doing something.
Now the app store can have the same app with 2 releases I'd expect 2 versions... until they are serious about the platform I'll not use the app.

I emailed devs and they said they know the battery hog and audio api issue and are working on solution. No eta.

I noticed something...not sure if others have...but whatsapp stays alive even when battery saver is activated...its supposed to get cut off but since its using the audio API it stays alive and works throughout..i guess they want it to working as much as possible... Like normal txt msges at all times...old news...?

Installing now, this is a really nice update it looks like. Finally lockscreen notifcations.

Is there a way of saving video sent in chats to the phone/sd card? Photos save but I can't work out how to save other media. Just get an option to delete or forward.

Their video system appears to be proprietary (optimized for bandwidth) so it looks like a 'no' on that, same reason you can't send a pre-recorded video.

Seems a shame. I download the video over wifi to the phone via the app to watch it. Means the video sent from family abroad can't be backed up or shared with others not using the app. Certainly seems like a feature people would want.

That may be true, but you can send pre recorded videos on their iOS and Android apps.

Daniel, from what I've heard from an MS employee it is due to the video library not being accesable for apps. I don't know for sure about this, but I trust the MS (a WP guy as well) had his facts straight.

[EDIT] This was based on WP7, however I haven't heard that it changed with WP8 though.

Ios app allows pre recorded video attachments, i would think tthey could do the same for wp8.

This is the only thing now missing from WhatsApp. The saving video features makes no sense as Android and LOS can do this and they can also send pre-recorded message, we can even forward videos...all other updates are fantastic.

YEEEEEEEAAAAAAAAAAAHHHHHHHHHH!!!!!!!!!!!!!!!!!!

The load time is still as bad :/
Still no screen roatation animations.
Still have to use wp native emoticons.

Crashes everytime I try to add a profile photo.

Same here. I'm about to try uninstalling

Reinstalled twice, still crashes. I get the feeling WP is a pain in the ass to develop for.

Yup. Reinstalled. Same thing. They didn't test this before pushing out?

If that was the case then all apps would be rubbish. It's pretty obvious the guys over at Whatsapp are a bunch of douches.

I was getting this but rebooted my phone and seemed to fix it.

meh. Pretty much every WP app that has an Android or iOS counterpart, is pretty dysfunctional by comparison. Even MS-developed solutions like GroupMe, Skype and Lync lack features, or perform poorly next to their bretheren on competing OS'. I'm not happy about it, just stating the obvious.

someone please look at Sam :D

Still no support for sending video files you already have on ur phone, maybe limitation of the app, nice update tho, Lumia 710

Had to do a soft reset , 920 died for the first time ever.
After 3 hours of updating whatsapp :(

Crashes everytime I try to upload a photo. Pffft.

"Now that kik is on the sidelines" why exactly do you say this?? Because they haven't updated the app? Or is there other reasons as well?

Kik said they dont have any plans as of now to properly support wp8..it was reported here sometime back...

Doesn't whatsupp cost $0.99/year??

yes, it is too much. The application is useless on WP7 durring this first free year. If they fix it and then give us a full 1 year free, I will pay the next 0.99, ok?

waiting for it to hit my store! (i know i can hunt it down via the QR code buuuuut..)

Just go to the Whatsapp page on the Store and you should see an update button.

I was just clicking on whatsapp in the marketplace and i saw that i could install the update so i tipped wpcentral. I was glad i could help you tip this :)
But it is a shame it still uses the music stream api. I frikkin' hate it!

+10000000 why would they use the media API. It annoying that what's app shows.up as my last played song.

Pardon me.
Finally. Its about fucking time!

Is there a way to turn on lock screen notifications from within the app? I couldn't find such a setting . I had to go to settings -> lock screen and add whatsapp there.

No, or you will be redirected to the lock screen settings

OMG this is a relief and joyous moment or what? :D

Finally, a non-pixelated tile. It bothered me for a long time.

I've been using Whatsapp for free since December.
Nice update!

Okay, so I updated. Opened whatsapp - the device froze - and bamn there comes the much awaited and much loved reboot!

One more item in the changelog: Improved WP8 performance

interested to read of this is a battery killer like the old version, once i started using whatsapp, my battery drain would never stop. I eventually had to remove, but hopefully they fixed that.

Couple questions, why does turning the volume up or down, clicking the media, open what's app? and why is the last played song in the Xbox music show up as what's app?

Yes, one important detail is forgotten. Is this update only for windows 8 or also for windows phone 7 mango and 7.8. Windows phone 7 mango and 7.8 users are also reading these blogs.

Quoting Daniel's article directly: "You can download WhatsApp for free here in the Store. All Windows Phones supported." All Windows Phones supported, we provide information for users of WP7 and WP8 and are very aware that a large number of our users are using 7.5/8 :)

After update, my account expiraton date extended from 2021 to 2110, yeah!!! I can give my account to my grandson!

That's happened to me before the update & its still there!

Finally a metro style icon! That's the only thing I'm happy about :D

Not for WP 7.x users - or at least not for me?

You have to repin the tile

Nope, still the old one for me on 7.8. :(

Nope,old icon here and also can't get the wide tile. I still old icon.

Nope, that doesn't work as the primary tile only supports the fliptiletemplate. WhatsApp should provide the ability to add a secondary tile which then could use the iconictiletemplate like on WP8.

Was this fixed in this update??

Am I the only one? I leave the phone (Lumia 920) come back, go to xBox/music, see the song I was paused on, press "paused" and woop... the phone takes me to "whatsApp", I press back and its like I just opened a new music player, the memory of the player is gone and I need to re-find my last song.

No, sorry. Still uses media API.

They need to stop using the audio API if they want me to use it.

When will they allow us to save and attach downloaded audio or video? That's what I need. Don't see anything interesting with this update. SMH.

Is there a way to get the backup file in 7.8?

Hey,Daniel. Any work in progress for updating your app for tile resizing to full rectangle? Thanks

Downloaded it and it has crashed on me 3 times so far. Can't get past choosing a picture.

Lock screen notification support - am I being stupid as I cant see where to set this up via settings on WP or in WhatsApp

i can't either find it. does anyone know? i have WP 7.8

7.8 doesn't support lockscreen...only Bing can make use of lockscreen

In setting and then lockscreen. But i don't know if w7.8 supports lock screen notifications of marketplace apps.

Im on WP8, lumia 920 and I have looked in the settings for both WhatsApp and the lock screen (WhatsApp doesnt appear), where have others on WP8 set it?

Its in lockscreen settings in the system menu not the app

not on my lumia 920 or my HTC 8S

Daniel did say and i quote
"Did we miss any new features? Let us know in comments. You can download WhatsApp for free here in the Store. All Windows Phones supported. Thanks, Dennis and others for the tip! "
Great improvement!!!
load times, faster
nice layout and animations( font got smaller, more chats can be seen, list comes from the bottom now)
nice broadcast feature (mass messaging)
all i need now is the ability to send mp3 files...
come on Microsoft!!! make it happen!!! and whatsapp will update to suit
Ps. different colour chat bubbles for group messages, changing backgound wallpaper or even making background a solid colour, like the accent colour or black/white(but i think that works already).... *whisper* work on it plzzzzzzzz :
Smasung Focus Rocking WP7.8 :) Gotta love it

no large tile support for wp7.8

There doesn't seem to be wide tile support for WP 7.8 :(

Horrible update.
- No "fast resume"
- LONGER load times. The first load is quick. The subsequent load times are insanely long.
- Can't access "Media" section in "Info" of any chats. Just shows up with a blank scroll list. Old media is lost.

In wp 7.8 the Live Tile NO IS BIGGER rectangle, only medium!

another minor change i think...now if a group is on mute you can see a tiny mute icon next to the groups name on the chats screen:P....dont think this was there before...or never noticed it:P

crashes when resuming
crashes when updating profile pic
can't send a pre-recorded video
Long load time
still can't click on a contacts profile pic to see a larger picture. just a small thumbnail.

not a great update for the whatsapp team

Well im not getting no rectangular tile / no metro style icon? anybody else (WP 7.8 here) / Also wish they made screen lock notifications for wp7.8, other standard apps use it (like messaging, email, phone).

I don't see the point of the large tile, they don't even show the message content in the tile, just the notification indicator. What a waste of space.

Yup, not getting most of the features. The only thing I can see different is the newly designed "share" window with Modern UI style icons. Other than that - same old same old. WP7.8 on Lumia 800.

Rectangular tile, metro tile and lockscreen are just for WP8...7.8 shares the same in-app upgrades, layout broadcasts etc.

Try remove and 're-pin tile

screenshots can be attacheeeeeeeeed!!! :D

Yeah man..this was something that I was looking forward..glad it happened..

Finally. The workaround can get complicated. I've been opening the screenshots and re-saving them using creative studio just to share them on whatsapp

Grml. Igores the fact, that DVP has a QWERTY keyboard and displays a large blank black space where the software keyboard should be. No workaround so far.

still showing as streaming, meaning battery drainage still happening... Not good...

It seems to startup longer sometimes on my 920. At times it can be really quick taking 2 seconds, and the next time it may take around 8 seconds. Wish more people would use Line or Wechat as they are technically and visually much better apps.

Yea same here. I prefer the older build's consistently medium start. Sometimes it even hangs completely now.

Just downloaded LINE. Will give u feedback later. Need to tell people about this. Looks better
UPDATE: Managed to invite 2 contatcts and its looking good and better than whatsapp so far

Isnt message for me, v2.9.2 extremely slow start on my Lumia 920!

1. No Support For Messages Longer that 10 parts i.e 1600+ chars
2. No Large Tile Support For 7.8
3. The Tile is still the same "Cartoony" on 7.8
4. No new Emoticons.
5. The Music Player Bug Still Exists (Seriously It's High Time They did Something about It!!!).

- Still no ability to send MP3s
- Still no ability to send videos located on the device
- Still a battery hog.
- App crashes when changing display picture
- Have to unpin and repin the tile for it to show up properly.
I was looking forward to this update, thought this would support mp3 and video sending support, very disapointed. Still loads of work to do! Thanks for the update anyway Whatsapp Team!

how the fuck do you restore your backup on whatsapp???

I think of you remove whatsapp and reinstall it, the messages automaticly download? I could be wrong, but just a guess. Anyone else know?

I made a backup then reinstall whatsapp. It automatly show a message to restore backup.

the backup file is link the the phone's storage or the phone no. account?

now that fucking thing crashes

There is a backup option, but where is the restore option ?

The only change, functionality wise is the ability to upload screenshots.
Still dog slow.
Oh well...

Defenatly needs major improvements still. No where near on pare with WeChat

Was thinking the same, wish more would use it. The video chat is awesome.
Other features why its better:
1. Fast app resume
2. Quick and stable
3. Stickers (if you like that sort of thing)
4. Visually appealing interface
5. Cool social features like "Drift Bottle", "Moments" One feature that whatsapp has that wechat doesn't have though is the message viewed indicator.

I tested those double ticks...It's actually just message sent and message received indicators. If your phone buzzes and gives you notification the other person recieves the second tick, not when you read it :(

I thought this could be the 7.8 update with the new live tile size, but it isnt. A shame because the code for the extra functionality is jsut 15 sentences long and easy to implement :( and i still see the old logo, is this a bug or does the wp7 version still has the old logo?

Whatsapp worked great as long as I've used it. Now, I am mostly a Viber user and have used it for voice calls and text messages. However, my 920 is missing that. Viber Messenger is only available as of now and it's unfortunate that voice calls on Viber is exclusive to Nokia and unavailable on WP8.

Finaly!!!!! Lock screen support! But wait! Why does it keep hanging and crashing?

This one should be rewarded the most pathetic app on WP8 store. Instead of using background tasks, these hafl trained guys are using music service from WP to keep it running in the background. Even Symbian client is better than this. Another feature that I'd need now is the cloud backup of conversations. It'd come handy while switching between the platforms. But instead they implemented local backup.Great.

Still drains battery like a mother. I'm beginning to think this is a windows phone 8 problem since wechat also has this issue

Just went over privacy policy and the way I took it they still look at all contacts and have no control over 3d party doing as they wish with your info. On Android & iOS you pick contacts and that's all the app can see. Anyways did anyone else read the privacy policy and did you take it same or different?

I have no battery issue with this app? I also LOVE the new tile. Why can't Facebook and Twitter get these updates.

My friends and I have all switched over to WeChat and have had very good luck with it so far on iPhone,Android and Windows Phone 8. Coming from kik, I'm actually seeing better battery life too. So there is another alternative if you have friends who will help you test out before a bug switch.

Is anyone able to set a profile photo? When I select from saved photos, it says "resuming" and crashes the app. Anyone else?

I'm not sure if I received the same update as the rest of you... Its 2.9.2 but the tile is stil the old ugly looking one (icon in a tile). However its incredibly fast. The app is now just as fast as the default messaging app, its unbelievable. With these speeds it doesnt need a fast response.
I'm on WP7 btw.

Battery Draining is windows 8 problem, though the new update is for windows 7x users as well and we get all the updates mentioned in the article above. I didnt check on the windows 8 though. but its still missing sending of MP3 files, videos from collection and some minor smileys (which i dont care about) but the audio and video sharing is really needed. specially HTC didnt support its windows 7x users with bluetooth share >.>

The snapshot shows the live tile in its biggest size... I don't seem to have this option (only small and medium sizes)... Anyone else?
Lumia 900 / wp7.8

My WP 7.8 also don't have big tile option :(

oh and i noticed that if u have muted anybody it shows a small canceled speaker icon to the right, that means muted :P
just felt like sharing :)

how do you get the new tile.like the one shown in the photo.mine still shows a green icon

Unpin and re-pin the app.

double wide tile, coloured emotions in favourites list is only for WP8. *sigh*

using a lumia 800 on wp7.8

I'm afraid you don't on wp7.8

Can't help it... It's pissin me off.

I used WhatsApp on android but deleted it because i couldn't delete some users, is this still the case on a Windows OS version?

You still can't delete/block users on WP, annoying.

You can block users. Go to setting, block users and do the needful from there :)

Thanks! NEVER tapped on that bliming thing. I need to tap a little more in life ;)

They didn't fix white background issue either! The chat bubble goes away when background is white. I emailed them 3 times about this over last 6 months, everytime being told "our devs are aware about this and we will fix it soon" - but nope, they just won't do it! Thank goodness it's not a paid app!

Pretty unstable for me on Lumia 920. Stuck, close and reopen over and over. I should have waited. Shoot

Does rebooting fix it? Maybe I should hold off updating it on my 920.

I've got the same problem and no, rebooting doesn't help at all.

As long as they keep hyjacking my audio controls, it's a frikkin rubish app. Not worth using it.

Still missing the disable/enable toast notification option !!!!!!!!!!

I found it even worse than previous version despite it supports lockscreen notification and faster in process. It crashs all time and long loading time. Anyone same? I wanna downgrade to previous version now......Shit update

Yikes, maybe I should hold off updating. Someone else mentioned uninstalling and reinstalling does not help but rebooting solved it. Not sure if it will help but just wondering if you have given that a shot?

Yes, I tried reboot but it didnt help. Please don't update, otherwise you will regret.

Same here. This is a horrible mistake. Takes forever to open the app and keeps crashing!

The biggest problem I've had with whatsapp is when I want to add new people or people that I have on my phone but doesn't appear on the whatsapp list. Anyone knows if this has been fixed in the update?

Not sure if you have tried this but have you refreshed your "Favorites" under settings? That's the list of people who have whatsapp and are also in your contacts. Hopefully that helps!

Kills more battery than before !!!

Yeah, I never had a problem with the battery before but I've not really used my phone today & it's lasted about 6 hours, I usually get at least 17 hours out of this phone (HTC 8X) with moderate usage =/

Still seems buggy. Maybe even buggier than before. Daniel should write another post bashing the developers and then write another one accepting it as his goto app when its all fixed.

It may be a major update but its still not on par with the iOS and android versions , its annoying that they can send pre recorded video and save video thats recieved to the camera roll and windows phone users can't

Yeah, that does suck, but I'm glad they're still working improving our version since WP's smaller user base means less resources placed on it.

Whatsapp has great name recognition, but that's where it ends on WP8. The new update helps but it still lags behind some less well know apps. If you need a solid messaging app try Line. More features, abilities to customize, and a very solid performer. Not perfect, but the best overall offering on WP8.

What's the difference between "new broadcast" and "new group" ?

New broadcast is when you type a message and it sends it to everyone on your whatsapp list, new group is when you pick who you want to make a conversation with, so for example in a group could be you, your mum and your dad, or you, your friend #1 and friend #2.

This was not a good update!
If i start to watch a videoclip i received earlier, the whole app hangs and i have to restart the phone! It has also crashed several times when i just scroll through the menus, og or if i enter the settings and try to go back again!
Didn't anyone test this properly before the launched the update!!????

I have a question, I've updated the "Whatsapp" to the latest version, but the tile. still look the same, do not know where the most metro, and in the imagin is that you can use a long tile, is for WP 8?, mine is WP 7.8 and can not.

The new tile appears to be just for WP8.

Hmmm...I'm running wp7.8 but still same tile design and no double wide tile :/

I've learned that Whatsapp on WP is only stable after every two releases. Or so it has been for about the last six updates. The good thing is, they usually bring out an update soon after to fix the crashes or whatever unstable behaviour the 'big' updates bring in. So I guess I shall wait to see if a new update comes out soon, to sort out the complaints of bugs.

well it ain't perfect there's still a dumb thing that it does with sending images it cant send images from other folder like the screen shot album

Whatsapp updated, WP8 OS updated. Can we have a better Skype for windows now?

I like the new update... however, 3 things that need to improve:
1) It takes much longer to load than the previous version..
2) Add a voice-to-text feature so we can speak out messages
3) I love the Share Location feature, I like to think of it as a game to find interesting/funny locations as I am in different places. However, the Share Location feature only shows you a certain # of locations around you (like 15-20), it doesn't show more than that. The iOS version, however, shows you what looks like an infinite number of locations.


This app is crazy fast now

I don't get it, how can i restore the conversations after moving to a new phone?

what does the back up, back up exactly??

If its anything similar to how the back up works on iPhone, it means just that. It backs up all your messages and audio files shared, and you can even save kl your convos and send them by email etc.

Thats crazy, this is horribly slow now. I open it up, leave the phone aside and start working on a document on the pc and then it opens up the app!! It frustrates the shit out of me. Many a times I have to just keep pressing back and load it up again :(

Yes .. Finally
But still not optimized for 8X resolution, and still can't view the profile pictures of my friends in large size.

I'm hoping they will integrate into the People hub, so we can get all communications history in one place!

finally, but not enough...

About time! Can't wait to out this new update into use now.

after testing, for a few hours, it is slower to load than the previous version

The app has become slower than usual. It takes a long while to load. Looks like Whatsapp loves messing up their Windows Phone App

3 issues:
1. App load alot slower now, sometimes even hang on wp8 nokia lumia 920
2. Wide tile sometimes shows the most recent msg, sometimes just a tile number, no consistency
3. Still uses audio api
Fix these please.

What does the audio API that whatsapp uses do anyway, its driving me nuts having a stream icon on the volume controls!

I've just updated it on my WP7.8 Lumia800 , and it definitely became much faster and smoother ..with all The Features mentioned being present, except the Lockscreen Notifications of course ...

Love the update but, resuming the app is broken for me. It just crashes as soon as I try to resume.

As it is, the Audio api is sucking the power out of the batteries, they still have not disabled the vibration notification when a new msg arrives, which actually surpases the setting of vibration being disabled in the profile settings.
What was the windows phone development team @ whatsapp was smoking when they decided how to torture the windows phone users?

Crashes on resume and "fast resume" is a joke right? Slow resume or no resume is more like it on my 920

After using this yesterday, I had so much hope, but it continues to use the media stream API & continues to use a significant amount of battery. Windows Phone 8 introduced instant resume, WHY aren't they utilizing that instead? Its so frustrating, especially in an otherwise spectacular app

not big improvments, i have a lumia 710 with 7.8 and lots of features are missed for the windows 8, for example the lock screen notification ,

If you don't press back to quit, says press Windows key, it will stop responding when you go back in.....

Poor update I can say...


The app has been faster but occasionally on my Lumia 620 opening it seems to stall & there is a long pause. Hope it's not a bug

after I start the app, whenever i use the volume keys there is a music control that shows up. its really annoying because whenever I have music playing, that is replaced by the whatsapp music control!! this has been an issue since the app came out. When can this be fixed? any ideas??

Great update... Thanks to the bigger group picture (but same quality), it's impossible to silence groups... Well done

Don't think i will bother with this, the reviews certainly aren't positive

You did the right thing, it starts up like a pig sometimes, even on my L920. Took nearly 10 secs at one point.
Wish I didn't update.

Ok something is really weird... i can check that the version is 2.9.2 the tile has changed and everything but still no lockscreen notification! is there a reason? i tried uninstaling the app and install again... no change! it's not even asking for verification anymore!!! any comment?

Thank you

Update... I guess i needed to include whatsapp in the settings for lock screen as it is limited. Not cool

hahaha ... thank god i am content without whatsapp :D
still i was good to know about this update , but then i saw so many problems beings mentioned ...
come on whatsapp Devs we WP users want a fair treatment :X

Just as crappy as before. Can't believe MS is still letting them get away with the hack of using the music player API to keep WiFi alive, thereby killing battery. And it crashes when trying to add a picture. What a joke.

So why didn't Windows 7.8 get the double tile feature?

Faith in Windows Phone 8: Restored

again with another update

one thing nobody noticed.. now whatsapp also comes in share photo options!!

Pretty sure that was in earlier versions mate.

I had used it like a month ago, so yes It was there

Just got worse. Takes an eternity to load sometimes. LINE messenger seems better

There's another update out. 2.9.3. I just installed but have yet to notice any changes

It appears to have fixed the long load times from the previous update, also appears to fix the crash some users reported

Wohoo, I was seriously wishing I hadn't updated because of the load-times.

i have (Att) and its almost the end of februrary . i was wondering how much longer do we have to wait for the 7.8 update

New version: 2.9.4 , anybody knows what's new?

The app really really sucks on WP compared to iPhone and Android! Sigh!

My whats app is not working properly on my windows phone!!!!
plz help me!]


Major drawback of whatsapp for windows is that you can't send Audio file(song etc) or video to your friends as attachment. When you try to attach Audio , it starts Sound recorder and when you try to attach Video file, it starts Camera. So without that it is useless. I 've sent email to Whatsapp team but no answer. Any body here facing same problem ???

Facing same annoying challenge. I just also discovered that I cannot save a song that a friend sent to me on whatsapp. I have tried searching for the song on the phone by connecting it to a pc without any success. I can only access the song when I go to the profile of the person that sent the song to me, but there are no options to save/share the song. Frustrated..

there's still a backdrop ,cant get any background image as other phones like ios n android has !! ,its just plain like black or white.this should be updated.


It is so slow ... Im gonna change my phone just because whatsapp. Cz i think it is the most app i use

I would suggest of being able to send audio and/or videos that ate already on the phone, not just newly recorded audio and videos.

Better than before but i stil am not liking it at all. The screen when messagiong someone is way too small to follow the conversation properly. I have to exit the key board on my 920 to see the convo and then reply.
Also we cannot call the contact directly from the app.
Maybe i am expecting too muych cominnng from my galaxy s3....??? That should not be the case though,.

why i can't get real time notification on windows phone 8?

Btw, there is still no way u can attach any music or video from ur library on the phone. U can only record a new 1 and send them.. A required feature as other platforms including Symbian as well has it...

When will we be able to change chat background (wallpaper) just like on other platforms
Windows Central Newsletter
Get the best of Windows Central in in your inbox, every day!
Thank you for signing up to Windows Central. You will receive a verification email shortly.
There was a problem. Please refresh the page and try again.