WhatsApp for Windows Phone gets a minor bug fix update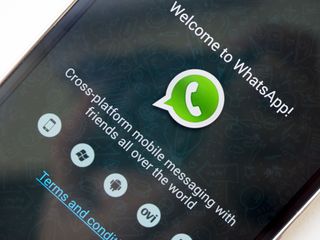 Last week, the popular WhatsApp messaging app for Windows Phone got a big public update, adding in the long awaited voice calling feature. Now there's a new update for the app available, but this appears to be a minor one with bug fixes.
Officially, the new version of the app is 2.12.70.0. Even though this is a small update, it's still good that WhatsApp continues to support the Windows Phone platform. If you do notice anything after downloading the update that's significant, please let us know in the comments.
Thanks to Rokibul for the tip!
Download WhatsApp from the Windows Phone Store
Windows Central Newsletter
Get the best of Windows Central in your inbox, every day!
Yes! We want regular updates...

Msg are not seen, though shows blue ticks.

Current update seems faster.
They want to break it

Update includes voice calling which has been long due on windows phone

that was included in the previous pdate already

This update fixed it for those who had an error message when calling

C'mon Asha...voice calling came last week. Either you don't use WhatsApp on Windows Phone or you're trolling.

C'mon.. He is after all "Asha" He'll always be jealous of Lumia. ;)

Remember? Everyone on the internet is male.

Daniel, my brother has a Lumia 635 -which lacks of a proximity sensor-, so when he gets a WhatsApp call -and he tries to answer it-, the screen goes black/lock. Do you know if they solved it in this update? Regards

Defo not a troll... I hadn't noticed that..... And it's a male here

That's been the case in the uk

The same update circle: relase a big one, then release a minor one to fix something, then wait two more months to update. And we still dont have multiple messages selection. I just want this. Is all I am having asking for....

The writing in chats is now bigger on my 930

Multiple message selection & chat searching please. Subtle features yet huge when they are missing

+1 chat searching . Come on, bring it already.

It was there before.. It was not individual but you could search from main page. Right now it's useless

I tipped this.
After everyone else :P

I don't know if happens to everyone, but when I use VoIP (WhatsApp or Skype) the sound is terrible on both sides

Oh no, i get brilliant voice quality on WhatsApp, Skype and Viber.. Though, its still a bit inferior to native calling from my 3G network..

Crisp calls on my 2G network. I'm loving this!

I think it fixes the overheating and the extra battery consumption after last weeks update, when i use it ill tell you guys if that was fixed

I totally have battery killing experience with WhatsApp lately. It's jumped easy up the list in usage too!

I think it was fixed my phone stoped the over heating

Hope this will fix the album bug on 7.x

Still no videocompression...

There is separate app for that..Video Compressor. It's Try and Buy..its better than nothing

There is Video Optimizer for Whatsapp and its very good.

It's one of these rare times when WP version is updated at the same time with Android/iOS version. Posted via the Windows Central App for Android

What will happen after my 1st year with WhatsApp on Windows Phone?

it'll remain free, if that's what you're asking.

It will remain free, don't worry

I paid twice at least. I'm in the US. I know in some countries you dont need to

I am in US too, and I didn't have to pay last year.

People actually pay for it?! Hahaha never heard of that!

Depends on your country. WhatsApp is free in developing countries. I'm from India and never had to pay once in 2 years.

people are never happy. When we get multi selection, they'll cry for something else.

The world is never happy that's why we all are alive. Otherwise human being needs only food l, clothing,shelter to survive.

you do know this is just an app right? it's not like our lives revolve around it lol

My life revolves around it

Exactly. Some people can never be pleased.

They also added audio sharing

It was enabled in the previous update

They should add proper Microsoft Office support sending word, PDF, xlsx, and ppt docs from WhatsApp. If Facebook is interested in such deal with Microsoft.

Hike will come in a new update with that.

Agreed with your sentence as Skype and hike are much feature rich than WhatsApp but still ppl tend to stick to WhatsApp bcoz its just been blindly marketed as well as accepted that's the truth even though it works for ppl. Ppl really won't leave WhatsApp for another messenger even if it lacks features than its competitors.

That's simply because it is simple and plain.
Hike and others , have way too many features for a layman to understand it.
Moreover I find WhatsApp smoother than any other messaging app.

it fixed not being able to make a call to some whatsapp contacts for me. my wife and i updated it last week she could call me but i could't call her it was saying her whatsapp need to updated before she could recieve calls i could call everyone but my wife but this update fixes that

Same happened to me, to fix this, uninstall your whatsapp a reinstall it. That fix this problem in my case.

You naughty naughty liar, WhatsApp was reading your feelings "don't call her, dude don't call her". That is why you were not able to make a call to her. ( on lighter note, do not take any offense)

Even I had this issue. The other guy could call me..but I couldn't call them.

The problem I'm having is when I'm calling my wife it keep telling me she needs to update her WhatsApp ' which she did already.

Someone else suggested this in the comments above, uninstall and reinstall. It'll fix this issue. At least the person got around the issue through this

So it downloads whole 19 MBs to install a Small Bug Fix Update???

No incremental update support :/

Think of it this way, that 19MB will make your WhatsApp faster and more responsive not to mention less buggier.

Kanjusi ki hadd hoti hai. Smartphone rakhna hai bt data pack mei ek ek mb ka calculation rakha jyga..

It would be nice if Whatsapp adds the GIF feature. Maybe when Windows 10 Mobile comes out they will add the feature. I know it's not a big deal, but other platforms has it. Windows 10 Mobile FTW!! :D

Does android and ios have gif support?

Here, they fixed this
http://postimg.org/image/t0qwj0x4n/

Bloody hell... Free recharge posts in Windows Central....

U can pin individual chats to start screen

I think it was there looong back...

Where can I find the downloaded audio from WhatsApp ?? I think that they haven't included that option.

That audio files will be stored in the WhatsApp folder inside your pictures folder. Anyway it will be visible only through a file manager like Microsoft Files and not through gallery.

I've seen this yesterday. Was it there before?

I think this update broke whatsapp calling on my 830 it'll just keep reconnecting forever even after I end the call and will just keep beeping in the background until I restart my phone

The voice calling still hasn't fixed after I get a call all its doing is connecting until the call gets disconnected

There was a voice delay i hope this is a fix for that

I was not able to view the thumbnail of photos whenever I tried to send photo through whatsapp after the voice call update.I used to get a camera icon as thumbnail for all the photos in my phone and it was annoying as there was no way to find out which photo I am going to send .Thank God, this issue is fixed for me in this update

For me, WhatsApp voice calling is working like a charm but the only problem is battery draining. It literally sucks out the battery

I hope the will be an intergration between cortana and whatsapp even knowing whatsapp is not a microsoft build. But still

I cannot install this update on W10, after downloading this update I get error 80073cf6 and I am stuck with a non-functional WA. I can't even remove it and reinstall.

Wat do you mean its good that it is still supporting windows. It has to.

My WhatsApp calling got broken in L1520. It was working flawlessly earlier and now it wont connect. How to roll back to previous update? Cheers!

Another update dowloaded. This time the version is 2.12.72.

Where does the songs which u share get stored?

Downloaded WhatsApp audio files are now avail in the music player.. First time noticing it.. Good Update.. :D

When do we have the ability to see audio files in music app or in file manager.

fixed what'sapp web experience. now i can able to use web.what's app without unlocking phone phone.

Asha 309 get whatsApp calling features ???? Plzzz ans me

This update is crap! Calls keep reconnecting even after I end the call. Until I restart the phone!

I can't update or uninstall WhatsApp any longer and can't open it... I always get the eror code "80073cf6" :(

I too get the same error code 80073cf6 ... Not able to use Whatsapp now...

I was able to solve the issue by hard resetting my phone :( The error popped up for EVERY app that needed an update...