WhatsApp for Windows Phone gets a minor update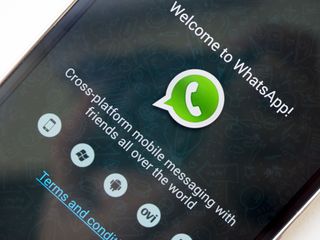 Fans of the WhatsApp messaging app can download an update today for the Windows Phone version. However, the update does not come with a change log, which likely means it's a minor update to fix some bugs.
The version number for WhatsApp after this update is installed is 2.11.690.0. If you do spot any major changes or improvements after installing it, please post about it in the comments. We have been awaiting news about when the Windows Phone version will support voice messages for quite a while now, but it looks like we will have to wait a bit longer.
Thanks to Darren and everyone else for the tips!
Download WhatsApp from the Windows Phone Store (free)
Get the Windows Central Newsletter
All the latest news, reviews, and guides for Windows and Xbox diehards.
Yaay finally voice calls!

There are no voice calls in this update..

No voice calling, won't update, gone those days when whatsapp was my need, I left it like a choice.

LOL :D Relax buddy. Its Whatsapp not Telegram.

Windows phone life is all about - blah blah blah gets a minor update :-\

Stability updates... Posted via the Windows Central App for Android

I just made a voice call and then I woke up.

Huehuehue! Posted via the Windows Central App for Android

Haha looks like you are better asleep.

No voice calling at the moment. It's probably making the app ready for the future update about song sharing and all... Didn't you read the order article some days ago? It's coming soon. And the procedure has begun.

Still y its taking so much time that even blackberry received the update.

You can switch to blackberry for if you want

Waiting for that MP3 update, it's gonna be awesome!

Same old bug fixes...come on voice calling !!

works better than WhatsappCall. And with Skype you don't have Problems with Privacy like on Whatsapp (hi to Zuckerberg and facebook)

WhatsApp recently partnered with Open Whisper Systems to enable end-to-end encryption security for peer-to-peer communications among WhatsApp users. WhatsApp claims this encryption technology will render WhatsApp impenetrable by any third parties trying to intercept or monitor any messages.

On Skype u need to add contacts separately which is not the case in WhatsApp so stop bringing up Skype everytime when anyone asks about WhatsApp calling..

Stop talking nonsense too about WhatsApp calling....i don't see the point why folks keeps on bringing up the WhatsApp calling stories out of all those calling apps but people still disturb us with just a miner things. A true windows fun is patient that's wat makes us different from those other OS out there

I prefer WhatsApp for voice calling. Voices are very clear and data consumption is minimal. Skype is so unwieldy. Good for video calls though. Posted via the Windows Central App for Android

I dnt know which MF bug is this that gets fixed with every update.. Its debatable.

Why are you even saying about Skype calling when he said about WhatsApp calling ?? He wants an update and needs WhatsApp calling not Skype calling

They only deceive WP users.

They don't deceive but the are awfully late on this platform..

Voice calling is still in the works and won't be available anytime soon. I contacted their support team and got this reply.

brother.. please tell me how to contact whatsapp support team ??? its a urgent thing

Open settings and then about option then contact support.

So 2016 I guess? I'll keep my windows phone in the fridge until then. Posted via the Windows Central App for Android

Mine is hiding too Posted via the Windows Central App for Android

What about recieving notifications without opening the app

Time will tell.
Can't test it's reliability so early.

Whatsapp never misses a notification for me. Unless battery saver is on. Are you on WP7?

It never misses but is often 1-2 mins late to notify.

You are lucky. Sometimes notifications take full of 10 to 20 minutes to reach my phone. Good 3G and so on.

Maybe you should try reinstalling your WhatsApp. I used to have problems like that. Reinstalling worked for me

No. It's a common issue with my friends too. Already tried uninstall too.

It is a problem if you are on a slow network, say 2G. Try bypassing the Battery Saver for WhatsApp by checking Whatsapp to be always on in the Battery Saver app. As for delayed notifications, notifications reach faster than on Android, I also have a Moto G and I know what I'm speaking about.

Blame your network not the phone

Yes, sure. If at least iPhones in the same carrier had the same problem. But NO. They don't.

It was a common with wp8 but it's gone long time ago , with wp8.1 so check your phone and battery saver background allowance.

To share music on whatsapp all you need is a file manager, rename the music file with ".mp4" and then transfer the file to a folder under your videos. Then click on send file>videos>choose folder the video is in> send video. It will download as an mp3 to the receiver.

Lol! All you need indeed! How about just sending the file? Posted via the Windows Central App for Android

They have it in beta, you'll get it 'soon' enough xD

This app needs a redesign. I've never used it, but its the immediate thing I notice everytime its mentioned on here.

That's the clear winner for the most retarded thing said today so far

Thank you, I'm greatly humbled.

It could be boring as hell, but as long as it works and has the features.

I don't need superpowers to tell that you're drunk

Android also got a big update today...mainly to do with the interface

Wow an update of 17 Mb with bug fixes. Great work :(

Apparently, updating apps require downloading the entire app instead of the patch.

You've to reinstall the whole app, this isn't the size of the update

He knows, he means redownloading 17mb just for minor fixes

Only you got, Ken. :)
I hoped to have this update come with, either mark read recipient or mp3 share. :(

As long as it's not a universal app you will have to download the whole app package.

Forget WhatsApp. I'm waiting for Avaamo to come to Windows Phone. Until that time, Telegram works fine.

Has the lock screen ever worked for whatsapp?

All the time on my Lumia 930. It also worked great on my Lumia 925

Worked 1 year 4 months in my Lumia 1320 and still counting

Wat if my whatsapp works perfectly now,not slow,should I still update?

If you have problems with current version.., then don't go for Bug fix update , if you care a lot about Data pack

If you have wifi and or enough data balance, then I don't see why you shouldn't update.

Minor bugs fix update....the inverted success story of windows phone.

Come on release the new features and voice calling.

Off topic :Skype is way better in iPhone then lumia 822 ...takes ages to switch betwee. Chats...

Lumia 822 released in the year 2012, try an iphone 4s for comparing... just saying

Opposite case for me, Skype in my Lumia 620 opens faster than iPhone 4s.

You need a much more recent Windows Phone to make a proper comparison.

Am i the only one having trouble with the download?

I noticed that after update I got this message:

The publisher for this app doesn't allow it to be installed on an SD card. Do you want to move it to your phone storage?

That's there since day one

Not really, till date I had it installed on my SD card.

Annoyed there is no voice calling. My mum tried to call me from her Android. I use Viber. It is free and you can voice call as much as you want.

Tell her to use Skype. That there's more then just Whatsapp. Problem solved. And privacy is better devided then just at Facebook (owns Whatsapp and Instagram and of course Facebook) You will do her a favor too.

Not really. She refuses to use skype and a stubborn 68 yr old isn't gonna change a view she has held for many years. Can't tell my mother anything. Managed to convince her to use viber cos her husband lives in US and that is what he uses. I prefer Viber because it has a feature skype doesn't which is that you can transfer a call seamlessley between your phone and desktop app. I often use the desktop app for messaging and will throw a call to my mobile of I need to leave the room.

Your mom had the voice calling feature for years ?!! .. Mmmm ok

No you silly person. Don't be so ignorant. I said my mum has refused to use skype for years. Why you being so obtuse? Blinking Nora
think before you go round assuming people are as stupid as your comment makes you sound. Someone told me to get her to use Skype and I said she had refused to use it for years. What is so difficult to understand about that? You know what? Don't answer. I can't be bothered to defend myself against idiots who can't understand English.

Mine has no sign of an update. It is 2.11.688. It is unfortunate that there is no way I can seek the update manually as it is in Symbian.

Open WhatsApp on the store and update from there or open store settings and tap on check for updates.

nothing change..voice message pls!!!!!!

You mean voice calling. They're different.

Ooohhh.... Yahhh...there is...thanks guys!!!! ​ ​

People complaining about how late the app is in the platform probably don't remember the old times of WP7, the app couldn't even be in the platform back then and since it was released it has a steady number of updates for me it only talks how the app doesn't neglect the platform.

Can't download w/o Wi-Fi. Did they fix Search?

WhatsApp supports voice messages from a long time! Or I'm mistaking?

Voice messages, yes. Voice calls, no.

There is option to send voice messages by recording but not already recorded messages or other mp3files, say, songs.

Yeah, the writer made a mistake.

Quick someone from Mumbai ask when India gets it please.

The Android version got a MAJOR update today. And its beautiful... :(

You know you're on WindowsCentral? (facepalm)

****Facepalm on you****
What I mean is WhatsApp on WP are outdated compared to IOS and Android. Is that clear enough??

It's very clear since WA came to WP platform. Why the fuss now?

Ios version doesn't have mp3 sharing or voice calling, how can you say it is not out dated? ***** face palm combo*******

Beautiful? Well, that's subjective... but no, not really.

What! Its far from beautiful. New UI sucks on android imo. ;-)

I can't send a voice record to anyone.. even in this update.. Problem is not solved :( .. So please help me.. because its urgent matter for me. kindly don't deny my request

It's not a problem, its a missing feature.

It is a problem for him and not a missing feature. Read his q. Voice recording has been there since WP 7.

I have tried uninstall and all.. but still voice recording problem happens :(

Why the hell do you need this voice calling feature in whatsapp... You will only use it for a week and then forget about it

Well what if your bundle has only so many minutes? With the calling feature you could call via 3G/4G or WiFi.

Its not about How long one uses it but its about why there are always something missing on the top apps of Windows phone..These are the reason people don't buy Windows phone and its share is stuck at 3% for last 5yrs.

Actually is quite nice for international call... I use every week....
Imagine you travel overseas a lot... You only pay data pet day and talk all day, no problem. It is a really nice feature no need to undermine it Posted via the Windows Central App for Android

I can't send a voice record to anyone.. even in this update.. Problem is not solved :( .. So please help me.. because its urgent matter for me. kindly don't deny my request .. Please

Try reinstalling the app... Maybe it works.

I'm using Lumia 620.. I can't send a voice record to anyone.. even in this update.. Problem is not solved :( .. So please help me.. because its urgent matter for me. kindly don't deny my request

When you want to make voicecalls, go use Skype or Fiber. You're only doing Facebook a favor using voicecalls in whatsapp. When people want to voicecall you, tell them to call you using Skype or Viber. They must be smart enough to use more then one app, Privacy is another bonus (not all data at facebook who also owns whatsapp and instagram)

Not everybody uses skype or viber. All my contacts left skye/msn eons ago. But they all use whatsapp, they also don't use telegram so that's a no go for me.

whoever seen my message.. please read and reply me ASAP

No app can update after Windows 10 mobile insider preview. I hope the upcoming build will fix this.

Still the problems with push in the 920

Hehe old windows phone logo

WhatsApp needs a UI refresh, it looks badishh

WhatsApp on WP is better than its ios counterpart they still don't have WhatsApp web. Lol

Like everyone uses WhatsApp web!!!

This is the kinda wait am tired off... Posted via the Windows Central App for Android

What a bullshit??? M giving review for fixing a bugs not increase the bug. Now while forwarding a message or image to 9 contacts after that it get ejected. R developers really wants to fixing the bugs or just trying to waste users data. If they can't fix this bugs n not able to give latest features plz remove the what's app or otherwise we have to switch android. If they really want to improved it then give following features 1. Message forwarding to multiple contacts 2. What's app calling 3. Giving in built password 4. Fast performance

One change I did notice (not sure if this update is responsible). On my 630 when listening to voice messages, if you touched the screen it'd stop the audio. Due to the way Whatsapp handled voice messages as calls, and the 630s lack of a proximity sensor (turns of the screen on calls when the screen is touched). Now while tapping and scrolling the audio it goes on.

When will WhatsApp voice calling feature hit WP. Anroid is getting ready for video call n here r we not even have voice call feature. Really upset.

Wait for windows 10 brother....

Windows 10 will take ages to come on phones I mean our phones

No problem this time I want to give Microsoft time
Take your time Microsoft but give us as many as things that you can provide without any lags...

Wtf... No voice calling and u call it a multiplatform application.

.... think of all the lab rats using whatsapp on other platforms !! LOL

Multiplatform doesn't mean everything will be available on each platform simultaneously. Some platforms have much complexity to deal with :P

There are no changes done in watsapp version 2.11.690.9.. 17 mb update gone waste.... Watsapp team what you people are doing??... Not able to give update like in android or what???

You never know they might have killed some bugs, that you don't see and many users are getting frustated of. ;)

As usual nothing in this update.. WP will never grow

what is the point of this article? there isn't even changelog why report minor updates? store will notify about them

It's the purpose of whole blogging, whether small or big it needs to be updated. If you don't care why wasting your time reading and moreover commenting unnecessarily on it. (Don't get mad, only speaking heart out ;) )

I can't believe Whatsapp doesn't have a backup/restore option that works for everyone yet! Those without expandable storage are left in the lurch..

It feels faster in startup/opening of the application after update.

Why do we need voice calling in whatsapp. Whatsapp is better of as messenger. For voice calling there is skype..

Not everyone uses Skype..You need to add contacts separately on Skype which is not the case on WhatsApp..All the contacts of your phone are automatically added on WhatsApp..

Skype is good. Better multiplatform application. But its hard to convince ppl to use to forget WhatsApp and use Skype.

we have got voice messages in the recent update today kindly check there is a microphone symbol for voic messages

It was there for a long time

whenever I click microphone symbol for voice recording.. app suddenly goes offf :| .. please guys.. have any solutions

I'm tired of this minor updates.... Gimme voice calling now.

All those idiots who are saying Skype is there for voice call, why do u need WhatsApp call? Then u can also chat on Skype so what's the need of WhatsApp then? You may not need WhatsApp voice call but there are many who actually needs it..

Have u used whatsapp voice calling.?

Yes I have used it on my brother's android..

How is the voice quality.?

If u have decent net connection then voice quality is pretty good..

Quality is good. Same as Skype best on Wi-Fi, good on3g, worst on 2g

Exactly Aashish I used it on wifi..

I guess as devs are saying that WhatsApp calling is in the works for WP. They may be re designing the UI for us which takes time to our moody WP users. As we hate bad UIs not like Droid ppls. If they are really making a new and good UI for wp then fine bcoz it has been noticed that many developers take most of their time in designing the UI for Windows phone users. Lets c what happens.

Waiting for voice call feature

whenever I click microphone symbol for voice recording.. app suddenly goes offf :| .. please guys.. have any solutions

I'd like to see whatsapp web available on Edge Browser

Why WP users get so late updates?? -_-

To those who miss features like voice calling, video calling, music sharing , etc... How do you guys can even live today? You must have a horrible existence, forced to use more then one app. And why not request to write emails, play games, browse the web, book tickets direct from whatsapp? Why do you need apps? Everyone speeks about the app gap on WP but who care if finally we need only one? Further, why using WP, Android or iOS? Just ask for a whatsapp phone.

Most prolly it's about going with the flow. Ask other platforms received the update, either they use it or not, the wp users also need it. Else other platform users will say "you poor wp users!"

Viber is better for free voice call & Forgot WhatsApp call till.

video playing features was redefined in this version....nothing else

Lost notifications after the update on all front, lock screen, notification center and live tile.
What the...

I'm not sure why but I think it's draining my battery faster since the update

I think the calling thing not being speedily introduced is a fault of MS.. Apparently it's not "very" simple to write code for our platform.. And, on top of that, there are many restrictions compared to the other platforms, considering the needs of WhatsApp devs..

I think the calling thing not being speedily introduced is a fault of MS.. Apparently it's not "very" simple to write code for our platform.. And, on top of that, there are many restrictions compared to the other platforms, considering the needs of WhatsApp devs..

whenever I click microphone symbol for voice recording.. app suddenly goes offf :| .. please guys.. have any solutions

try clearing some memory, specially the temporary files from your device.

have tryd uninstalling app .. but the problem still happens

Lol pls update to the latest version

The update made it go slow for me. No major changes.