When old becomes new. Samsung and HTC's Windows Phone 8 rumoured launch hardware.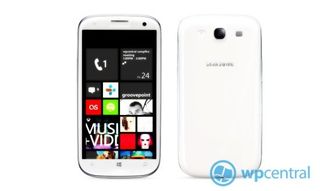 The last few weeks have been exciting for Windows Phone with all the leaks concerning Windows Phone 8 hardware. The launch is almost upon us and of course, we're all excited about the phones we're likely to see. The next gen specs, even on the rumoured low end devices, are a big jump for Windows Phone. But will high-end devices from Samsung and HTC excite? Let's look at the situation.
As we only have rumours so far, you'll have to take the following with pinches of salt as we speculate somewhat. To start with, let's cast our eye over the proposed Samsung devices. No doubt on paper these devices look the part but delving deeper we can clearly see that their high-end device is likely along the lines of a Galaxy S3. Will a recent flagship Android device serve as the high-end launch device for Windows Phone 8?
Samsung's Marco & Odyssey
The specifications for the Galaxy S3 look perfect for a Windows Phone 8 device, no doubt about it.
4.8", 1280x720 Super AMOLED display
Qualcomm Snapdragon S4 1.5 GHz dual core CPU
Weight: 4.73 ounces
16GB and 32GB (Internal storage) versions
Expandable memory with MicroSD
2100mAh battery
Bluetooth 4.0
MicroUSB
NFC enabled
42Mbps HSPA +
8MP Camera w/ LED Flash (4x zoom)
1.9MP Front-facing camera
The screen will simply pop with those new live tiles. The bigger question is, will Samsung be content to only use "hand me" down devices for Windows Phone. They are clearly doing very well with Android and it forms the spearhead of their mobile push. Watching the Olympics coverage, we saw Samsung pushing their Android wares heavily with no sign of Windows Phone.
For Samsung, Windows Phone could be just another tick box, allowing them to claim diversification in their product line. As we noted yesterday, with Bada out of the picture and Tizen not coming until 2013, Android and Windows Phone is all Samsung has to offer.
Reading the comments on our post about possible Windows Phone 8 devices based on the S3 gear, it's clear most are underwhelmed both by its looks and specs. Should Samsung launch this device as Windows Phone 8, it simply may not be cutting edge enough.
HTC Rio, Accord and Zenith
HTC are also expected to announce new devices within the coming weeks, just in time for the expected fall release. Their high-end Windows Phone 8 devices seem likely to be a re-hash of their critically acclaimed One X devices.
These devices, whilst loved by critics appear to have bombed with consumers, so much so that HTC is now in serious trouble. Again, we can ask the question, will HTC be content to just simply use their previously launched Android devices for Windows Phone 8?
Unfortunately, HTC looks to be going this route as well. No ifs, ands or buts, the One X-variant will be a fine Windows Phone 8 device, but the fact remains, its not new and it might not excite. Considering how the One X has done in retail, is it even wise to think of re-launching anything based on this hardware again?
The HTC Zenith, the rumored flagship of the lot, looks a lot like the One X in terms of reported specifications:
With HTC there is a chance that their experience with Microsoft could see them pull out all the stops for a Windows Phone 8 launch device. The Zenith for instance could be a true premium phone, even a device that is uniquely high end compared to their Android offerings. That is what people will be looking for. At the very least we would expect that Samsung and HTC step up the specs and designs of their previous devices on Android to launch WP8. If they don't then that speaks volumes to how they view Windows Phone.
Special relationships
It's good to have close partnerships when you're working toward a common goal. HTC in the past had a good thing going with Google and their Nexus line, these days Samsung fills that niche (tomorrow, Motorola?)
If we look at the Windows Phone world, there is a strong bond between Nokia and Microsoft. Without Nokia influencing Windows Phone, who knows where the ecosystem would be now. Samsung didn't manage to fully launch Mango era devices globally and HTC didn't seem to have the reach into retail. Nokia and Microsoft collaborated to change that, as well as some cross-pollination of technologies and a huge marketing push. We can now see the results of that effort with Nokia holding strong at 59% of all WP7 devices sold. They are likely going to erode the others market share in short order in the coming months.
We're certainly glad that Samsung and HTC are still behind Windows Phone. If the specs and rumours are to be believed and both these companies are re-using Android devices for Windows Phone, I will be disappointed. Whilst I like the paper specs of these devices, there is no getting away from the fact that they are yesterday's news. When Samsung and HTC launch their next gen Android flagships, those WP8 specs will look dreadfully dated, a step behind, the uncomfortable mid-range.
Do Samsung and HTC think that Android's "old news" is Windows Phone's "new news" with WP8? How will either of these companies expect to garner any interest from the existing user base at launch time with these units? Nokia devices and services will be the benchmark against which all others are judged. If either Samsung or HTC are serious about competing with Windows Phone 8, then this is not the way to send that message.
When we finally get to see the new hardware for Windows Phone 8, we want to see the "cutting edge", not yesterday's news. Bring us Pureview, bring us more than 8MP cameras, make these devices higher end than anything from Google and Apple. We don't want hand-me-down hardware from months ago when we sign two year mobile agreements. Windows Phone 8 deserves next gen hardware to ensure it goes head to head with the competition.
We'd love to know what you think, please use the comments bellow to tell us all..
Get the Windows Central Newsletter
All the latest news, reviews, and guides for Windows and Xbox diehards.