Where to buy filament for your 3D printer online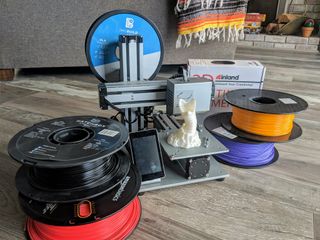 (Image credit: Windows Central)
Where to buy filament for your 3D printer online
Best answer: The best place to pick up some filament worldwide is Amazon. The worldwide market has access to many brands and types of filament with great prices, a logistics network for economical shipping, and an unmatched return policy.
Some different filaments
There are multiple types of filaments we use with 3D printing, and most of them can be found almost anywhere. Each of the best filaments is good for different tasks, but in this piece, we'll be looking at the four most common filaments you're likely to buy:
PLA — Starter material king
PETG — Optically beautiful
ABS — Hardcore but harder to print
TPU / Flex — Bendable and stretchable
PLA is the most used 3D printing filament for a reason; it's easy to print with low temperatures of around 200 degrees Celsius on the hotend, and either does not need a heated bed at all or can print at around 60 degrees Celsius on the cold end. PLA has many modified counterparts. Some making your prints silky in appearance while others make it more impact-resistant.
Next up is PETG, which is a slightly harder material to print but has much stronger interlayer adhesion properties (it sticks to itself better). It can also be almost perfectly transparent, making lovely glass-like objects or vases.
ABS and TPU / Flex are outliers here. ABS is a less popular filament than it once was, but it has high-temperature resistance of around 100 degrees Celsius, can be carved with a knife easily, and can even be smoothed using acetone vapors, but it needs hotter temperatures, a much hotter bed, and even a breeze in your room can ruin a print. TPU or Flex are hard to print because they're, you know, flexible. Have you ever tried to push wet spaghetti through a straw? It bunches up and sticks. However, once you figure it out, you can create awesome things like tires, gaskets for home use, or, in my case, custom watch straps!
Where to buy worldwide: Amazon
Amazon is, of course, one of the best places to start looking for filament, with a wide range of companies to choose from, including its own Amazon Basics brand of filament. You can even snag some with Prime shipping, which is great if you want next-day shipping for those time-sensitive prints.
As mentioned before, Amazon Basics is a good place to start for inexpensive filament, but Amazon also has a slightly more upmarket brand called Eono. I've tried its PETG and Silk PLA, and I have been happier with the quality than expected, given the price.
The only problem with looking for filament on Amazon is just the sheer breadth of suppliers, many of which look similar or have very few items in the shops. As with most things on Amazon, check the reviews before you purchase anything.
Affordable Luxury
We all like pretty things, and silk PLA are the epitome of shiny, high-gloss filaments that take a standard 3D printed bust of Michelangelo's David to a high-end art piece for your desk.
Where to buy in the U.S.: Matterhackers
MatterHackers is a website that many 3D printing enthusiasts should know. It's like a maker version of Willy Wonka's chocolate factory, with printers like the Peopoly Phenom, filaments, accessories, and much more. It even has laser cutters, CNC machines, and other products not for 3D printing. Much Like Amazon, MatterHackers has its own filament brands. The BUILD series is its everyday inexpensive brand, whereas the Pro series is more rigorously tested and has more exotic features.
MatterHackers lets you drill down to what types of filament (PLA, PETG, ABS) as well as the diameter (1.75/2.85/3.00mm) and by brand, so if you had a great experience with eSun, you could look specifically at 1.75mm eSUN Silk PLA if you really wanted to.
workhorse filament
A cheap, good-quality filament with a plethora of colors, what's not to like? It's particularly good for building props and models, so an excellent choice for cosplayers.
Where to buy in the U.K.: 3DFilaprint
Not everyone is in the U.S. I'm in the U.K and 3DFilaprint is where I buy most of my filament. With lots of brands — and even multiple types of its own — it's a great local way to buy filaments in the UK. with free next-day shipping if you buy two or more spools. This is a great way to "accidentally" spend more money on filament than you expected this month.
One of the great things about 3DFilaprint is that it also sells filament samples. If you aren't sure if you'll like the color or if you only need a small amount, buying these inexpensive or novel filament samples can be a great way to broaden your brand or material selection, and at just a few quid, why not buy a few?
Recycled goodness
Utilizing waste plastics, 3DFilaprint's PIPG (Post-Industrial PET-G) is another way to make treasure out of what would be trash. With the benefits PETG gives, the twinkling silver of this PIPG is one of my favorites.
Where to buy in Canada: Filaments.ca
Lastly, our friends in the great white north of Canada will like Filaments.ca, which is a one-stop shop similar to 3DFilaprint with multiple filters for brands, material type, material properties (i.e., ESD Safe or Antimicrobial), color, and diameter. Filaments.ca has an amazing stock of filaments that I'd never heard of before and now will buy again. It also stocks filament coils for people into the masterspool — or other OEM specific — ecosystem, which is very cool and reduces the number of empty single-use spools that end up in a landfill.
Like every other website listed, you can also buy 3D printers from Filaments.ca and photopolymer resin for resin printers, but as you can tell by the site name, its bread and butter product is filaments, and boy does it deliver.
Insanely cheap
Econofil standard PLA Gold
Despite being so close to the U.S., Canada doesn't get most of the absolutely awesome deals they get, so Filaments.ca has its own range of great low-cost filaments.
There are multiple places to buy filaments. Amazon is a great worldwide resource, but the smaller localized ones mentioned here are also incredibly useful, and are often better staffed with customer support clerks that know what they're talking about, which can be very important for people just getting into the hobby or trying out a new filament. Buying local also has benefits of lower shipping costs and more stable supplies, but Amazon has an amazing return policy, so keep that in mind when deciding.
You can use any of the marketplaces no matter where you are, but I feel that the shipping charges from Canada to the U.K. might be a bit much for a roll of Filament that I can get from a U.K. distributor or Amazon.
Get the Windows Central Newsletter
All the latest news, reviews, and guides for Windows and Xbox diehards.