Must watch: Which is the best case for the Lumia 920? One fan has some ideas.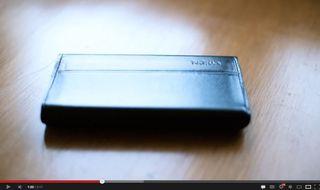 The last time we checked in on Windows Phone Central forum member Nisse Tuta, he was making beautiful videos in honor of the Lumia 920 and also humorously testing out its wireless charging capabilities.
Now Nisse has a new video available that goes through some various cases for the flagship Nokia phone and we have to admit, it had us in stitches. Whether you need a big solid case, an official Nokia one (CP-600) or the ultimate day-to-day one, you'll want to take a moment from you day an appreciate Nisse's humor.
Speaking of, we should just hire Nisse to make us videos on the Lumia 920 as clearly he has a knack for it.
Source: WPCentral Forums; Thanks, Norbert S., for the tip!
Windows Central Newsletter
Get the best of Windows Central in in your inbox, every day!
Daniel Rubino is the Editor-in-chief of Windows Central, head reviewer, podcast co-host, and analyst. He has been covering Microsoft since 2007 when this site was called WMExperts (and later Windows Phone Central). His interests include Windows, laptops, next-gen computing, and for some reason, watches. Before all this tech stuff, he worked on a Ph.D. in linguistics, watched people sleep (for medical purposes!), and ran the projectors at movie theaters because it was fun.
I have a jellybean pooping cow, but the peeing dog beats it hands down!

I am buying one of those for sure, thanks for the tip :)

Love my job, since I've been bringing in $5600… I sit at home, music playing while I work in front of my new iMac that I got now that I'm making it online.(Click Home information) https://goo.gl/n7Vay

Lol love that video and the voice is epic LOL, very funny.

Haha that was awesome! Personally, I prefer the leather slip / pouch cases where you slide the phone out and marvel at it in all its glory. Similar idea as the soft case in the vid, except it slides out of the top instead of the side. Some have straps to prevent the phone falling out when inverted (i.e. doing flips off a ski jump while wrestling a hippo)

I like the last option. That reminds me io wanted to get myself a new pouch for my phone, i have succeeded in misplacing 2.

My Nokia CC-1043 case is on its way to me! I'll report back with the quality/thoughts.
I'm definitely looking forward to it. Should be an excellent case without adding much bulk.

Great ending punch line!
Nice selection of cases. It seems he like pouch/wallet cases.
I'm sticking with the Nokia CC-1043 case for the moment. Comes with variety of colors as well!!

I'm after a case for my 920 but I can't seem to find one that fits the bill. It's the first phone I've had with GG2 but after putting it in the pocket of a brand new pair of jeans, it has a very long but faint line going down the screen. I got a free case with my Touch Pro 2 which I also used for my Omnia 7 but with the Lumia 920 being a bit taller, the top just hangs out and looks crappy. The Golla looks close to what I want but I'd prefer something with a magnet strip rather than velcro.

Look at the Suncase leather pouches on Amazon. I had one for my HTC Titan and after trying several other ones for my 920, I've just gone back to Suncase. It has a magnet that holds the flap at the top to the case.

That guy is funny! I like his take.

If you want high quality, the best fitted sleeve pouch is from Sena (senacases.com). I've always used their products for my past phones.

Yp, Sena are good - as are Vaja

Too Funny - and too true - although he left out my personal road warrier kit - an all over ZAGG skin which really does the trick. I'm sure he could have done something hilarious with my attempts to apply it with the alignment correct and bubbles removed :-)
FYI, the Dog is beyond funny. Just ordered it from Amazon - but its not cheap! His prop budget is pretty steep!
HIRE HIM!!!!!

http://www.amazon.com/Choken-Banko-Peeing-Brown-Black/dp/B003I3Z1CS?tag=wpcentralb-20


I finally got my CP-600 and it's horrible. Hard to open/close, stand doesn't work right - it's garbage.

I thought the same at first until the leather got broken in and figured out a comfortable way to fold it with the cover open.

wait until the leather is a little bit "worn out". Then, the stand will work and you can open/close it quite easily

I have the cp-600 and it is great. I will mainly use it if I have to do some activities where it may fall or on somewhere will I have to prop it up. The case fits so snug and well that if you have a black phone one would be hard pressed to tell a cover is on. Its actually a better, thinner design on the silicone part of the case than the one on the 900.

I can appreciate his humor. Its out of the blue and his timing is impeccable.

where can i buy the cp-600?

I bout it at the att accessories website. $60!!

well damn... lol thats alotta dough :D

I had my wife sew me a slip cover out of some old jeans that works nicely for my HD7.

Funny. I use the last 'case' as well.

What lovely coments, talk about an energy boost :)
and I sertanly am for hire ;)

I love that guy.... Lmfao

seriously awesome video you have just taught me about the case i want :D

You deserve a % of sales of that Dog too! My 10 year old Son is now getting one for his birthday. Thanks!

Hes gonna be thrilled, it comes with a drinking bowl as well :)

Tha was awesome, and yes I do want that dog!

The CP600 is $60 Att.com? That's more than the $49 wireless plate... GTFO! I'd rather buy a 3rd wireless plate if I was going to spend that much.
Expansys sells the same case for $30.

its your passion that makes this even better Nisse. Thanks for all the information at the same.
Keep cranking videos, you make better videos than the ad firm Nokia/MS used to promote Lumia :) they should hire you

Awesome, love it. Just subscribed to his Youtube channel.

I just LOVE this guy's videos... I am addicted. Give him a TV show!

That 'uncustomized' 3rd party case - Lol!

That was actually a kool video,...

I have the CC-1043 Cyan for a few days now. I really like it, it had a good fit and looks good. Grip is okay. Nice case!

I say YES to hiring the guy. As for case I generally don't use one. I feel great industrial design needs to be flaunted :). But the pouch seems good.

LOL...this video mad funny....but I want that toy dog so bad

Well done on the video. Would seriously like to find a leather slip case close to what I used to use with the old Palm PrePre.



Loved this video, I too am a fan of pants. A huge influence on the phone I buy is form factor and appearance, why would I want to put some ugly case on it when I could just not drop it?

Anybody knows Which Type of Golla cases he's using in the Video? I'm looking for a similar pouch/wallet for my Yellow 920.

Its called Golla Amazon :)

Excellent accent and I WANT THAT DOG

pants forever! \m/
awesome dog btw..

could you give the exact link for golla case? I couldn't find it on their site.
Windows Central Newsletter
Thank you for signing up to Windows Central. You will receive a verification email shortly.
There was a problem. Please refresh the page and try again.