Finally, official Nokia Lumia 920 cases are available!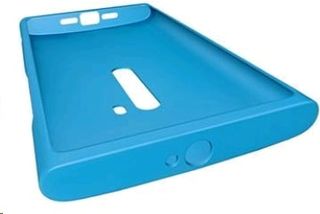 For those of you in the US, the day has come! Well… sort of. More like the week has almost come. The official Nokia Lumia 920 case is right around the corner.
The straight-from-Nokia (CC-1043) cyan and red soft cases for the Lumia 920 will be ready to ship soon. According to a US Expansys rep last week:
Along with the CC-1403, we are also seeing what seems to be the black case with a protective leather flip cover (CP-600), although in the photo it's showing a Lumia 900.
The yellow, black and white soft cases are still on backorder and are due to arrive in the beginning of February, and although you can still order them... Be prepared for a bit of a wait.
The soft covers are available for $16.99, the leather covered case for $27.99.
Windows Phone Central reader Loiselle posted pictures showcasing the fit and quality of the case back in December, and a few other members have since received (and posted about) theirs as well. Some other forum members have since ordered and received theirs, you could get lucky too.
Been waiting for this? Have one already? Already bought another case that you like?
Head over to the forums and share your thoughts.
Sweet! These looks pretty good.

FYI Amazon has the CC-1043.. all colors!

Isn't it a lumia 900 In the black flip cover? In the artical they mention a lumia 800...

The 920 doesn't need a case! It's practically indestructible! I've put mine down on all kinds of surfaces and it's still spotless. The feel in the hand without a case is second to none!

Mine got a phantom scratch the other day

Yeah my wife scratched hers in her bag.. And someone I know dropped one and shattered the screen.. And I got a light scratch on mine after a few days, on the screen

Dropped mine face down in a parking lot the day I got it - nothing. Put it in my bag with NOTHING ELSE IN IT a week or two later and got a scratch on the screen. Whomp. Least I only notice it at a weird angle that I do not normally view it at.

I smashed my screen :( Dropped it about 50+ times before I dropped it on rocks.smashing it....

Mine slipped out of my shirt pocket yesterday and the "monkey" glass now has 6 short but deep scratches. It could not have fallen more than 18 inches onto my back porch step, there were some really small pieces of pea gravel on the step. I was quite surprised how badly it scratched based on the short distance and the reputation for screen durability ( like the guy driving nails on youtube ).Was (still am) really bummed as I have been waiting for the right case to come out from case mate.

The bigger they are, the harder they fall sums it up quite nicely.

Yeah. I have a bunch of small scratches on the screen and I have never dropped it and always put it in one of my pockets by itself. I think it is time to look into a screen protector.

The feel in the hand is slippery like ice. At least that's the case for my matte black version.

One of mine dropped and the screen is shattered in pieces. Stop believing in YouTube videos. $200 to replace the screen.

I broke the screen of my L920. $60 dollars on ebay for a new digitizer and I changed it myself. Save $140

+1. I want a case for my black 920 simply to give it some grip in the hand, rather than any further protection.

I dropped mine from the Empire State building and it didn't have a scratch. I wore it in my shirt pocket and a guy robbed me and took a shot at me and it hit my 920 dead center and not a single scratch. I got my car stuck in the snow and I needed something to get some traction for the tire. I threw my 920 under the tire and the tire spun on it and got traction and got unstuck. It shot my 920 50 yards and hit a light pole and not a scratch. Truth.

Yeah... keep thinking that. Mine fell out of my lap getting out the car, it fell face down and the glass shattered.
Totally my fault, and i love the 920 so much I went out an bought a replacement ASAP and sold the broke one on ebay.
If you think I'm trolling... this is me...
http://www.youtube.com/watch?v=1kizJvZDCZ4


FINALLY!! But if my phone can handle Thor's hammer, then I don't need a case.

The Lumia 920 is pretty studly, but it is not Captain America's shield. ;)

My 920 will break Wolverine's claws!! :P

You'd better get some sort of case!! Lol.. But, its just a shame that my RNL920 is so beautiful, and feels so good in my hand, and I have to put a case on it.. Sux,, the phone is so beautiful, so I have to cover it up to keep it beautiful, but I can never enjoy the feel, and beauty of the device.. Sux❗ lol!!

I noticed when I would use the restroom the phone would fall out of my pocket. This week if fell maybe 20 cm out of my pocket and put a big dent in the cornner of it. Was waiting for a nicle looking case to come out, so defintely will get this.

I have the red 920 & feel the same way. bought a really expensive screen protector & a reasonably priced "bumper" of the same color on amazon. can still show-off my phone & is pretty well protected. the bumper has a silicone edge & a hard plastic that just wraps around the edge so you can still see the color


Awesome, Nokia cases are the best cases. They fit the phone exactly and keep the same design and colour schemes

I'm not getting the case to protect my phone per se, but more of giving it variety (different color, etc.).

I want the one with the leather flip cover!!!

If that leather case as a clip that allows it to be carried vertically and the headphone jack is unobstructed I may finally something suitable for me as I have struck out in my nerd holster search thus far.

Are you sure about this? I just got an email from the yesterday that said they wouldn't have mine in until mid february.

I'm very happy with my Incipio Ultralight hard shell.

Agreed RafRol. I have the Incipio Ultralight shell, too. Best buy in a while and the low price made it that much better.

I have an incipio on my Ativ, and it's already absorbed a pretty deep scratch near the camera, but I have my doubts about a drop... Hopefully I'll never find out.

Woo hoo! I had a clear Cimo S-Line case, which was okay (aside from the extra plastic at the bottom), but the transparent/translucent takes away from the beautiful cyan. It just looks like my case is cyan. I also tried their clear TPU cover, which fits great, but still translucent and kinda bugs me they cover up the Carl Zeiss etching. Other cyan cases have reviews that the cyan doesn't match so I've been waiting for an official case like they had for the 900s. I know that sounds like picky #firstworldwoes, but I didn't grab a cyan 920 to hide it! I know it's indestructable too but with the matte finish it feels too much like it's gonna fly out of your hand so I'd like a little protection or grip.

Ah man! That's a beautiful case! I'll be getting one for sure!

Seen as we don't ever appear to be getting a cyan 920 here in the UK, this would be the second best thing. At least it would make it more colourful!

This could be due to att having the Lumia 920 as an exclusive until April or so. Att's colors are blue and white. Hang in there, I bet there is huge demand for cyan.

ATT here in the US doesn't have the Cyan color either. Nokia doesn't seem to be making it anymore.

I have a cyan Lumia which I ordered from att online.

I'll be getting cyan, red, and yellow for my lil stormtrooper! :) at the moment I am using an Imak Ice Cream hard case in white, and its really nice. Got it from d-box.com

Ordered my red one (for my red phone) from expansis earlier in the week. Hope it will improve my grip and help reduce the wear and tear.

£12.99! Not cheap those. Expansys uk has them available in 6 days. And it is £12.99 + delivery. Annoyingly, I am absolutely gagging for these.

I will probably get one but so far my phone is spotless. Got to say I am very carefully and take good care of my phone. I know how much these babies cost full price.

My two 920s are all dented and scratched up from normal use and small drops. Its probably the last polycarbonate phone I'll ever buy. Its soft and malleable like clay

Leather one is CP-600. I have mine ordered through expansys. Its on back order and they confirmed it will be shipped on Jan-24.

Need this! Love the one I had for my Lumia 900. The Speck case falls apart. Go Nokia!

I like the cases I have. They didn't cost that much. I'll wait for a price drop somewhere before getting these official, and likely better fitting, cases

I just got the 920 in cyan and I don't think I would ever put a case on it. It looks awesome already and the case would make it huge

I have a picture of a cyan 920 that will change your mind.

These look spiffy. I'll take a leather one. Hey Krys, my birthday is coming up.

Mine is today. I can haz?



Got a case for mine off ebay 4 pounds, and it fits perfectly, well worth a look

I hope we get the same leather case for the 820 ! It looks great and seem to be very useful !

Bland. Zzzzzzzzzzz. Bring on designer ones from Kate Spade, Hurley, Oakley, and Burton.

Wow 28 bucks for a official Nokia leather case is a pretty good deal! I remember when I got my first iPod apple had a case for 99 bucks..fortunately I got the show floor model for a steep discount.

Just ordered both black soft and the leather case.

I wish HTC would get their act together and release some soft covers for the 8X.

I had multiple covers for my Lumia 900 that was great when the cyan either wasn't appropriate or didn't match my clothes! The 8X only has one case from HTC, it's £17 and only available in the same colour as the phone!

As happy as I am with my 8X, I'm really feeling the difference in support level from HTC. They made such good phones and then seem to have instantly abandoned even their flagship whereas Nokia churns out a set of matching accessories for every Windows Phone they make...

When is Seidio coming out with kickstand cases for the 920?

GOOD! My TPU case from Amazon is cyan but black is starting to show through which is unexpected.

Do the cases work with wireless charging❔

Almost all do. It can transmit the power through something almost an inch thick.

Already have the official Nokia Black case for the 920. Though I was upset I even had to buy it since the Lumia 800 had the case included.
That said, it only cost me 6£ so...not bad for an official product.

Ended up getting some scratches in the screen of my beloved Lumia 920 that irritated me every time I looked at it. Decided I needed to protect it from further bumps and scrapes. Got a JKase sleeve with grooved grips on the sides. I also got an armorsuit screen protector. This thing is great. It totally obscured the screen scratches and I feel so much more secure with handling the device. Will definitely use this on future devices.

No scratches on my L920 thankfully! Cases look good, but I need something more expressive for my case than a matching color tile case.

How about a simple bumper? I'd like to give my black beauty just a splash of color.

The phone is so rugged I don't think it needs a case at all, and frankly this size anything that makes it bigger has to be thought through very carefully.
I don't want it to get scratched though, so, like my "old" 900, I've wrapped mine in a ZAGG "all over" clear film. The stuff is extremely strong and durable, and it kept my 900 pristine. I refuse to coddle my phones, and other than avoiding putting my keys in the same pocket, it goes in and out all day without a thought to its appearance. The ZAGG shield provides a surprising among of protection from drops, and the best part is it has just a wee bit of friction which makes the Beast stay in my hand a lot more, so it has actually prevented potential damage by preventing me from dropping it. The best part is, it doesn't cover up my beautiful red 920, which still turns heads!

I am getting one of these.

I dinged mine on my Granite counter top edge. Had it plugged in charging and went to grab it not realizing the cord was at it's length. It snapped back and hit the edge of the counter leaving a nice tiny dent that showed up white against the black surface. Threw some paint on it from a hobby shop. If I only had the case on. Second I ordered a screen protector from Clarivue when it came I thought it was the wrong size so I didn't put it on. After the holidays I got around to contacting Claricue who said it was the right one but because of the curved screen it was cut to the flat surface. By this time the screen developed a very slight scratch that wasn't that noticeable. The silver lining is I went to reset my phone and it bricked and I got a new phone at the Microsoft Store. Got all my gear on it so it stays looking new. I also picked up the warranty so now I have 2 replacements. Going to use one when Rogers gets the colours.

I honestly just went with the otterbox. Yes its little more pricey, but you really can't beat the all around protection. Also, the cust service they provide is exceptional. No questions asked, if you tell them that the silicon outer sleeve is at all damaged, a new one is on its way. This is speaking subjectively of course, I have no experience with the other companies that market protective cases.

I drop my phone last month it took a big time hit Lumia 920 beat that match no need for a case for me

The CP-600 is a excellent case. Built really well, fits the phone perfectly, and if you thought your phone felt indestructible before the case, wait till you hold it with the case. (Had to buy it for mine when went to serve my military service, and it's been great so far)

I got the cyan case with my 800 and within a few weeks it discoloured quite badly until it went black on all the corners and various other edges. No amount of washing gets it off, it's not much, it's like the rubber itself has discoloured. Anyway, I'd like the cyan case for my 920, but not if that's going to happen again. I wonder if they fixed it.


I bought red and yellow CC-1043 cases for the 920. Both discoloured, just as you describe, in about a week. Glad I only paid £7 each for them! Think I'll send a tweet to Nokia UK now that I know it's not just me.

managed to get the leather case just before Xmas but at the moment don't have a phone as it gone back to to Nokia after a hard reset hopefully back on Monday

I haven't droped my Lumia 920 BECAUSE I GRIP THE HELL OUT OF IT AND AM CAREFULL TO NOT DROP IT FOCUS PEOPLE FOCUS QUITE DROPPING UR PHONES LOL

yeah, its easy to think everyone is careless and stupid... but I NEVER dropped my phone except for ONE time and that ONE time was all it took. I keep a death grip on my replacement.

Why weren't these available day one? How do all the Chinese manufacturers pump cases out before Nokia, for their own phones? Anyways, I ordered one of these from Amazon since they are only $11.99 there and I have prime shipping which will hopefully get it here more quickly. Now I need a good screen protector since the screen seems to scratch so easy.

Using a case is like covering your eyes to protect your eyesight.
Manufacturers should just put the bare circuitry into a plastic bag, so customers don't need to throw money out of the window to protect their cases from scratches.

Who cares what someone else earns what a dick head for bragging about how much they earn!

Cyan also available in Austria?

I have a cheap cyan case from Amazon for like $6 bucks. It's great.

Plz do a review on both of these cases! It would be much appreciated!

I already bought the (CC-1043) black from Nokia Store in Dubai Mall, it's amazing


I would like to get the leather case, any one know how this kind of case works when take a phone call? I never used the folding or flip case. Thanks

Any chance on a video of this cade

I dropped my 920 on one corner and crushed it in by the SIM card. This was from about the mid chest and it survived really well considering and I wouldn't of had such an issue with it if it didn't land on the edge with the SIM card, making the SIM card slot all off which caused the tray to stick out about a quarter of a cm. Good thing my phone had a faulty GPS, got a warranty through ATT and got a brand new phone!

The soft covers are very expensive. I'm using a capdase softjacket Xpose for my Lumia 920 and it cost way less than these nokia soft covers.

Somehow my case is about 2mm taller than other cases, making my phone able to move up and down within the case.
Windows Central Newsletter
Get the best of Windows Central in in your inbox, every day!
Thank you for signing up to Windows Central. You will receive a verification email shortly.
There was a problem. Please refresh the page and try again.