Which unlimited plan should you buy: AT&T, Sprint, T-Mobile or Verizon?
The four major carriers in the U.S. don't necessarily offer Windows phones (though phones that run Microsoft's OS work on some of their networks), but they all offer unlimited data plans.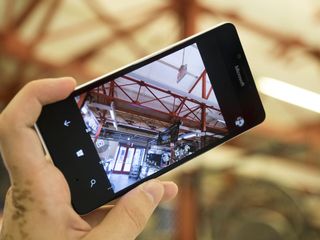 (Image credit: Windows Central)
Whether you're a Microsoft diehard who packs a Windows phone, or an iPhone- or Android-toting Windows fan, here's how to find the best unlimited data plan for you.
With Verizon bringing back an unlimited data plan, the big four networks in the United States (AT&T, Sprint, T-Mobile, and Verizon) all carry an unlimited data plan now. That's important for power users as well as anyone who uses their mobile broadband internet as their sole way to stay in touch or for entertainment. The cost of data overages means that unlimited data is a must for many of us.
But just because everyone offers unlimited data doesn't mean that all plans are equal. Pricing is important as are "extras" like tethering and the hidden data cap that pushes you back to slower 3G speeds when you reach it. And of course, zero-rating means we have to pay attention to what unlimited means when it comes to the quality of streaming media as well as the source.
We took a look at what each carrier has to offer so we can decide who delivers the very best unlimited data package. Let's start with a look at the details for each carrier.
AT&T
Unlimited Plus
Unlimited talk, text, and data
10 GB mobile hotspot (tethering)
Unlimited talk and text to Canada and Mexico
Advanced messaging between compatible phones on the AT&T network
Unlimited talk, text, and data in Canada and Mexico with free Roam North America Feature (if more than 50% of use is outside the U.S. the plan can be terminated)
Unlimited music and video streaming with optional Stream Saver for less data use
$25 monthly credit for DirecTV services
One line of service on an AT&T Unlimited Plus plan is $90
Two lines of service for $145
Up to eight additional lines (includes any phone, LTE tablets, LTE hotspots and connected cars) for $20 per line
Add a wearable for $10 per month
Unlimited Choice
Unlimited talk, text, and data
Data speeds capped at 3Mbps
Standard definition video streaming
One line of service on an AT&T Unlimited Choice plan is $60
Two lines of service for $115
Up to eight additional lines (includes any phone, LTE tablets, LTE hotspots and connected cars) for $20 per line
Add a wearable for $10 per month
Everything you need to know about AT&T's unlimited plans
Check out our review of the AT&T Lumia 950 Windows phone
Sprint Unlimited Freedom plan
Unlimited talk, text, and data (with certain restrictions)
Unlimited data for streaming video up to 1080p
Unlimited data for gaming up to 8Mbps
Unlimited data for streaming music up to 1.5Mbps
10GB high-speed mobile hotspot with VPN and P2P support
Add a tablet with unlimited data for $25 per month
One line of service is $50
Two lines of service is $90
Three lines of service is $90
Four lines of service is $90
Everything you neeed to know about Sprint's Unlimited Freedom Plan
T-Mobile
Unlimited talk, text, and data with 200MB of roaming data
Unlimited talk, text, and data in Canada and Mexico
One hour of free Gogo in-flight Wi-Fi and unlimited texting on enabled flights
Unlimited data and texting in over 140 locations at 2x speed (264kbps) (limited time offer)
Unlimited music and HD video streaming (limited time offer, applies only in the U.S.)
10GB high-speed mobile hotspot use (limited time offer)
One line of service on a T-Mobile ONE plan is $70
Two lines of service for $100
Three lines of service for $140
Four lines is $160 and each additional line adds $20 to the total
A promotion starting March 1, 2017, allows post-paid customers with two or more lines to add another line free. This offer applies to T-Mobile ONE, Simple Choice and Simple Choice No Credit plans
Everything you need to know about T-Mobile's unlimited plans
Check out our review of T-Mobile's Alcatel Idol 4s
Verizon
Verizon used to have a single unlimited plan, but it has since expanded that to two, offering various levels of value depending on customer need.
Go Unlimited
Go Unlimited is the cheaper of the unlimited plans, aimed at users that don't necessarily need the fastest performance at all times or high-quality video streaming.
One line: $75/month
Two lines: $65 per line/month
Three lines: $50 per line/month
Four or more lines lines: $40 per line/month
Paper-free billing and $5/mo AutoPay discounts apply.
The Go Unlimited plan offers unlimited LTE data, but you're subject to reduced speeds (throttling) when the network is congested. Verizon may choose to throttle at any time of the billing cycle, which is unlike most other unlimited plans that only do so after a certain amount of data is used.
On Go Unlimited, all video streaming is capped at 480p on phones and 720p on tablets. And while the Go Unlimited plans offer unlimited mobile hotspot (tethering), the speed is capped at 600kbps, which is likely too slow for most people to do anything other than browse the web — slowly.
Beyond Unlimited
Beyond Unlimited is basically Verizon's original unlimited plan with some slight tweaks.
One line: $85/month
Two lines: $80 per line/month
Three lines: $60 per line/month
Four or more lines: $50 per line/month
Paper-free billing and $5/mo AutoPay discounts apply.
The Beyond Unlimited plan offers unlimited LTE data, but you're subject to reduced speeds (throttling) at times of network congestion if you exceed 22GB in a billing cycle (customers that sign up on a two-year contract get 25GB per month before throttling).
Video streaming is capped at 720p on phones and 1080p on tablets. Mobile hotspot use is unlimited, with 15GB of LTE data in each billing cycle. Laptops or other devices used through the hotspot have a 1080p hard cap for streaming video.
Everything you need to know about Verizon's unlimited plan
The best unlimited data plan
The best plan is the one that works where you need it to work, not the one that's the cheapest. And we can't tell you which that one is because it's different for each of us. Paying more than you need to for phone service is a bad idea, but so is paying for service that doesn't work.
Generally, if you live outside of a metropolitan area that means Verizon. A look at live, user generated coverage maps from Open Signal shows there are significant gaps in T-Mobile's coverage outside of metro areas. You will pay more for Verizon service when compared to T-Mobile (especially once taxes and fees are applied) but chances are Verizon will have the best coverage if you're in a rural area. There are exceptions, so be sure to investigate before you give any company your money.
If you're part of the 90% of the U.S. population who lives in a large town or city, your choices are expanded. T-Mobile is a great choice, as even with the One Plus add-on fee of $10 per month you'll still save money because they include taxes and fees in the cost.
Sprint's pricing offers an incredible value, but there are some very valid concerns about their network footprint. These can't be ignored when talking about "the best", though. Sprint has taken great strides to improve their coverage, and if Sprint works everywhere you need it to work, you should definitely take a look at what they have to offer.
Of course, none of this includes any customer-loyalty offerings or legacy plans you might be using. In those cases, you might want to stick with the carrier you have now instead of switching because of new pricing or new promotions.
All this makes it very difficult to make a one-size-fits-all recommendation about which plan is the best. If you need nationwide coverage in places that might be a little out of the way, Verizon is a better value than AT&T and generally has a better network according to independent studies from sources like Root Metrics. If you stay on the beaten path, T-Mobile offers the better deal.
We can't tell you which carrier will be the best for you. But we can tell you what to look for and where to start. Talk to your friends and see what service they are using and how well it's working, and call each company to see exactly what they have to offer. Most carriers have plans they don't advertise and one may fit your needs better than the default unlimited plans.
We just want you to enjoy the service you're paying for!
Your turn
What carrier do you subscribe to, and are you thinking of switching to either T-Mobile or Verizon? Let us know in the comments!
This post was updated on August 24, 2017 with the latest information.
Windows Central Newsletter
Get the best of Windows Central in in your inbox, every day!
I'm an RHCE and Electrical Engineer who loves gadgets of all kinds. You'll find my writings across Mobile Nations and you can hit me on Twitter if you want to say hey.
None.
Article is useless for large number of readers since is applicable to US only.

Your comment is useless seeing how the title clearly states the comparison is between four US based carriers. If they hadn't mentioned that I'd understand your frustration.

I'm gonna Stick with AT&T. Plus y'all know that when MSFT releases a new Device they always seem to use AT&T.
I could switch to unlimited data because I do have DTV but I'm fine where I'm at, I have 15GB for 4 Phones and never come close to going over, So I'm good..

I had exactly this plan for 3 devices and it's good and cheap than the current "unlimited" ones. Because I have 15 years with them, they gave me the 20gb plan for the same price, so try to ask for it, good luck

Lol but please don't ask the billing department. Lol we cannot add promotions. Ask for loyalty please.

Hmm, I'm curious now, I called to cancel a data sim for a tablet i didn't had anymore and after that, the guy just told me about it and if I wanted it. Never asked for any other department.

Same here. I have the 20GB promotion, with 4 lines, without DTV, and it still costs me less than the current unlimited plan. Plus having the data roll over basically makes my plan an unlimited data plan. I'll stick with AT&T, for the great customer service alone that I've had for the past 20+ years.

Yeah,I don't complain either

Same here, and got 15% employer discount and a veterans discount.

I have 20% employee discount and the 15GB plan noted above.

Windows Central is based in the US, so its readership is mostly based in the US. Article may not be interesting to you, but it's far from being useless.

Switched from AT&T to T-Mobile during their 2 paid +2 free lines promo few months ago. I live in Boston, so reception is more than decent. I save bucket full of cash and get pretty much the same data speeds and reception as AT&T. Also can't beat the unlimited data and free sms international roaming.

I'll second the comment about international use. On a recent trip to Spain, with AT&T I had to add $5 to get unlimited text and $35 for a measly 200MB of data, then double that to get the same options for my spouse. Whereas a friend on T-mobile had unlimited everything with no extra charges.

I'm curious what the service was like in Spain. In April, my wife and I are visiting Spain, as well as a few other surrounding countries. I was considering signing up for a T-Mobile plan that includes international roaming. But I have read that T-Mobile can be seriously deprioritized by local carriers. My other two options are either reactivating Project Fi or buying local SIM cards. Since we'll be in several different countries, I'm not very interested in the latter.

Lol yea it's called the ATT Passport. It's a one time charge of $40, but you have to add it for each line.

My family switched from Verizon to T-Mobile two years ago and have never looked back. The coverage has gotten way better, andthe customer service is great. We lived in Los Angeles and coverage was excellent, we are in Virginia now and coverage is still excellent. I do alot of travelling and coverage has been awesome.
Im glad to hear that international coverage is good, we are going oh vacation this summer.

Man, I'm glad you are having a good experience with T-Mobile. I had it until yesterday. I live in the Dallas-Ft. Worth area where T-Mobile has amazing coverage. Doing a speed test between Verizon and T-Mobile with the same phone showed that T-Mobile beat Verizon hands down. Then I started running into issues. Building penetration. But when outside, trying to stream or download a podcast or music to my phone proved to be worrisome on T-Mobile. Updating apps was the same thing. Sometimes this was met with "failure to download" messages. A lot of times text messages, MMS were delayed. Some are important because I use two-factor authentication. So fast forward to yesterday, I get back on Verizon with the same phone, speed-test shows slower speeds, but downloading, texting, MMS, all that stuff, much faster and no failures so far. I've downloaded about 10 albums onto my phone today inside (where I usually had T-Mobile crap out on me). T-Mobile has gotten amazing over the years, but for me, Verizon still seems to beat it.

I couldn't agree with you more, T-mobile signal into building is not great. Open air spaces like malls it does fine but inside concrete construction it is no good. I keep reading that they are buying band with to fix the problem, but haven't seen much improvement. We have a signal booster installed at the office to bump the signal and we have had zero issue since then. I was in Dallas a few months ago, Loved the city.

You work in a building with no wifi? Tmobile does have issues inside buidings. However, I use my work wifi for both data and calling. The same applies at home. Frankly, I use very little data because I keep hopping from one wifi hotspot to another. The main issue I have with T-mobile is that I do seem to get too many dropped calls.

Not all WiFi are equal. There is guest WiFi at my office for personal phone use, but it rolls through the same corporate firewall, which can block some entertainment content. Getting the signal booster loaner from T-Mobile helps with indoor cellular signals.

I am glad to see everyone bringing back unlimited data. I hope Verizon brings down the price a little for 2 lines, it's a good deal for 1, and for 4, but not 2. I am also annoyed that the unlimited plan does not get any discounts from my employee discount with my employer, which makes it a huge jump in cost over 8gb a month (12gb for me since I upgraded during a deal). I would be interested in T-Mobile, but my wife has had bad experiences in the past. We went with Verizon since the last place we lived it was the only viable network. Now pretty much everyone is viable, but Verizon hasn't given us problems at all, so no huge reason to switch. Plus no other carrier has employer discount for me.

Tmobile does employer discounts...it's 10% if I recall, but since I'm on a really old plan, my discount is only $8 but its better than nothing

Do they do discounts on these new Tmobile one plans?

Straight talk. It works and I have 4G. It works and its reliable.

I use Straight Talk as well. I get the $55 unlimited plans, but they throttle data speeds to 2G after 10GB. I'm thinking about switching to T-Mobile. For just $15 more a month they seem to offer a pretty good plan.

ATT plan shouldn't be labeled as unlimited if one has to subscribe to DirectTV to get it. That's super misleading.

You are 100% correct. For me, I have to settle for one of their data buckets instead because where I live I can't install satellite for Direct TV and such (satellite is terrible most of the time anyways...my work has it and we lose signals in small storms...). ATT doesn't truly offer an unlimited plan in my opinion. Until they do a plan like TMobile, it's a misleading promotion.

I'm on At&t. I have an old promotional plan. 30 gigs of data, for the price of their then 15 gig plan. Right now, it is shared between all phones on my plan, but most of them only use about 1 or 1.5 gigs of data per month. This is due to the fact that we stay connected to Wifi, when at home and i ha e restricted my boys from watching video, when they are not connected to WiFi. They will binge watch anime and other shows, otherwise. Lol
Anyway, if i remember correctly, i pay $50 or $60 per month, plus $25 for each additional phone on my plan. Before taxes, fees and multiple phone payments, my base bill is about 183, for five people.

I'm on T Mobile and I have unlimited everything and my bill including Taxes is $66.73. Super cheap! I'm in New Jersey and using a 950XL & ELITE X3. I swap sim cards from time to time.

I'm on MetroPCS 4G LTE. $45 unlimited, no taxes, surcharges.

My friends from the bay love metro, in the bay. Up in Humboldt /Mendo they hate it because no service in many areas

Wow, I am so glad I live in Russia. I pay $10 per month for unlimited internet and free calls and SMS on one sim. The other I just pay for calls & SMS and it's so little if I'm calling on the same carrier. If I don't make any calls it doesn't cost me a thing. I keep a dollar or two on it and it last me months. The 4G on my L650 works so good I don't even need WiFi. I only use it for my L730. We have free Wi-Fi on the metro, in parks and that's where I will use the L730, at home and on the street I use my L650 with 4G. Why Americans have to pay so much I just can't understand. We have four carriers and two of them let you call anyone on the same for free, no matter where or what city they are (Russia has 9 time zones) for $100 a month you can have one line and call anyone in the world and have unlimited internet in Russia. I don't know why Americans pay so much. Oh and we pay no taxes or anything else, $10 and that's all. Hell, income tax it a flat rate of 13% here. Yeah and they call it "evil"

Yeah, we pay out the nose for our cell plans. And yes, we have high income taxes, and other taxes on just about everything. I think it is a combination of government regulation making it such that there hasn't been any real competition till recently between carriers, allowing them to keep prices high, and the fact that like Russia, this is a large country (almost 3/5 the size). We have a larger population (more than double), and are spread out quite a bit, making infrastructure development rather costly. There may be other things involved, but those would be the big ones as far as I can see. As for calling Russia "evil", that is mainly politicians in either country making noise. After all, I have nothing against you as a person and would just as soon get along with you, and I can't imagine you have anything against me. But, the desires and wishes of peons like you and I don't seem to matter as long as our politicians want to wave guns at each other. :/

I come from Boston, Ma. I just moved many years ago so I don't have anything against Americans, the US government that maybe a different story.

How many Afro-Russians do you know? How are they treated? Some boxing friends that went there were treated like crap and wouldn't want to ever return

Russian money is worthless now, that's why it is so cheap.

The ruble is the best performing currency in the world this year.

The population in russian is concentrated into large Cities mostly. You take up 9 time zones, put most of it is not populated. Do the people in the rural areas have decent data? The carriers also have to buy spectrum from our government. They pay billions for it. To russian carriers have to pay for their spectrum?

I'm not sure about spectrum but you are correct that most of 145 million Russians live in big cities. 15 million in Moscow alone! Last year I drove from Moscow to St. Pete and the connection was good but that could have been because I was on the highway. Here all city buses and the metro have free Wi-Fi. They even have free Wi-Fi in most parks in Moscow. Oh and we don't have "locked" phones. Carriers do sell phones here but not with a plan. They sometimes give discounts on phones if you take it with their sim card but there is no contract and you can leave anytime. I have two phones and three sim cards so my friends can call me for free.

They sell "locked" phone here because it makes it easier for them to control which company you are going to be with for a while. Also with the inflation prices on mobile phones, it basically helps people think they are paying a good price for an overpriced phone (most of the time) and then once the phone is paid off they can unlock it. Also depending on the carrier they will charge your more money to unlock it! I mean like c'mon! They haven't taken enough money after having us pay for our plans and phones that now we have to pay money just to unlock it? ATT will unlock your phone for free, while TMobile has you pay $40 for it. Idk about the other carriers but that's what I know from trying to unlock people's phones lol.

Why is Cricket never in these things? They, for me anyways, seem to have the best value of any plans.

Cricket is a subsidiary of AT&T

Yep. And AT&T is the old Verizon. Not competitive, high priced, no unlimited unless you give them more money for U-Verse or DirecTV. They are way behind in the competitive wireless space. Once they lose millions of subs, they will pull a Verizon and realize the err of their ways. They are hanging on to profits a little bit too tight. I wish them luck.

Wow, you're being robbed... I live in Romania and at 4$/month I have unlimited national minutes, 50GB 4G internet + some hundred minutes within several most developed countries, including USA...
P.s. I wouldn't live in Russia for all the money in the world :)

This is ,what I miss so much from Ro. Here in HU the same is 50€

Romania is the size of Michagan. Yes, it's cheap when you only need a few towers to maintain.

Yea? And how is possible in Romania no limit calls and 4-5gb data for 4-5€, and Hungary is half of Romania(about size) and the same plan for about 50-60€ ???? USA is big but far more people lives, about 20x more, so have 20x more contracts.... This is stealing my bro....

But what's the difference with tmobiles new Tmobile one plan vs the old simple choice unlimited plans? I have the old unlimited plan what do I gain/lose by switching to the new plans?

Tmobile is the suckest Company in the world

I hereby officially declare that I hate Russia, Romania ... and all those other evil countries with criminally low prices and insanely high data-plans ;) Poor me living in a mobile-hellhole.

Let's face it all these plans are not really "unlimited" are they ?.

Sure they are. You don't get charged extra for the data, do you. What they are not guaranteeing is the speed. The speed varies with usage and location.

Yes, t- mobile is up to 28GB then they may throttle back but usually don't.:-)

If you stream media for several hours a day they all will throttle you and give you a warning .

According to their website, 2 lines on T-Mobile is $120.

The tmobile deal goes live Friday

Article is incomplete: Where is prepaid? The article misses the point of postpaid (monthly subscription). Prepaid usually gives better pricing given that customers Can switch carries at the end of each month and are not tied to carrier by promos or equipment purchase. Best plans are usually not from major carriers but rather from competing smaller ones. Even if cricket and metro pcs are subsidiary of at&t and t-mobile respectively their pricing scheme is entirely different. Even their coverage is sometimes better than that of their parent companies.

TMo is like prepaid. No contracts.

I'm surprised Verizon's on the list, considering they don't support Windows phones at all.

They support ONE...the 735. Guess they want to say they support all, just not very energetically.. If you have a model that worked previously (icon, et), it will work still. I just recently dropped Vzw due to. The lack of other models and my icon was on its last legs physically (case issue).

The Verizon numbers don't seem to be accurate. I just changed my plan to the unlimited yesterday and my new quoted cost isn't anywhere close to the ones in the article. This article prices them very high. Might want to do a little more research before ignoring Verizon. Running Lumia 735 + Surface 3LTE on Verizon.

The Verizon numbers in the article wrong

T-Mobile!! I travelled quite a bit internationally and the fact they give me unlimited data, although low speed, while on roaming for free is unbeatable.

Non of the these unlimited plans are worth it. Since you still are capped one way or another. And there still pricey.

Get anyone you want, the Service Provider, will always control the limits on your Data, Text and Talk, they may call it unlimited, to them, it's as unlimited as they want to give us. Take AT&T anything on 22Gbs, they slow the rate down, so they are saving bandwidth no matter what. It's all a SCAM. unlimited should mean UNLIMITED. Its like people offering FREE items, but you have to pay shipping and handling, which in most cases are more than the junk they are giving you for free, so it's really not FREE. Think before you buy, and read the small, the real small print, it contains all the secrets of their deal.

I have T-Mobile One+ International. Absolute buffet and includes unlimited hotspot and gogo flight passes. Best option on the market, IMO.

I switched from VZzw to Tmo in December and am not looking back. Tmo is faster, coverage is the same, and pricing can't be out done.

T-Mobile rocks!!! I'm based in Chicago and when visiting family in Canada it's all inclusive there as well. Can't beat it.

Useless article. ATT: WC! At least get a hold on, that US only articles aren't shown on the EU site.

I switched to T-Mobile about two years ago. My wife (and her daughter) opted to stay on Verizon since they both just got new phones and didnt want to pay to break the contract. For those two phones on Verizon, she was paying about $140 a month for 2gb per line. She finally switched her and her daughter's lines to T-Mobile and now we have unlimited data on each line and the total bill for all three lines is $140. Verizon's advertised prices look good on paper but after you add in all the fees and taxes, Verizon is pricey. T-Mobile's price includes fees and taxes so what you see is what you get. If you live in an area that gets good coverage from T-Mobile and you use someone else, you're just tossing money in the trash.

You have a mistake in your reporting. AT&T offers 4th line for free bringing 4 lines to $180, T-Mo would be $187, and VZW $215.

4 lines on T-Mobile is $160. Check the site. If you have 4 lines It's $40 per line

None of them are actually unlimited data plans. If a plan includes data limit for potential throttling, it shouldn't be called unlimited. And other than that, what is this crazy thing about tethering? Is it really that limited? In Hungary, you can use as much of your data as you wish for tethering on all three main carriers (Telekom (also known as T-Mobile), Telenor and Vofafone).

So, I can go to an all you can eat restaurant/buffet and pay once and go there forever? It's heavily implied "all you can eat in one sitting". The throttle only comes in under congestion. We have issues like this in the US, since we have older infrastructure, as we had cell phones earlier, we have older networks to fix. That's why we have CDMA unlike most of the world except Japan, India, and I think China. A lot of our cost/throttling is to deal with the older infrastructure.

I have AT&Terrible with my Lumia 650. Three days ago, I lost LTE, The unlocked 650 from Cricket does not have band 17 LTE. Although it does have the other two bands that are used. I was getting LTE with no issues until then. I am going to go with T-mobile not only becuase of the price, but also because the 650 supports their LTE bands. I have no clue why I suddenly lost LTE. And they can't figure it out either. Would anyone have an insight on why that happened?

The more lines you add, on VZW - the cheaper it gets. 9 lines, $110 + $20-ish a line.... "New Verizon Unlimited" plan....

Right now I'm paying $68 for unlimited on at&t, i was paying a little bit more when i was on 3gigs/month. I think it's worth it IMO...

Tmobile is best for me. I travel a lot, i can enjoy free data roaming on most countries . Signals are getting better, even better than ATTin some area.

The wise choice if you have a band 12 phone is T-Mobile!

I used Verizon for many years. I bought a 950xl after seeing ads for Mintsim and have't looked back. I've had it since July on a 3 month trial and will prepay a year next month which will cost $25 a month for 10 gigs. It's faster were I live, in Houston, than Verizon EVER was and I complained a lot. No, I don't work for them, just giving info!
Windows Central Newsletter
Thank you for signing up to Windows Central. You will receive a verification email shortly.
There was a problem. Please refresh the page and try again.