White OEM back cover for the Lumia 950 now available on eBay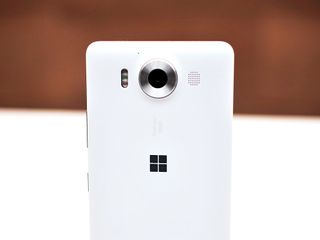 If you've purchased the black color variant of the Lumia 950 and are looking to customize the phone with the white battery cover, you can now do so. Ebay is offering the OEM battery cover for the Lumia 950 for $28.62.
The listing mentions that the cover will be compatible with both single and dual-SIM variants of the handset. Interested? Head down to the link below to check out the battery cover. Also, be sure to take a look at our case recommendations for the Lumia 950.
OEM battery cover (white) for Lumia 950 ($28.62) (opens in new tab)
Thanks Bryan!
You know what I want? The black classic case cover from Mozo for the Lumia 640, but on the Lumia 950, as seen on this page: http://www.mozoaccessories.com/shop/index.php/default/lumia-phone-case-s...​. That looks better than the ratchet leather cases they have for the Lumia 950/XL right now.

Does MOZO carry anything in stock? Geez, it seems like everything I click is comming soon... Oh, that is why they are a MS Partner, nevermind. /s

The reason being is they cannot keep up with demand...quite simple really.

Yeah, I prefer the leather case.

Make the prototype blue color available instead!

I just upgraded from my launch day cyan 920. I waited so long because I wanted more cyan.

Me too. Cyan was very popular. I dont know why they are so reluctant to offer it as an option.

That's what I'm waiting for.

Take the white one and dye it?

Yes! I want Cyan or fluorescent Orange.

For people needing to purchase their Lumia 950 XL http://forums.windowscentral.com/microsoft-lumia-950-xl/398014-website-p...

Goldpink too, absolutely right! Microsoft needs to be mano a mano with the competition

Site title says...Nokia Lumia 950!!!

Better for marketing 3rd world market than Microsoft branded

Yeah, but when I bought my 920 several were listed with android OS

Dam that black classic case for the 640! Is sexy!!!!!!

How do sellers even obtain these for sale?

I suppose its ridiculous to think that I could get these at the Microsoft Store, huh?

If the phones is anything like the 640, then these should be available for $5 shipped from china in a month or two.

These case backs would contain NFC and QI charging coils for the 950. For the 640/XL they are just molded piece of plastic, so they would be cheaper.

nope. this 'OEM' battery cover doesn't have NFC or Qi. Look at the second picture on the eBay listing.

LOL. Without the coils, it's fake.

Red, yellow, green, orange, cyan, blue, magenta, purple, silver, gold, grey..... SMDH

Just got my white 950 today (and love it, was happy with my old 920 but more happy with this upgrade!). Only worry is that it will get dirty quickly. Should be something I could coat it with but dont know what?

Here is a dedicated post:
http://www.windowscentral.com/quick-fix-creaky-lumia-950-xl-cover

Do you even read, fratello?

I am getting a while one as well. My son has a white 630 and my wife has a white 1320 and they look fine after all this time. Mind you they're in cases/covers most of the time, but my wife has been using hers for three months now without a case and there's no problem. Of course considering how much I paid for the XL, I have a glossy/crystal/clear case coming with mine. I think it will compliment the satin white back of the XL quite well.

Why not multicolor..? I loved my green 930 :(

So glad you can finally get a cover without the AT&T tramp stamp, on the back.

doesnt include gromets, NFC and wireless charging! Update: Ok, ordered and now cancelled as was talking to the seller. its a replacement part. you need to remove all your parts and transfer over!

So it is $30 for a chunk of plastic?

It's the thinnest creakiest plastic money can buy!

950 XL please! BTW Totally geuine, with being a Nokia case and all...

This is great news. Well, if I was in the US I'd buy one to have both colors available :)

I'd love a yellow one for 950XL. Saddest thing going from 1520 to 950XL is losing Qi and the yellow case.

The 950 XL does have built-in Qi.

Mozzo leather or nothing for me thanks.

Please I want the one in cyan!

No black? I already have white :p

they have black http://www.ebay.co.uk/itm/351595429407?_trksid=p2060353.m1438.l2649&ssPageName=STRK3AIT

Does anybody know if it supports Qi-Charging and NFC (as it should as original part) since the pictures on the sellers website just show a plain cover without the black attachments on the inside.

Nope. You have to give up the Qi and NFC capabilities or transfer them from your existing back cover to the new one.

Bummer! Is it really possible to transfer the Qi and NFC parts to another back cover? If yes how? Cause it seemed to me that they're weld to the cover.

No. You have to buy the Qi and NFC stickers (yes, they are just stickers) separately. But they ARE sold separately and generally pretty easy to apply. However it will increase the costs for you, of course. My advice is to wait for a couple of months. Other sellers will end up stocking this and often some of them offer the QI&NFC enabled versions.

Finally! Can get rid of that ugly Verizon logo! What? Someone had to say it.....

To be picky, eBay isnt selling them. A certain seller fonejoy is selling them on eBay. Sorry, pet peeve.

Only 10 were being sold, now they are all gone.
Windows Central Newsletter
Thank you for signing up to Windows Central. You will receive a verification email shortly.
There was a problem. Please refresh the page and try again.