We're super psyched for Halo Infinite after its E3 2019 trailer — and not because of Master Chief
The trailer suggests that Halo Infinite will have a type of story that I've always wanted from Halo.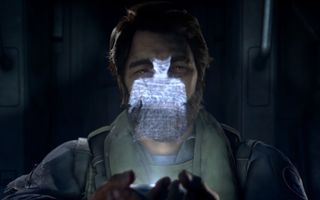 During E3 2019, 343 Industries revealed a trailer for Halo Infinite that featured the return of the Master Chief, complete with a brand new suit of MJOLNIR armor and a confident, battle-ready attitude. Since Master Chief is such an iconic video game character, this alone was enough to get people incredibly hyped about Halo Infinite.
As a huge Halo fan, I'm excited about the game, too — but for a completely different reason. While I absolutely love Chief and all of the badass vibes that he carries with him, I think the stranded Pelican dropship pilot's story in the trailer reveals that 343 Industries is going to go in a bold new storytelling direction with Halo Infinite. Here's why.
A human connection
The first half of the Halo Infinite trailer focuses entirely on a pilot of a Pelican dropship, who has been stranded adrift for (seemingly) months after a devastating battle. His only comfort is a message from his wife and little girl, in which both of them tell him how much they love him and can't wait to see him. When the message ends with an emotional "bye bye" from his family, the battery on the message projector goes dead, and the image of his wife flickers out — as does the man's only comfort in his terrifying situation.
What strikes me the most about this beautiful scene is how touched I was by it, and how much of a genuine connection I felt with the pilot character. I don't even know what his name is yet, but I feel like I'm right there with him, smiling as he smiles, crying as he cries, and realizing with sudden horror that this final "bye bye" may be the final time that he sees the people he loves. It's such a human moment, one where I'm able to put myself in his shoes and empathize with him. I don't get that feeling much these days with the games that have recently come out, so to be stricken by it here was a pleasant surprise.
This is what Halo needs
These types of humanizing moments and themes are what I've felt the Halo franchise has needed for a long time. Though some of the games (mainly Halo 2 and Halo 4) have strongly leaned into these ideas, the franchise as a whole hasn't consistently told stories from intimate angles like this trailer. Not only do things like this raise the stakes — if this pilot ends up being an important character, I will fight tooth and nail to keep him alive so he can see his family again — they also allow the player to immerse themselves in the story and establish a genuine connection with the characters.
This type of story direction may end up being perfect for the Master Chief as well. Master Chief may be presented as a badass kick-ass-and-take-names type of character here, but I'm excited to see if Halo Infinite delves into his emotional state and really shows us more of what he's like as a person, as Halo 4 did. Considering it seems like he'll be stranded with the Pelican pilot as they face whatever enemies Halo Infinite's story throws at them, I can see a genuinely amazing narrative sprouting from that. One of the core themes of Halo 4 was the question of whether Master Chief was a man or a machine, and by the game's ending, it was clear that he was a man. Master Chief, despite the stoic outer shell that he presents to others, is human. And if Halo Infinite tells a tale of Chief and this pilot banding together and leaning on each other for emotional support as they face the horrors that await them, desperately hoping for a chance of getting back to the people that they love, you won't find a happier person in the world than me.
Your thoughts?
What do you think about Halo Infinite potentially telling a more intimate, humanizing story? Let me know, and make sure to check out our guide on everything there is to know about Halo Infinite so far. The game is slated for the holiday season in 2020 and should release alongside the new Xbox console, which is code-named "Scarlett." It should be available for that console, as well as Xbox One and PC.
Great Halo games
All the greatest Halo games are available now on Xbox and are heading to PC too throughout 2019 and beyond.
Halo: The Master Chief Collection ($30 at Microsoft)
The Master Chief Collection is a fantastic game that lets you experience the entirety of Master Chief's saga in one convenient package.
Halo Wars 2 ($40 at Microsoft)
Halo Wars 2 is arguably the best real-time strategy title on Xbox One, offering players a wealth of incredibly satisfying, Halo-themed content.
Halo 5: Guardians ($20 at Microsoft)
Halo 5: Guardians is the latest Halo first-person shooter title, and it's got plenty of good content within that most players will have a good time with.
Xbox accessories you'll love
Every one of these quality accessories is guaranteed to enhance your Xbox experience.
PowerA Enhanced Wired Controller for Xbox One ($20 at Amazon)
PowerA's take on the Xbox One controller is an attractive pickup for budget-conscious gamers that nails all the basics.
Talon PDP Xbox media remote ($20 at Amazon)
The Talon PDP Xbox media remote is great for watching shows on your console.
Xbox One S vertical stand ($10 at Amazon)
Stand your console upright with this accessory.
Get the Windows Central Newsletter
All the latest news, reviews, and guides for Windows and Xbox diehards.
Brendan Lowry is a Windows Central writer and Oakland University graduate with a burning passion for video games, of which he's been an avid fan since childhood. You'll find him doing reviews, editorials, and general coverage on everything Xbox and PC. Follow him on Twitter.