Why one middle school student chose Surface Laptop as her first computer
Eleven-year-old daughter of a Mobile Nations (Windows Central's parent company) editor, needed a computer for school. This is the first-person tale of how (and why) she chose the Surface Laptop as her first computer.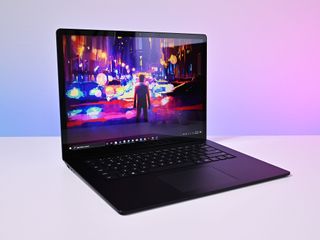 (Image credit: Daniel Rubino / Windows Central)
As I was going into middle school, my parents both agreed I should get my first laptop. I was really excited because with my laptop I wanted to do all my school practice and work, so I could be prepared for this new school year. When my dad brought me to the store, I was so excited, but there were a lot of choices. I got to try every laptop in four big stores.
With my laptop, I wanted a lot of travel for my keys. I like being able to press them down. I didn't like the way the keys felt on the MacBook my Dad showed me. A lot of other laptop keys didn't feel good to type on. Some were slippery, and some were loose and wiggled. On a lot of laptops, typing was too hard.
I also like having a touch screen like my iPod. It makes so many things easier with a lot of Windows, like math practice and Chinese language classes. I wanted a lot of battery. I am kinda small, so I could not carry the ones half the size of me. I also wanted something light and really easy to carry.
The Surface Laptop caught my eye. The first thing I noticed was the material on it. The material around it is called Alcantara. It was fuzzy, and I loved it. The red Alcantara was my favorite, but also the keys on the keyboard felt good and the touch screen worked great. It is fast and light, and the magnetic power cord is also helpful.
I love my Surface Laptop!
Get the Windows Central Newsletter
All the latest news, reviews, and guides for Windows and Xbox diehards.
Russell is a tech nerd who chases the best of everything, from phones to game consoles to laptops and everything glowing or beeping. He's the Managing Editor of gaming content for Mobile Nations and can be found contributing to all of the Mobile Nations sites. Reach out on Twitter!