Why the Surface Pro X without LTE is perfect for me
The Surface Pro isn't just about LTE, which is why I love that Microsoft made a Wi-Fi version.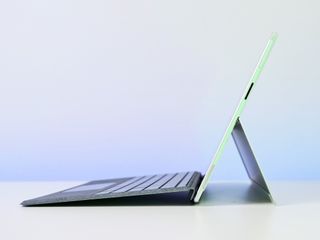 (Image credit: Daniel Rubino / Windows Central)
Earlier today, Microsoft announced a version of the Surface Pro X without support for LTE. Models with LTE will still be available, of course, but the version with only Wi-Fi connectivity for the web may raise a few eyebrows. The Surface Pro X is advertised as an Always Connected device, so it might seem odd to make it an only sometimes connected device.
While I'm sure the LTE version of the Surface Pro will continue to be popular, I believe there's a niche for a device without LTE support, and I'm squarely in it.
I mostly use my gadgets at home
I'm a homebody. I consider myself active, but I'm based at home. I work from home, walk my dogs, and coach American football within a short drive or tram ride from my house. If I do travel, it's to see my parents in America, who have an office at home. I almost never have to work while using cellular data.
I think that Always Connected devices are great for many people but being able to connect to the web from anywhere without having to tether to my phone doesn't move the needle for me.
I can't imagine that I'm the only person who primarily uses their tablet in their own home. If I am, it's nice that Microsoft built a tablet just for me.
I don't want to waste money
I suppose if money wasn't an object, I'd pick up an LTE version of the Surface Pro X. There's certainly no harm in having an option to connect through LTE, but I don't need to pay $100 for it. I also don't want to have to pay for a separate SIM plan since I'd use LTE connectivity so infrequently.
On the rare occasion in which I do have to use a device through LTE, I just use my phone to tether my connection. I know it's not as elegant as having built-in LTE support. I know it drains my phone's battery. But the reality is that I do it so little that those are minor inconveniences.
For some strange reason, I was given the chance to upgrade to 165GB of cellular data per month for less money than I was paying to get 25GB. I share mobile data with my wife, and we've never used all 165GB. Maybe that's not normal, but in my specific case, I have more data than I can use, so paying for a separate SIM card to avoid having to tether isn't worth it. Paying $100 extra so my device can use that SIM card doesn't make sense either.
I can put the money I save towards a Brydge SPX+ keyboard that converts the Surface Pro X into a traditional laptop.
I love the Surface Pro X's design
Windows 10 on ARM and Windows 11 on ARM aren't just about devices always being connected to the web. That's one major selling point, but it's not the only draw. Devices like the Surface Pro X are sleek, thin, and light. They also get excellent battery life. There's a reason that it tops our list as the best Windows 10 tablet.
Two major factors have held me back from considering the Surface Pro X as a personal device. First, it is a bit pricey. If I bought a Surface Pro X, it would be a nice-to-have, not a must-have. Saving $100 makes it easier to treat myself. Occasionally the LTE model of the Surface Pro X goes on sale for $800. I'm hoping that the Wi-Fi version falls below that at some point.
Second, there are some apps that I use that don't work with Windows 10 on ARM. Luckily, Windows 11 on ARM supports x86 and x64 app emulation. With support for both, all of the apps I use work on the Surface Pro X in some capacity. Of course, apps compiled to run natively on ARM devices will run better, but I'll at least be able to use my favorite apps.
With Windows 11 and a more affordable Surface Pro X that doesn't have LTE, Microsoft overcame two of my final hurdles.
News Writer and apps editor
Sean Endicott brings nearly a decade of experience covering Microsoft and Windows news to Windows Central. He joined our team in 2017 as an app reviewer and now heads up our day-to-day news coverage. If you have a news tip or an app to review, hit him up at sean.endicott@futurenet.com (opens in new tab).
trying to figure out the diff of SPX and Sp8.

One is ARM, the other is x86

I agree. Having a Wifi only option is great. Personally, I would spend the $100 more for LTE as I love that feature of my Go 2, but not everyone needs it and saving $100 is nothing to sneeze at. My biggest disappointment was that there was no new processor announced for the Pro X... :(

I wonder if this WiFi only version is a way of selling Snapdragon 8cx (SQ1/2) with "defective" LTE modems? The 8cx has the modem integrated AFAIK so this sounds pretty much like good old Intel "SX" (no math processor on the 486) or Motorola "LC" (no math processor) "EC" (no math processor and no MMU) in the case of 68040. Rather than scrapping the chipsets due to modem issues, just sell them with the modem deactivated. The biggest question mark regarding LTE is the carriers. It is pretty evident that charging $10/month just for a "tablet SIM" rather than just having an eSIM with a shared plan (i.e. no extra charge when adding a tablet with LTE) create an "artificial market" for the WiFi only version). The total saving would be $340 ($100 plus $10x24) over a two year period if such a carrier is used by the customer.

Built in cellular data is no longer important for laptop.
If it is, apple would already made it integrated in macbooks.
Qualcomm should also remove the ai, dsp and efficiency cores because laptop use cases don't need them.
The transistors are better to be used for more performance cores, gpu or caches.

3x the price of an iPad with much lower performance and a small ecosystem. Why would you praise such a device and not call it out? A 2018 snapdragon PC should be $499 at most.

Cellular data in "laptops" are certainly useful, especially with eSIM but also in the segment of UMPCs. With Windows 11 and Windows Subsystem for Android, a "PC priced smartphone" isn't longer "needed" when a proper UMPC with Snapdragon 8cx gen 3 could take care of everything and those few remaining areas where a smartphone is useful (such as mobile payments) are served by something like an iPhone SE or something like an Android One or Pixel "a-series" device. The main reason for Apple not launching a "MacPad Pro" with LTE/5G is ideological since they want to sell an iPad AND and a MacBook Pro, using the "specialized devices are better" argument. This is also why Surface Studio and Surface Book Studio isn't Apple products (iMac Studio and MacBook Studio). Since Wacom digitizing tablets have been used with Macs since the early 90s (even a flatscreen Mac monitor with built-in pen digitizer for drawing direct on the screen were introduced in 1996/1997 circa), the desire (among users that is) and the concept of combining a Mac with a 2 in 1 design with a tilting touch screen have been circulating. A "MacPad Pro" or "MacBook Studio" with touchscreen, M1, iPad OS compatibility (and iPad OS home screen in tablet mode) could be successful but would work against the overall "separate devices" doctrine since it would lead to a case where the iPad Pro become less relevant and the "regular" iPad and iPad Mini would take care of the "tablet consumer" segment. The only "drawback" with cellular data in a PC is in markets where carriers charges extra for a "tablet plan" or "tablet SIM" for a shared ditto. It is a condition that is very particular and have less to do with the usefulness of LTE (it is a business decision that could change at any time). Apple won't release any kind of "device replacement" product as long as people keep buying iPad Pro/MacBook Pro "combos" while arguing against 2 in 1 products and/or cellular data. The "dream customer" for them buy an iPhone in the Pro/Pro Max series, an iPad Pro with a Magic Keyboard and a MacBook Pro, all the while insisting that they have a "superior" solution over an iPhone SE paired with something like a Surface Pro/X (i.e. no separate laptop either, just the Surface that is used with Type Cover or without depending on situation).
Windows Central Newsletter
Thank you for signing up to Windows Central. You will receive a verification email shortly.
There was a problem. Please refresh the page and try again.