Why you shouldn't buy 'Friday the 13th' for Xbox One (at least for now)
'Friday the 13th: The Game' for Xbox One shows some promise, but should be avoided in its current state.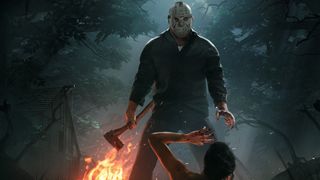 (Image credit: Gun Media)
Updated July 27, 2017: A new patch has released for the Xbox One version of Friday the 13th, with bug fixes and tweaks for a majority of issues seen at launch.
Late last week "Friday the 13th: The Game," a survival horror game based on the acclaimed franchise, released across console and PC. With influence from the feature films, the game takes advantage of asymmetrical multiplayer mechanics to pit Jason Voorhees against seven Camp Crystal Lake counselors. Using a similar core concept to games like "Evolve," one player takes control of the all-powerful killer while the remain seven must use the open world to survive by any means necessary.
After acquiring the rights to produce an officially-licensed game, Friday the 13th soon gained a fair amount of traction via crowdfunding sites. Between its Kickstarter and BackerKit listings, the game accumulated more than two million dollars in funding, drawing only more attention to the project going forward. With over twelve thousand backers on the Kickstarter alone, it's fair to say a reasonable amount of people are invested in the project.
Now the release day has come and gone, Friday the 13th's launch has gone far from smoothly. Server issues have rendered matchmaking useless, a slew of bugs disrupt the core gameplay and at this point, opinions on the game are rather mixed. Even the game's distribution on Xbox One ended up being rather chaotic – going live on the console hours after the expected launch.
Since these launch issues, it's now come to light that Friday the 13th's Xbox One owners are running an older (and inferior) version of the game. As pointed out by a user on the official Friday the 13th forums, both PC and PlayStation 4 versions currently sport different assets and even some minor new features, leaving the Xbox One version as a clearly second-rate version. Founder and Creative Director at Gun, Wes Keltner, has since confirmed the game is yet to receive an approved day one patch, which brings the game up to a state they planned for launch. Although some of these issues may have been out of the developer's control, the game isn't rocking the best reputation right now.
Overall, Friday the 13th has suffered a messy release – and that not even touching on the gameplay it offers. There's an understandable amount of anger in the air from Kickstarter backers, as well as those who picked up the full-priced title at launch. And with the recent news of the Xbox One version, it's probably best to keep your distance until fixes have been rolled out.
Nevertheless, among these issues, it's reassuring to see the official Friday the 13th Twitter account active with status updates and support over the past few days. While some developers essentially go into hiding after a rough launch, it's nice to see a clear line of communication established with fans. This doesn't excuse the launch issues, but at least keeps players in the loop for what's to come.
According to the developer, the day one patch for the Xbox One version is currently undergoing certification from Microsoft. The patch has the potential to bring Xbox One owners onto a version similar to that on PlayStation 4 and PC and should fix several outstanding issues. Server tweaks are also supposedly on the way, which should elevate some of the problems currently plaguing all platforms.
For now, we'll simply have to wait and see how the game changes in the coming days – which really sucks because the game has true potential. But in its current state, Friday the 13th is one to avoid. And while it may be best to hold out for the forthcoming patch, don't forget self-service refunds recently hit the Xbox Store.
See at Xbox Store (opens in new tab)
Matt Brown is Windows Central's Senior Editor, Xbox & PC, at Future. Following over seven years of professional consumer technology and gaming coverage, he's focused on the world of Microsoft's gaming efforts. You can follow him on Twitter @mattjbrown.
Wow, thanks for the heads up on this one. I backed a similar game called Last Year on Kickstarter. Hope when it goes live, it doesn't have as bad of release.

Xbox being treated as a second class citizen = no buy

xbox is a second class citizen

So you're here just to troll then it seems @kostas52.... Perfect way to waste your day.. #winning

BAHAHAHAHAHAHA you're funny. And FWIW I also own a PS4, a Switch and a Gaming PC. If a title is launching across more than one platform, NONE of them should be treated this way.

Ps fanboy detected..a greek one

launch issues? Oh... i tought its still BETA cuz the whole game looks and feels like a beta PlayForFree game :-D

It should at least have gone as a Game Preview to iron out all the bugs.. wasn't Ark in Game Preview for like two whole years... they sold expansion packs and the game was still on preview

Unacceptable. Thanks for the heads up. Not supporting this crap at all. Was actually thinking of picking this up later today. Now I'll probably never will.

Admittedly, waiting 5 mins the first time around for a quick match was irritating; however, using the XBox LFG works around it. Whether these guys are great actors or not, the forum posts they've been putting up do make it seem like they're horrified by the server issues, too. In fact, the beta on PC was decently smooth, but the graphical assets needed work. Once you're in a match, it's a short delay (

Yeah, I will say that unlike most devs, they've been active on social media and trying to help people overcome issues. There are workarounds to some of the problems, but overall this has been a messy launch. I hope they're able to get stuff fixed soon as the game has potential, but a string of events hasn't put this game in the best position. With a few updates the game could be working fine - but if people are willing to hold back until those fixes are rolled out, it should ensure they're buying a working product from the outset (:

I play on both Xbox one and PC, cant say i really had issues besides bugs like getting stuck with Jason, flying character and the get away car that flies ala Harry potter.

Nearly bought this the last time. Been on the horror games nowadays, enjoyed Layers of Fear a lot, now enjoying Outlast and wanted to buy and start this ASAP. Guess I wait a while.

As someone who is bandwidth challenged due to rural internet, I am tired of day one patches to make games playable. While the Xbox should be up to the same code as other platforms, it should have never even come to that. Either release a playable game or don't.

If anyone read their twitter post, it quite clearly states that the patch hasn't hit XB1 due to the holiday weekend, so it couldn't be certified for release. Can't really blame the dev when their patch is held up in the approval process.

Absolutely you can, they should have taken that into account and I'm sure MS is very clear about certification and how long it takes.

Wow. Have there been _any_ Kickstarter funded games which released on time, and to good critical Reception?

I won't be buying it until they add single player.
Windows Central Newsletter
Thank you for signing up to Windows Central. You will receive a verification email shortly.
There was a problem. Please refresh the page and try again.