WiFi Commander lets you easily discover nearby WiFi networks on Windows 10 and Mobile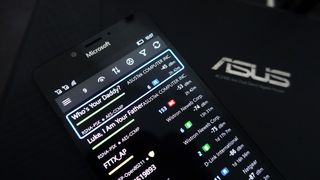 If you're in the market for a WiFi analyzer utility on Windows 10, look no further than WiFi Commander. The UWP app lets you scan, filter and sort nearby WiFi networks, and gives you real-time signal quality in dBm, letting you find the network with the strongest signal at your location. You can also see the hardware information of the router you're connecting to, such as the manufacturer name and its MAC address.
Here's the detailed breakdown of what's on offer with WiFi Commander:
Scan the space around you for any Wi-Fi networks
Filter, sort and group available networks
Unique real time signal level monitor (hint: drag the Monitor page background)
Determine specific access point with the strongest signal
Switch between different networks instantly
Detailed information about specific Wi-Fi access point:

Vendor name
Security and authentication
MAC address (BSSID)

See all Wi-Fi Direct capable devices
Find less used channel for your own router
Dark and light themes for your preference
The app costs $2.49, which is well worth the price given the detailed information on offer and the fact that it works on both Windows 10 and Windows 10 Mobile. There's a trial mode available as well that lets you check out the functionality of the app.
Download WiFi Commander for Windows 10 and Mobile ($2.49) (opens in new tab)
Yes, take my money. Thanks. It looks great too.

Wifi Analyzer has a better UI and is free with all the features..download that instead!

https://www.microsoft.com/en-us/store/apps/wifi-analyzer/9nblggh33n0n

Feature reach - as of now - yes (but we are working on narrow it down - http://i.imgur.com/M9NXlmU.png), better UI - well, this is kind of very subjective. And it's "free" distribution comes with video ads. Without ads it costs mostly the same price.

gonna get your app based on your words, don't let me down! :P (well I've been looking for an wifi analyzer for work without ads, so this would be nice)

Sure thing - just let us know if anything goes wrong with the app. And don't forget that there is a 30 day fully functional trial just for that, so no need to rush with the buying :)

We just pushed small update, check it out :)

Exactly. Free ain't free when you are owned by those ads.

WA is 'free' but there's an in-app purchase option. Don't be cheap and support the WP devs!

yeah wifi analyzer is better

I dont see wifi analyzer in the store... Is it for mobile? Wifi Commander doesnt seem to come up either... wonder if there is a store issue

I also use WiFi Analyzer. I think one compliments the other. WA is great for quick analysis and troubleshooting while WC is is great for searching and making actual connections. Both are welcomed tools on my WP.

How about inSSIDer? I've used it for years and it gives more detail on the networks it finds.

I don't see inSSIDer on WP store.....

Wifi Analyzer and Monitor is also pretty nice.

Query: How does it help? Other than hacking?

We (as in Windows 10 Mobile users) can now tell Android users that we have a robust tool to analyze WiFi networks. As a real comment, it's useful to see who really made your router, and it tells you what channels networks around you are located on so that you can change your frequency to attempt to minimize interference from your neighbors, if you're located in a city.

Thanks. Didn't know about this changing of frequency!!

You can't change the frequency from the app. Just from the router's web UI.

Wifi signals are assigned numbered channels, 1 to 13. Most devices are defaulted to 1, 6 or 11 because those are the three channels that are spaced to avoid any overlap with each other. Edit: Each channel overlaps onto the two channel each side (so channel 6 overlaps onto 4,5 (6) 7 and 8). You will get interference with the devices on the same channel, so should move to the other end of spectrum so there is no overlap. However, if there are a devices on each of the three channel, then you are better off staying put (or a channel with fewer devices). On a single channel, (eg 6) you will get interference from the other devices on 6. If you move sideways to 7 or 8, you are now getting interference from channel 6,7, 8, 9 and 10 (8 and 9 of which are also overlapping from channel 11). So you are now getting cross-over from devices on both channel 6 and 11. It will depend on whats around you, but if there are a number of networks, you are going to get interefence in any case and so it is better to stay on 1,6 or 11 to minimise it. If devices go on all of the channel, everyone gets interference.

But if this app has already a spot on Android then what......???

and tell IOS user that they do not have such app.

And soon you can tell them that we have a tool to analyze WiFi networks in 3D ;) http://i.imgur.com/M9NXlmU.png (just in case - this is still "work in progress" and not yet officially available)

It helps you get more precise data about the connection you may be attempting. Not just 1-5 bars for signal strength, for instance. The type of protection being used, etc.

But can it do better then say inssider(which if paired with their dongle can map out all radio interference)

I don't think it can. But it's a start. For the record, I've never used inssider.

That sounds awesome, but this app and the others mentioned above are a very welcome step forward.

@mbrdev, this is a great step forward indeed.

From the point - how much data you can get from the system about your Wi-Fi operation - not really (as of now at least) - some low level API is still not available for universal apps, but the major difference for some users could be basically the price for such a tool (inSSIDer is not free also and more expensive) and availability on the Windows 10 mobile devices.

I use it all the time when setting up WiFi networks and testing where to put extenders.

a great tool for IT consultant, use it to optimize wireless networks

Wow even shows how many dbm there. Name sounds military.. Cool

Wifi analyzer has a better UI and is free with all the features..download that!

WA is indeed free but I still supported the dev by buying the $2.89CDN ad-free version.

Y these Apps are free in android and costing in windows

This app isn't on Android.

Wifi Analyzer is free on Windows 10/mobile. This app isn't possible in WP8.X. Only Windows 10 has the API for it.

O.o I cant believe I missed that!

Yeah Wifi Analyzer is great. And free. But if you want your platform, W10M that is, to succeed you have to buy apps from time to time to support the devs. Posted via the Windows Central App for Android

I've got multiple routers one wifi name. Depending on the location in the house one signal is better than the other. Will it change automatically to the strongest with this app?

I've got the same problem. Three floors, three different routers. So many times, I've to manually change the network on my mobile.

Have you tried WDS with an ethernet back bone? Plus are they using same ip address range with only the host router using dhcp?

I have the same problem but just with two routers, I have to change it manually almost each time, and some times when I come back home and turn the Wi-Fi on, it connects to the weaker connection even if I'm side by side to the other router. I'll love to figure out how make it switch automatically depending on the signal strength.

For the second I thought it says 53m -meters- distance to the "source"
(53dBm)

I use WiFi Monitor... has all functions as this one also has a good UI.

Does it show used channels?

And soon in will show then in a bit better way - http://i.imgur.com/M9NXlmU.png

Is this seriously happening? Or am I dreaming...so many new uwp apps and so many updates recently, its hard to get all of them in notice..(pardon bad English)

I gave it 5*****. Excellent quality and performance, accurate, nice UI with multiple customizations of data presentation. Worth buying... The financial support of good app producers leads to better quality app availability for everyone!

Than you for your support, we really appreciate it!

Ha Ha AsusTek misspelled my screen name

Is the $2.49 for both PC and phone or $2.49 each?

Yugiro, for both. You, actually, will be able then install it to up to 10 devices.

Yugiro, for both. You, actually, will be able then install it to up to 10 devices.

What we really need is a true spectrum analyzer with waterfall. All of these are essentially useless.

WiFi Tool for Windows 10 is also a good choice, it shows also the Network Stats for each known WiFi Network

Ok, WiFi Commander developer here. First of all - than you for review, Harish, much appreciated. As SuperMarioPlayer very aptly remarked - we aim to ensure that some day any Windows 10 and Windows 10 Mobile user can tell Android and iOS folks that we have robust, useful and beautiful tool to analyze WiFi networks and assist with tuning your router - better then anything existing on any other platforms and something, that you can get only on Windows (and we truly assume that all other developers of similar tools for Win10 aspire to the same). For example, here is sneak preview of something that we are working right now for you guys - http://i.imgur.com/M9NXlmU.png. So, this is not just for money. Truth be told - as of now the amount of efforts any small team have to put into new app is much greater then possible revenue from sales later - the marked is still small and many users already get comfortable with the idea of free apps (thanks, Google Play). For many of us, developers, this just can't be primary job and we spend nights and weekends of our free time to help Windows rise once again. But we do put our efforts and love to what we do and humbly hope that you'll like what we've got and agree that it worth some small reward in the end. So, if you have any specific questions regarding app - feel free to ask here or send it directly to support@wificommander.com - we are, actually, very friendly here :)

5 stars in my book. Another WiFi tool in the WP environment is always welcomed. Worth the price of a cup o' Joe imo.

Just pushed small, but interesting update. Hope you like it :)
Windows Central Newsletter
Thank you for signing up to Windows Central. You will receive a verification email shortly.
There was a problem. Please refresh the page and try again.