Win a brand new gaming rig by entering The Witcher 3: Wild Hunt launch raffle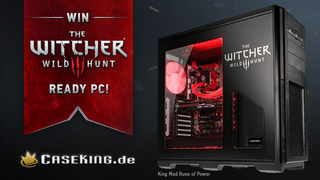 The Witcher 3: Wild Hunt developer CD Projekt Red has teamed up with Caseking and Dark Horse Comics to launch contests for Witcher fans before the title hits stores. You could win a signed collector's edition of the game, skateboard or even a brand new PC.
For the variety of Witcher prizes, all that's required to enter is to produce a work of art inspired by The Witcher. This project could be anything from digital to clay or even paint. Simply produce your piece of art and upload an image of it to the Dark Horse Facebook page or the main website.
The Grand Prize includes a PlayStation 4, a Witcher 3: Wild Hunt Collector's Edition signed by the dev team, autographed original game art, a Witcher skateboard, The World of the Witcher limited edition art book, The Witcher Adventure Game physical & digital editions, a t-shirt, The Witcher digital comic collection and Volume 1 of The Witcher comics. Contest opens today and will run until May 26. You need to be over the age of 18.
If the PC is what you're after, you'll need to like Caseking and The Witcher on Facebook, answer provided questions and supply your email address. Do note that the PC raffle is limited to European entrants, and the prize can only be dispatched to a European address. The Witcher 3: Wild Hunt is releasing on May 19. How many of you guys will be buying the game once it hits stores?
Rich Edmonds is Senior Editor of PC hardware at Windows Central, covering everything related to PC components and NAS. He's been involved in technology for more than a decade and knows a thing or two about the magic inside a PC chassis. You can follow him over on Twitter at @RichEdmonds.
What!!. First time I see a price for European. Normally I se US only

Several PC contests come and go every month all for US, who already have easy access to good quality top end hardware.

Well, CD Projekt Red is based in Poland

Fuck it, I don't know how to draw LOL. I'll stick with my current somewhat mid-end PC hahaha

Got a free digital copy of the Witcher 3 when I ordered my MSI GTX980 4G Overclocked edition :)

Cool I'm glad you have $500 to spend on a GPU. (Jealous GTX 560 user over here)

Glad I have 500 to spend on a gpu!? LOL. Man, I'm from Argentina. Then I change my statement, not mid-end, low-end?. My starting build (like 2 years ago maybe) was GTX 460 (used), i3, 4gb ram DDR3 and mini-atx mobo pack 3-1. I upgraded with 4gb's more of ram and an AMD R9 270x (because nvidia was 1k more -my currency 1 usdollar = 8-12 pesos) and I still have my poor i3 3220 which I need to upgrade who knows when? to a i5 if I get lucky :P Don't tell me you're glad I can spend money on a rig, because I don't and most of us here don't. Unless you're literally rich and you can "make it rain" the highest thing you'll see here is a gtx 770.

My comment was a reply to the person who said he bought a GTX 980 Overclocked, not you.

Oh I'm very sorry then! Pretend I didn't say anything haha

lol I'm still running a GTX 560 2GB with AMD Phenom II X2 550 Dual Core that I built like 5 years ago. And I'm in the US! I need to upgrade...I want either a GTX 970 or 290X.

The card you have is great, old but great and those two are amazing. I hope you get them
if you get those you'd need to upgrade the processor as well

Yeah I know, I'm debating whether I should upgrade the GPU first or not. In order to upgrade my CPU, I'd also have to upgrade my MOBO (ASUS M4A77TD). I'm also trying to decide between the the FX 8350 or an Intel i5 4690K. I can't really afford either now, so I might wait for the R9 3xx series to come out next month and see what happens with the prices of the older cards. The game I play most is Battlefield 4, and I'm only getting like 30 FPS on low settings :(

Don't feel bad guys, I'm still running my trusty old GTX 295 (dual gpu) which was once the top dog of nvidia cards. I remember paying over $600 for that dang card a few years back.. Now, it's a dinosaur... Can't run DX11 games, and the latest games that I CAN run with DX10 features, run kinda sloooowwwww.. :/ and yeah... No video card money here in the foreseeable future. :(

I just finished the 2nd one and am ready for the 3rd to arrive in the mail.

Y u no have links to the competition website or Facebook pages?

This is Windows Central. Get used to it.

http://woobox.com/p37kek/eutcpm

Read then lost interest in the contest

http://woobox.com/p37kek/euquzn

I love the Triton cooler! I have one in my rig too.

Doubt my stick man will win

Sooo....what are the specs of the PC?

Go to Game-Debate and find out ;) that's where I always go to see if my rig can handle a game or not...

Been waiting for this game since I finished The Witcher 2 years ago

The sweepstakes ended yesterday :-(, or am k missing the correct link?

Ooo that's a bit of a coincidence, I just finished drawing a bust of Geralt. Guess I'll just submit that

How about asia? :( guess we'll stick to the biweekly photo contest then. *sigh*

http://woobox.com/p37kek/ev6sus
Windows Central Newsletter
Thank you for signing up to Windows Central. You will receive a verification email shortly.
There was a problem. Please refresh the page and try again.