Windows 10 14393.594 for PC cumulative January 2017 update now out for Release Preview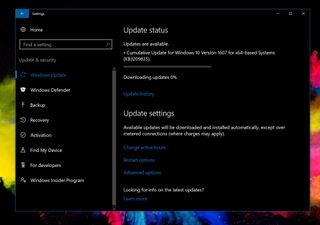 Although Microsoft employees are just getting back to work today, it looks like some cumulative PC updates are still on track for release.
Cumulative update KB3209835 (opens in new tab), which bumps the OS to 14393.594, is now available for those on the Insider Release Preview ring. So far, the update is for PC only, but sometimes they can be staggered for mobile.
The update does require an OS restart to install.
No information about what's in 14393.594 has been released, and the knowledge base article has yet to be updated.
As always, cumulative updates are simply bug fixes, OS optimizations, and general user improvements, but there are no new features expected. Assuming no show-stopping bugs are found the update should be pushed to Production sometime in the next two weeks.
We'll update this article as soon as more information becomes available.
Thanks, Ashish S., for the tip!
Windows Central Newsletter
Get the best of Windows Central in your inbox, every day!
Daniel Rubino is the Editor-in-chief of Windows Central, head reviewer, podcast co-host, and analyst. He has been covering Microsoft since 2007 when this site was called WMExperts (and later Windows Phone Central). His interests include Windows, laptops, next-gen computing, and for some reason, watches. Before all this tech stuff, he worked on a Ph.D. in linguistics, watched people sleep (for medical purposes!), and ran the projectors at movie theaters because it was fun.
Hope this is out for mobile because build .576 is murdering my battery on my idol 4s constantly overheating and high discharge rates (18-25%) even after a hard reset

Maybe your phone needs a few days to relax. Maybe you should turn off hey Cortana.

Hey Cortana isnt on and I've hard reset it over a week ago

Have you checked battery settings to check what apps cause the most battery drain? I've turned off background use for apps that I don't need to have running in the background.

Same here bro, I have so many bugs and slowness going on with my idol 4s

Glad I'm not the only one I get random freezes and 4-5 hour battery life that didn't happen before this build so bad I was considering swapping it out. I'll see how the next build does tho

My Idol 4S hasn't frozen and my battery life is still really good but I have been getting random reboots every now and then. That used to never happen until the last update was installed. Other than that, everything else has been great for me.

Often times mines will randomly freeze 5-10 second at least a few times a day. Doesn't reboot often either

Yep mines freezes a lot to. It really shouldn't be this slow and have so many bugs.

Battery on Lumia 540 is draining a lot since the last recent updates..i hope they fix it as for the upcoming update

I haven't got the .579 build on my 540 yet

Same here bro i recharge it twice in a day hope they fix it.

Sure thing, same experience here.

I just bought a Lumia 650 and it came on 14393.576. I haven't enrolled on any Insider Program so far. Would you guys suggest staying on the official build or going to the RP? What would you guys say is the better option performance and stability wise?

RP and production ring pretty much the same. I suggest you to stay with production build because it is best on my Lumia 540 and no major bugs till now

Stay where you are until they fix the upgrade failure bug with the 650s

I'm thinking of staying, too. Performance is too good for me to screw it up so soon. Thanks!

Thanks for the heads up! Just got the Idol 4S and was debating enrolling it in the Insider Program. Its been working great so far, didn't want to jinx it.

This is not quitr normal. My 950xl has no such problem. Now, i am not claiming the battery is good.

I'm definitely ready for some new insider builds

My co-worker said he got this update last night. He also commented its running great. One other thing, he said it was a LONG update so bring a sandwich and a drink.

Is it just coincidence? Or I just see that they want to give praise to the new Snapdragon SoC by naming their KB update with 835 last three numbers. I think its so cool!

Lmao, the connections some people make.

and 14393.693 could still get pushed out :)

14393.549 moblie release ring is out now

Can anyone confirm its rolling out to mobile too?

Nope, and it will probably be next Tuesday (Patch Tuesday), I'd expect a 14393.6xx build.

Just checked and it's showing up for me. Downloading as soon as I'm on wifi. Idol 4s PR insider.

Just checked and it's showing up for me. Downloading as soon as I'm on wifi. Idol 4s PR insider.

Just checked and it's showing up for me. Downloading as soon as I'm on wifi. Idol 4s PR insider.

I think I turned my computer on two weeks ago.

Won't install for me (PC), stuck at 10%

My lumia 925 camera flash doesn't work I hope they fix this. :(

Lumia 925 is not supported on Windows 10, but the November updates (1511) will continue to run if you have it installed. They did update the production build for older Lumias in December I think, but the update was the first in maybe a year, so do not expect more updates for these older phones. Windows Phone 8.1 is still supported on Lumia 925, if you have hardware issues you want to report to Microsoft. In terms of software, you will not get more updates to the 8.1 OS. Only apps, in cases where the app developers support the OS.

I'm on 14965.1001 with my Lumia 925. Running pretty good. Last build was more stable, but it's good. Would never go back to 8.1 personally.

Yeah, it is possible even though not endorsed. I may try running newer Windows 10 versions on my Lumia 920 in the future, but right now it runs fine on the latest 1511 version (10586.682). I might try it when Skype gets permanently disabled on obsolete versions of Windows 10 Mobile and Windows Phone OS 8.1.

14965? Why aren't you running the latest RS2 build?

A lot of people have hacked their x20 phones to RS1 and RS2.

New build and sooo nothing noticeable changed....

It is a maintenance release. No new features, bug fixes only. This is the release branch.

My pc working properly. So , i don't need this. And like to install the tuesday patch .

Release preview is pretty much the production ring there's one usually one update a month on the production ring. The release preview ring will get it at the same time as the production and sometimes in between updates the release preview may get a smaller update in between that may never make it to production. Also release preview gets app updates a bit faster than production ring as well. Me personally id go with the release preview ring

Both my pc can't install this. Both stuck on 95%. Anyone a fix?

It would be good if this fixes MS Account and syncing. Seems like many have the same issue. Favorites are the most noticeable but looks like syncing in general is broke. Noticed after .576 but could have started before.

It finally installed this morning, took nearly 30 minutes to update/shudown/restart, normally these updates take3-5 minutes tops (PC with SSD system drive)

A few of my lives tiles are no longer live after this last update as well. Tons of bugs on the L830, but I'm not expecting any fixes...

How did you manage to upgrade your mobile with the pc version?

I didn't. I'm just complaining about mobile like everybody else :)

Was a big windows fan..now using xiaomi resmi 3s prime..

Gave up on the Preview program after it killed my PC, got it running again, just to find out 1/2 my apps didn't work (not all store apps) right...

I wish everyone luck with their Idol 4s, Elite and 950s. Reading through the comments about the issues people have even while on the official and preview release of the OS further confirms my decision to switch my daughter and I to iOS is a good one. 6 years and we have to leave WM. I appreciate the information and support the community here has offered over the years. Farewell and maybe I'll see you at iMore.