Windows 10 and Office Mobile apps signal the end of most free Office 365 offers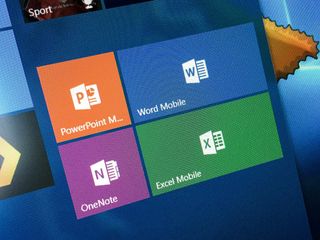 Windows 10 begins a new era of working with Microsoft's Office apps (Word, PowerPoint, Excel and OneNote) on tablets and touchscreen notebook. It also means that Microsoft will soon no longer offer a free one-year subscription to its Office 365 service for those kinds of devices, according to a new report.
Microsoft launched the universal Office Apps, built specifically for touchscreens, for Windows 10 tablets alongside the release of the OS itself on July 29. As Neowin reports while these free apps don't have all the features of their Office desktop counterparts, they do have most of the features that users will need to create and edit documents for free.
As a result, most Windows 10 small screen tablets and notebooks won't come with a free year of Office 365. The offer will still be available for those kinds of devices sold with Windows 8.1 pre-installed, but it's likely those products will be slowly going away in favor of ones with Windows 10. There will be one small exception; the Surface 3 tablet, which is now sold with Windows 10 pre-installed by Microsoft, will still come with a free year of Office 365 Personal.
Neowin got an official, if somewhat vague, response from a Microsoft spokesperson about their plans to phase out the free Office 365 office on some devices:
If you are set on getting a new tablet or notebook with the free Office 365 offer, your best bet is to get one now with Windows 8.1 pre-installed, and then when you have signed up for the free year, you can then safely update that device to Windows 10.
Source: Neowin
Office is a software that everyone using a PC should definitely buy, regardless of whether they're going to use it or not.

Why should anyone buy it if they dont intend to use it?

I agree most people don't intend to use do not need it, but some may find they actually need to open office documents from unexpected sources like potential employers, or have to prepare file in office format like uploading your data to a tax service, things like that.

WordPad can open DOCX and ODT, and that's the large majority of documents people will be getting from other people. If you don't need Office Software, you should not be wasting money on Office. And even then, you can get LibreOffice for free. Look, I'm an Office Subscriber, but only because I track my training in Excel - and I'm 110% sure I could do that in Numbers or LibreOffice Calc just fine, I just started it in Excel and am too lazy to move it over for the moment. There is no need for people to even spend money on Office Software, unless they're using it for Work reasons, or educational reasons where Microsoft or WordPerfect Office are the only ones that can offer the necessary compatibility when collaborating with users, or with Add-Ins they need to use.

WPS office isn't half bad either, even has the ribbon.

The Office Mobile apps can open, view and do small edits for free, no subscription required. As such, thanks to Windows 10, I disagree: Unless you're a student, educator, or otherwise in some sort of line of office work where full Office is essential (Which admittedly a massive chunk of the corporate world): I think it's safe to say the free Office Mobile apps will suffice for the needs of most.

Completely wrong. Microsoft Word Viewer is free and enough to view all Word files with! I do not think people know it is free to view files (!) so they are indeed wasting money. Or, just download Microsoft Office to an iPad, if you have one. You can also view files just fine in your Lumia phone for free, especially in Office mobile for WP 8.1 since it is always going to be free forever. Or, use any free Office suite out there if you rather want that. Remember, Microsoft Word supports the ODF file format, so you can open and save files written in LibreOffice and Apache OpenOffice. I am a Microsoft whole-year Office 365 subscriber. I like it a lot, because I have the 1 TB Onedrive feature (is it unlimited yet, btw? They were supposed to implement that). Also, 60 minutes of Skype calls per month, etc. Those make it worth it. Office itself is not worth a yearly cost for me, but for some it is.

I've been using the same copy of Office XP for 10 years and I have zero issues. The MS compatibility pack works perfectly.

Yea I have a copy of Office XP SBE somewhere that I could probably install on something and use, but honestly I've gotten used to the Ribbon in Office and going back to Menus and Toolbars is... jarring. In any case, for someone to use at home I'd use WordPerfect Office Home and Student before I'd use software that old. There could be vulnurabilities. It's not safe, Lol. You can get that SKU of WPO from Amazon for < $50 for a perpetual license. Very cheap for Commercial Quality and the best Office Compatibility outside of Office itself.

Or they could use Open Office for free and get what most people actually need.

Or just use the free Office Online tools...

The free Online Office tools: 1. Pale in comparison to what you can do with LibreOffice (or OpenOffice) 2. Do not work online. 3. Performs pretty horribly, in practically any web browser I've used, and has bad screen real estate usage - especially in Microsoft Edge, has no full screen mode like IE did. (And yes, I've tried Toggling on ASM.JS in about:flags, as well as using Experimental JS features (both together and individually each of them)... It just performs badly especially while working on decent sized documents with a lot of formatting).

And get a lot of stuff you also don't need, like corrupted files and incompatible formatting with the rest of the world who uses Office. I can't tell you how aggravating it is to keep receiving files made by those using Open Office and having to spend 6 hours fixing what could have been avoided if they'd used a better tool. I've missed important deadlines because of this. And once even an entire nearly-done document from someone who didn't have a backup and suffered a major file corruption.

I've never had issues with Files Corrupting. Incompatible Formatting will happen even with first rate Office Suites like WordPerfect Office. It even happened often between different versions of Office, and Office across different platforms (Word:mac to Word 2013, for example). People who don't generally need Office, but buy it "just in case" don't have to worry about those things happening, since 99.99999998% of the documents they create or open will be their own, anyways. Office 2013/2016 Reads and Edits ODT formats as well, so if the other people use Microsoft Office, WordPerfect Office, or LibreOffice/OpenOffice you can simply use one file format and not have to worry about conversions - at all. Really, I get that you guys are fans of Microsoft. But, using FUD to advocate people waste money on products they do not need is kind of disingenuous. Whenever I set up my Mom's PCs, I always set her up with LibreOffice set to save in its native format. Because Office can read and edit it, it's simply not an issue. And she has never had any of the issues that you're talking about.

To each their own. But he just gave you an example of trouble he has had before with the free alternatives. Personal experience does not equal FUD. Incidentally, I use LibreOffice as well (and have used Open Office as well) and, while useful, they are in no way, shape, or form on the same level as MS Office. I still get crazy formatting screw-ups when copy and pasting into Libre.

No, he's telling other people that they will have those issues, in a vaguely defensible way... A way that you seem to have found ;-) And honestly, those issues have a lot to do with people not knowing how to use a word processor properly. That's not sarcasm, either. Like you, copying and pasting formatted text from one document to another. That's not how you do it. You edit in plain text and then you format with Styles. You learn the difference between Line and Paragraph Breaks. You learn the difference between tabs and spaces and know where to use the appropriate ones when formatting a document. The issues you speak about are much easier to fix in WordPerfect, with Reveal Codes, anyways - as you can inspect the document at a lower level and simply remove [and replace] the formatting codes you need to fix the document. Microsoft Word is the convenient choice, not the best choice. Most people who are power users of Word Processors kind of dislike it (to outright detest it). Office sells a lot of licenses on the back of Excel and Outlook (for Exchange Connectivity), and the fact that people know it as "the industry standard" (and thus, buy it "just in case"). Excel from a basic comparison can be completely replaced by Quattro, but its ecosystem cannot be replaced easily and that's why it's become the staple. What Excel can't natively do, there is likely an Add-In or Software Package with direct Excel Integration that can. No other Spreadsheet has an ecosystem that can compare to that these days. There is a lawyer who built an entire case manager in Quattro Pro, so the software is clearly capable. It's just not as convenient as Excel. And yes, Excel has advantagest in other areas as well. It's the one Office Application that gets the most development from Microsoft. They understand how important it is for them to stay ahead there to sell Office Licenses, since Word and PowerPoint are so easy to replace with superior offerings. The first thing someone should ask themselves when evaluating if they should buy Microsoft Office is "How do I use Excel?" If you don't use Excel, then Skip Office and use either a Cheaper Office Suite (WordPerfect Office Home and Student) or a Free Office Suite (LibreOffice 5). If you use use Excel with no Add-Ins, and aren't using it in a Work-Oriented Way then it can be more than completely replaced by Quattro Pro. If you use Excel on a very basic level, then it can be more than completely replaced by LibreOffice or OpenOffice Calc. If you're on a Mac, just forgo any alternatives and stick to Numbers, as it will work for that and it's a lot easier to use than Excel. Word doesn't matter that much. If you have a clue how to use a Word Processor you won't run into any issues. If you're a heavy writer, then you should look into something like Scrivener to avoid developing the bad habits you have (like copying and pasting formatted text into a document) and then export from that Software to DOCX, RTF, PDF, etc.). If you're in Government or Legal then WordPerfect is clearly superior to Word and often what they use, anyways (one of the few niches where WordPerfect has great penetration). On a Mac Pages can replace Word for 90% of users. PowerPoint is pretty much on par with Presentations on Windows, and worse than Keynote on Mac. LO/OOo Impress is the one module that gets the least development. If you use Presentation software a lot, then you're probably gonna want to pay for your software there. And I would buy Home and Student Edition for Home users, not subscribe to Office 365. Given how often it makes sense to actually upgrade your office versions, the subscription is a waste of money from a long-term perspective, unless you have to buy for multiple people. Even then, you can get Corel WPO H&S for < $50 perpetual license so you'd require like 4-5 office licenses before it makes sense to get Office 365 Subscription over paying for an alternative (that's completely ignoring the fact that LO/OOo is available for free and may work well enough for you).

I've never once experienced any of the things you claim. My company employs over 4000 people and every computer that is distributed to employees has open office installed from day one. It's very likely that you keep recieving files from people that don't actually know how to use the software, and that's their fault, not the fault of the people that made the software.

This. I finally just paid for Office during school when I was putting together a semester long project presentation and all of the images from Libre Office became almost black every time they were opened in Office, which was what the presenting computer had. That and a ton of other issues. I spent more time fixing formats than on creating the presentation. I hate to spend money, but real Office has gotten rid of an awful lot of stress and frustration. Not to mention the storage and Skype discount, which are put to good use. The Skype discount alone makes my year of Office only $45.

Most ridiculous comment I've read on here.
If you have no use for something, why buy it?!!

MS make these apps to buy for busines people per every year , by project astoria we can see any open souce office app coming to store,for now pc/tablets can had full featured android office app using bluestack and other .For Mobile with latest windows phone 10 build can deploy Office suite 8 apk and had full featured office suite working flawlesly http://apk-dl.com/download/android/com.mobisystems.office/7D-apk

Trolls used to exhibit creativity and sophistication in their responses. Better days.

But having Windows 8.1 pre-installed means that the recovery image will be Windows 8.1. If I someday need to factory reset, it'll always end up as Windows 8.1 and I'll have to go through all the upgrading process again. Good thing that the activation will be hastle free since it'll be with MS account, but still... updating is hastle.

When you want to factory reset you use the reset feature in Windows and that's all you need to do, you can remove the old w8.1 recovery partition as that's no longer required anyway.

Thats what they are talking about. The recovery partition is what the "Refresh" and "Reset" options in Windows rely on, as the recovery image is a copy of the clean Windows installation, post-OEM customizations. Deleting the recovery drive also deletes the copy of the WinRE environment, which is used to recover the PC when Windows is in an unbootable state. If they were to follow your suggestions, they would need a USB key or DVD with the Windows 10 ISO burned on it in order to refresh or reset their machine, as machines w/o a recovery partition rely on the ESD or IMG found in the sources folder of the Windows setup disk. They would also need this disk or drive to boot into WinRE (unless Windows 10 installed a fresh copy). Furthermore, the newly reset machine would lack any and all drivers that do not come preinstalled with a "pure" Windows installation, requiring them to redownload any and all drivers from the OEM (if supported.).

When you upgrade to Windows 10 your actually left with two options, you can refresh the PC which will keep Windows 10 intact but bring it back to a factory state, out you can revert Windows back to the previous installation. Worth noting, I think the settings says that after 90 days the revert Windows option will be disabled and the backup removed.

Or in my case, 0 days. It said 30, but 5 days later it said it didn't be rolled back.

Windows Need Recovery Files to perform a reset. I had a Tablet that I upgraded to Windows 10. The upgrade removed the recovery partition automatically. When I tried a Reset in Windows 10, it asked me ot supply a Windows volume before it would reset. Basically, the tablet cannot be reset without hooking up a Windows 10 USB Stick or DVD Disk via USB OTG. It has virtually no effective built-in factory reset function as a result.

I had the opposite affect. I had a DV8P tablet with 8.1 on it and in 8 I needed that partition to reset/refresh. I completly deleted everything and installed W10 on it and can refresh it now without media. I was under the impression anyone can reset now without the media. Maybe I am wrong?

Those 1 year free offers are a good reason to buy windows phones, so I hope they will continue releasing them

Maybe they'll change them to OneDrive vouchers

They only mention tablets and notebooks, the article says nothing about phones

Does this effect the free offer that I got with with my Lumia 640?

To get update office with windows 10

So there are two different versions of office mobile? One with a subscription requirement and one with no such things?

Office Mobile will only work without O365 on devices 10" or smaller. It's essentially detecting the screen size to determine whether editing is free.

does it works for someone?? it does not works for me! I have a 10,1'' tablet and it does ask for a 365 suscription! patch needed? other version to install needed??


Is office on Win10 mobile no longer free? I'm asking because it's been asking me for a 365 account which i found odd since office was one of the key apps that was built into Windows Phone for free and even got marketed as a selling point over the "competition."

Office mobile is free, but there are extra features you get with a 365 subscription, I believe

Office mobile is supposed to be free for small tablets. I installed it on a windows 10 small tablet (10') and it ask me for a 365 suscription. what is going on?????

Same here on an Asus T100...
Fortunately, I discovered fairly quickly that PowerPoint Mobile is pretty rubbish. There is no grid view option for slideshow preview....which makes it a hassle to move slides around. More importantly though, PP files bigger than ~100Mb do not option.
Fortunately, I have a 4 year Office 365 Home licence (courtesy of the super cheap Office Personal > Home upgrade trick)...so I've ditched the mobile apps.

So the money making machine is starting up. Glad i stil have the good old office on the old fashion way ;) At first it was the here drive which could make a difference, later on it became the office suite. What's next......They ( MS ) needs to put more honey in the jar to attract more users.

Well, they have to make money somehow. It is a company with employees to pay and stockholders, pension fund investors, etc.

You're talking about Windows Phone devices, right? (I assume this because you mentioned Here) They are making it FREE for devices with screens up to 10.1", which means all the phones and small tablets are going to get a free version of Office Mobile apps. And if you compare those apps with the integrated ones we have on Windows Phone 8/8.1, then we are all winning because the new ones have way more features. And for devices with bigger screens and packing the full Windows 10 desktop OS, it won't be free like it always was. Office 365 is cheaper than paying for a version-tied license every 3 years. The promotion to get a 1 year Office 365 Personal subscription plan is what's ending. Why? Because they are giving you an app with most needed features for free. If you can't pay or don't want to, these apps might be enough for an average Joe.

"Average Joe" version of the Office App (Read Universal Touch Version) should be made free for all devices of all screen sizes - makes more sense & avoids a lot of confusion. Keep the full fledged version a paid option for the office ninjas who need the advanced features... Its High time they did it... If you just want to edit a simple document you need a subscription or a third party software that dosent compliant with all the formatting... OS X has it own suite... Why not Windows... ???

Because in consumer market, Apple depends more on device sales & MS previously depended on OS & Office sales. MS is trying to broaden its consumer market with many recent moves but doesn't want to take risk to let go the majority of Office users/the average Joes on laptops/desktops. My opinion tho.

Except a lot of people are getting the free subscription with a device that has a screen larger than 10.1" Which means those "free" Office apps are essentially useless to them without a 365 subscription.

This is kind of crappy. A number of budget 11" to 13" devices, such as the HP Stream series, come with the free year. These devices will be left without a free office option (aside from Office Online, which is naturally online-only) for new buyers, as the Office Mobile apps are only "free" if your device is under 10".

I think they should make the Office Mobile apps free on any device. I find them kind of crappy anyway. Was amazed that no keyboard shortcuts were available. I'm already considering reinstalling the full apps on my Dell Venue Pro 8 from my O365 subscription.

Yeah, spend some bucks for retail Office (2013/2016). They don't have to buy the subscription (Office 365). For a 'legal' budget buyer.

I thought the free office 365 is only a one year subscription. You have to pay after one year if you want to continue. The Mobile Office apps are free for devices under 10.1 inch. That's a better deal for my Dell Venue Pro 8.

It's only a One Year Subscription. This is what happens when people take time-limited deal and convince themselves that it's forever. I still think not giving the Modern Apps is kind of crappy, since those apps are at beast on par with the Web Version, the only benefit to them is that they can run Offline and they perform better. They are simply not viable for anything but the most basic of uses. They are missing functionality regarded as pretty pedestrian in modern office suites - lots of functionality. I don't see the point in putting them under a subscription. It's not like anyone on a Laptop is going to want to use that, anyways, unless they're on one of those crappy low spec/low storage netbooks. They should have just made them available for only Tablets and Phones and avoided the confusion to begin with.

These are great apps but have the same issue as every app else has using Windows 10 OneDrive - you have to sync the files to your PC / Tablet to access the files. Given I Have 240 Gb of files to access OneDrive is retrograde compared with Windows 8.1.1

Surface RT is still the best. Full Office. Love mine.

Perhaps the only remaining benefit for you RT users :)

Office is not that expensive. I mean the buy it option not the 365 one. if people needed it there is no way not to buy it or rent it. or someone could crack it, for what I care or know most people on internet. but office is nice, I am not talking about word and stupid things that I can do on notepad or things like powerpoint that I can do on paint. I am talking about excel, the best example of how good office is, when you truly use Excel and you know how to use it, it's one of the best sofwares ever made. not crappy =2+2 I am talking about real stuff. my dad does it, and sometimes he explains me stuff, while I know some, he knows more and it's just great thing on earth for his accountings.

It's awesome what can be done with OneNote and Word too. Really, all the Office software can be awesome, it depends on your needs and knowledge :)

Anytime I've tried google docs or anyting with the word "open" in the title I realize how much of a great value office is.

My subscription goes all the way to 2017 and I Have Lumia 640.

Is this actually true or someones guess? Before free 1 year subscriptions to Office 365, machines came with Office Starter edition, which is effectively the same scenario as getting the mobile apps for a free and then upgrading to get full functionality. So has the free year subscription been less effective than Office Starter was? I would have thought there would still be a benefit to giving away a years subsription with a new device as it gets people to subscribe. The same as ay company offering a free trial period for a subscription service, the benefit comes from when people don't cancel the subscription. If your device comes with Office 365 for a year, at the end of the year people will keep it because there not sure what functionality there going to loose or will assume they loose the whole thing. Relying on people to actually upgrade would surley result in less subscriptions as there's less insentive.

Before that, Computers came with Microsoft Works or Works Suite (Works + Microsoft Word), which did 3x more than the Office Universal Apps. Microsoft stopped developing Works to push Office Starter to sell more Office Licenses, because it marginalied Office in the Consumer Market. People just never felt a need to buy Microsoft Office, since what came with their PCs did everything they needed to do.

I have a 10" tablet and currently use 365, will I have to downgrade to mobile? Or will I have to pay to keep it fir another year? I don't mind paying, but need full Word so don't want to be forced to use mobile.

No. 365 subscribers can use the full-fledged Office.

Strange behavior of Office 365 under Windows 10 A couple of days ago, I was sitting in a cafe, touch typing merrily in Word of Office 365 -- the laptop uses Windows 10. Almost immediately, I noticed that the words in the document lagged behind my typing. OK -- I am not a very fast touch typist, but manage some 60 words per minute. But the response in Word was *horrible* -- I had to stop typing to wait until Word caught up with me... which could take up to half a minute. WHY is this happening? Could it be that Office 365 stores documents to OneDrive/the cloud, and doesn't show my typing on screen until the text has been stored to the cloud? If so, this makes Word unusable to me. The only acceptable is that Word stores documents to the local disk, and then the OneDrive system handles syncronization to the cloud in the background. Or... is there another reason why Word should show this horrible response? I'm not aware of other programs running in the background at the time. Perhaps an update of Win 10 took place, without me noticing it?? OK -- after a while, Word became more responsive, but still the responsiveness was not impressive...

I would blame that on Windows 10. I've seen it happen on a few different devices and applications. Sometimes the system CPU runs out of control on Win 10 and gets everything unresponsive.

I'm just happy I have my perpetual licenses of Office 2010 and 2013. Office 365 is awesome, no doubt, but its syncing services can still be done with a perpetual license to the software. Although I wouldn't mind the extra storage on OneDrive....maybe I could just get that instead. :)

I'll never get rid of my Office 2010 perpetual license version. It's great. If ever I can't use that, It's Libre office for me, at least at home. Work: O365 all the way.

Its called a free lunch for a reason. You pay for dinner and the next day's breakfast on your own.

if you need windows key, you can click here www.aakeys.com after i used it, my windows works well

Aha, same question as what I raised several days ago. I bought a new computer and the new operating system is Windows 10 key. When I tried to activate the system, it prompted me that I need to have a product key. I asked friends and one of them recommended me the site www.Microsoftkeystores.com from which I could easily order a product key. Then, I just followed his advice and really activated my system with the purchased product key. It didn't cost much and bought me a convenience service.
Windows Central Newsletter
Thank you for signing up to Windows Central. You will receive a verification email shortly.
There was a problem. Please refresh the page and try again.