Windows 10 Anniversary Update begins its worldwide roll out to PCs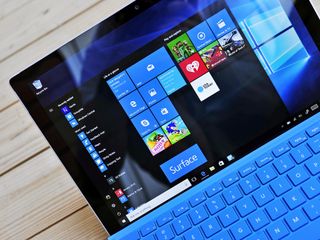 Microsoft has officially announced that the worldwide rollout has begun for the Windows 10 Anniversary Update for PCs. The new version number is 1607
Microsoft has already stated that this roll out of the free update Windows 10 will be conducted in stages; in other words, not everyone will be getting the Anniversary Update today on their PC. It will depend on a number of factors, including what device you own, where you live and how you actually install the update. In a blog post, Microsoft stated:
How you can get the Windows 10 Anniversary Update
This update will add a ton of new features to Windows 10, most of which have already been tested by members of the Windows Insider Program. They include the addition of Windows Ink support, extensions for the Microsoft Edge web browser and much more. The Anniversary Update will be released to Windows 10 Mobile devices "in the coming weeks."
Check out our review of the Windows 10 Anniversary Update
More Resources
Windows 10 Tips, Tricks, and How-tos
Windows Central Newsletter
Get the best of Windows Central in in your inbox, every day!
Question is - is the media creator tool already updated

This is an important piece of information people are looking for, as promoted by an earlier article in this site itself, and as such, merits being included in this article.

I'm looking to make a clean install using the media creator. I don't like upgrades, They always break something. A clean install is the way to go.

Def wondering this myself. Or is there an ISO available yet?

Just checked, its now available via MediaCreationTool.
Update: ISO also available on MSDN subscriptions and TechNet.

The RefreshWindowsTool has been updated too, that's the way for me, I hope it solves all the problems I've got on my PCs

Confirmed. Media Creation Tool is updated. Check properties to make sure. Posted via the Windows Central App for Android

Checked the properties of the version I just downloaded, says version 10.0.14393.0. Looks like the new one. Thanks for the TIP!

google is f***ed up!. Open google news and they are not showing it in trending news while rest of the world says otherwise.

Yes!!! cant wait to get hands on this :D Update - in the UK - Downloading on SP4 now and Desktop PC (didnt come with Windows 10)

Hmmmm..updated PC, cant install any of the extentions in Edge, says, there was a problem and to reinstall, not sure what to do, restarted PC etc, no joy. Surface Pro 4 seems to be stuck on a black screen with spinning wheel thingy for last 30 min, is this normal? On pc it had messages on the screen.

Yeah I had the same problem with Edge and extensions - anyone had any joy solving this issue?

Yeah, it still needs some plumbing...

Where have you read it will take weeks? There are no big bugs in the current version.

Official blog post. Believe me there are some nasty bugs. Maybe they affect fewer people

Where have you read it will take weeks? There are no big bugs in the current version.

Last sentence of this article we're commenting in...

The Anniversary Update will be released to Windows 10 Mobile devices "in the coming weeks."

Saw that, there has been no new big bugs in the feedback hub though which is strange.

I think user forums are a better indication of bugs that people are facing: Edge is broken with some websites when text scaling is enabled, Wi-Fi still drops randomly, keyboard has been more erratic lately, Bluetooth audio still stutters...

The forum doesn't help anyone. Bugs in thr forum are not fixed.

They are still bugs. I'd say they do frequent Reddit and Twitter for feedback as well.

Microsoft's "Coming Soon" TM hahaha

Are there companies that doesn't have things that are coming soon?

According to the article:

The Anniversary Update will be released to Windows 10 Mobile devices "in the coming weeks."

Probably some MS rep said that.

Windows mobile is a lot better lately, almost ready for launch I'll say, desktop version on the other side has huge problems in Steam, Arc games and Curse mods client, problems on this version have not been corrected.

Guess I'll check back next month then...

I see you are an optimist! :-)

Coming weeks. Date,not confirmed.
So disappointing :(

But Hololens got the update! That's what really matters!

Enrole to Insider Preview and chose "Current Build". Your phone will be enrolled instantly if you have a device that are able to get an insider version.

Downloading in Belgium :)

What is the new version number..is it same as insider preview

Yes, insiders on all rings have the build others are getting today. 14939.5 I believe it is with a .10 update available as of yesterday.

Yep downloading: Feature update to Windows 10, version 1607 :-)

Downloading in Norway. It's not available for my 950 XL yet.

For the 950XL you can enroll for the Insider Preview program and get the latest build. Just install the "Insiders Preview" app and enroll your phone. Chose the "Current Build" version and it will give you the new Anniversary Uppdate. The phones enroll instantly.

Waiting for mobiiiiiiiiiiile :v

Haha Posted via the Windows Central App for Android

Oddly enough, I got .10 (KB3176929) at 1 am this morning. I was on the preview build of .5 and opted out right after I got it. This is assuming that .10 is the actual RTM build.

They covered that this morning. .1 is a day one update so to say.

I found a way to speed up the update, if it is not available to you, go to the Microsoft site where you get the media creation tool. Select update your pc, it will download an application. After that it will tell you that you are ready. After that go to Windows Update, click check for update and it will be there I have been trying to get it all day, and after doing this it worked

Feature update to Windows 10, version 1607. My PC is downloading .... now waiting for mobile!!!

Not available in Slovenia, yet.

Bárcsak ne halt volna meg a gépem :S Nem baj, nemsokára megoldom :D

Stop it please, I have got three PCs of three with problems in Steam, Arc Games and Curse Mods Client, different PCs, all with the same problems, in two of them Steam store stays in a loop, in the other one it never starts up, Arc game crash at the start in the two of them that have it installed.

I have none of these problems with Steam.

It happens after the update, resetting or re installing steam doesn't help, only resetting windows, which is not a problem in a preview pc but a huge problem for gamers without a minimum knowledge on the subject.

Do you have evidence the problem isn't with Steam or something else you're installing? Seems odd that it seems specific to you.

I have found a couple of Insiders with the same problems, I have evidences, I have posted feedback in the hub, I'm not a troll, I'm truly worried about this issue, I'm using my time to make people aware of this, if you ppl decide I'm a troll and it's not worth to hear me ok, I will stop talking here, I'm an insider since the beginning I have four Windows PCs and two windows phones, and not a single android or ios device, but truth is the anniversary update can not be treated like a new OS the update process must be flawless, it is not.

Steam worked ok before the update on both PCs in the Release ring I updated

I m waitiing for mobile.....when iits gonna rollout??

In few weeks it will hitt x50 first.

Is there anything we have to do to get it on our phones? For some reason I don't have production option on windows insiders app anymore.

I guess it will be rolled out later than the PC update. We'll see!

Mobile is left out.. as expected -_-
Btw windows central app still crashes while scrolling through comments!

The app will never stop crashing lol

few people tried to gang up on us when we questioned about mobile update previously, now where is the update for mobile ? the main issues we have with mobiles and they didn't have any word about it... this is awesome....

Theey already responded, and MS said later, because PC is important since it has more uses so it will get priority and they leave the mobile for later days since they need to be orgnized about it since they have millions of millions of users that will get Windows 10 Anniversary Update.

I believe you were warned that mobile is not a priority in 2016. Maybe the update for mobile will be out in time for Thanksgiving. Posted from my Note5

Just downloading the update now, hoping that the PC doesn't become a useless pile pf metal and plastic.

do you got to be on fast, slow or wat

This is for non-Insiders, Insiders got it already.

Just checked, its now available via MediaCreationTool.
Update: ISO also available on MSDN subscriptions and TechNet.

MS is telling us it is one system across the devices, but now it turns out mobile is not rolling out today. How come? Damn

Downloading it on my windows 10 laptop now! I'm so excited! Can't wait for it to hit my Lumia 640 XL too! At least we get PC for now :)

downloading now on my 3 year old laptop. ASUS K55N

Updating my mum's 5 year old Toshiba with first gen AMD Apu. :D

Yaaaas downloading : Feature update to Windows 10, version 1607 I guess thats it :)

Updated last Friday, release preview insider. I want an updated ISO though for if I need to clean install Posted via the Windows Central App for Android

When is the review for mobile?

Updating 3 PC's and one phone. Just thankfull that i have moved forward from my first modem a 33.6K baud monster.

So I joined insiders again when 14393.0 was released, and left completely after a couple days. I installed the .3 and .5 cumulative updates successfully from bat files/command line, because they wouldn't come through WU (obviously) Received .10 through WU today. But ever since I left the insider program, on the insider settings page I get the message "another administrator has set up this device to successfully receive builds. If you want, you can take control of what builds this device receives" There is a "take control" button, but when i click it nothing happens. I have only 1 account on this laptop, its an administrator/microsoft account. It probably wont happen, but I am worried about receiving rs2 builds randomly when they get flighted. I have even tried a reset aka pseudo clean install and still get the same message. Other than that annoying issue, everything is perfect. System is running perfectly smooth. Anyone else experience this? Anyone know how to get the proper insider menu back? Any regedit entries? Bueller? Bueller?

i have the same issue. did you ever get this figured out? i'm the only administrator so the error is bizarre. please let me know if you found any solution.

What is the size of update?I am currently on 10586.494. I mean how many MB should i download? thanks

Downloading, Is it called "Feature update version 1607" or something along those line, right?

I knew same is gonna happen with Mobile. That's no good at all.. :(

Hope all the updates for windows 10 stays free like this anniversary update

Purchased a new computer a few weeks ago so I am definitely updating. I'm in Barbados and it's 50% installled.

how much in size these files?

Why is the version number 1607 and not 1608?

Only thing I can think of is they wanted to keep it technically one year from the original release, even though it didn't make July.

Anyone know if the update is ready for enterprise editions of win 10?

Actually, Dona said it is also coming today for Mobile, but later. Check her Twitter.

Yeah me to getting on my Surface pro 4 feature update ver 1607 Posted via the Windows Central App for Android

I'm getting it already on my surface pro 3. Just finished downloading; now preparing to install.....50%.....so fast

Downloading on my Surface Pro 3 from México!

Correct me if im wrong but is the anniversary update for mobile just these features we have on insider builds for people whose not insiders? Meaning no new features for fast ring insiders?

yes thats exactly how the system works. Insiders have tested the features and now they get released to the public. soon insiders will get new features to test once the anniversary update has rolled out to everyone and any extra bugs have been squashed

Who else is spamming check for update in their phone???

It's not being released on mobile for the next few weeks. Get the latest Insider build if you can't wait. Posted from my Note5

Had it pop up on a friend's laptop yesterday right after I setup their wireless printer. They thought it had locked up for a few minutes. Should have communicated expectations to the average end-user better. Fortunately, I was still there and made them wait it out. Took about 1/2 hour.

My laptop is getting it but my brothers is not

can you tell how big in size?

It's 3.95 GB English international 64 bit

go to following page. You will see upgreade button if your machine already has windows 10. Download it and it will start upgrading process. https://www.microsoft.com/en-us/software-download/windows10/

http://software-download.microsoft.com/pr/Win10_1607_EnglishInternationa... Enjoy Saurav kumar4421

If you don't get update, open following page. It will show update now if your machine already has Window 10 installed. Just click update and it will automatically update IS to latest version. https://www.microsoft.com/en-us/software-download/windows10/

I just clicked 'Install' :)

Started the update on my SP4 while in the 1st gen dock and got stuck on a reboot (spinning dots for an hour). Forced restarted and it automatically reverted back to previous version. Took out of the dock and trying again...

My SP4 stuck on spinning gear with a blank black background for last 30 min....

That's exactly what mine did. Currently up to 71% on 2nd try.

W00t! It worked this time.

Update didn't work. It "reverted back to previous version"

I'm downloading update for SP2 pro and another PC, hoooooooray :D

I get following error. Any clues please? http://questionsmicc.com/windows-8-1/250997-Can-t-upgrade-to-windows-10-... http://microsaquest.com/windows-8-1/251386-Can-t-upgrade-to-windows-10-b... http://shmimicros.com/windows-8-1/249966-Can-t-upgrade-to-windows-10-bec...
Windows Central Newsletter
Thank you for signing up to Windows Central. You will receive a verification email shortly.
There was a problem. Please refresh the page and try again.