Will you get the Windows 10 Anniversary Update on August 2nd? Maybe.
Windows 10 Anniversary Update launches on August 2nd, but it doesn't mean that you'll get it that day. Here's how Microsoft will roll out the update.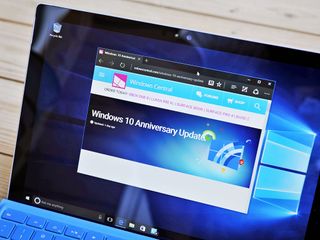 Microsoft is officially launching the Anniversary Update for Windows 10 on August 2, 2016. The new version of the operating system will be available simultaneously for laptops, tablets, phones, desktop PCs, and even the Xbox One as a free update. In addition, Microsoft is planning to bring the Anniversary Update to HoloLens and other devices running Windows 10 soon after the PC/phone/Xbox launch.
The Anniversary Update is the biggest update yet to Windows 10, and it includes a lot of new features and changes thanks to feedback from users and participants in the Windows Insider Program. Some of the new changes include the addition of Windows Ink for pen-enabled devices, updates to the Start menu and Action Center, improvements to the Settings app and extension support for Microsoft Edge.
Is your device getting the update on August 2nd?
Indeed this is a big release, but even though the Windows 10 Anniversary Update will be available worldwide, one important question remains: Will you be getting the update on August 2nd?
The short answer is probably, as there are various factors to consider. Although the Anniversary Update for Windows 10 is available on August 2nd, it doesn't necessarily mean that you will get the update the same day.
It's a slow roll out
Microsoft is planning to roll out the new update gradually to everyone, meaning that it will take time for the update to reach everyone. Usually, it can take a couple of days, and even a few weeks, for devices to download and install a significant update like this one.
It's designed that way, mainly because of possible issues during the rollout. While the Windows 10 Anniversary Update can be considered one of the most stable versions of the operating system, there is always a chance of something breaking or new bugs during the release.
Delivering the update slowly can help the company to minimize the number of affected devices, and pull out the update as necessary.
Only select devices will get the update first
Getting the update will also depend on various factors, such as the kind of device you're using, how you installed the operating system, and your geographical location, as Microsoft will be delivering the update on stages.
Initially, the Windows 10 Anniversary Update will arrive for Surface devices, then to devices that originally came with Windows 10, and then the update will reach everyone else.
Windows Update server overload
Then there is the problem of server overload and bandwidth. While Microsoft will be provisioning a lot of servers and enough bandwidth for the rollout, during the first few days, thousands of devices will be trying to contact the Windows Update servers to download the update. Depending on resources available, your device may get queued up delaying the download.
Alternative ways to get the Anniversary Update on August 2nd
If your device doesn't seem to be getting the update on launch day, and you can't wait a little longer, there are alternative methods to skip the queue and get the Windows 10 Anniversary Update.
You can either join the Windows Insider Program now and install the latest preview build (currently the final version that Microsoft is rolling out to everyone), and then leave the Insider Program after August 2nd to get back onto the public release schedule.
Alternatively, you can use the Media Creation Tool to perform an in-place upgrade, which is exactly the same process as using Windows Update — you'll just be downloading and triggering the update with a different tool. The only caveat is that Microsoft is known to delay the availability of new versions through alternative methods to test the reliability of Windows Update. This means that it could take a little bit of time until you can use the Media Creation Tool to update your device.
Both of these alternative methods are explained in our step-by-step guide detailing how to get the Windows 10 Anniversary Update.
Wrapping things up
Although the development of the Windows 10 Anniversary Update is finally complete, the biggest test for Microsoft begins on August 2nd when they push that red button to unleash the update.
Without a doubt, many users will be eager to download the new update. If you're one of them, be patient. If your device doesn't see the update, don't worry — it's totally normal behavior on a slow roll out.
How important is for you to get the Windows 10 Anniversary Update on August 2nd? Let us know in the comments below.
More Windows 10 resources
For more help articles, coverage, and answers on Windows 10, you can visit the following resources:
Windows 10 help, tips, and tricks
Mauro Huculak is technical writer for WindowsCentral.com. His primary focus is to write comprehensive how-tos to help users get the most out of Windows 10 and its many related technologies. He has an IT background with professional certifications from Microsoft, Cisco, and CompTIA, and he's a recognized member of the Microsoft MVP community.
Will it roll out all over the world at the same time or according to time zones for different countries like it was on 29 July 2015??

Read the article, it explains it!!!!!!

Last year I got the update after 28hours,it may take up to a week depending on your region and ISP

BataBole, I see you laughing but are you calling insiders pirate?

Yeah, I'm on insider, but I've bot a VM machine I log into and it's on the release path, but somehow already got automatically upgraded when I logged in today. So it's already rolling out.

Will hard reset my lovely 640 on august 2nd....i want everything fresh.. Eagerly waiting.
Posted while listening the windows central podcast ;-)

On the current build on my 640 (14393.5) after getting a notification or using the phone the screen wont automatically turn off (which is bad when u get a notification when not using the phone and it drains battery) not sure if its just my phone but i figured you might want a heads up before you updated. I have hard reset.

Don't need these kind of issues.. Fingers crossed... God grace us ;-)

With the latest build, Lumia 730 has automatic reboot issue..3-5 times a day..previous one was good..

Releasing the 14393.5 to slow and release preview ring will definitely help... Let us hope everything gets fixed on the big day.

We have 3 Lumia 640s in my household all running 14393.5, and we don't have that issue.

Are they At&t (RM-1072) or T-Mobile/GoPhone/Cricket (RM-1073)

The AT&T version is good with 393.5

Im thinking it might be an issue with the non AT&T (RM-1073) one. JotaKa do you know which brand your lumias are?

They are all RM-1073. ATT GoPhone.

Huh that's really strange, maybe it's just my phone :(

It may be your phone's defect. But have you tried the hard reset?

Yes, I've hard reset before using it on 10, and then I've reset it since using it on 10, still happening. It doesn't do this at all on 8.1 so I'm not sure what it is xD

I had a similar problem on my backup 640. Id get a notification that the sd card needs to be formated and after i got that notification the screen would stay on. After a couple of hard resets i still get the notification but the screen doesnt stay on anymore. So try the reset it might fix it. Posted via the Windows Central App for Android

I had to format my SD card, too. I did it twice this week. The last time I had to do it was after getting the upgrade few days ago. Sending all data to cloud is pain in the... ☹

Formatting sd card always helps when you upgrade to 10 from 8.1. One of my friends having Lumia 535, had critical Battery draining problems which solved easily after formatting the sd.

I have 14393.5 on my AT&T branded 640 and it doesn't have that problem.

I had the same problem after upgrading. Try with turning the phone off and on. Worked for me!

I tried rebooting it several times and resetting it, but that fixed it for you? Maybe I need to re-install 10. I guess it might just be a software glitch not hardware since you could stop it. Thanks!

I still got the issue where an incoming notification will lockup the phone and initiate a contanstant vibration until I reset the phone...I think it was a known issue with private notifications but they no longer mention it..

I will reset my 650 too, better to have everything fresh :)

Funny. Im going to do the exact same thing with my 830 too :D

I got the TH2 release here in the UK on the release date. I'm on Insider Release preview now so have the RS1 release currently running as I type this. I imagine ISOs will be available on Tuesday anyway

I need the Edge extensions like right now.

Nice reminder to everyone. Personally I'd love to get it on all my devices on day 1 (Desktop, Surface Pro 3, Lumia 950, and Xbox One), but I suppose I can wait a little bit.

I finally put my 950 XL Dual Sim on the Release Preview Ring this morning to get the anniversary update. I've been a Windows Insider since day one but a multitude of Dual Sim bugs scared me away with my 950 XL. It's good to be on the Anniversary Update on my daily driver as the Anniversary Update is so much better than Windows 10 TH2.

Stupid. Get the update on 2nd August!

Will new insiders from Windows 7 get the latest build after July 29?

If you are an insider then you already have it.

I meant for a fresh Windows 7 PC not yet upgraded to any of the Windows 10 builds. How do I know I have it? And how do I even get it assuming it's possible. Thanks

The deadline for the free upgrade has passed, now you have to buy it.

He meant that if he register as Insider, he asks if he has to pay Windows 10 (Home/Pro) before he can join as Windows Insider... that's what I got.

Yes! But you have install Windows 10 with iso file and activate as Insider. As of now you will not have an issue getting insider build but never know when they stop, so don't loose your Windows 7 keys if you don't want to buy Windows 10 in future. Posted via the Windows Central App for Android

I definitely want the update on my 650 but i think i can be patient and wait untill the 5th or 6th to give it a go. Maybe by then everything will be lined out and purring along. Should i do a hard reset before the update? Thoughts?

Better to do a reset after the update, I do so every time an important update comes out.

You probably won't need to do a reset, the issues that arise that are fixed by resets tend to happen updating from 8.1 to 10. However, if you do want to reset, I would definitly do it after the update. If you do it before an unlikely, but potential, issue may still come up; however, if you do it after it'll solve those kinds of issues.

Thanks for the replies. Good advice. So I'll reset after.

Please dont make us wait for too long! Waiting for a fresh and fast build

Haha "includes a lot of new features" only if you didn't have 8.1 previously then you've just missed them for the last year

Already using 14393.5 without Insider activation.
First got the 14393 build update via insider> took the ESD>converted to ISO> Did a clean install.

Whats the point in doing all that? Couldnt you just take the 14393.5 build and then refresh the pc for a clean install? Posted via the Windows Central App for Android

I'm currently running it on my Icon. I hope they fix the Bluetooth before they actually release it. The fact that my phone locks up entirely and must be reset every time I turn of the Bluetooth is not confidence inspiring.

OMG! You're right. My phone does that too. Yeah, that has to get fixed.

Same bluetooth problem with my 650 and the latest release.

Just excited about MS Edge extensions. Nothing else

I am on it already with the fast ring preview.

Wow, this Windows as a Service is so different from the old days when they rolled out a service pack or OS update that you could download after some specific release date. Oh wait a minute, it's not ... Its exactly the same. There is no service involved, just an internet download. Ok by all means, let's call this 10 year old concept WaS, so it fits in nicely with SaS (Software), PaaS (Platform), IaS (Infrastructure) and other cloudy things.

Windows as a service, they have not started to charge for specific features as yet but it is coming

Well, that's not new either, and I expect such features would apply to maybe 0.25% of consumers, since all 20 billion users, or whatever it is currently, are using what's already there quite adequately.

One big difference you neglect is that we get new features twice a year. with the exception of XP SP2 new features were usually only delivered with major version upgrades which were years apart.

And features are removed from mobile more often.

+1 because my 950 should get it sooner, but -1 because my XPS 14 came with Windows 7, so could get it later.

Cant wait to get it on my SP4

Will the update roll out to Xbox already on August 2nd? I thought that would take a while until that was ready.

If you're like me and don't like waiting, there are sites that do have the release as an ISO to download and install. Worked like a charm.

Not official MS sites though, do you really want to install Windows from an unknown source? Not worth the risk for saving a few days.

Old phones like 1020 would receive this Win10 Anniversary Update?

No, they're officially stuck on 8.1. Even by the Insider work around that gave them W10M, these unsupported models won't be able to update any further than what they have currently. This update will never reach them, sorry.

Probably not unless you visit xda website, there is a slight lag compared to a 950 but works ok, camera is not used to its full potential as on 8.1, there is no brightness adjustment also

I have installed on my Lumia 925 and its working with no lag for the past 2 days. Only downside is that official MS camera sucks. I guess this would apply to 1020 as well. BTW I like the new music controls on my lock screen.

Eagerly waiting for the update for my 950 xl... Hope it's the next in line after surface book... Will do a hard reset a day before n after the update will install the apps.. #waiting

I'm running 14393.5 on my L930 and my "test" computer at work already. My home laptop is on 14393.3 because I've not booted it up to get .5 update.
My main home computer will get it when it comes as its not on Insider and I'm not that bothered when it updates.

Will my Lumia 535 get anniversary update on 2nd August 2016?

"Initially, the Windows 10 Anniversary Update will arrive for Surface devices​".... I am just going lean back and chill with my Surface Pro 4. Can't wait for Tuesday.

Fk off MS if u cant give the update at the date u given because it already too late ......we waited almost 2 years for a good update and this is it now we want that one.......im. frustated with the os .....no pokemon no mini milita **** with u just give the update .....u have really slow devlopers I want the damn update with all changes in the os .....because the way u promised the way we want ...

Forgot to take the pill today? :O

But windows 10 has only been out for 1 year, how did you wait 2 years? And when did microsoft promise to give you a game that they dont own? Posted via the Windows Central App for Android

Dude, chill out. If you are that upset just move to Andoid/iOS, we won't miss you.

I updated my 550 though the release preview!!!

Apps need to have better features, games need to have better fluency, Store needs to have more apps.

...and the world needs to be a better and more peaceful place!!

I can wait. I'm in no rush for this Anniversary Update, as I'd rather them take their time to sort it out.

Nice. I hope I get it as soon as possible from update, but I might try the media creation tool

One question: Am currently on the latest Fast Insiders Build on my SP3. I am assuming that once Aug 2 rolls by and I get out of the Insiders Ring, the AU will also install or be reconfirmed by Windows Update. Is this correct? And, if yes, then after the AU has been installed etc., is it advisable to reset/ refresh the SP3 - I have never reset or refreshed the SP3 since the day I bought it (2 years back). And if I do have to reset/ refresh, then will it take me back to AU only or will it take me further back - unlikely though isn't it? Thanks.

The Question : HOW BIG is this Update in GB's ?? If anybody know how big is that Anniversary Update for PC is..Please let Us know.

I will wait to hear feedback from the other users..If it is good I will install

How important is for you to get the Windows 10 Anniversary Update on August 2nd? Not at all important. My devices run perfectly without MS borking them with it's Big-Brother-Knows-Best downgrades. I've no with to render any of them unusable. Again.

ha... any changes in user interface .plz let me know

So the ISO update path will be available on the 2nd? Woo! My tablet is going to love it. I hope

Do we get the interactive notifications?

I'm an Insider, so I'm already running 14393.5 and in the Xbox Preview Program so I had the Anniversary update for awhile now with no issues on either platform. With my PC though, I'm just waiting to get the update on Aug. 2nd. Not sure if I want to take the insider plunge on my PC or not.