Windows 10 Anniversary Update to include new display sizes for PC and Mobile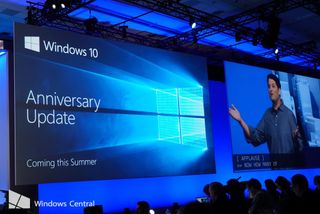 The upcoming Windows 10 Anniversary Update will add some new display sizes for both PC and Mobile compared to the current version of the OS.
Microsoft's MSDN support page (opens in new tab) ( via NPU) for hardware requirements show that for Windows 10 Mobile hardware devices, the display size can now be as large as 9 inches for the Anniversary Update, up from the current 7.99 inches. Windows 10 PC products can also have displays as small as 7 inches, which is a change from the previous 8 inch requirement.
Windows 10 Mobile products must also have an auto-flash for the Anniversary Update and Windows 10 PCs products need at least 2GB of RAM, up from the current 1GB. Also, they need 16GB of internal storage for the 32-bit version of the OS and 20GB if they use the 64-bit version. The Anniversary Update will be released for free for all Windows 10 PC and Mobile products, along with the Xbox One game console, later this summer.
Will the anniversary update come at the same time for both PC and mobile?

Yeah most probably...as the Redstone builds are released at same time for both pc and phones now a days

Yeah that's true, the reason why I asked was because mobile was released months after PC for Windows 10

But they have catched it up well..:-)

That was for optimization reasons, to see if they can get more phones on the list to receive Windows 10 Mobile.

Given how sluggish and bloated W10m is compared to 8.1, it's fair to say they failed at that :P

That is what the anniversary update is meant to fix.. Windows 10 Mobile

On my Lumia Icon, Windows 10 runs great. No chance I'd backtrack to 8.1.

Mobile will be year late and buggier.

I am on Insider fast on both pc and mobile, and have a better insider experience on mobile than I have on pc. Also, Mobile will come ~ 6 months later than mobile and not a year after.

That's been back and forth for me. Some builds better on mobile than PC, some vice versa.

You should be voted down for saying what's true so far and likely true for the future.

Well this is the online place for the very essense of Microsoft fanboyism :)

good joke haha I don't know why you was voted down.

This app still crashes A LOT. Plz fix. Also there's a bug where if you load an article and immediately swipe to comments, the whole page swipe works...but if you let the article load, whole page swipe doesn't work. Swiping to the comments is worthless at the moment as you might as well just press "Comments" instead of swiping over at the top!

This was mentioned as a known issue when they released the update. Furthermore, it was explained that this was a limitation with the Web View component. I'm not sure how they'll work around this, but I'd suggest perhaps not having the Web View span all the way to the edge of the screen (that way, one could drag on from the right edge of the screen to move the panorama view to the comments. Posted from Windows Central for Windows 10

The old app had it easily

Again, the old app wasn't authored using UWP controls. The old app was a Windows Phone app, which could not work on Windows desktops or tablets. The new app was a complete ground-up rewrite using a completely different, but universal platform (i.e. can be used to create apps on just about anything using the same codebase, including—but not limited to—phones, tablets, desktops, digital whiteboards, gaming consoles, and even augmented and virtual reality). Posted from Windows Central for Windows 10

Yea im fully aware that this app was built from the ground up and is very much still in its basic infancy stage.

Personally I can't wait to be able to post a reply on the forums like the old app could do. Starting a thread is all very well, but since I can never follow up it's a bit pointless.

Ive also noticed on comments, if you press the reply button and start typing, it wont work. You have to click in the dialogue box for the text to show up! No one obviously tests the app, it's embarrassing.

Replying to comments is possible, but very frustrating. Mainly because when trying to view comments, scrolling down the page is a huge crash risk. I usually have to relaunch the app 3 or so times before I can successfully get to the post I want to reply to. The only good thing about the app is that it's way better and more reliable than the completely broken web site. Great journalism on WC, but the technical side is rather hit and miss.

Just swipe on the bottom action bar in the meanwhile. It works always :)

Should be pc Xbox and phone all on July 29th

I love this screen size overlap. Curious what h/w manufacturers are going t come up with at computex next week.

I wish hard, but this does open up the possibility of a 7" Surface Phone.. And, I would definitely carry this as my daily driver. RoJo Arlington, TX Waiting for 6.2" Surface Phone Pro

Auto-flash? As in a flashlight/ camera flash?

Don't worry even I didn't get it

No, memory management. Posted from PornHub

Perhaps it was supposed to say "auto-flush" memory, which still is not obvious what it would mean ;)

2GB Ram?I have to buy a new pc then.

WTF. So, I have a HP Stream 7, running Win10, latest Windows Insider Preview, but because it doesn't have 2 gb of ram, it doesn't qualify for the Anniversary edition?!?


Might just mean that you have to switch to the mobile version for the anniversary update.

Can't switch the Stream 7 to mobile. AFAIK, there isn't an x86 version of Windows 10 Mobile, nor an ARM version of Win 10 at this point. You and I may be screwed.

No, it's for new PCs only.

Come on.. get real 1GB in 2016... it-s evolution..

I'm so fed up with Microsoft for their terrible handling with those stuck on wp8.1. Everything here is bad. Can you imagine I just wrote a huge reply on my Lumia 625 to a YouTube comment and when I press reply the stinking phone said comment blanc! Has this ever happened to anyone when using the internet explorer on wp8.1? Not to mention the many problems I now face with the OS. I almost slam the phone in the wall :(

I know it's not funny but man I laughed like a clown at this comment. I understand your frustration that's why I (ME!) try to avoid lower spec'd devices especially on Android! Even with my Nexus 5X I still face problems similar to this on some occasions Posted via the Windows Central App for Android

Right now i am so confuse about which phone to buy next because I'm tired of hurry come devices that just don't last long. not to mention the OS's that are not properly developed.

Get a Sony Xperia phone it will last your whole life time! Posted via the Windows Central App for Android

How are you stuck on 8.1? Posted from PornHub

Not 8.1, I'm stuck on windows phone 8.1(WP8.1) because my phone has 512MB of ram and it is not supported on windows 10 mobile.

I'm stuck with 256 MB ram.... damn you MS for not giving me all the latest.... old hardware and new software don't always go... get used to it.

This man gets it. Posted from PornHub

You're stuck because of lack of RAM... I'm stuck because I meet all requirements xD Yeah, the Samsung Ativ S is stuck at WP8.1 Update 1 (even not WP8.1 Update 2) and without any support for Insider Preview... But the Lumia 920 has everything the same and is in Insider. Why ?

Ask Samsung bro... :D Posted with the Windows Central app for Windows 10 on HP 250 G1 notebook. It is a scary old monster, I think :D

Because Samsung did not sell enough to care. It is that simple. Posted via the Windows Central App for Android

920 was dropped, never got the update officially and is no longer part of the program

So, its your fault, not MS's. You have options available aka purchase options. Posted from PornHub

LOL, truly...when it coms to windows, many times more for Windows mobile, if you don't laugh you'll cry, and become demented. So laugh and laugh and laugh like no one's listening, because Microsoft really isn't listening. (this reply was much longer but I had to rewrite after being kicked out to a resuming screen, couldn't be bothered to write it all again...so sometimes it's a blessing in disguise)

Dwl, resuming screen. I bet you are on w10 mobile?

MS try to get update on old and low spec phone but fail. At least they try though. If you on Android they don't even try to test OS update on old and low spec phone. Posted via the Windows Central App for Android

You have an old phone. Which was very low spec'd when it was new. Time to upgrade.

It's for this very reason companies like MS stay rich and we stay poor. Why buy a new phone when the hardware is perfectly fine? All the problem I now face is with the OS. Do you realize that it was the same hype we all had when Windows phone 8.1 was being released? What would you do, for argument sake, when MS abandon Windows 10 mobile the same way they are abandoning Windows phone 8.1 and you are stuck with your new phone that is perfectly fine on a dead OS?

Yea, you are poor BECAUSE someone else is rich. Makes perfect sense to me. (Sorry, just couldn't resist) Why buy a new phone when the hardware is perfectly fine?​ Great question! Don't buy a new phone when the one you have is working perfectly fine. And it might continue to work perfectly fine for many more years. I swear, some folks would only be happy if innovation CEASED completely and what they already have could stay "current" forever. Alas, our species isn't capable of sitting still. We are remarkable and it should be celebrated, fo crying out loud. lol

Just like how the Snake couldn't resist to bite you. :)

Does this matter? There will always be minute un important changes. I think this is an over kill article. Like new screen res. So important.

Screen size/res maybe not. The memory requirements, however, are important to many.

Then don't read it? I don't get why people complain about articles that THEY THINK are not important. If there's something not interesting to you then skip over it

After Intel cancelled mobile phone & tablet chips is there really anything that could run W10 on such a small screen, unless its a brick?

Huh? They still have the better, stronger, new m3, m5, and m7. They got rid of Atom because, well, why have two mobile processors?

Lol. Have fun with your 1000$ brick.

They might call it 'Surface Box' :)

1K$? Why would you think it'll cost that much? I think they can produce a mobile with an m7 for the price range of 600 to 800$, which is perfectly acceptable for such a beast of a device. Think about it.

Using the term "think" when referring to vhyr is a stretch... I like the term "tool" though... :)

I only throw expensive bricks at people.

I have the m chip in my android dell venu 8 7840. Awesome display, 2k smiled, like the 950's Posted from PornHub

Successor Broxton for your chip got cancelled.

No, they didn't cancel all of their mobile chips, and you know it. Regular Atoms are still being developed. Stop trying to misinform people.

Stop expecting too much of the hopeless!

It was going to be a brick with Intel anyways. Let's not forget their mobile portfolio was still in it's infancy, they weren't going to have a fast compact package the first time around.

The raise in storage and RAM minimum requirements for new PCs made by OEMs is fantastic! 1GB RAM and barely any free built-in storage on low end devices really kills the out-of-the-box experience and leads to sluggishness. While it can work with the old requirements, it isn't a great experience and the price differences between new and old requirements of components is negligible.

Not to mention these low end models come with W10 home where there is't much choice in not taking the build updates.

So does this mean my 1GB Win 10 can upgrade to anniversary?

Yes, it will update normally.

Thanks man, getting confused with all these Microsoft changes.....getting tired BioResearch & Games.

If you tired get a rest.. Posted via the Windows Central App for Android

Can't wait to see a new device category Phabtops.

8 inch for Windows 10 down to 7 inch... perhaps this is a clue that Microsoft want to develop something 7 inches? Is a 'surface phone' popping to anyone else's mind? Posted via the Windows Central App for Android

No. Rumour screen size for surface phone is 5.5 - 6 inch.. Posted via the Windows Central App for Android

@kz_m, hopefully it will come in different sizes. Not everyone wants a massive phone.

Personally, I think Microsoft has been generous seeing what happened with android. Even new phones nowadays come with lollipop. The previous version of the phones will not see the upgrade. I'm not talking about the flagship but something equals to 535/ 640.

May be ASUS will come out with a 9" W10 PadFone? When a W10M phone is lodged, you got a Continuum tablet.

Finally! The requirements were the same since Vista, I think. But at least since 7. So I'm amazed with how long they managed to keep it this low. Other than that, almost all PCs today have at least 2 gb ram. And most people use the 64-bit version of Windows (7-8-10), which already required 2gb, so almost nothing will change, except low end win 10 devices will have 2gb of ram instead of 1, what is always good :D

My experience with W10M was horrid on my Lumia Icon, battery drain caused me to roll back to PrevRelease build .318. On the other hand W10PC is stellar, love the GUI improvements. The reason why it probably works so well on my PC is there is NO battery power to rely on! :D My HP7 Stream doesn't have enough available storage to update.

The stream 7 can be updated, you just have to do it via a USB stick. Big improvement, too.

Microsoft needs to mandate all low end PC's ship with 64 Gigs of storage. Firstly you don't get 32 Gigs and secondly build updates are almost impossible to install because when downloaded there is not enough space for it install lol lol. Plus with every cumulative update on home users that limited space will keep decreasing.

16gb tablets are even worse with build upgrades.

So if your Windows 10 pc has 1gb of ram already. It will NOT get updated???

Well, not really. Updates are forced with W10 (only delayed with Pro) so you will get the update, you have no choice. MS are just saying that your PC will probably not work well/at all after the update so you may want to think about going back to W8.

That just doesn't make any sense to me. None what so ever.

Hmm Windows 10 mobile on devices up to 9 inches. Folks not many OEM's have made 7 inch Tablet /Smart phone hybrids and they were Android devices. Folks I think that Microsoft should make a 7 or 8 inch Smart phone Tablet hybrid Running full Windows 10 "NOT" Windows 10 Mobile OS. this new Windows hybrid device would fill in the gap between smart phones and Tablets. Not everyone would buy it but it would do what the talked about "Surface Pro" smart phone is supposed to do which is Run Legacy & Current Win 32 X86 class full Desktop PC Programs. folks there were rumors that it may be too hard at this time to build a "Surface Pro" smart phone that CAN RUN Win 32 x86 class Windows Desktop programs .if that is true then the "Surface Pro" smart phone will run the new "Redstone 2" Windows10 mobile OS update and be a Microsoft Surface version of the coming "HP Elite X3" smart Phone which is like a Super MS Lumia 950 XL with "continuum features. The question is would anyone but US Windows smart phone fans buy the "Surface Pro" Windows 10 mobile OS smart phone. I would because I use Windows smart phones. I have 2.

Well regarding ur doubt about the buyers of surface pro....i can assure you lots of enterprise people will buy it but again for that to happen it has to be more than a phone....and fingers crossed....that will happen......

Too bad Intel cancelled Atom sucessor of Cherry Trail, no more Intel windows mobile devices. now to get a Intel Core M you need at least $500. What this means is Windows 2 in 1 wont be cheap anytime soon.
Time to ask Qualcomm, Mediatek, Huawei to build really fast CPU by 2017 so win32 can run virtualized on the mobile OS next year. Fingers crossed Posted via the Windows Central App for Android

You still have AMD Microsoft isn't afraid of working with them since the XBO has AMD hardware

Ill buy android phone instead of windows

I'd rather be rich than use Android.

Wait, what? What does that even mean? I dislike Android a great deal (switched to it from December to January and...yeah, yuck), but this makes no sense. :P

Go ahead, no one will stop you... It's your life, feel free, good for you, do you want a cookie ? Posted from Windows Central for Windows 10 on my Lumia 950!
Step off, haters! U-U

They never keep there promises

They keep their promises as often as all the tech companies. It just feels different when its the platform you use. Google is no better in that regard. But hey, this is a MS focused site, so of course this is where you will see more negative reactions to MS then anywhere else.

That's not an update, this is license tweaking. For anniversary #2, I wish they would finally bring full Windows to ARM. If they can't handle this, they deserve to be swept from the market.

Why? ARM is no longer necessary for decent performance and long battery life. There's no incentive to do this.

That's the price of progress for ya, kids

So that tablet have 1GB of ram won't get the update?

Depends how much they enforce this - You've always been able to Install windows on whatever you want but if your PC/Tablet is below the recommended minimum specs you likely won't get a great experience. If this rolls out like any other Windows update you should still be able to put it on whatever hardware you want (within reason)

What has been so hard for Microsoft to bring frosted glass effect to the action centre and making it look attractive for first timers who want to try out windows 10 mobile

Yuck, frosted glass? What is this, 1998?

Yea next people will want classic option for the gui like 95

Summer?Microsoft is world wide.Summer,winter,night and day does not apply.Time,month and year are more appropriate.

I think this could potentially cause some issues. In essence, any device between 7 and 9 inches could either be running Windows Mobile or full Windows 10. With no clear naming/branding to set the two apart since EVERYTHING runs on Windows 10, you've got to make sure retailers know the difference when selling these products.

It's not really the OS but the processor that dictates what runs, at least where Windows 10 is concerned anyway... That's really where they're trying to go with it. Posted from Windows Central for Windows 10 on my Lumia 950!
Step off, haters! U-U

That's what I'm saying. Let's just say you have two 8-inch devices, one running Windows Mobile and the other running full Windows 10. Both are Surface like devices in that they function as tablets with detachable keyboards. If I'm a basic customer, how will I know the difference? Can we count on a floor rep at electronic stores to tell the difference and easily explain that to customers? Granted, Windows Everywhere and the UWP would hopefully nullify this, but showing some distinct differences between the capabilities of devices is helpful when customers are trying to make a purchase.

Microsoft please do something.... Negative news continues http://www.theverge.com/2016/5/23/11743594/microsoft-windows-phone-marke...

I also like Microsoft company very much and worried about their mobile future, I had to go Android this year, since I needed a mid-range phone and could not spend on a high end phone like the Lumia 950. As we know mobile development on Microsoft is halted until April 2017, which means the users like me which cannot spend on a flagship Lumia 950 can still help the company a little bit by subscribing to Office 365, I'm going to renew my Office 365 year license this year to try to help Microsoft. If we tell our family and our friends to purchase a Office 365 license this will help Microsoft to get more income on cloud services and this will help the company to invest money on better engineers,so by 2017 iOS bridge is finished as expected and iOS developers don't need to recompile their apps so they can be supported on Windows Mobile Just my 2 cents.

Even I am a Lumia 950 user. Still love the phone but always hearing negative news about this platform, its came across in a bad to worst situation. Feels like Microsoft itself not caring about their mobile platform or Do you think a software giant like Microsoft can't do anything on this platform?. Recently they released a fantastic keyboard in iOS but from my point of view first you feed your baby before feeding others. It seems like Microsoft is giving more attention to other platforms. If they really care about their own OS then this kind of situation will never happen to Windows Mobile. Still a small hope exists is the rumored Surface Phone. Remember how success is the Surface pro 4 series even with the struggling number of apps. Its is its features behind its success. Hope Microsoft will not do any small mistake in Surface Phone.

http://www.gartner.com/newsroom/id/3323017

Mine is not a Win 10 prodoct biu is still has Win 10 and 6.00gb So will mine get the Update

What difference with this display from existing size for mobiles

What about my Dell Venue pro 8 ? Will it be converted to Windows mobile ? I don't want that to happen


Seems people are still not seeing the bigger picture here with Windows (Mobile). For anyone who does not understand yet, WINDOWS MOBILE IS DEAD! LONG LIVE WINDOWS EVERYWHERE (which is what they should really tag it). That overlap of screen sizes between as much as 9 inches (for Windows Mobile") and s little as 7 inches (for Windows "Everywhere") everything about what M$ is trying to do here. A 9 inch phone or a 7 inch pc- BOTH WITH SIM CARDS.. Killer move; and waaay ahead of the curve.
Windows Central Newsletter
Get the best of Windows Central in in your inbox, every day!
Thank you for signing up to Windows Central. You will receive a verification email shortly.
There was a problem. Please refresh the page and try again.