Microsoft begins rolling out the Windows 10 April Update
The Windows 10 April Update is now available to download!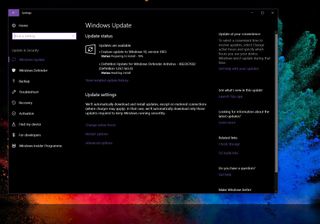 Microsoft has today began rolling out the Windows 10 April Update for select devices via Windows Update, and has also made available an upgrade tool (opens in new tab) for those that don't want to wait for the update to show up automatically. The April Update has been in development since last year, and is packing lots of new features and changes to enjoy.
If you're a Windows 10 user who can't wait for the upcoming April Update to reach you via Windows Update, Microsoft is now allowing users to download the update manually via the Windows 10 April Update upgrade tool. The tool is now available on Microsoft's website, and you can download the tool directly from here. (opens in new tab)
You can now also download an ISO via the Windows Media Creation Tool, which will come in handy if you're planning to upgrade or clean install the April Update on a number of different PCs. Those waiting for Windows Update might be waiting a while, as Microsoft likes to roll out the updates in waves, meaning you might not get it for a couple of months yet.
Make sure you check out our Windows 10 April Update written review for a rundown of all the noteworthy new changes coming in this release!
Windows Central Newsletter
Get the best of Windows Central in your inbox, every day!
Zac Bowden is a Senior Editor at Windows Central. Bringing you exclusive coverage into the world of Windows on PCs, tablets, phones, and more. Also an avid collector of rare Microsoft prototype devices! Keep in touch on Twitter: @zacbowden.
Have anyone tried updating and successful? Whats the build number?

The build number of the official release is 17134.1, this is what the ISO version is. During install a small update is applied to bring the version number to 17134.5

I don't get this small update?

To deal with the problem, I downloaded the CAB file for 17134.5 direct from MS and installed it using DISM on top of 17134.1.

Where did you find the CAB file? I found one site that listed a download link but the whole site looks a little shady and unreliable.

Update in progress... 49%

Update in progress... 49%

Thanks for the update. Get it?

Ur so lucky, mine stops when it reaches 100

Downloading ISO using "Media Creation Tool" now 😊

Using the Update assistant and is updating now :) edit: Saw it pop up in Windows Update itself as well on my custom Asus. But it stopped cause the assistant was running :D fully updated on my devices. No weird things happening and all runs smooth and fine 👍 update: Few days later.. Update broke my laptop and i had to reset it. Being an Administrator never worked again. Windows defender refused to stop scanning and shut up. Black screen on startup unless i unplugged the power cable. Apps and programs constantly closing and starting. Total F*** fest sadly.

Through windows update, version 1803, I guess my Lenovo Y700 is one of the select devices they talk about :)

Downloading right now using media creation tool. Will be updating my computers a bit later tonight.

Right on time. Kudos to MS.

downloading now on my 15" Surface Book 2 using windows update

I'm updating... Can someone give me the link to download the ISO file of the official 1803?

https://www.windowscentral.com/e?link=https2F%2Fclick.linksynergy.co... Download the "Media Creation Tool" and use it to download the ISO

https://www.windowscentral.com/e?link=https2F%2Fclick.linksynergy.co...
Use emulation in developer F12 options en set Edge to phone. Then you can download the ISO direct from that site without the need of first downloading the tool.

Downloading now - Vancouver, Canada

Completely ruined my desktop. Display set to a much lower resolution and it is impossible to get the previous (max) resolution back! Icons and apps are now outside the visible area!
Maps crash in Settings. Cannot get offline maps. Thank you Microsoft!

What about update graphic card driver?

I have the latest driver. I also tried to roll back to the previous. Did not help. Seems to be related to HDMI. I will now take the graphics card from my old PC and switch to DVI. That's progress ...

Having been an Insider testing this build I never had those issues, could be incompatible software or Drivers.

It was working fine until I installed the April Update ... EDIT:
No screen resolution issues when using DVI ...

If that's the case, you'll probably need to wait for drivers update from your graphic card.

Switched to DisplayPort (which I probably should have done long ago). So far - so good ...

I've been using HDMI for a while now, used to have issues with the system picking the monitor up as a TV but updates to the Nvidia drivers solved that.

Painless update for me (X1 Yoga 3rd gen). The only downside is that it looks like my entire Search Index in Oulook is gone. The indexing status is currently 220,000 emails remaining to be indexed. That's gonna take a while.. Otherwise smooth sailing.

All done and dusted on my SP4 here in the UK, will look at my wife's SP3 later on.

Downloading now via windows update.

Just be aware that if you use Homegroup and update to this build you won't have access to any resources shared via it as Homegroup has been depreciated and removed.

Got the update on the first day itself on my HP notebook ay011tx

Installing it on Acer Aspire 5 via WU.

Checked two of my custom built PCs, Broadwell-E and Haswell received the updates via Windows Update. My Broadwell-E had to be forced to update for Fall Creators update (1711) during the last update rollout. Updating both as we speak.

It took more than 10 minutes after 90%. I thought the SCU would take lesser time than previous FCU. 😶
I'm updating it via Upgrade assistant on High end notebook.

Yes but how long did it take to get to 90%?

2 hours including downloading and installation(till 90%).
I cancelled that and now downloading ISO Via MCT.
*friendly_tip: Avoid Upgrade Assistant

I say it was less than a hour over all on my HDD
Very quick compared to FCU

Updated no issues. Update process was fast.

Not gonna lie, I'm shocked at how fast it installed on my HDD

Been running the April 2018 update on my main gaming desktop for about two weeks now and its been rock solid. First installed it when build 10.0.17134 released since it was well believed that would be "RTM" build. But simply downloaded a ISO of 10.0.17134.5 and updated to that when it came out. Def noticed the improvements they have made to the install times for these feature updates. It took 10 maybe 12 mins tops. To be fair I do have a high end gaming rig but its still a big improvement over previous feature updates. Don't forget if you were in the insider program and want out nows the time to do it after you get build 10.0.17134.5 installed. Just got done downloading the official 10.0.17134.5 ISO from Microsoft and gonna update the living room HP PC we use for media/plex streaming.

It's taking forever on my computer. over 2 hrs at this point.

Are you including the time it takes to actually download and prepare the installation? vs the actual install time. Because when it's downloading and preparing you can still use your computer so that time doesn't really count

The time that's reduced is offline time.

any word on when it will be available on the volume licensing site for download?

Upgraded my HP 840 and my Dell desktop perfectly. Also after the update used a old Technet 8.1 pro key to snag pro upgrade from home. How I miss Technet...

My surface pro 4 win pro update went great love all the new stuff

Lenovo Y700, updated through Windows Update (was surprised to get it immediate in windows update), been toying around and seems solid at a first glance. One problem I was having, the fan being on a lot (even after clean install) has been fixed, probably something related to previous Fall update. So I am very pleased.

I'm so tempted to click Windows update on my Surface 3 because I'm having an important meeting today. I'll do it when I get back home 🏠

Update: it seems this is a free-for-all roll out and not a soft roll out as previous feature updates. My dad just texted me saying his 6 and 10 years old laptops are receiving updates via windows update.
Normally these machines took months before receiving the update through windows update.
Something is surely different this time.

Hi! There is a conflict between Windows Defender and Avast. It says AvastUI can't load.

just uninstall avast you don't need it with 1803 Defender is just as good if not better

I haven't seen a need to have separate AV software for a while now, just be aware though that to configure some Defender settings to get enhanced protection you need to use PowerShell: https://answers.microsoft.com/en-us/protect/forum/protect_defender-prote...

Just finished updating my old x86 Nextbook 2 in 1 tablet. The update took at least an hour to install.

How much was actually installing as downloading and preparing aren't counted?

I left it installing at 9:30 I came back at 10:30 and it had just finished updating.

Most of that time would have been downloading and preparing though.

Used the media creation tool to make a USB drive. Downloaded both x86 and x64 to one drive and it took the better part of two hours to complete. Ran the tool on my SP4 and it was up and running within about 30 minutes. Version number is 17134.1. No further updates are available so I wonder if 17134.5 is an insider build.