Windows 10 Mobile build 15051 headed out to Fast ring Insiders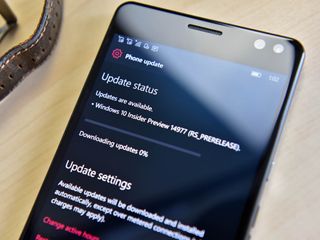 Windows Insiders on the Fast ring, heads up: a new Mobile build is now rolling out. Microsoft has announced the release of Windows 10 Mobile build 15051 for Fast ring Insiders, bringing along another batch of fixes to check out and known issues to be aware of. As with recent builds, there aren't any astoundingly new features to check out with this build, which makes sense as the Creators Update draws closer to release. That said, here's a look at what's new.
What's new for Mobile
We appreciate several of you sending us feedback on this and last week, we focused on fixing issues that resulted in frequent reboots for some Insiders on Build 15047. If you continue to experience unexpected reboots, be sure to send in feedback to us via Feedback Hub so the team can take a look!
We fixed an issue resulting in certain inbox apps, such as Calculator, Outlook Mail, Outlook Calendar, Groove Music, no longer being present on the system after a hard reset.
We fixed an issue resulting in Groove Music not resuming playback after ending a phone call if the app became suspended during the call.
We fixed an issue where periodically attaching larger photos to a message in Messaging wouldn't work.
We fixed an issue from recent flights where, in certain apps, if you had selected editable text and pressed Shift on the keyboard, the keyboard would crash.
We fixed an issue impacting certain UWP apps using pivots, such as the News app, where the pivot control could end up becoming offset after quickly swiping through the pivots.
We fixed an issue where asking Cortana to read a text message over Bluetooth with many back to back emoji would result in high pitched distorted noise.
We fixed an issue where after upgrading some Insiders were unexpectedly seeing the full QWERTY keyboard on the lock screen instead of the pin pad.
Known Issues for Mobile
We have discovered a bug that causes background tasks to not run in the background like they should such as OneDrive's camera roll sync feature. Please double check your photos have synced to OneDrive on the latest builds. We've got a fix for this issue coming in an upcoming build where background tasks will run again and your camera roll will sync to OneDrive as expected.
If your device experiences an unexpected reboot, in some cases you may lose your call, text, and email history may be lost. We're actively investigating this issue. If you believe you've hit this, please up-vote this feedback item In Feedback Hub.
Speech packs may be unable to download on this build.
Windows Central Newsletter
Get the best of Windows Central in your inbox, every day!
Dan Thorp-Lancaster is the former Editor-in-Chief of Windows Central. He began working with Windows Central, Android Central, and iMore as a news writer in 2014 and is obsessed with tech of all sorts. You can follow Dan on Twitter @DthorpL and Instagram @heyitsdtl.
Keep talking like that you surely will be.

Even Neowin didn't have a list of what's fixed.
Maybe they will update it

For sure. We usually prep something ahead of time to post right away and then update it immediately after with what's new. Usually takes a minute or so.

Ah okay. Yeah I understand you.
I didn't mean my message in any negative way, if someone got the wrong idea.
Thanks

People still go to that site? Last time I was there it was all about Android and Apple with nothing about Microsoft.

They actually have many good articles, I personally like them. I started following that site since Rich Woods went there after "For the Love of Tech" site. He covered is the one that mainly covers Windows news. You are correct in that they do cover android and other topics. Some are interesting, like the WikiLeaks article yesterday they posted.

FIXED! This build fixed the issue where the screen would never turn off on the HP Elite x3 when using the folio cover.

Relatively quick update. 27mins from "restart now" to entering pin (950)

Yeah, updating builds became seriously fast

Also, just did a firmware update on Pro 4. All good so far.

The more builds the better. There aren't big issues in these latest builds that will stop people from updating, unless download fails.
All issues I had in the previous update on 950 XL were fixed after a hard reset and backup.

Looking good. Let's hope Edge and VPN fixed. :)

🐱🐉 I had no idea we could do that!

it pretty smooth and responsive, app open with no really delay

Worried about the reboot bug that deletes everything but so far so good

I had this bug hit me and all my data gone. I had to reset my phone and reconfigure all accounts for data to get back. Surprisingly, lost one month of SMS

do you have download messages from any time on

Mines didn't download from the last two builds.

in the messaging app go to setting/history & sync/ enable download any time

I always do, but it's not syncing my messages like it always did. I've never had this problem until the last two builds ago.

that suck man mine were blank to but played with sync setting, the last month/any time and they came back. you said the last two build maybe it time for a hard rest could be a install bug form one of the older build

Yeah, I may have to gone on and do it

For someone on a production build, are there any features worth going to the insider preview? I did some quick googling about what's in the creators update, but all I could find were improvements to continuum (which I don't use) and better wifi reliability(my wifi works fine).

Here you can find a full (cumulative) change log: https://changewindows.org/build/next/mobile

Thanks for the link, very useful!

Is there any way to access the link aside from entering it in my browser manually?

Just long press on the above comment with the link if you are using the old wc app. An hidden menu shall open to allow you to open the link in browser

Sure wish the Windows Central app allowed you to tap/click links to like open them!

Don't use that awful Windows Central W10M app. The 8.1 version works a lot better, links usually open.

Agreed. It's been a while since it was updated. It never was as good as the 8.1 version.

I absolutely agree. That's what I've been using.

The Windows Central 8.1 app for windows mobile is the best. The W10M app for Windows Central is not as good and is a google app want-to-be. It's the only app, that I have ever, thought was written by a clueless developer who just doesn't understand the Microsoft audience.
.
Well, admittedly, they did follow the Microsoft Model of issuing a new version that, not only doesn't improve on the prior version, but is missing features of the prior version.
.
Geez, I'm glad Microsoft and this W10M app developer doesn't manufacturer cars, or in each new model, we would be suffering without air conditioning or other features we have become accustom to.
.
This comment is from a dedicated and mostly happy Microsoft customer.
Hoping for the best in the future.

You have an overly-developed appreciation, of the comma. Please, use them only, where they're appropriate.

Re: John Mcllhinney,
Think of it as artistic license.
.
That said, I know your comment is correct. Very nicely said. I read it, just as you wrote it.
Best Wishes

The WindowsCentral W10M App is the only app on my 950XL that freezes (every time) after opening it. I get the initial screen with news, then it freezes for 2-10 seconds. It's pathetic to be honest.

I suggest you use the old version. It works well

Just what I was looking for, thanks!

It is smoother, faster and has longer battery life than production. Few latest production and RP releases were awful

The last RP build is truly horrendous

Not really. RS2 brings a few changes, but it's not worth bothering until proper release really.

Happy to see they may have fixed the random reboot problem from last week's build. The new problem they're aware of that may cause loss of call and text history is disconcerting if texts are lost forever. If lost but loaded back after syncing accounts, no big deal.

Would be nice if they were clearer on that description.... Wait.... If skype pulls down the full history then we're probably good. Someone test it, I hate Skype for sms lol

I just tried and it's all ******* gone..... Years..... Gone.

You just tried random reboot?

Man, I am such a wuss. 😀 I installed Insider builds the day after I first got my 950. Then a few months ago there was a build that didn't agree with my phone and had to do a hard reset and reinstall all apps manually.
I've been reluctant to install an Insider build ever since.

Please do note install insider builds on your primary phone/ daily driver unless you are ready to hard reset in case things go wrong. If possible get a separate phone for insider builds if you could like to test new features earlier. Thank is my advise.

Not everyone has more than one phone to test with, but still wants to experience the cutting edge. I was the same way. Besides, if Microsoft wants real-world testing, what better way to do it??

Downloading now on my 950XL, will see what's what when it's done. FierceXL will be next.

Corrections, corrections ... Only corrections. For 2 years there are no new features in the system on windows smartphones

You're blatantlywrong and an obvious troll. Nothing new in 2 years? Jesus... Win10 wasn't even released 2 years ago. I hope you (rightfully) get down voted to oblivion.


Ah, well, okay. One and half year. That's better?​ Lumia 950 officially revealed on October 6, 2015. LOL what ? I'm a troll? I'm with Windows still with Lumia 800 and now own 950 model.​ Since the end of 2015 and to this day there are no new functions in the system at all. All this time only patching holes.

agreed. Patches and more patches with every single release but the system itself doesnt evolve into better. Its standing in the middle of nothing.... maybe because Micorsoft doesnt know what to do? Should they finish W10M or abandon it and focus only on W10 full version on new ARM based smartphones? One thing is sure, they will reset the whole system (development) at some point because W10M as its now cant and wont beat Android/iOS. Remember Windows RT? The same will happen with W10M

Your assumptions have a chance to come true. ***
I also do not understand why you (many Windows users) install new system assemblies if you were told earlier that there will not be new features in the update of the creators. Habit? What is there to test? Regular bugs? A new icon? Seriously ?! I'm sometimes shocked by how much the audience is loyal to the Windows. So much that turns a blind eye to obvious problems.

I agree no new features just a tidy up of settings icons and bug fixes, even the onedrive sync still not working as good as in 8.1

There is GATT, doubletabtowake, actioncenter stuff (direct answering, reorganisation, etc) and more. U just dont see it because u dont want to. Beta testers are interested in playing and bug smashing. And lets be honest: Which os really has many new things nowadays all the time? It is about testing and ironing out stuff. That is fine with me.

To be fair, every major iOS or Android release has a couple of standout/tentpole features. He's right. They have added nothing new of any note in ages. DDTW? It should have been there from the start. Direct replies? Even BB10 has that since 10.3. Two years of squashing bugs shows how many bugs there are.

Ok so only new features over all oses are counting...? That would be hard... "should be there from the beginning" is not fair neighter... He asks why people are installing insider builds of windows... That is a different question than "is there anything new in the os that has never been done before in any os.

The reason that some of us do it, is because we came into it knowing that it was a test software. With each build, the OS becomes a bit smoother and more polished. Not to mention, some of us just wanted to see what direction MS was planning, without having to wait for the official release. It may not have new features, but it is a vast improvement over the release version of Win 10 Mobile. With that said, let us have our day in the sun, even if it's been more cloudy than sunny.

I'm with you. Because of the $20 'book' of lies and deceits.

You jumped from WP7.8 to W10M RS2 and you haven't seen any changes or features? Are you blind? Lmao.

And if they didn't fix bugs and issue patches, you'd be the first here to complain about it.

Not true. They've removed a ton of (very nice and unique) features :(

Sadly it's true :( and in exchange we barely got anything. Kind of we got, what we should get in first hand... The balance is way negative. Honestly, I really hated Android and was a loyal WP/WM fan, but after a while, I had enough from the pile of bugs... even in the production version. Bought an Android phone, and while its basically it's almost unusable with Outlook account, on the another side its more stable OS than W10M. Apps once were available in WP/WM is available, some are even better. Some are worst: thinking about you Microsoft! The UI in general isn't as nice, but at least the system is stable.

It has more features than I need right now, I rather they focus on bug fix. Com'on fix the camera app.

I'm glad to see a What's new / What's fixed / What's broken portion of the Mobile Build notices on this site again. That was weird a few back where it was reported Mobile wouldn't have that info published.... I have to say WhatsApp has been flakey following recent OS builds and App updates... I'd like to do a hard reset, but then I would loose the language packs and not have the ability to put them back... so I'll wait on that.

GATT support? Anyone know? I tweeted Sarkar, and looked several places... didn't see anything.
I shouldn't really say I "looked", its more like I "scanned quickly", so I could very well be wrong

It's there. Devs need to implement it

GATT server is there already, but some companies like Fitbit are waiting for improvements to the Bluetooth stack before they can implement things like notifications on their sports trackers. Fitbit thought this week for their BETA, but I've not seen confirmation yet.

Fitbit confirmed earlier today that this was "the Build"! Their beta app is supposed to be available soon.

Microsoft only cares about mobile now! Where's the love for desktops?

15007 i think was the worst build ever, but they been hard at work with it, my biggest gripe was messaging wasn't syncing which was a big letdown. However battery life has improved so much i think they should keep it at that. Has anyone else had an issue updating where like on a 640XL i am stuck on 72% updating for 4days no movement and yes, i have good internet (100mb/s), all other devices are ok.
I also hope they fix an issue that makes your phone disconnect from WiFi when device is locked.

With you on the messaging. Hope I haven't permanently lost years of messages....

For the stuck update.... I had to restore using the WDRT, which started me over with 10586. Install the insider app. Jump up to the Anniversary update, then enroll in fast ring via update settings. Get the latest fast ring, then hard reset and restore from backup. Pain in the ass... Good luck!

15047 has quite a few issues, including the return of random reboots and the longstanding issue of email notifications not showing up in the notifications drop down

I get between 70-90 emails a day. They show up same time as my desktop. Not an issue for me.

I had an issue today on 15047 where I heard my phone ring but when I checked my phone I saw no notification on the home screen nor anything in notifications... so I thought I must have been going mad until I opened my PC at home and it had Cortana showing a missed call and when I opened my phone and went into call history I could then see I had missed the call.

....to add, before that process mine was stuck on 10586...

A lot of apps just don't open. Hopefully this fixes. (950XL)

I'm hoping the same on my L640. it's been a difficult few days...

No such luck... Grrrrrr...

Reset the app in settings-> apps

The apps that won't launch don't have an option to reset. Maybe that's the issue... May have to go back to production. Lots of stuff I use daily won't open.

Are they on an SD card? If so, move em over.

Nope. On the phone memory not card.

Ok, I got the View 3D Preview app with this build.

just installed build/windows view 3d preview is installed :)

I have a 950 and a few build back i noticed that I lost my picture folder on my sd card. I did a restart after that last build, but it did not revolve my problem. Has anyone had this issue as an insider?

950XL and FierceXL downloaded and updated without any issues. Response is good, didn't loose any call or text history. Sounds and notifications seem much better and available. Will have to wait and see about the random reboots.

950XL and FierceXL downloaded and updated without any issues. Response is good, didn't loose any call or text history. Sounds and notifications seem much better and available. Will have to wait and see about the random reboots.

It would be nice is MS code an option to lower the screen resolution on L950 to save battery...

That wouldn't save battery life

1440p vs 1080p? Yes it would.

+ 15051 for palindromes 😜

Does this include the Bluetooth stack changes Fitbit are waiting on for there beta notifications?

According to Tristan over at Fitbit it does indeed.

There's a new View 3D Preview app. At least new for me. I launched it and I was taken to a screen to download it. It doesn't recognize any of my .stl .obj or .fbx files for import. Recently those file types are broken for import on the desktop apps as well so it may just be a wait. No Capture 3D preview yet.

Installed fine on my 1020. Also on our 640 and 650 as well. Been a while since a mobile build beat its PC kin.

*Jealously sits on the side lines, unable to partake. Waiting for my L1520 to arrive* This sucks!! *folds arms* -_-

"We fixed an issue where asking Cortana to read a text message over Bluetooth with many back to back emoji would result in high pitched distorted noise." hilarious

All I want is Double Tap To Wake on my 650....

The 650 does have DTTW, afaik

Damnit i gotta hard reset to use groove? Well I found other music players in the meantime.

???? That's a fixed problem. A bunch of apps weren't installed after a reset meaning you had to grab them all by hand from the store.

Haven't been able to open it since last build. Can't uninstall it cause its greyed out. Tried to see if I could update in the store but no dice.

Did you try to go to the store listing itself? What does the button there say? Launch, install or update?

Nothing happens when you press it? What about in the "storage" app?

The reset button is even greyed out for the app.

To hell with those 'Speech packs may be unable to download on this build.'!!

Wt about production ring??is there any updates??

When you tapped the Check For Updates button on your phone, did it say that there were updates available? Next you'll be asking what the weather is like in your area.

Question is about future updates, not for present..

Looks like automatic blue light reduction won't make it to Creator's update 😪

I use f.lux which works great (on PC)

Can someone help me? Since the last couple of builds, the lock screen changed from the PIN pad to the keyboard. I have 4 windows phones for the family (950 x2 and 640x2) and three of the phones did this. The 640 maintained the PIN and I want it back on the other 3. Can't find the setting.....

You didn't read the article did you? ....rhetorical question.

So, that build didn't fix my daughters Lumia Icon...still keyboard. I deleted the lock screen password and now it works! Whew!

Why do you have your family on the Fast ring to begin with?

Feedback from them. And the release canadites are not exactly perfect either. At least in beta and alpha builds you get fixes. When its really bad isssues with the builds, I roll them back until a more stable build comes. I have been doing this since Win Phone 7. Never owned an Apple or Android product and won't get any for the family either.

That's not a good way of looking at it. Yes, you do get fixes. But it's mainly due to issues introduced with the changes in alpha and beta builds. Production should always be more stable. (albeit less features)

Guys I just sold my Lumia 650 :'( I've ​​also temporarily downgraded to my LG C900 windows phone 7.8, now here is to hoping Microsoft delivers so I can upgrade to a wordy phone. Never going to go android!!!

if your in US http://rover.ebay.com/rover/1/711-53200-19255-0/1?ff3=4&pub=5575095911&t...

Well if anyone has the Elite X3 the last update has cause a lot of problems with brightness, app not properly loading!

It's very sad that dual sim slot not supported 4G/LTE on my Lumia 950XL. Single Sim slot is working with 4G but not LTE and other sim slot is only working with 2G but no 3G/4G.microsoft please solve this

Updated my Elite X3 last night. No problems what's so ever. Feels very solid.

Says in the article it'll fix it but...the other ones work as well.

I want to install on my 735 but list of bugs looks worse than ever.

Have they fixed OfficeLens not being able to convert the jpgs to PDF or any other format. Processing hangs for hours for zero result.

You must have really good patience waiting for hours for a pic conversion.

Sounds good. Hope it comes to slow ring soon.

Hey Guys, I ask you please vote this important thing on the Feedback app. The call wating haven't worked properly since august so please add an upvote this feedback. (The link only works on mobile)
https://aka.ms/u3gbdv

If you want video review here is the link https://youtu.be/F_pkrC2HKGk

Can't update from 10.0.15047.0 to 10.0.15051.0 I'm on the Fast ring updating allowed, but system notification: You system up to date
What Do I Do Wrong?

Great update. Very stable. And View 3D Preview App finally came! Check your app updates via store after update process.

Noticed a few from last list fixed. Edge still struggling with some sites, mostly forums. Battery life seems to be bad on this build. 18% in an hour, no usage. I think this could be Edge, so disabled from running in background. VPN still not working 100% Will see later :)

Noticed a few from last list fixed. Edge still struggling with some sites, mostly forums. Battery life seems to be bad on this build. 18% in an hour, no usage. I think this could be Edge, so disabled from running in background. VPN still not working 100% Will see later :)

Noticed a few from last list fixed. Edge still struggling with some sites, mostly forums. Battery life seems to be bad on this build. 18% in an hour, no usage. I think this could be Edge, so disabled from running in background. VPN still not working 100% Will see later :)

I had the same on the battery, lost near 50% in less than 2 hours

wow. I unplugged my ICON at 5:50 and it is now 8:18. I have dropped 9%. I also did a power + volume down and soft shutdown/restart right after the install. It woke me up at 2am so I figured I'd restart it anyway.

58% in 6 hours. No usage.

Who are they kidding? I'm still stuck on 15031 build.

Do a hard reset and clean install. Enroll to Fast Ring again. Profit.

Microsoft Windows mobile all mobile fist to needs upgrade 4g let apps but Microsoft mobile to lazy process to upgrade in India I request Microsoft admin if want grow our company u upgrade to fast advance technology in India

Anyone else getting battery heating problems after the update

No, my 950 is pretty cool after this update. Battery life has been exceptional with 15047 but maybe that way because some background services are not working :-D

Mobile hotspot not working

Mobile hotspot works like a charm on my L650. Maybe a soft reset might help?

Is anyone facing the blank screen issue when unlocking the device?

Your holding your phone wrong :P that been there. Even on production ring. I don't think they care to fix it.

I never had this on production build

I've had it on production ring for two months.

Oh god ..how can you tolerate this bug.

I have no password on my phone. That's how I deal with it. I'm not worried about someone stealing it. It's a Windows phone and I can get another one for less than $200.

And screen goes black . And nothing happen. i have to restart my phone 4times a day .on lumia 535 please help

Yeah...Same thing Happening with me on Lumia 540

Its not fixed in this build

And not fixed in production either.

Mine would randomly go black after taking a few pics. But it's not locked up. I could get to the windows button still and return to the home screen.

so what is new?every time there are bugs and bugs.the issue which are solved now will be appear next time.what is improvement?think about it Microsoft.

so what is new?every time there are bugs and bugs.the issue which are solved now will be appear next time.what is improvement?think about it Microsoft.

After the update battery drained quckly

after a new install/big update you need to give it time... Don't you know???

Exactly at the time i updated to 15047:(

During my short time of use I have noticed two things so far.
Black screen during unlock is still there.
Sometimes the keyboard doesn't pop up when trying to type in Edge browser.

It means another waste build from ms

Anyone else having the problem that it won't download? with error 0x80070723. I already did a few reboots, but no dice... Coming from 15047 of course :)

I'm also from 15047, I have another issue - no notifications about new update.

Do you mean it doesn't find the update if you check for it? Or just the action center notif when it has already downloaded?

>Do you mean it doesn't find the update if you check for it Exactly this.
I tried about 10 times today.
Now a I have build 10.0.15047.0
When I try to check for new update I have an message «Your system up to date». Also, receiving of updates is enabled for Fast ring. I haven't. Any idea.

Something has to be done to increase battery life and also prevent the device from heating up

Only so much you can do. Unless you want to build a frig for your battery to keep it cold.

What about app updating delay

Its there since the release of windows mobile

Next build on march 14, 14393.934

My 950XL isn't seeing the update, it's still on 10586. Any fixes?

10586 is th2 build you should check for updates in settings to get to anniversary update.

Thanks, I did a few times, however it's still saying I'm up to date.

That wired. May want to use the windows insider app in the store to help. I would go for the release ring :)

Also did that haha, thanks for the suggestions

Do a hard reset. Clean install. Update to RS1 then Enroll to Fast Ring. Update to RS2. Do another hard reset just in case :)

Is "View 3D Preview" newly added in this build? Hadn't spotted it before.

Yes, strange that noone talk about it. It's a creators update bonus.

Is it new in this build or had I just not spotted it before?

Yes It has been added in the rs_2 update.... MS previously hinted about it

That wasn't my question... new in THIS build?

The build is called redstone2 release on my update screen. Hmmm

Better build. MS need to remove all apps like edge, and make them stand alone updatable. Edge I believe is the issue. Update: Edge disabled in background and battery life stable.

Not getting new build in UK.on L950

Mee too. Lumia 535 in Latvija

Why is this issue yet not fixed- after clicking a photo with the camera app, the photos app would say "adding the finishing touches" and stay there forever. I already lost many nice clicks due to that as they are not Saved. As it was taking a lot of time to save,I hit the back button after 5minutes but the picture was NOT saved,and i lost it. There were some beautiful clicks but they are no more there.

Very fundamental bug but strangely insider tech team don't care about it. I send this annoying problem via feedback app. Hope next build solve it.

I just got IOS 10.3 beta 5 yesterday.

MOST ANNOYING BUG STILL NOT FIXED.
My phone screen starts blinking continuously when i switch a video to full screen. It won't stop blinking untill i end full screen mode.
Anyone else facing this issue?

Blank screen bug and this issues are not fixed

Yes. And reported for 3rd build

Funny thing. I have a Lumia 820 which I spoofed as a 950 XL to get RS1/2. Sometime during RS2, it became irelevant to spoof my phone to actually get newer builds in the Fast Ring. When I hard reset, it's seen as an 820 again. The thing is, while I get Fast builds, apps aren't updated to Fast Ring build. Quite often, they are even behind Production.

Unless you perform a recovery, a hard reset will keep the spoof. I am using a 1020 spoofed as a 950. A hard reset did nothing to change that.

I did quite a few hard resets since the RS1 builds. It always changes back to an 820.

How do you spoof? Does spoofing make your 820 work with Tap to Pay like 950?

It's a complicated process. And no. It just makes Microsoft see my phone as a 950 XL, so I can get the newest OS and app updates, since the 820 is normally limited to W10M TH2.

Thanks for the quick reply and info!

I got hit with the data bug. Where's the feedback to upvote?

Well, I think I'm ordering an S7. Been using Windows mobile OS's for 10 years, and I just can't hang on any longer. Tired of stuff not working right, waiting for new features that never come, and no hope for change. If they get their act together, maybe I'll try this imaginary Surface phone.

My biggest issue is with phone calls. As with most phones, the OS tries to determine if you have the phone near your face or if you are looking at it, and will try to hide or show the screen depending on where it is. My phone will regularly go black on calls and I cant get the screen to show again until the call has ended. I cant even lock the phone and unlock it. So if I am on a call, I cant mute it, put it on hold, look something up, or do anything until the call is over. I am still waiting on that to be fixed. But at least now I know that if my phone restarts I might lose my call history. Yay?

It's actually good so far, smoother, faster, still lags when typing, and can use more smoothness in messaging and notification center for sure.

Working fine on my lumia 640XL. Nice work I think from MS.

Dual 4G/LTE does not work on dual sim of Lumia 950xl. One sim slot have 4G then other sim slot is only 2G no 3G/4G. That's why single sim slot is useful and other sim slot is fully useless bcoz most network companies stop 2G sevice.i see the same problem on L950 also and I see all the L950/950XL users have same problem. After Hard rest, flash its have same problem.please do some thing otherwise Lumia is going to hell for lifetime.

Guys L950Xl users Pl tell dual sim slot working With 4G/LTE at the same time ? I have used one sim slot is working with 4G and other one is only 2G service. Plll help me MSCentral,

Still rebooting for no reason a few times a day, been like this for two builds now

All I can say right now is it did not crash when I took it out of continuum something it did 100% of the time previously. I also had a number other reboots which may of been related to disconnected power when getting in and out of a car. So far promising.

Anyone else having problem with replying to text messages and sending text messages via Bluetooth? I keep getting error message "I seem to have hit a hiccup. Check back in a few' and another message everytime. This has been happening since last 2 builds.

My Lumia XL so far working fine edge problems solved.

yes no crazy refresh going up and down on pages

Works fine till now,L950
...seems self reboot is solved

Broke a lot of my apps, maybe worst build for my 950 in a long time. Hard reset didn't resolve issues.

did you do hard rest/no back up

I donwload the mobile build 15051 and now my Lumia 950Xl is constantly turning on my Yamaha home theater via bluetooth i just simple can't stop it, i just turn off the bluetooth but once i turn on the bluetooth my Yamaha home theater turn again.