Windows 10 build 14393.726 now rolling out for Release Preview ring on PC and Mobile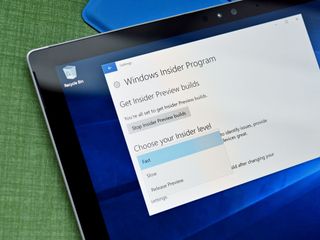 (Image credit: Windows Central)
Microsoft is rolling out a new cumulative update for Insiders on the Release Preview ring on both PC and Mobile, featuring more under the hood improvements and fixes as most cumulative updates do. Microsoft is yet to publish an official changelog for this update, and considering this cumulative release is for Insiders only, it'll take a little longer to get a changelog up.
The update in question is referred to as KB3216755 on PC, and simply build 14393.726 on Mobile. It's great to see Microsoft continue to support Windows 10 Mobile and Windows 10 on PC with continued servicing updates and cumulative updates.
Stay tuned at Windows Central for more details regarding this new update. We'll be updating this article with a changelog once it becomes available!
Update: (1/27) Microsoft has now posted the changelog of what's improved and fixed in this release.
Windows Central Newsletter
Get the best of Windows Central in in your inbox, every day!
Zac Bowden is a Senior Editor at Windows Central. Bringing you exclusive coverage into the world of Windows on PCs, tablets, phones, and more. Also an avid collector of rare Microsoft prototype devices! Keep in touch on Twitter: @zacbowden.
Downloading now on my idol 4s

I'm thinking of putting this on my Idol 4s because the production ring still have so many bugs.

I've been using a Windows Phone for at least 10 years now.. I used WinMo for years. I was there when WP7 arrived, happy to see WP7.5, and it's improvements, and really excited for WP8.0-8.1.... W10M was nice, but for me being a part of the insider program dulled the experience quite a bit. Still, I was excited to see what W10M could bring(although in terms of new devices, and apps, it wasn't much at all)... Regardless, W10M held many of us over, and it's been a fun ride, to say the least..
........
Now, looking at the future, we have WOA coming, and ALL this W10mobile business is gonna be dedicated to low(er) end devices, moving forward... With that said, I'm glad to see W10M continue to get updates, but IMO these updates are like Nokia fans getting excited about Asha phone updates.. For me, knowing that W10OA is destined for high(er) end mobile devices It's hard to be so enthusiastic about W10M anymore.. Really hard, especially considering the NEW possibilities, capabilities, and even polish, possible for the future. Worse, we haven't even got a look at W10OA for smaller screens, so my mind races.... Basically, our Lumia 950s, 1520s 1020s, XLs, even our X3s, and even the Idols S, are very soon to be relics... Even for Windows fans this is not where it is anymore.. Somewhere deep inside of MS there's a traditional candy slab in house prototype mobile device for test purposes only, with a Snapdragon 8gagillion, running W10OAM... That's where it is, and it can't get here soon enough😬😬😬😬😬😬😬
But, we're gonna have to wait..... Again😂

Lol and it's gonna transform and project and be magical

It's gonna just be another evolution of Windows, on a mobile device, for fans to tinker with...
....
It will most likely be better, but the only shot MS has at the consumer market (if they will care) is two very important things...
1.. Super irresistible Surface branded mobile hardware
2.. Super irresistible Xbox gaming on super irresistible Surface branded mobile hardware
....
MS' Got to hit the consumer with what it can from Xbox, and Surface, and hit the enterprise from what it can with Windows, and Surface... In other words, MS should position it's mobile efforts on 3 key strengths of they have.. 1. Xbox 2. Windows and 3. Surface... What other logical choice do they have?❓

Even back in 2010 fans expected for MS to leverage Xbox on WP7, but that never happened... At the time Xbox seemed to be the biggest potential selling point for WP, and it could've if it were managed properly. Hopefully MS will wake up this time around.

All that while introducing a new product category? It just seems like a bit much and expensive and more excuse for people to say why do I need ALL of that for? I can't wait for an announcement :D Can they wow people again though? They done several decent wow factors now, almost seems like were due for a ho hum one. :(

So far so good. No problems yet.... But it's still too early to tell

Okay bro,it feels good in hand no doubt

Definitely the best windows Phone I've owned

Great,hope more people feel same way,I'm loving my 950XL,wife got my previous 950,I'm waiting on my Mozo Black case for it

The brown mozo case is also gorgeous

Unfortunately the brown (cognac) Mozo cover for L950 is different color than L950XL....more washed out... :-(

Do not worry about that! Since they're leather, it will eventually turn darker with use. I thought the same but now its dark brown and not washed out!

I've got the black leather, brown leather, blue PU, black walnut wood backplates for my 950 XL. They all look great but the black leather definitely feels the best in the hand. The white and red leather are both the same texture so would feel the same. I have quite sweaty hands and I find that the brown leather tends to absorb the sweat somewhat, which is a little bit gross.

Thanks for the info, I'll surely add those to my collection in time, three Mozo cases truly changes the feel and look

Mozo case are great! I got the fake leather one (brown) for my girlfriends 650 and it feels really nice and keeps the phone feeling thin. I got the black wood back for my 650 and it does look great and feel good, thicker and less bendy but I found the battery is not held in as tight as with the original back.

The 650 is undoubtedly one of the thinnest windows phone,feels great in hand no doubt,I purchased one for mom

I try,previously My mom had a Lumia 535.

Does idol get hot when gaming or multitasking. Does it get hot at all? I had the 950 and it would get Hot, I was looking into get the jade primo but it can get for very hot as well.

That's good question even though I have the XL I'd like to know

Ok I did it, I updated my Idol 4s to this build and so far the battery is way better. I'm just getting back from working out and usually my battery is around 45% at this time everyday, so far today at the same time when I usually get back from working out running the same apps etc, my phone battery is now at 65%. Much better. Transitions are smoother than before, it doesn't get hot as before and it's faster..

We've still got arguably at least 3 more updates until the Creator's Update

You are not missing a thing. Latest fast ring has been bad for me.

Haha, I know. Close to zero changes/features in RS2.

Preparing to install on my 950

Alguien habla español amigos?

Si es en relación al artículo, diré que estoy a la expectativa de conocer las mejoras de esta actualización.

I don't understand why just because we are insider that we don't need a corresponding change log at the same time to know what to look for?

Most likely will see one on patch Tuesday

This is a cumulative update, mostly bug fixing and performance enhancements

This is a cumulative update, mostly bug fixing and performance enhancements

Patch Tuesday 14393.804 here we come

Just had an update show up for my Surface Studio on the production build of Windows 10 - KB3211320​. Anyone know what that update includes? I'm not finding anything about it online.

Seems to be a Servicing Stack update.

Have got a yellow "some settings are managed by your organisation" now on the update screen....

That's been the case for a little while on the Fast ring and has been listed as a known issue for the latest build. They said that it's the displayed text that is the mistake and no settings are actually locked. Are you saying that you see the same on Release Preview after installing this build?

Me too...thanks for the heads up. ☺

Seems like they are back-porting some RS2 changes if true.

All the core Microsoft apps such as Word, Band, Store etc. Have updates even though they only updated a few days ago.. And should we call them programs on WP? Set us apart from the masses...
... Though at 1% we are fairly elite anyway

The latest store update let you know which apps should avoid using external storage

Lol programs or applications

"Elite". ;) I like the way you think.

After playing with it for a while I know it's cliched but it actually does feel faster and snappier

Thats what I heard about the previous one... how much more faster and snappier can it get. Downloading on 950XL

No it really is,never noticed an improvement in speed before

Much needed! I can't seem to see a MMS picture that I save to my damn library for some reason!

MS just released Windows 15014 for insiders

Insider Build 15014 was released to the Fast Ring on January 19. See http://www.windowscentral.com/windows-10-build-15014-now-rolling-out-ins...

please god fix the "saving" camera bug... and about 100 other bugs in this half baked POS OS. I'm sooooo frustrated. Would love to buy an iPhone right now.

http://www.apple.com/shop/buy-iphone/iphone-7/5.5-inch-display-256gb-ros...

Awesome link, Andrew. Really puts things in perspective.

Make sure you have fast sd card? Save to internal? Don't use hdr unless needed? Turn of living images?

It's a Lumia 830. It's worked fine since I had it until now.

I have the same problem. I'm storing the pictures and videos on the device. I even disabled living pictures, HDR and reduced the image size to 8 MP. It's still ****ing up with "Saving..." all the time. POS camera phone. The browser bugs are also pretty annoying. The rotation bug is still there, the ghost tabs too, and zoom in/out with ctrl and +/- doesn't work either. The rest is very good though. :P

The email message resizing bug has recently came back for me as well, the whole phone lately has been very frustrating. Throw that on top of not ever hearing of a new app that came to the platform...

Can anyone fix my battery?

Without knowing anything about what's actually wrong with your battery, I'm going to say yes, someone can fix it.

There fixed. Your welcome.

At what point do you know that your device will no longer be included in the updates?

14393.693 on my 950 and it's struggling to run apps, wtf. I reverted to original software firmware cause 15014 was killing me. Not on preview, for now, so I'll try this.

anyone can tell me 14393.726 update released or not.....?

yea its released, that's why they put out the article smart one. I have the update, if you wanted extra confirmation

Which is better production ring or insider fast ring?

Depends on whether for you better means new features or less bugs.

I'd say Release Preview is the best ring. As stable as Production, yet a bit ahead occasionally. And a few more builds.

Release preview is safer if you use it on your normal phone, most if not all the nasty bugs have been sorted out in fast and slow ring builds..

Hotspot not working on my 640xl

Hey everyone. On my lumia 950xl release build i can salect my musis and song for my alarm. I am getting the default alarm tone

Makes me want to roll back to this. Current slow ring is really nasty. Random reboots, and Wi-Fi drop outs several times each day. Sluggish keyboard with terrible word detection.

Installed much quicker than the previous update, 5 minutes instead of 30 last time (desktop PC). I'm now getting constant (as in every few seconds) event log errors about 'Cyberlink Media Server service has stopped working', the faulting module is 'CompPkgSup.dll' in the System32 folder, which was updated 13th of January and presumably was one of the updated files in this update. I've had to disable the media server which isn't a major issue.

The entire update was only 16Kb in size. Must have been a pretty minor one, with just replacing some dll or xml file...

Need separate threads for mobile and desktop, it's just a mess the way it is currently.

Wait until they get to 15000 and realise Apps corner is removed like kids corner was.
No explanation from MS, no nothing

Umm.... There was an article of MS explaining that it is gone because it wasn't used. I am not saying I like that it is gone by any means, but they did talk about it.

Please provide links.
I remember the kids corner article.
They used Apps corner as the excuse but what will be the excuse now?

https://blogs.windows.com/windowsexperience/2017/01/19/announcing-window...

Thanks, MS can go jump over the new border wall.

Hope this update solves the language keyboards issue 😞

Anyone can help? I have a lumia 650 in the fast ring. It tried to install the cumulative update, but it stays on the spinning gears for less than a minute, displays a sad emoticon, then switches off. When I turn it back on it goes from the windows logo straight back to the bears, and switches off again. Any ideas??? 😑

Take out the battery and leave it out for 10 minutes then put it back it.

Not working... I can't even use the hardware buttons to do a hard reset....

My 950XL restarted last night. Received .726 Haven't noticed anything yet

my 950 seems much faster after .726. windows hello signs in faster, apps are loading more quickly and seem to be "zippy". I will monitor battery performance today.

This update is causing me massive problems, to the point I'll have to leave the Insider Preview program

I don't have any issues on my 950XL. I did a clean install recently though. I've found that I usually need to do a clean install after 3 big updates.

I'm on PC. This update is causing the videos folder to not work properly, it causes COM SURROGATE to crash. And Media Player won't work now. Must be able issue with a codec incompatibility. I've had to remove the update and hide it so I can stay on release preview

Ah, ya that does sound like a big issue. Hopefully they were notified about it so they can look into it.

I'll do some further investigation

Not seeing those issues after updating. Just an FYI.

I've done some digging. My partner also updated hers today and .mpg video files had no thumbnails, wouldn't play in Media player (although hers didn't crash MP or COM Surrogate). Mine was causing both to crash with errors. I have different software installed to her with other codecs etc. Mine also crashed when using DVB Viewer (TV viewing software). The faulting module every time was 'CompPkgSup.dll' which has a new version in the .726 update (it's dated 13th Jan, previous version was 16th July). I took ownership of this file in system32 and syswow64, copied the older version to the folders - and now everything is working properly. No crashes, no errors and the video thumbnails are back.

Good to hear. Sucks that you had to go through all that. But hey, life of an insider, huh? :)

It's interesting that the other issue I mentioned in my comment higher up (regarding PowerDVD 16 media server crashing constantly) - this error was also caused by the same faulting module

I use Power Director, and while I haven't done any editing today, the software seems to be launching fine.

Do you have PowerDVD? It's the DLNA server that was causing COM Surrogate errors this morning. Interesting that the only file changed In the System32/SysWow64 folders with this update was the one I mentioned above!

What features does 14393.726 have ? Can I install it on my Nokia Lumia 730 ?

If you're able to get on the insider program then probably yes. If you weren't able to get into the program before, then odds are still no. Give it a try and let us all know.

Im not gettin preview updates on my lumia625

After the update, I had this message on my update settings screen: Some settings are managed by your organization This morning it's gone but there is a blank space where the text was. This is my phone, and it's not associated with my work. This update better not give Microsoft control over my settings.

I just restarted my phone. The message still isn't there, but the blank space still is.

Just finished update (Production Ring) I see the same thing. . . I'm not sure it means anything. I have an "international" phone activated on Ting MVNO.

On that 15014 build, when I brought up my lock screen, the whole keyboard showed up instead of the number pad which seemed really weird and then it went away and the problems started. I'm staying on this speed for now on.

A word of caution for those of you installing .726 on PC. I installed it properly, but when I restarted maybe an hour later I got a "getting Windows ready" message followed by another install. Restart on my Surface 3 took 50 minutes. After that "second install" things are back to normal again. So those of you experiencing problems might have to restart and let the update install "again."

Ok I did it, I updated my Idol 4s to this build and so far the battery is way better. I'm just getting back from working out and usually my battery is around 45% at this time everyday, so far today at the same time when usually get back from working out running the same apps etc, my phone battery is now at 65%. Much better. Transitions are smoother than before, it doesn't get hot as before and it's faster.

For me this update is ok, my Lumia 950 working great.

HOw is your reception? I'm thinking of switching from verizon to at&t.... I have horrible reception at home, but I also live in a valley of trees. Bought a pay as you go AT&T smart phone, reception is perfect, despite what other at&t customers complain about, spotty reception. No word yet on who will get the surface phone :-O

Hi Thierry! Glad to hear that! I have problems with battery and GSM reception/roaming when going abroad. Can we compare firmware versions? I write mine and you check if you have the same (Settings -> System -> About: OS build: 10.0.14393.726 Firmware revision number: 01078.00053.16236.35017 Hardware revision number: 2.1.1.2 Radio software version: B025c43.00024.0001 Chip SOC version: 8992

Since Monday, I haven't been able to download my subscribed podcasts via app. (Mark Levin) Current downloads are for 1/25/16 I've already reloaded my phone via PC. Already checked time and date settings. Phone says it has current updates, updated all apps. Ideas?

Jen chci říct,že jsem spokojen.

A few months back we were introduced to UWP (or some such abbreviation) whereby the expectation was downloading updates would be quicker as the whole OS would not be downloaded except for the new changes? Has anyone reaped any benefit from this as my experience hasn't changed much? I still sit for hours waiting for the downloads to complete; at least for mobile.

Yep I remember that and I have experienced it. This update was 38mb in size for me. Install time was shorter too.

I am facing lots of app crashes. Even camera is not stable. FB never launches at 1st attempt.

FB problem with the app itself.

So many updates and still no fix for live tiles!

They work just fine imo, what is bothering you?

Calendar:
- Appears the logo, only if I resize it, then shows the current day.
- When I...(don't know the correct way to say in English) use the agenda feature, what I bookmarked doesn't go away. Facebook/Messenger:
- Notifications don't dissappear, sometimes I have to deal with a strange face on my screen all the time. I've done hard reset, soft reset, entered technical preview, release preview, and the same continuous

Strange, I don't see those problems on mine.. but it's L950, you have different phone?

I've noticed that since I updated my x3, I can no longer reply to texts from my Band 2. It just brings up the 'Connecting' message and eventually times out and goes back to the main clock screen (again, on the Band 2 itself. Is anybody else seeing this?

It's good to see mention that some are finding power/battery improvements, as the previous build seemed to degrade battery performance considerably.

I noticed only minor improvement on 950 - about 10% Build 14393.693 from 100% to 5% in 8 hours Build 14393.726 - close to 9 hours. But build 14393.436 (not sure if it was exactly that one.. anyway one year ago..) 2 days to discharge!! I used to charge my Lumia 950 every second day, now I have to do it twice every day... Been on fast ring till 14977.1000, then restore.. battery discharge still too fast. Now have bought new battery, as everything else failed, but didn't help, everything same...

Didn't get this build yet.

I remember when this was Windows PHONE central. Now the latest phone information is four days old.

Got it yesterday on my 640. Haven't noticed much difference, maybe slightly longer battery life but I was getting over a day anyway with moderate use.

Hi all, i dont know if anyone face this issue. My Lumia 950 is getting warm on this release preview 14393.726 and battery drain as hell.

14393.726 seems to be getting worse and worse for battery drain and crashes/ random reboots. Today at least 6 times. Cannot tie the crashing to anything in particular, it even did it at unlock today. Anyone else. To the point of almost rolling back but another build cannot be far away.

I dont have crash issue but battery drain and device is as hot as it will explode.

So far this is running smooth as silk on my HP Elite X3

Mobile build 14393.726, running very smooth on my Lumia Icon(929)...
Windows Central Newsletter
Thank you for signing up to Windows Central. You will receive a verification email shortly.
There was a problem. Please refresh the page and try again.