Here's what's new in Windows 10 Release Preview build 14393.726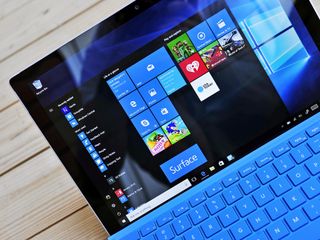 Microsoft has now released a look at what's new in the latest cumulative update to hit the Windows 10 Release Preview ring. As you might expect, build 14393.726, which began hitting the Release Preview ring for desktop and PC earlier this week, doesn't pack in any new features to check out, but it does include a fair share of general fixes.
Here's the full look at what's fixed and improved (opens in new tab) (via Neowin) in Release Preview build 14393.726:
Addressed known issue called out in KB3213986—Users may experience delays while running 3D rendering apps with multiple monitors.
Addressed issue that prevents the conversion of a 24-bit image to 32 bits.
Addressed issue that causes the loss of Windows Firewall rules after upgrade from RTM to 1511 or 1607.
Addressed issue that causes a file download from a webpage to fail in Internet Explorer and Microsoft Edge browsers.
Addressed issue that prevents the use of the Delete Browsing History feature in Internet Explorer.
Addressed issue that loads websites that bypass the proxy server in the local intranet zone when the Intranet Sites: Include all sites that bypass the proxy server (Disabled) is set.
Addressed issue where an XSS false positive prevents a webpage from loading after logging in to a site.
Addressed issue that prevents users from connecting to a network
Addressed issue that causes the Local Security Authority Subsystem Service (LSASS) to fail if Active Directory Federated Systems is using the Japanese language set
Addressed issue that causes System Center Operations Manager (SCOM) scenarios to fail
Addressed issue that prevents user-built keyboard events from working.
Addressed issue that causes incorrect tabledimensions in SAP® applications
Addressed issue that overwrites a
element when users select a line that is enclosed by a

element.

Improved reliability of Internet Explorer, Xbox, and Skype
Addressed additional issues with Bluetooth, Internet Explorer, engaged reboot, clustering, Internet Explorer, Japanese Input Method Editor (IME), Windows Shell. Networking, storage, fonts, Xbox, encryption, Group Policy, Point and Print, wireless networking, virtual disk, disk operations, multimedia, Work Folders, encryption, enterprise security, deduplication, domain controllers, Audit File System, Debug Memory Manager, Virtual Machine Management Service (VMMS), Remote Desktop, Task Scheduler, Microphone Wizard, .NET, font cache, system boot, and Surface Studio
Since this update has hit Release Preview already, it can't be far off from going out to production machines as well. We'll let you know when that happens, but for now, let us know in the comments how your experience with the latest build has gone if you're on Release Preview.
Windows Central Newsletter
Get the best of Windows Central in your inbox, every day!
Dan Thorp-Lancaster is the former Editor-in-Chief of Windows Central. He began working with Windows Central, Android Central, and iMore as a news writer in 2014 and is obsessed with tech of all sorts. You can follow Dan on Twitter @DthorpL and Instagram @heyitsdtl.
Can we please stop sharing these porn stories every week? We get it, there is VR porn.

wrong article man. Just a heads up.

I agree. I'm always getting these porn headlines on my app widgets and then friends and kids go on my phone.

I know! I'm going to church (I have a bible app on my phone) and these porn things pop up

I think it's advertising in the first place.
Cause "VR Heads" site belongs to mobile nations too.
And it's bad advertising in my opinion.

Agreed, not interested in any of that dirty sh*t, no need to be resurfacing it everyday like it's the only news worthy thing about vr...

Here's what's new....nothing new :-P In all seriousness though sounds like a lot of good fixes in there.

this is for the PC, mobile is dead anyways

Since I've installed it on the L830, I've only noticed more bugs... The way feedback looks, I'm not the only one finding them as well.

I'll have to go peek at the feedback. What are you seeing? I am not seeing anything odd stand out.

If I remember right, adding photos to text messages, and the saving message when taking a photo seems to be popping up more.

Really have not seen any have you tried a soft reset

o yea. The "saving" message can only be fixed by a soft reset.

That sucks, not seeing that issue on my XL.

My cat finally learned how to use the door.

Mine tries like heck. He reaches for it, but that whole thumb thing is messing him up.

If cats had opposable thumbs we'd all be their slaves by now

Mine learned how to locate and assault ghosts only he can see, and he does it every morning around 4 AM.

That sounds like something strange, in your neighbourhood. Who you gunna call?

Nothing in there to indicate what caused the problem I had on Wednesday. I had to replace a system file with the old version to make my PC work properly again

Installed it on my xl. No complaints

Are there Insider ring updates that are not cumulative? I don't think so. So why not leave the term "cumulative update" for Production updates?

I don't think what you said made any sense.

I'm still waiting for the build that was supposed to be released yesterday. Or am I wrong?

If you are talking about the Fast Ring, they did release a build.

We fixed issues with Internet Explorer, Xbox, Internet Explorer again, Skype, SMS messaging, Internet Explorer, your mom, a potato, some dude we found, Internet Explorer, a particularly angry cat, FILE Explorer, internet explorer..., Internet Explorer again, and Jesus.

In all seriousness I'm just waiting for my precious 950 XL to return from the shop to get this Build. My 950 is a Fast Ring baby.

Yeah, IE11 has been available on the market for over 3 years now. I know it's available on 3 OS versions, but neither do I understand why there are so many bugs with it.

What about MS Edge ? Why MS is not improving it's stability ? Its my primary browser in office and home pc... Where i get alert for mails Edge use to go non responsive for few mins. Can't handle many tabs, some times pages not load at all....
Drag n drop a link to new tab still doesn't work yet.....

Latest update now refuses to run Plex Media Server. Not sure if alone or someone else got this bug.

Not that one but it's interesting that a media player app is causing you problems. My issues were around PowerDVD 16 (the media server crashed constantly - are we seeing a correlation here?), Windows Media Player crashed when attempting to play .mpg files and any folder containing these files crashed dllhost (COM Surrogate). All these errors were caused by an updated system file 'CompPkgSup.dll' which was included with the update (it's dated January 13). I replaced the file with the older version (16 July) from my image backup and everything worked again. If you can, try that. You need to take ownership of the files (they're in system32 and also SysWow64 if you have 64-bit OS), and copy them from your backup. Be interesting if that solves your problem - I think there's a codec that isn't playing ball with this new file.