Windows 10 build 14971 rolling out to PC for Insiders on the Fast Ring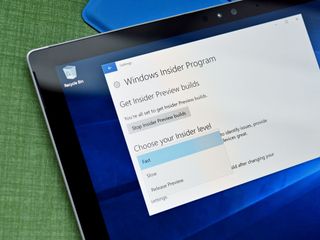 (Image credit: Windows Central)
Microsoft has been on top of their game as of late, rolling out Insider Preview builds almost weekly for Insiders in the fast ring. Today is no different, with build 14971 rolling out for Insiders on PC now!
What's new
Read EPUB books in Microsoft Edge: The reading experience will get even better with the Windows 10 Creators Update! In addition to providing a great reading experience for PDF files – you can now read any unprotected e-book in the EPUB file format with Microsoft Edge.
Bringing 3D to Everyone via the Paint 3D Preview app: Starting with this build and going forward, the Paint 3D Preview app is now included as part of Windows 10. Opening Paint from Start will now take you to the Paint 3D Preview app.
PowerShell in the Shell: In an effort to bring the best command line experiences to the forefront for all power users, PowerShell is now the defacto command shell from File Explorer. It replaces Command Prompt (aka, "cmd.exe") in the WIN + X menu, in File Explorer's File menu, and in the context menu that appears when you shift-right-click the whitespace in File Explorer.
Get Office (Beta): We've heard your feedback about the Get Office app, and today we're happy to announce Get Office version 2.0 for Insiders in the Fast ring! (Well, technically, version 17.7614.2377.0). Whereas before Get Office was largely a collection of links to help you get started with Office, the new and improved app will help you explore and manage your Office experience.
Other changes and improvements
First introduced to Insiders in Build 14926, the experimental "Snooze" action on a tab in Microsoft Edge which provides you with a way to set a Cortana reminder on the website you are viewing is no longer available. Based on data we gathered and feedback we received, we decided to remove it from the product and re-evaluate the feature for a future release.
The cursor will no longer be shown while inking – we believe this makes the experience feel even more like pen on paper. Try it out and let us know what you think!
We've improved reliability when using the protractor and inking in Sketchpad.
We've updated some of our desktop wizards (including "map a network drive" and "extract from zip") to now be proportionally sized when moved across monitors.
We fixed an issue where Magnifier's keyboard shortcuts sometimes wouldn't work on the Lock screen.
We fixed an issue that could result in sometimes not being able to completely remove files in the Windows.old folder using Disk Cleanup.
We have enabled OAuth support for Yahoo Mail accounts. This will improve sync reliability for those accounts, and provide a more secure experience in the Outlook Mail app.
We fixed an issue where trying to shut down the PC while certain Device Manager dialog boxes were open would result in the PC being stuck at the "Restarting…" screen.
We fixed an issue where, as closing multiple tabs with middle click in Microsoft Edge, the width of the tabs might change, resulting in potentially unexpectedly closing the wrong tab.
We fixed an issue where the copy link option when right-clicking a hyperlink in Microsoft Edge wasn't work.
We fixed an issue where, if you changed the size of the Microsoft Edge window, and then closed the app by closing the final tab, the next time Microsoft Edge is launched it would once again be the default size, rather than retaining the preferred window size.
We fixed an issue where pinned tabs in Microsoft Edge were not being restored.
We've made a number of translation improvements, including for Chinese speakers fixing a translation error in the dialog that appears when installing multiple fonts at once, as well as one in Settings > System > Battery. If you see any other translations that aren't as you'd expect, please log feedback – we're listening!
We fixed an issue where, if you already hand a notification expanded in the Action Center, clicking the chevron to expand a second notification would result in it expanding then immediately closing.
We fixed an issue where preferred Start menu width might not be preserved after rebooting.
Known issues
Navigating to Settings > System > Battery will crash the Settings app.
Using keyboard monitor hotkeys to adjust brightness won't work as expected. Desired brightness change could be done via the Action Center or by going to Settings > System > Display. -Apps such as Store, Photos, and People may launch on their own after your PC has been inactive for a period of time. To stop these apps from launching on their own, un-maximize the app before closing it.
As we have previously announced we are working on the Windows Holographic Shell that is going to be included in the upcoming Windows 10 Creators Update. In today's flight you will see the Windows Holographic First - Run app. While you will be able to launch the app and walk through the first few screens, it won't detect any hardware. This app and the Windows Holographic Shell is still under active development here at Microsoft and with our partners.
The build is rolling out for PC now. No new build for mobile today, unfortunately.
Windows Central Newsletter
Get the best of Windows Central in in your inbox, every day!
Zac Bowden is a Senior Editor at Windows Central. Bringing you exclusive coverage into the world of Windows on PCs, tablets, phones, and more. Also an avid collector of rare Microsoft prototype devices! Keep in touch on Twitter: @zacbowden.
This build literally fixed every problem I had with the OS as a whole, and adds Paint 3D! Instant install

And for the most annoying thing about build 14965, we have a workaround! "Apps such as Store, Photos, and People may launch on their own after your PC has been inactive for a period of time. To stop these apps from launching on their own, un-maximize the app before closing it."

Yes,that is pretty annoying

I find it easier to disable the Superfetch service than manually un-maximize the windows, lol. But yes, it's a damn annoying bug.

I guess I'll just take the opportunity to help test these apps in regular windowed mode. :-)

Moreover, it seems most UWP apps don't maintain window resize dimensions or screen proportions on any build.
They all launch square if not maximised. 1. Why
2. Why square on widescreen

For me, when I launch UWP apps, they open the same size and position that they were the last time I closed them.

I asked this in the forums, but no one even reponded

Trying to install this build is getting stuck at 22% SP3

Same for me... Rolled back to previous version with easy thou... I will try again laterz!

same problem here SP3..
tried 3 times.. no good..

What about 3rd party AV apps? Is this sorted yet?

On 14965 slow ring, I think it is (at least with Avast! Antivirus, which was documented to not work on previous builds.) :)

No problem with that since 14965

Update for Slow Ring Insiders to build 14965.

Looking forward to mobile build, this last one is a battery guzzler

Thought it was just mine. Yes it is.

According to the MS Employee who announced that alarm apps would be able to break through quiet hours from the next mobile build onward, it will be 14972 or greater.

It would be nice if they ever brought back cortanas "quiet hours on when busy in calendar" option... But obviously Microsoft is opposed to feature parity with other companies

Hear, hear! I missed that feature so much. Always a life saver when I am in a meeting.

I haven't noticed a battery drain on my 950 but I usually have it on the wireless charger on my desk at work and the car charger on the road.

I have a 950, trust me I'm up at 9am and dead by 1pm. Terrible build.

My battery life was atrocious last couple builds, 965 suddenly doubled my battery life to nearly rp

Removed the inking cursor? Uh oh, not sure if I will like that

I had problem with 14965 when I was drawing then where usually I 've seen little dot, there was big cross as well as mouse pointer(arrow).
Waiting for update download/install to see how it will work now. In any case you can create feedback and/or share link to such feedback here,

Yeah, I like the cursor, helps me see exactly where I'm putting the ink down. I hope they have a way to keep it on. And it also helps to show if you clicked on something properly.

Me too! Who suggested this in the first place or why they think its always a good idea? I get it why to make it more "natural", but not I have yet to see this if this won't affect on users using graphic tablet (digitizer that is not on the screen). Geez, they should at least just leave it as an option instead of removing it altogether. This move doesn't sound too welcoming.

"Try it out and let us know what you think!"

Ever since the last few Fast Ring builds, Microsoft Edge has gotten less stable and seems to crash upon being maximized after a few hours of inactivity (being minimized).

Damn...I can't download nothing. I stuck on 14946 and I have been doing all the work-around and nothing. Even the hard reset and nothing. Lumia Icon.

This build for PC only...

If you did that date work around to get the update a couple of weeks ago you may need to perform a full restore and start over. Rule to live by, if you ever have to do a workaround or registry edit to get something early, DONT DO IT. Wait for them to fix it because workarounds almost always cause problems down the road. You should be on 14965 by now if you are fast ring. It has been out a week.

"reset your phone" was enough for me to get back on fast track

Same here (even though this build isn't for phones), I'm stuck at 14926 on my Icon even after a hard reset.

The reading of EPUB is a nice feature. If there was an Adobe Digital Editions plug-in to unlock protected (library) EPUB books that'd make my Surface complete.

Hopefully the Excel crash bug has been fixed. Drives me nuts.

Do you guys think it's safe to enroll my main PC in the Fast Ring now?

Yes fam. Smooth like silk

erm, dunno, were past the point of quick optimizations and about to get into the thick of development where things are likely to get a bit harry, but as of now? Yea its pretty stable.

Anyone got this update in UK yet?
OK now downloaded and working .

Thanksgiving holiday in USA next week (W/c Sunday 20 November) - so no new builds etc. being released all next week!

I can smell the creators update on the horizon.

So now i think RS2 main focus is again PCs and Mobiles??

Even if there where new builds for mobile it would just be fixes and improvement as always

This won't download, stuck at 5%. First time ever an Insider build won't install

I was unable to install this, just like the last, then "binged" and found the solution is to pull the SD card from my SP3. Boom, that did the trick! Anyone having install problems on this build as in the last (stuck at 22%) make sure you remove the MicroSD card.

I am assuming no new build for mobile this week?

I am stuck at 96% for about 45 min now. What should I do next?

Never mind, 2 minutes after I posted this, it finished and I logged in to my machine!

I think this build just knocked out my graphics card.
"Nothing to see here, folks!"
Literally.

To become an office insider, need to have a subscription to office 365 ... This is a joke?
Windows Central Newsletter
Thank you for signing up to Windows Central. You will receive a verification email shortly.
There was a problem. Please refresh the page and try again.