Windows 10 build 15025 now rolling out for Insiders on PC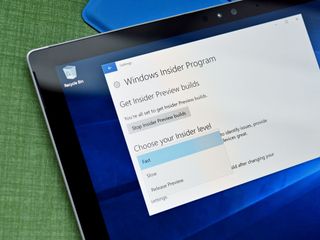 (Image credit: Windows Central)
Microsoft is rolling out another new Windows 10 Insider Preview build today, featuring yet more features and enhancements. Today's build in question is 15025, and is rolling out for Insiders in the Fast ring on PC. We're fast approaching the "feature-complete" stage of development now with the Creators Update, so don't be expecting any huge new changes in this release.
You'll also notice this build isn't for Mobile, making that two builds in a row in which Windows 10 Mobile is missing out. Microsoft says this is due to a blocking bug that they're still looking into.
Take Note: If you're an Insider using Windows 10 on a 32-bit machine, you won't be receiving this build today. There is a bug causing 32-bit installs to fail, therefore this build is not rolling out on that architecture. 64-bit users can proceed as normal.
What's new?
Announcing braille support in Narrator: We love getting feedback from our visually-impaired Insiders and implementing features to support your needs. It's so important that we keep our diverse customers in mind as we co-create with you. Today, we are excited to announce braille support for Narrator . This experience is currently in beta.
New mono audio option in Ease of Access settings: Visually impaired users use a screen reader application to read the PC screen content and information to them, and frequently use headphones or earbuds to hear the computer when in meetings or having conversations with others. When doing so, they generally use only one earbud to hear the PC in one ear so the other ear is free to hear conversations and sounds around them. That can cause them to not hear sounds that may be directed to the other earbud. In order to change the sound to be mono mode and so all audio is directed to both ears, they used to need a physical earphone adapter. You can now switch your audio to mono straight from the new Audio section under Settings > Ease of Access > Other options.
Introducing Collections in Feedback Hub: A few months ago, we asked you what was one of your biggest pieces of feedback about the Feedback Hub. You said, "too many duplicate pieces of feedback!". We love working with you to create a better experience for everyone using the Feedback Hub, so today we are so happy to announce Collections. Collections are now live in Feedback Hub starting with app version 1.1612.10251.0. A Collection groups together feedback for similar problems and suggestions into single items that bring together all the voices who expressed that sentiment in one place.
More night light improvements: The night light color temperature range has been extended to go down to very red (1200 K) and the entire range of the slider now works correctly.
Make sure you check out the full changelog for a list of known issues and new fixes!
Zac Bowden is a Senior Editor at Windows Central. Bringing you exclusive coverage into the world of Windows 10 on PCs, tablets, phones, and more. Also an avid collector of rare Microsoft prototype devices! Keep in touch on Twitter: @zacbowden.
Now the wait is for mobile

still got a day to go before the bug bash

What is the wait for? I haven't seen anything in the Creators Update that will matter much on desktop, and mobile will benefit orders of magnitude less. eBooks in Edge? Paint 3D? Whoop-de-doo! It's pretty clear that Windows (and that includes desktop) is quickly becoming an afterthought not just in the rest of the world, but at MS, too.

I agree with you bro. This creators stuff is a total niche that most people don't give a **** about.

What exactly do you expect a few months after the last update? We used to get them every few years and that was when desktop operating systems weren't even as mature as they are now.

Had high hopes too, been checking Dona's Twitter feed, and it looked promising.

Xbox just got an update 10 min ago. Installing now

Did somebody say Redstone 2 focused on mobile.

Did somebody say Redstone 2 focused on mobile.

Sooo. That was it for creators update? Are most of the features been added? I was expecting more. Oh well

I imagine the background process automatic throttling feature will bring significant performance improvements to users who have tonnes of malware and bundled crap constantly running in the background, so there's that I guess.

"You'll also notice this build isn't for PC" -> mobile

Was just noticing that myself. Had to read it over. ;)

Waiting for the "What's Broken In Build 15025" article.

or click the link at the bottom of this very article ;-)

Doh! Missed that. Knew it would be a given, tho'. ;-)

So is mobile officially dead? 2 straight builds for PC only?

We just had a build released for mobile less than two weeks ago, stop being so dense.

Yeah and in the last 2 weeks 2 PC builds only

Did you bother to read the article? "Microsoft says this is due to a blocking bug that they're still looking into."

Surface Phone likely to debut on build 27025.
So not dead, hang in there.

Ahahahaha... The year might just coincide with the build number.

Does it really matter if there's a mobile build or not, its not as if there are any substantial features being added to the mobile OS.

It's for stability and bug crunching for me, most mobile builds don't add anything else of value.

It matters because insider builds are not designed for stability.
They are designed to last about two weeks.

Well, and before that last mobile build it was like 40 days since last build in beginning of dec. It's clearly not a prioritized thing at all.

Must remember to remove my SD card on my SP3 before rebooting on this install ... the last 3 times I forgot and had to do the process twice. Hope this fixes Edge and the extensions nonsense

Why did you have to remove the SD card?

No idea. All I know is for that past four Fast Ring builds, it would hang at 22% for hours, one time overnight. The only way it will complete is if I turn it off, my SD card is ejected, and then it restores the previous build, reboot back into windows and go thru the process again, which will then complete.

I've seen this on standard updates in the past as well. Something to do with security in the BIOS I believe. It doesn't always happen though, so it is odd when it does. Not sure what causes it.

Experienced the exact same thing...

Talking about windows builds, did MS bring back placeholders for onedrive?? That's the main feature I'm waiting for.

All I know is that you can set a file to be "offline only". Actually I'd rather have the option to keep it online only.

Exactly, I would keep my files and folders online only but would like the placeholders in order to see the contents of my cloud and make offline what I need only then make it online again to save space on my SP3. I believe that was the best feature of Windows 8.1

Like Dropbox just added to their feature set.....

As per the last episode of Windows Weekly, Mary Jo Foley said she doesn't think the replacement for placeholders will be ready until the next version of Windows 10 (Redstone 3). So OneDrive will continue to be for the most part useless until at least the end of this year. Over a year into Windows 10 and Microsoft still can't see that the point of cloud storage is to keep stuff on the cloud and off my hard drive. Maybe one day they'll get it right.

I totally agree with you, OneDrive is 95% useless without this feature. I hope she's wrong and we see it in this coming creators update.

ISO of this build coming later this week, I'll use that to try upgrading from 14393 which failed last week.

I've been stuck on 14986. I too am waiting for the next ISO (last one didn't work for me either).

I'm curious what this blocking bug is. Is it something about the update process that's borked, or some main feature that's broken? Anyone know?

And if anyone does know please let Microsoft know!

Don't know for sure, but I know I haven't been able to run WP8/Silverlight apps since 14977. They just hang on their splashscreens (if they have one)... or it just shows "Loading...." I've also notice at times, things seem to "freeze" for a bit when using the phone. I thought it was one particular app at first, but I've seen it with a few different apps.

"We're fast approaching feature complete stage of developmen" are you kidding me, where's multi window support on continuum

I did think that was supposed to be coming in RS2 based on what they told us and showed at Ignite but I have tried asking many times and they either don't see the tweet or can't/won't respond about that feature. I'm wondering if it's been dropped completely (and will come in some sort of Continuum v2 eventually) or its been pushed back to at least RS3. Also trying to get an answer on whether night light (stupid name lol) is coming to mobile or not. Not so bothered about the smaller number of new features in W10M but I'd love more transparency on certain things. Just say if something you talked about has been dropped. I do get why they don't because people are stupid and assume even a passing comment about something means they were "promised" it, but it's frustrating for those of us who can accept when things don't always go as planned. I think if they wait too much longer to improve Continuum Android is going to have something better and nobody outside of the fans will even know MS were way ahead of the game on it. Yes W10M will likely get x86 emulation in 201x sometime but what if people who want that sort of device already have what they need from Android and the MS Apps available there. My Surface Pro 3 i7/8GB isn't fantastic for photoshop so for a while, even though the x86 emulation will be fantastic it's not necessarily guaranteed to be good for anything more than light workloads which in some cases may be just as easily done on Android. Basically what I'm saying is they should move their asses because there's still ways Continuum without x86 emulation can be a good feature of W10M.

microsft promises alot of things and fails to deliver. Gestures beta is in the windows store and claims to work in windows 10, it never did, a new fantastic browser edge yet they stop use using it with google home page, and they make it hard for normal users to work out how to change bing to google.. Ive mentioned gestures especially the speakerphone option every weak for the last 2 years and still they cant be bothered to include it in mobile. Hell it was a very loved small feature in windows 8.1 so i dont get it. Microsft even rebooted skype cause they quoted people didnt like the intergration. Microsft failed to mention that the intergrated skype didnt alow video or photos to be shared. They failed to include the very usefull share desktop feature too and there was no audio and camera settings to fine tune our well sound and video settings. Also if you get a miseed call 200 times it doesnt group them it simply gave you 200 missed calls on 200 lines lol. Skype built in failed because microsft failed to even include basics, just like edge and its new tabs inablity to opon to a page the user wants or the 12 months wait to get linked inboxes in outlook. I think microsft chooses what it wants top do in software and pretends thats what people asked for.

201x...just killed me there ,Microsoft is rather moving sloooow n android is moving like wild fire

You certainly don't know what "feature complete" in software development process means.

Hell, where is blue light on mobile?

Nope but the blog post says there will be ISOs released this week, 32 bit upgrades can be done from the disk image

who uses 32 still jump to the times buy a new computer

Some small tablets like the HP Stream series, Toshiba Encore 2, and NuVision tablets are limited in the BIOS to only be able to run 32 bit operating systems.

I'm confused? I thought this update I.e. Redstone 2 was meant to be focused on mobile? Yet I cant quite work out what's really new for mobile...? I'm not saying pc should have improvements but mobile isn't getting much!

I believe, could be wrong, but believe we are waiting on the new shell to be included before we see more phone stuff, specifically the continuum improvements.

RS2 is focussed on content creation, the 3D stuff and VR really (I think originally it was supposed to have a focus on mobile but they changed the focus last year) They showed the proof of concept of their 3D scanning app that could run on a phone with a regular camera but we haven't heard a peep about it since the event so I think they may have unintentionally overpromised with the onstage stuff (You can tell if you go back that the sandcastle used wasn't scanned in live on the stage), similar to how they have to push back the people hub when they realised there wasn't enough time to make it as awesome as the concept video they walked through. But hey, these things are hard to do so its right of them to push things back. If they deliver holographic shell for VR and the partners get these affordable headsets out on schedule that's a game changer for many and makes VR affordable to the masses

RS3 instead will focus on mobile. W10 on ARM isn't quite ready yet.

Also can't install any apps from the store at the moment!

mobile update (0x80080008)

For all of yeah Baby 👶 s crying you should throw your windows phones out the window and move on to a different platform.....

What platform two others are a waste of time?. Over rated and over priced for one and total crap for the second!

We get something new, people cry...funny how improvements and changes make people so mad.

lets see. gerstures beta from windows 8.1 mobile gone from windows 10. Skype preiview doesnt alow moveing of the video feed of your self. Facebook intergration in mobile gone. Edge is the first browser in over a decade to not let the user open new tabs to their default home pagen and im compareing this to OPERA, FIREFOX, SAFARI AND CHOME AND INTERNET EXPLOER WHICH ALL LET YOU THE USER PICK WHAT PAGE NEW TABS OPEND TO ON A SINGLE CLICK. . I get mad not because of the new things that microsft bring too windows 10, i get mad casue they take too long to impliment features we used to have and they try constantly to force software on us that wasnt even close to ready at launch, just look at edge, it took 12 months to become usable and still new tabs issue is stoping me us ait and i like it. Skype is 2 years and still not ready. Hewll even outlook didnt have a simple feature like linked inboxes for its first 12 months of existance. . Drag and drop in photo app to skype, no chance not for 12 months. Hell skype preview is the second reboot of skype and only cause they didnt put alll the features of old in . yes give use new features but dont do it at the cost of old and needed features and choices, I cry cause i think windows 10 is awsome but to many things that should be there simpley arent. I know im not alone thinging this way but its cause i friging love windows 10 mobile, tablet and desktop i just dont trust microsft anymore. One more forsed edge on tab in explorer thing and i will have no choice but leave the windows envoirnment completely. Honestly I feel thats what microsft is pushing me to and not what i want. Let the user who payed for their computer and operating system dictate what home page their new tab shows plse. Its not funny anymore.

Don't rant and whine, switch to Vivaldi. Fast Chrome core w/o all the Google crap.

Where are the continuum improvements for mobile?????

I wish they would fix the download progress for updates.

im hopeing for 2 things. 1) let me open a new tab in edge to the default home page of my choosing. 2) dont put a edge on internet explorer cause you want me to accidently press it. Fix new tabs in edge first. i really dont think either of these things is alot to ask for. Oh gestures on windows mobile 10 plse its been 2 years and a couple of months since it worked in windows 8.1 mobile.

Win key + f will get you farther

15019 caused my screen to be all black after lock screen and unusable. I restored only to get the 15019 build and find yet another forced atempt to make me use edge. I actually love edge but unless i can open new tabs to my default home page google in a single click like ie, i have no intention of going there. So microsft puting edge in a small box on the new tab edge is like them pointing a finger at the user and laughting. Weve tried edge and we dont use it for many reasons, ive given you mine so plse dont stick a edge tab where + tab is suposed to me, its x doesnt ma the spot all over again. If a official build comes this way with ie im moving to chome. my hd is farmated and ive taken away insider builds because of this stupid force feeding edge on internet explorer bs and as much as i want new tabs to open to my choice of page, home google im not willint to hope insider has corrected it anymore. Lets hope this latest build repairs both internet explorers edge force feed bs and edges home default page choice on opening new tabs.

I have no idea what your talking about. But I love edge I love how when I click new tab it shows me a list of my top visited websites. You dont have to use edge. Feel free to stay on chrome. Im happy the way it is.

How many comments are you planning writing about this thing??? Please...

No mobile again? Trump should ban Microsoft.

Of all things RS2, I want Edge to be faster and less buggy and blue light reduction on phone and PC. Otherwise, I'm cool.

I also noticed that they have got rid of the "We have updated your PC/These updates help protect your PC in an online world ..." crap and replaced it with a shorter version (suddenly forgot lol)

I'm just hoping they can fix the constant reboots on W10M, apps failing to launch without a hard reset, battery drain. I feel everytime I get an update im hoping things will get better but usually I'm disappointed. I hope this next build will fix the constant reboot. Very frustrating when you really need to do something and you unlock your phone go to an app and everything goes black, at this point you either have to wait 20 or so seconds for it to recognize it crash to restart or you have to give it the two finger salute. I'm using Lumia 950 xl on latest insider build.

Totally agree, the random reboots annoy me. I've found the reboots to become less if you format your SD card ocassionaly and try an SD card that's 64gb or less

Well my SB is stuck in 'Initialising' again like the 019 build, and unable to stop update in services this time either - so no 025 for me yet :(

Stopping the Windows Update service and a reboot worked for me

I wish it did for me, I tried several times but it would not stop, I then managed to stop it via task manager, and after re-boot it is back in the same initialising loop, it worked fine on my pc (although this time I also had to stop the service and reboot) :( - Guess I will have to wait for a fix:

Buggier and buggier. It's a good day to stay on Slow Ring :)

Since Windows 10 on ARM comes with the Creators Update, that looks like a good mobile focus. Sadly not the way we are thinking maybe (Windows phone)

I'd seen an artacle a few months back that MS made great strides with voice recognition. Was hoping they would bring that into Cortana for RS2. As it is now, it takes about 3 tries to get my phone to play music by voice.

Ask me how long it takes me to get the mobile to learn my voice.

I'm not having any sucess getting this build to download on three different machines. I've tried going back to previous build and running the windows update troubleshooter. I either get download error or the "iniitilizing update" message, that stays forever.

Another roll out isnt rolling out, thats the last two builds. Looks like its back to the ISOs again. I wish they would get a grip on these windows update issues its really annoying. They better release the 15025 as the ISO as the 19 one looked a little too buggy.

Refuses to install. Either stuck at initializing, or failing with various different error numbers per case. None of the Windows Update troubleshooting options helps.

Did they remove or move the settings for "VR/Holographics"?

My 950 instaslled 151025 perfectly, the colours now are wonderful tha's an improvment it self, BUT now there is no notifacation on sms or email, the app volume slider has dissappeared from the screen only the volume slider with vibrate & ringer on after you press the down arrow, none of the tones work accessiong the ringtone folder to see why nothing plays it as if they have been deleted, I hope there is a solution soon to fix this Cheers

Got error while installing atlest 5 timees. Even tried resetting my build but still the same problem exists
Windows Central Newsletter
Thank you for signing up to Windows Central. You will receive a verification email shortly.
There was a problem. Please refresh the page and try again.