Windows 10 build 15055 for PC and Mobile now rolling out for Insiders in the Fast ring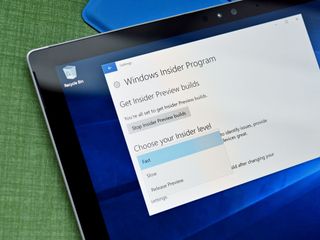 (Image credit: Windows Central)
Microsoft is rolling out yet another Windows 10 Insider Preview build for Insiders in the fast ring today for PC and Mobile, sporting a number of new under the hood fixes and enhancements. We're less than 2 weeks away from the Creators Update being finalized by Microsoft at this point, so today's new build is rocking no 'new' features.
What's improved for PC?
If you have Symantec/Norton anti-virus software installed on your PC, you should no longer get an 0x80070228 error when attempting to download this build. Symantec released updated anti-virus definitions last week that fixes this issue. - Please make sure your Symantec/Norton anti-virus software has the most up-to-date anti-virus definitions BEFORE taking trying to install today's build.
PCs should no longer fail to update to this build at 71% and roll-back to the previous build.
If you have additional language packs installed, this build should install just fine.
We fixed an issue where sometimes the context menu when right-clicking a misspelled word in Microsoft Edge would launch in an unexpected place or under the Edge window.
When using "Cast media to device" in Microsoft Edge, it will now open the Connect pane (also seen when using Win + K).
We fixed an issue from recent builds where Microsoft Edge might immediately show a "Not responding" state after opening a link or pasting a URL in a new tab.
We fixed an issue where sometimes the tab mouse-over description tooltips in Microsoft Edge would stay on the screen even after closing the relevant tab.
We fixed an issue that could result in Microsoft Edge unexpectedly attempting to download certain webpages rather than navigating to them when the uBlock Origin extension was enabled.
We fixed an issue where it wasn't possible to use touch to set focus to text boxes in Microsoft Edge's Web Notes in order to enter text.
We fixed an issue where, after using Ctrl + W to close multiple tabs in Microsoft Edge at once, the active tab might lose focus and keyboard shortcuts would stop working until moving focus away from and back to the tab.
We fixed an issue recently where if you have selected text in Microsoft Edge, moved focus away from the window, then returned focus using Alt + Tab or the mouse, trying to copy the selected text wouldn't work. We also fixed a recent issue where if you used Ctrl + C to copy selected text in the Edge URL bar, and then Ctrl + Shift + P to open a new InPrivate window or Ctrl + N to open a new regular window, using Ctrl + V to paste the copied URL into the new window's address bar wouldn't work.
We fixed an issue for Insiders where, if focus was set to a Microsoft Edge window, touchpad and keyboard input might periodically stop working for a few seconds at a time.
We fixed an issue for Insiders with multiple monitors resulting in flickering and rendering issues when the Hub button in Microsoft Edge was pressed.
We fixed an issue where Insiders with multiple monitors might find one of their monitors would stop rendering (with the exception of the mouse).
We fixed an issue resulting in Microsoft Groove sometimes no longer rendering correctly after snapping the app to one side of the monitor and changing the size.
We fixed an issue from recent flights resulting in the taskbar getting into a state where many of the thumbnail previews would be unexpectedly blank.
We fixed an issue for certain USB-powered monitors where the taskbar clock would sometimes stop rendering for a few minutes (seemingly stuck, but would refresh on mouse-over).
We fixed an issue where the battery flyout would crash the second time the battery icon in the taskbar was clicked.
We fixed an issue from recent flights resulting in OneDrive.exe unexpectedly sometimes running with a high percent CPU for a long time.
We fixed an issue that Insiders may have experienced resulting in paste not working if the copied content was from a UWP app that was currently suspended.
We fixed an issue where certain devices were unexpectedly not being discovered when searching for available pairings to add in Bluetooth & Other Devices Settings.
We fixed an issue where for those with certain printers, clicking on "More settings" in the UWP app print dialog would result in the print dialog hanging.
We fixed a recent issue where many of the advanced settings dialogs, such as the one seen when searching for driver updates, were grey or had grey components instead of the expected white.
We fixed an issue resulting in Windows Defender Antivirus notifications not opening Windows Defender Security Center when clicked.
We fixed an issue resulting in a Microsoft Visual C++ Runtime Library error dialog citing a TabTip.exe runtime error unexpectedly appearing on the login screen for some Insiders.
What's improved for Mobile?
We fixed an issue from recent flights where the volume control might stop working when listening to music in Groove after an endpoint change (for example plugging in headphones).
We've improved speech reliability by fixing a bug where Cortana was unexpectedly failing with a connection error.
We fixed an issue where multi-turn Cortana speech interactions weren't working (for example, when creating a reminder in multiple parts, as opposed to doing it in a single sentence).
For the full changelog, including a list of known issues, check our the official Windows Blog post!
Windows Central Newsletter
Get the best of Windows Central in your inbox, every day!
Zac Bowden is a Senior Editor at Windows Central. Bringing you exclusive coverage into the world of Windows on PCs, tablets, phones, and more. Also an avid collector of rare Microsoft prototype devices! Keep in touch on Twitter: @zacbowden.
Well that was fast indeed.

Microsoft sure isn't f****** around.

Why is "fooling" censored?

Because he wants to be a bad***

My biggest issue with the latest builds how laggy the start and action center animations are. Makes my shiny and very capable Surface Book seem like it can't handle much at all.

Agreed, it was ridiculously buggy

If your SB has an i7, the Intel 540 should indeed be smooth as silk with the animations. The 520 however in the i5 may struggle a bit with the 3000x2000 display.

If an i5 can't handle simple animations, Microsoft is doing it wrong.

finally the uBlock bug is fixed. Nice

Apparently the mobile build won't let you install store apps. I'm holding off until we get another build

Can anyone verify this? No announcements posted within Feedback hub yet for the mobile changes and known bugs.

https://blogs.windows.com/windowsexperience/2017/03/10/announcing-window...

It said u MAY have problem updating apps. I installed it and checked my store for updates and monument browser had a update and it updated fine no problems here

True just a heads up, no problems with download from from my 950xl or 1520

I think they are talking about the Store app itself. I had this issue before. I had to do a fresh install of the build and the issue was resolved.

I read this as apps wont install. There is a bug in this build that can cause a number of inbox apps to fail to launch (such as Store). There is no workaround to reset the Store unfortunately. This issue also prevents you from taking any app updates from the Store if the Store works for you. A workaround for this is to uninstall the app and reinstall the app from the Store. This issue will be fixed in the next build. Speech packs may be unable to download on this build.

The problem I ran into was that the Store app would not launch. So, if the Store app can't launch then it won't download updates for apps, and you can't download new apps because the Store app can't launch. It is more about the Store app not launching is the root problem. (Chicken and Egg thing) I did a fresh install of the build and the Store app started to work correctly again. (This was a few builds ago actually)

How can they release with such a major bug.

change your device to slow and wait for another build...

It's the Fast Ring. Bugs are expected.

1st thing I tried after installing this build was going into the Store, looking for updates then installing a random new app. Worked perfectly and the app launched just fine on my 950xl

Do you have any constant crashes on your 950XL? Honestly, mine totally crashes at least 8 times a day now, its getting worse

Download and install was fast and smooth.
My Store app launches and I see it has auto updated an app since Windows Update. Also, read the build notes on the Windows blog for Insiders!

Same here, no problem with store

Store downloads fine here on Test 640.

I wish the company focuses on fixing Bluetooth issues that Windows 10 Mobile has with many popular devices and cars. While improvements were definitly done since the OS was initially released, they are stilll many people, including myself with issues. Looking on the web or simply the feedback hub app highlight this easilly.

I was having serious Bluetooth issues until I reflashed and didn't restore from a backup. The restoring from backup seemed to be the issue for me - some (faulty) settings or config seemed to be carried over. Since this mine has worked correctly: I.e. not having to delete and re-pair every time, automatic connections etc.

For me, I can't get Cortana voice to output to my car, unless I pick the option that passes her voice as phone calls. Which is annoying and slow. And if I play music, any sort of CPU / GPU activity, say using Maps for turn by turn navigation, the music skips. It acts as if Bluetooth is set to lowest priority. I'll try what you said during the weekend, but I doubt it will fix anything for my issues, as in the past I was never lucky to get any improvements doing this. Thanks!

If you're pairing successfully, this might well be different - but, might be with a try. I do have difficulties with Cortana, though that applies everywhere (BT, direct, mobile and desktop). I did feedback (ages ago) for how sounds and music should mix/output, but these topics do not seem to generate much interest in insider community.

Very true. I noticed that all Bluetooth issues on 10 Mobile have poor votings/interest. I am personally surprised by this because Bluetooth is such everywhere. I guess most people use wireless headphones for music, for those who do use Bluetooth capability of their device, and don't use Maps or Cortana. At every build I push the issues I see (I make new ones), and provide the most details and take monitoring logs with the Feedback hub, to give the most details possibel to Microsoft, in the hope that it isd useful for the team, for when they eventually comes to fix it in their priority list. To me, I think Bluetooth should be part of the top priotiry issues, especially if they plan to release a "Surface Phone" (whatever that device will be), as people will connect such portable syustem with their car, anbd use Maps, and use a music player. It will only bring bad marks if people send 500-800$ on such device only to see Bluetooth skip or have issues with their headset or car, or Cortana voice isn't passed through, etc. Esepcially that it is such basic thing. We saw with the Lumia 950 / 950 XL how these great phones, running amazingly well tehse days, be trashed due to a few OS bugs that made Settings panels crash and other similar bugs here and there.

Tweet at Dona with this information. She'll make sure it gets handled. Or @northfacehiker

I have done multiple times, never a single response from Dona but did bug report with another at MS.

It's hard though cause really depends on the car manufacturer implementation. I rent a lot of cars and I find I don't have problems. Except sometimes I need to choose the alternative method for cortana to work with maps navigation. I had one car where the volume started so low but increased over time. However, when it was for directions, you miss the first part cause of too low volume then it increases. I had one car that didn't even support BT music streaming. Generally, my (release preview) phone connects fine on bluetooth with lots of different cars I've driven and I get my maps and streaming BT radio.

My car automatically uses a phone call to pass on Cortana information and it skips a lot of the beginning of turn by turn directions because of it.

Samething happens to me. It must be some bug with the devices it pairs with because when I pair to a BT speaker, Cortana works fine but when pair in the car, no Cortana unless its set to use another audio stream and thats annoying having Cortana go thru a call everytime.

My only Bluetooth issue is that Cortana doesn't "disconnect" after announcing a text. I have to manually switch my trucks radio out of "voice control" and back to playing music. This issue does not occur with iPhone and Android so it seems it would be a trigger event issue with W10M.

Nice! I know what I'm doing when I get off of work.

Man they are kicking these things out like hot cakes

At last.... Reported this and got shot down in forum as its not a bug. Some users are reporting that pages are constantly reloading or refreshing, especially while they are in the middle of scrolling them in Microsoft Edge. We're investigating.

Any word if they fixed the bug that causes you to lose all your texts if the phone restarted on the last build? The way they were talking it was to be fixed in this one.

Didn't lose my texts. Didn't read anything about this bug.

Wonder why u guys didn't post the issues like the store bug in the article

Edge is geting worst in every new build, lots of lag when in the multitask window, loading screens again, so many little bugs....high hopes on this new build

As i said last build, they need to make apps like edge stand alone, so they can be updated independently, again shot down in flames.

Interestingly that was the main reason they cited for removing the Music/Xbox Music app from the OS into a standalone app way back on 8.0. But it's not good enough for Edge apparently. Mine reloads during scrolling, also seems to become unresponsive in certain pages like when typing. Will ignore deletion but allow me to add characters which makes fixing a mistake a living hell.

What about blank screen bug?

Mobile Update :
Edge still refreshing on mainly forums (now flagged as an issue by MS) and video flickering as before VPN still disconnecting and now seems to be lose password or has corrupted somehow. Screen not going straight to full set brightness, extremely dimmer for a few seconds. Waiting for the -1s

You got three - votes . I'll reduce one for you ☺
I had edge refreshing on the previous on Lumia 640 but not 950 XL. I haven't tested on this build yet.
Maybe it varies from devices or some people just don't have it

Its funny that every -1s but its a known flagged issue that M$ are looking in to. It's on all devices unless your some people (full on fanboys) who have have a full bug free version, in which case you won't need updates :)

Wonder if they rushed this out like google to fix vunerabilities exposed by WikiLeaks.

Cortana handsfree text messaging fixed? USB Audio Class 2 support added to W10M?

New build! I'll miss the palindrome, but 15055 here we come!

Disappointed at the number of really bad bugs. I was hoping to finally install on my Lumia 735 but if the store won't work and apps might not update; that is too risky for now. Surprised that this late there are still so many bugs!

No problems with store here, 2 apps updated fine after installation of this build.

Am installing on my PC right now but so much for it being faster. I am going on 2 hours and it is at 50% Preparing to Install. This is update from 15048. So much for being a faster install.

Well, I see that someone didn't like my post, but it is true. It took 4 hours to update 15048 to 15055 on my Dell PC. It's not even two years old.

Now installing on my 12 yo laptop. It is preparing to install updates; then it will download; then prepare, then configure, then install. But I bet it won't take any longer than on my modern PC.

Please add the functionality for phone numbers to be recognized as links in Mail and Calendar app. Getting silly that this basic function is missing.

Need a mobile production build....haven't had one for more than 3 months!

Yeah, I'm stuck in Production 10.0.14393.693 for ages :(

Just an FYI. Have been having issues with car and BT and the address book not being imported. Figured out that when I allow the car to access the phone book I should NOT allow pictures to be downloaded as well. This worked fine in the beginning when someone would call and I would see their profile pic. It stopped and the address book would not sync. Deleted paired car, re paired and did not select the option to download pic. Now address book comes across. Just a tip if anyone else having this issue. 950 DS and Acura TLX.

I have installed build 15051 on my Lumia 735 and haven't had any issues with the store. My apps download and update just fine

This build is 15055... Store launchs but app update not tested yet

Just got 12 updates in the mobile store on build 15055

"We fixed an issue that could result in Microsoft Edge unexpectedly attempting to download certain webpages rather than navigating to them when the uBlock Origin extension was enabled." Last fix required before making uBlock Origin public! This means it can come out of preview in the Creators Update 😁🎉🎊

Have finished downloading and installing on my 950XL and FierceXL. Download and install went without issue and was pretty quick. No more black screen on wake up, or coming out of Glance. All apps open and access without crashing. Edge seems stable and good. Heat issue seems to be diminished and the Store app functions as it should, allowing app downloads and updates. Did not loose any phone or messaging history. Both phones seem quick and responsive. Haven't tested continuum yet...probably tomorrow. All in all, at least for me, a stable build so far, we'll see what the weekend brings.

Store crashed on my lumia 950

There's a Nascar App update here and it's stuck. That's the only update that appeared, hope this won't happen with others. L950 also.

Same here. And I second that super fast install. Under 20minutes timed.

For me, this is the fastest build on lumia 650.

Still has watermark and expiry date, but this is showing on the desktop as 'Windows 10 Pro' (no longer Insider Preview). Also it is now officially Version 1703.

What about production builds?

end of the month, Creators Update

Huuuh, on my HP notebook the sleep mode doesn't show up any more ... The device manager window repaints itself every 3-4 secs as well.
Impossible to work with it. Hope the next fast ring build is due very soon. -

On mobile start screen feels new and fast. Tiles seem to be refreshing data faster. I do like it better but still think it should be a setting that appears in both battery and customization settings.

Still quite a few issues to be only 2 weeks away from RTM

Update process went fairly smoothly. Not sure about the Store; nothing shows up to be updated so I'm not sure if there are just no apps to be updated. Only thing a bit annoying is a message to fix my account inorder to be on the Fast Ring, which I'm already on. Popped up four times so far. Also, Groove music app takes a bit of time the first time it is launched to actually appear - last two updates.

My device is working fine

This build is trash. Rolled back. Nothing worked reliably at all. Notifications, Edge, Setttings, File Explorer... this is 2 weeks away? Damn ...

Has anyone gotten Dynamic Lock to work consistently on this build?

Auto-rollback at 71% is NOT fixed!

Looks like they fixed the space issue.

On mobile, the Store is opening but cannot upgrade any apps. That is not a big issue, since most non-MS apps have given up with this dead platform anyways and the few upgrades still there would be something like Whatsapp Beta and the Store itself. Other than that, very fluid build, one of the best so far.

I personally have no problems with the store and updates come regularly for any kind of apps.

Store runs normally, except for core apps (those by Microsoft that we can't uninstall).

When will they finally fix the volume bug when unplugging a headset?

This started on the previous build and happens in 15055 as well. Both my Lumia 950 XL as well as Alcatel Shine Lite are not getting installed correctly or at all. In Bluetooth and devices, they are listed as Driver unavailable. In Device Manager they have a yellow exclamation mark. I'm on a Dutch Windows version so the English notifications could be different. Anyway, I can't access both phones with the latest 2 builds.

Out of interest, does anyone know if a comment thread here can be shared (e.g. Via twitter or feedback hub)? These discussions on WC generally provide more useful info to both users and bug reports than many of the actual feedback threads.

The Store worked for me (950XL) for awhile. I could update apps..install just fine. However! DO NOT SEARCH IN THE STORE!
This is what borked mine. I did a search for an app and it failed with frowny face that said Try that again, error code 0x8000FFFF.
Restarting the Store opens to that same error. Reboot is no help either.

Hello. For every app you see in the Store, there is a question saying: "How was your Store experience today?" with a Send Feedback below the Rate and Review... Seems that the Store's in trouble!

Still having the problem of apps hanging on their splash screen or just timing out on my L640. Done a hard reset and the problem persists.

I haven't been able to run WhatsApp on my 640 since 15002.

WhatsApp is one that doesn't work for me either.

Me too I can't run my WhatsApp, telegram and some other apps

Skype for Business, Lastpass, MeTweets, 6tag, and a bunch of others. Hard reset doesn't even work.

Great build in every way except now battery life is atrocious on Idol 4s.

groove doesnt work (pc)nor is listed in app listing to fix it, the insider hub not connecting (pc and 950)

It works for me on both mobile and PC

Right not intentionally looking for hate :). I've been a long term Windows user. Had the Lumia 800, 920 and now the 950XL. Always when possible been on Insider looking to test the new features on Windows 10 Mobile. Starting to wonder what new features have actually been introduced for mobile over the past 6 months? I feel like I'm just installing bug fixes that introduce new bugs. The key bugs I've had on my phone (particularly with Edge) seem to never change whereas Bluetooth goes through a repetitive break and fix cycle. Am I missing something here?