Windows 10 build 15061 now rolling out for Insiders on PC in the Fast ring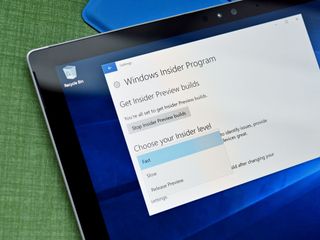 (Image credit: Windows Central)
Hot on the heels of yesterdays release, Microsoft is rolling out build 15061 of Windows 10 for Insiders in the Fast ring today, packing another round up of bug fixes on the lead up to general availability. We're close to Microsoft signing-off on the Creators Update now, so these builds should be "final build" quality.
What's new?
We fixed an issue resulting in some unexpected visual distortion when watching certain mp4 videos in Movies and TV on recent flights.
We fixed an issue resulting in OOBE crashing when you tapped the birthday date field when creating a new account and email address.
We fixed a recent issue resulting in certain VPN connections being unexpecting missing from Network Connections.
We fixed an issue where in recent flights, some Direct3D 9 games might periodically fail to launch. To work around this, it was necessary that your default display resolution be the recommended setting for your system. You can now return your display configuration to your preferred settings.
For a list of known issues, make sure you check out the full changelog on the Windows Blog!
Windows Central Newsletter
Get the best of Windows Central in your inbox, every day!
Zac Bowden is a Senior Editor at Windows Central. Bringing you exclusive coverage into the world of Windows on PCs, tablets, phones, and more. Also an avid collector of rare Microsoft prototype devices! Keep in touch on Twitter: @zacbowden.
Still installing 15060 from this morning!

I think the reason for lack of mobile might be that the fixed issues were only a problem for PC maybe?

Just installed 15060 this a.m. and now 15061 is downloading as I type this. Oh the insanity!

in my case >>> Windows 10 Insider Preview 15058 only is appear > i can't see the 15060 or 15061

You should verify that you're still in the Fast Ring. I've seen it where an update can drop you down to the Slow Ring without notifying you.

Same with me. I just re-joined insiders yesterday so I thought I had to get 15058 first. Maybe not

Gotta love the fast ring 😀

When will a new build for Windows 10 Mobile come?

I believe that they are focusing more on PC to be able to sign off on RTM. Mobile builds will be a bit slower in their release until PC RTM's.

Went from 180GB to 230GB for the month yesterday updating around here. Verizon Wireless got to just be lovin' me!

Gotta love having unlimited broadband!

Two builds in literally two hours for me!

It's not even listed on the feedback hub yet but I am already downloading it - MS are too quick for themselves....

Why do almost all these builds impact language pack installments?

Hmm. Had 15060 just installed earlier today. Searching Updates ... Nothing?!?

Hmm. Had 15060 just installed earlier today. Searching Updates ... Nothing?!?

Downloading very quickly, this is the new update system working - not much change between 060 and 061 in terms of file updates

Ooo I'll dl this just for the mp4 fix

Man they're popping them out.. I love it!

So they just forgot about Mobile right

Seriously? Servicing a rising 28% of the global PC market or servicing a declining 0.3% of the mobile market. The answer should be fairly obvious


They're the same OS at the core though.

Windows phones actually have around 2-3% of the market. The declining number which is regularly published (currently less than 1%) only reflects device sales, not users. Just because there are less devices available for purchase now doesn't mean that most of the 50 million WP/W10m users have gone away.

Something I'm wondering....what about mobile?

Couldn't install build 15060 because of Error - 0x80070005. Been searching for the solution from last two days on the internet. Nothing worked out :(

Pretty sure there was instructions in the 15060 article in here... You need to delete a certain registry entry. HKEY_LOCAL_MACHINE\SOFTWARE\Microsoft\Windows\CurrentVersion\WindowsUpdate\Auto Update\RequestedAppCategories\8b24b027-1dee-babb-9a95-3517dfb9c552

Yeah, I tried that too. Still getting error 0x80091007 or 0x80070005 randomly.

I don't know if it's 15060 that's the problem or not, but I'm having power issues on my surface since installing it this morning. I was plugged in all day and the battery drained while the only work i did was in OneNote. Hopefully this update does better.

Now that is what I call a fast ring!

Hopefully mobile will be next week.

Still seeing watermark on 15061.

RTM on Monday or Tuesday I reckon

This build has made Edge almost unusable for me.

Edge has been unstable for me in Builds 48, 55 and 58. Was hoping it was getting better. It freezes in YouTube almost always.

Failed to install for me.

How much free space does your computer have?

I really want the new creators update.

Not long to wait now, April 11th is the date for PC version, insiders will get it a few days earlier

My experience with Facebook on Edge in this build and 15060 is that it is sloooooooooooooooooooooooooooooooooooow. Typing in replies is taking forever, almost, as I have to wait for the letters to appear to see if I made a typo.

Is anyone finding performance to be atrocious whenever transparencies are on screen? I'm using a SP3 i5 8GB and the start menu and action center used to animate and scroll pretty smoothly, but now depending on what app it's overlaying, it can be a choppy nightmare. Also, having major issues with Typecover not being recognized upon waking far too much for a build this close to release.

What I have noticed is games like Cities:Skylines, my favorite time waster is experiencing some oddball behaviors on these latest builds. It is not playing well with Steam and short of installing Windows 7 again, I don't know how I will enjoy this game anymore. My plan is to grab an ISO when its ready and rebuild my PC from scratch. Maybe the debug code in these builds are causing its own set of problems.


Why is it that after all these builds, Microsoft Edge still cannot make comments in Windows Central blogs. I click the box and it remains grey. I have to go back to Firefox to leave a comment.

I too find it ironic that Windows Central doesn't support Edge. While I'm sure there's an Edge component to that, I must say thet Windows Central is actually the only site on which I have these problems. I use Firefox for Windows Central and Edge for just about everything else. I also like that Firefox has the ability to display all the of the articles in a nice alway-up-to-date drop down list from the Bookmark bar (because it can generate bookmarks from an RSS feed, and Windows Central supports that). I suspect the problem is not purely Windows Central, but rather Mobile Nations that sets how these sites work. Perhaps Mobile Nations is not quite so Windows-oriented.