Windows 10 build 16288 for PC and 15250 for Mobile now available for Insiders
A new Insider Preview build for PC and Mobile is bringing more enhancements and bug fixes on the lead up to RTM!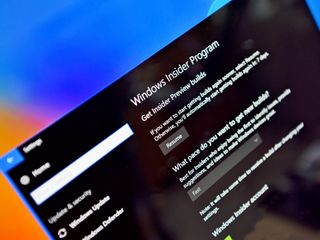 (Image credit: Windows Central)
Microsoft is rolling out Insider Preview builds on PC and Mobile for users in the Fast ring today, featuring for the most part more under the hood bug fixes and improvements on the lead up to release. Today's builds are 16288 for PC and 15250 for Mobile.
What's new for PC?
This build includes no new features.
Windows Shell
We fixed an issue resulting in the Facebook Messenger app failing to accept the enter key when sending messaging in recent flights.
We fixed an issue where the "New" text displayed under the names of newly installed apps in Start wouldn't go away after launching the app.
We fixed an issue where using the letters in Start to jump to different locations in the alphabet wasn't consistently working in the last few flights.
We fixed an issue where local app search in Cortana failed to return the expected app if the user profile directory contained non-ASCII characters.
We fixed an issue where pressing WIN + X would sometimes not show the accelerator key underlines.
We fixed an issue where when the People button was present in taskbar, and toast-only banners (for example from Outlook 2016) were sent, the Action Center badge counter would become inaccurate.
We fixed a bug from recent flights where upon unlock you'd be bombarded with any notifications that occurred while your PC was locked. If you'd like to review notifications received while your PC was locked, they can be found in the Action Center
Input Improvements
We fixed an issue where pressing delete when using the full touch keyboard layout in UWP apps would input a period rather than deleting a character.
We fixed an issue where the Pinyin IME's emoji picker wouldn't load in recent flights.
We fixed a tablet mode issue where launching the touch keyboard in UWP apps might sometimes take multiple taps on the edit field before the keyboard would come up.
We fixed an issue where when using the Chinese (Simplified) handwriting panel InputPersonalization.exe could get into a state where it would unexpectedly have a continually high CPU usage.
We fixed an issue with the handwriting panel where the "&123" and Emoji button didn't work when the device was in portrait orientation.
We fixed an issue resulting in not being able to turn on the Japanese IME after the focus was moved from a UWP (like Sticky Notes) to another app and back.
We fixed an issue resulting in a stutter when selecting long strings in certain single line editable text boxes (for example when naming favorites in Microsoft Edge).
We fixed an issue resulting in not being able to type text via the touch keyboard into Internet Explorer when using the Japanese, Chinese, or Korean keyboards.
We fixed an issue where the Dayi and Array IMEs couldn't input Chinese characters in certain apps in recent flights when using the touch keyboard.
Microsoft Edge Improvements
We fixed an issue where the tab preview for PDFs was just black with two white stripes.
We fixed an issue where the first time you used Ctrl + F in a tab the search box wouldn't get focus. We also fixed an issue where after clicking the Find on Page text box you might not be able to type in the address bar.
We fixed an issue where sometimes the Hub would appear to open twice when you clicked the icon.
We fixed an issue where typing a web address into the address bar from the New Tab and Start Page and would sometimes clear the text and not result in any page navigation.
We fixed an issue where Ctrl + Click on a link in a PDF wouldn't open the link in a new tab.
We fixed an issue where "Open with previous pages" wouldn't recover tabs if the tabs had been dragged between frames prior to closing Microsoft Edge.
We fixed an issue which could result in uploads failing on some sites, such as Behance.net.
We fixed an issue where website tooltips could end up displaying behind the Microsoft Edge window after opening a link in new tab in the background.
We fixed an issue resulting copy/paste and the print dialog not working for those using the updated Youtube.com website design.
We've updated editable fields in PDFs to now have a subtle color to help indicate that they're editable.
We fixed an issue resulting in PDFs potentially rendering blank after panning down a few pages and back up.
We fixed an issue from recent flights where Alt + D wouldn't bring input focus to the address bar when certain keyboards were active.
Gaming
We fixed an issue resulting in Ghost Recon: Wildlands not starting in recent flights since the Easy anti-cheat component wouldn't load.
We fixed an issue resulting in Mod Organizer no longer load mods into Skyrim in recent flights.
Devices
We fixed the issue where USBhub.sys was causing spontaneous reboots due to bugchecks (GSOD).
We fixed an issue where your PC might not go to sleep automatically after remoting into it and signing out of the remote session.
Other fixes and improvements
We fixed an issue where Settings could crash if a Bluetooth device was turned off while the Bluetooth settings page was open.
We fixed an issue from recent flights resulting in some Insiders experiencing an issue where Store apps would begin to fail to activate after being launched a few times.
We fixed an issue where if the lock screen slideshow was set to a OneDrive folder containing offline-only images, these pictures would all be downloaded to the PC while the PC was locked (going through each picture). These pictures will now be skipped.
If you've encountered an issue where Spotlight appears stuck on a particular image, we've added logic such that it should now reset after at most 7 days.
What's new for Mobile?
Two factor Authentication: We are excited to announce that we've introduced a two factor authentication unlock mechanism for Windows 10 Mobile. With two factor unlock, an enterprise can enforce an additional security layer to their sensitive data via an MDM policy. Once two factor unlock is enabled, a phone user will have to enter a numeric pin followed by an enterprise-defined factor to unlock the phone.
AppLocker Improvements: A number of customers have provided feedback on the warning prompts for apps that are blocked by enterprise policies. We've improved the UX and updated the MDM SyncML scripts associated with the policies. Application restrictions can be configured by either the ApplicationManagement CSP or AppLocker CSP.
Lots of reliability improvements for VPN connectivity in Windows 10 Mobile.
IKEv2 Sleep and Power Enhancements.
VPN completes all pending actions before sleep and disconnects.
Automatic reconnection on resume.
Force tunneled improvements for UWP platform.
Proxy improvements for UWP VPN profile.
Enabling MMS usage when VPN is connected.
We fixed a regression that was introduced in build 15245 where the fingerprint reader on the HP Elite X3 did not turn on the screen. You needed to turn on the screen before you could use Windows Hello.
We fixed some issues where the Maps app navigation would start navigating a route and after performing a reroute, would present a list of possible routes instead of adjusting to the current route.
We also improved map-matching particularly for routes using ferries.
We fixed an issue where an app using the routing engine (e.g. Maps) would timeout on providing the route if suspended for more than 30 seconds.
We fixed an issue where tiles on the Start screen would occasionally be blank.
We fixed an issue where a VPN profile that was created via the VPN Management API would always be a dial-up profile.
We fixed an issue with the MDM policy used to control Build Flighting by Mobile Enterprise.
We fixed a couple of navigation issues when changing from highway to highway (occasionally, signposts were copied from the original highway to the destination highway) and highway to non-highway (erroneous instruction to "enter highway").
We fixed a rare issue where the user's call history was shown as corrupt after an upgrade.
As always, you can check out the full changelog at the official Windows Blog.
Windows Central Newsletter
Get the best of Windows Central in in your inbox, every day!
Zac Bowden is a Senior Editor at Windows Central. Bringing you exclusive coverage into the world of Windows on PCs, tablets, phones, and more. Also an avid collector of rare Microsoft prototype devices! Keep in touch on Twitter: @zacbowden.
Updating my Lumia now, waiting for the final RS3 build to upgrade my PC.

It's now downloading. Check it out.

Wow did Microsoft get pissed from apple's event

No. They had a blocking bug last week and this was the first build since that passed all checks. Not to mention it's also Patch Tuesday Nothing to do with Apple.

How do you figure they got pissed? Microsoft isn't even COMPETING with Apple anymore. They gave up their own phones in favor of building everything for Apple's phones. I think it's laughable that they're spending any effort at all working on enterprise features since enterprise customers barely existed in the first place and are switching to either iPhone or Android anyway. Barring any real information from Microsoft as to their future phone-like-device plans, it's clear their "mobile strategy" is to support iPhone and Android. This is all just smoke and mirrors now.

Wow.
I remember when you weren't so broken over WM.
Microsoft really messed you up.

ScubaDog has always been that way. It just comes out in bits and pieces.

Yep, he's come a long way

Microsoft needs to bring Google's Play store APK files as sideload applications on Windows 10 Mobile platform. No emulator or third party software requirement should be required for the conversion. APK files should directly install on Windows 10 Mobile. If they adopt this strategy, that will be a game changer.

Not gonna happen, Google would need to give permission and they won't do that.

We just need to be able to run some sort of Bluestacks. I dont see anything wrong with that.

Or maybe just add alternative store as the Amazon and add the needed to run APK files. They already did part of this on mobile on some insider builds but then discontionued the project for some reason. If they do it on PC the store will fill with a lot of apps and Windows on ARM would benefit from this. Have you thought about the other thing. What about if they add app as Google play services on android which gives the needed to run uwp apps on Android?

Keep dreaming, that won't happen either

Blackberry 10 did this. The issue is that Blackberry quit updating the run time. Damn shame.

Mobile...downloaded. Installing. PC...Error "An update is being prepared for your device, but it's not quite ready yet. We'll keep trying or you can try again now."

Ditto. On all non-phone devices.

Got the message too, four hours later.

I can't download either so well annoyed.

Same here. tried temporarily disabling antivirus - did not help tried removing a second language and go all EN-US - did not help also tried to read the WindowsUpdate.log file but you need to do something in powershell to get to see a human readable log file. Doing the thing in powershell just gave me errors and no log file. hrmpf.

I done everything to get this update and still will not download. ahhhhhh

its 1435 here in the UK and I am still getting the same message. Have you found a way to get the latest update yet???? Dave

We have an actual build with new features for mobile..

Maybe, just maybe, we'll get a build for Skip Ahead this week!

Sweeeet. Downloading on my 950XL now....

FINALLY!!!! Fixes for VPN. I was getting seriously tired of the disconnects that i'd just about given up on it.

These are the enterprise features they had mentioned earlier this summer?

Probably yes. Like most people, i also expected some new features for office related apps, etc. But now we see, it's just some enterprise policy and security updates... Anyway update is update and new feature is new feature.

When can i move back to Verizon??????

My Lumia 950xl get the update right when was watch iPhone intro.. By the way did you guys notice the iPhone intro on apple YouTube channel looking like the marriage of Nokia Lumia 920 and Lumia 950 like the wireless charger, facial reco, was like wait I see those features somewhere any way I ditched Samsung s8 waiting for iPhone 8 the colors are good but not something i want. since I can't afford iPhone X, now I think I should wait for Nokia next flagship. So for now I think my Lumia 950 xl and Samsung s7 will be enough till next Nokia flagship

The swipe gestures on the iphone reminds me of my old Nokia N9, that was a great phone. Actually, the swipe from edge of the screen is from the N9, and swipe to dismiss the app is from the N9 as well. Who would have thought!

Posting comments using WC app, still broken. Have to go to browser instead. Not good 😞, believe me.

Been that way forever. With the general incompetence at Mobile Nations I'm not surprised. The only place more incompetent these days (in the MS arena) is MSPowerUser.

I think Windows central should got back to the way the win. 8.1 app style it opened much faster and did not crash 3 or 4 times out of 5. I believe the app uses to many resources by loading to much at once.

Windows Central app for Windows 10 Mobile has some huge problems. Like very slow artice upload, slow starting time, sending comment problem, duplicate avatar problem, notification problems, etc. It needs lots of fix but no one looks like care.

clear the cache in the App and see if that helps

Leo Moshi, why wait, Nokia 8 is out. I heard rumors that Nokia 9 is coming as well.

Didn't like Nokia 8. Waiting for next Nokia.. Lol maybe if true that 9 will give it a go

it seems there are mo "NOs" on features os Nokia 9, so it seems LG V30 is better!

I am getting this 'update being prepared for your device, but not ready yet' message. Anyone else?

Same here... for the last half year or so, it seems I have to fight to install each new pc build. MS has got to sharpen up its update system.

See above from four hours ago and you have you question answered.

Yes, same here. UK time 8.08am Wednesday

"This build includes no new features." Get used to this.

Yes they are after stability for wide release now.

Learn to read bro. There's two new features now in the FCU. We are back to getting stuff now.

They just announced a fix for the install issue. Should be live in about an hour.

I love you. Affected work PC also...

I am in the UK as well and still getting the update being prepared?? Any idea's on how to fix this problem ??? Dave

I still cant get the update. Where did you see this announcement as nothing anywhere. Dave

It was tweeted last night. Still not working here though

Maps and navigation needs a lot of improvements because we once used Here Drive, the comparison wont stop.

Having download issues on pc - starts initialising then fails :(

Its still broke. You'll have to wait for them to awaken on the west coast so they can fix the fix.

wake up usa and fix this update.

I just noticed that with this build now "Windows Update" icon and its settings are visible on the notification settings list.

FINALLY!! 5 updates later and my notifications for missed calls and VM work again. I was on the verge of totally leaving the platform for iOS (free line with an iPhone 7 from work, don't like it). Thanks Microsoft!

Still no update. There must not be a simple fix for this error.

1718 here in the uk and still not getting the pc update. Im still getting the "An update is being prepared for your device, but it's not quite ready yet. We'll keep trying or you can try again now." Anyone have any idea's on how to get this update working????

Same boat as you, been trying since this morning. There's a tweet from Dona that says they SHOULD have it working by 5pm PST (1am tomorrow morning UK). BUT they also said it was fixed lasty night, when it clearly wasn't

Didn't we used to have a list of phones on which the previews were available? I'm still stucked to build 15063 on a Lumia 830

Was Trying To Update My Pc To build 16288 but got this Message "An update is being prepared for your device, but it's not quite ready yet. We'll keep trying or you can try again now" just went trought the comments and some of them have faced the same issue, so what's the reason for this any fixes??

its being worked on. Dona Sarkar posted that it may be addressed fully by 5pm PST

so what time in the uk will this be fixed ???

That will be 1am tomorrow morning!

MUST BE A HUGE PROBLEM. HAVE U GOT IT WORKING YET BRIAN????

OK THE NEW BUILD IS JUST COMING DOWN NOW AT 2031. PHEWW I THOUGHT IT WAS MY BLOODY PC. THANKS GUYS. OVER AND OUT.

Why do so many people YELL on this page???

Well what do you know. My laptop is installing finally. Giggity.

The 5250 eventually made it on to my 950xl, but as for my desktop 16288, its downloaded 3 times but just won't install.

A lot of fixes. Nice. But I think I'll wait until RTM to update. I'm getting fatigued jumping from one build to another.

PC BUILD Finally downloading and installing now after the issues with it being stuck at the screen saying build is not ready for your system.

Downloaded this morning, installed partly, then reverted to previous release. "Failed to install - 0x80070714". 14 Sept 09:36AM Switzerland

Similar thing, but I'm getting 0x80070057 in Poland (I had 0x80070714 in earlier attempts).

I stopped updates for 7 days through the advanced option after the system tried another update by itself. The first attempt took more than 30 minutes (download 16288, install 16288, revert to 16281, reboot). During this time, the system got jerky, although Surface Pro 4 i7.

16288 on Surface PRO4 i7: Installation was successful yesterday. I did follow the suggestion to clean the softewareupdate folder, not sure whether it was crucial.

Another feature for mobile. This is positive. Maybe the next update might have a few of the ones people have been waiting for.

If you still facing problems to update 16288.1 you can clear donwloaded files to fix. It worked for me at least. First do the steps at here: https://answers.microsoft.com/en-us/windows/forum/windows_vista-update/w... "For clearing the contents of the softwaredistribution folder, try the below commands on the command prompt. net stop wuauserv
rmdir \softwaredistribution /s /q
net start wuauserv
exit " This will clear your update files. Then donwload and install windows update repair tool: https://support.microsoft.com/en-us/help/4027322/windows-windows-update-... After running the fixer my problem gone and could download and install it. By the way, 16251 was the worst and slowest build i have ever had. But this build is really nice. Butter smoot so until now.

This 16288 for PC ended up being a big deal for me.... in a good way. I purchased the Asus Transformer Mini this Spring. Late in the Spring, I learned Intel was immediately dropping all support for any and all Atom SOCs, regardless of release. Microsoft announced, as a result, they would not be providing the Fall Creator's Update for Atom Powered machines. This meant my newly purchased Tablet was now on life support only (I bought 2 of them... Wife and I). We had Wifi Issues... so put these devices on Windows Insider to get more frequent patches. We were getting patches, but not newer builds... This went on for a few months. Then we started getting builds last week of August.... and the Wifi Issues returned... and we started getting strange behavior from Video Playback, regardless of the Apps used (Edge, Hulu, Netflix, etc..)... We figured had taken the Windows Insider Gamblee with our officially unsupported devices and lost the bet.. Even 16281 was bad. Then, last night... along comes 16288. Auto updates both of our tablets. This morning... Wifi is 100% reliable. VPN is 100% reliable. Video playback is 100%. Tablet/Desktop Mode switch is immediate and accurate. On screen keyboard comes up when it should. And yes... it seems faster. We immediately put Insider on 'Release Only'.... as we seem to have a good combo working with this build and the apps we have installed on these Tablets. Just blown away by the progress made between the 16281 and 16288 releases in our case! Then of course came not 15250, but 15252 for both of our 950XL phones also. Seems rather good.

Your experience encourages me to try 16288 on my HP Elitepad
Windows Central Newsletter
Thank you for signing up to Windows Central. You will receive a verification email shortly.
There was a problem. Please refresh the page and try again.