Windows 10 build 17004 now rolling out for Insiders in the Skip Ahead ring
A new Insider Preview for Redstone 4 is now rolling out with new improvements to the Windows Shell and more!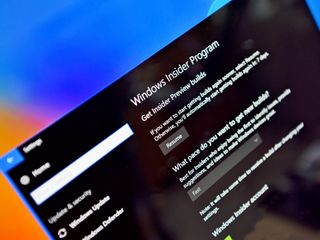 (Image credit: Windows Central)
Microsoft is rolling out a brand new Redstone 4 Skip Ahead build for Insiders who opted in the Skip Ahead ring that brings a number of new changes and improvements. Today's build is 17004, and is packing new reveal effects in the Shell, including the Start menu.
What's new?
Windows Shell
Fluent Design: As we progress into the next feature update, you'll begin to see more and more elements of Fluent Design light up. We love the enthusiasm we've seen for Fluent Design, and with today's build you'll notice that Reveal is now visible on Start in All apps.
Microsoft Edge
We fixed an issue where typing a web address into the address bar from the New Tab and Start Page and would sometimes clear the text and not result in any page navigation
We fixed an issue resulting in keyboard layout changes potentially not being applied when using Microsoft Edge after setting focus to the address bar.
We fixed an issue where the tab previews for PDFs were black with a white bar on each side.
We fixed an issue where the first time you pressed Ctrl + F to open Search, the search box doesn't get focus. We also fixed an issue where you might be unable to type in the address bar after clicking on CTRL+F text field.
We fixed an issue where "Open with previous pages" wouldn't recover tabs after dragging a tab between two Microsoft Edge windows.
We fixed an issue resulting copy/paste and the print dialog not working for those using the updated Youtube.com website design.
We fixed an issue where Ctrl + Click on a link in a PDF wouldn't open the link in a new tab.
We fixed an issue resulting in PDFs potentially rendering blank after panning down a few pages and back up.
We fixed an issue from recent flights where Alt + D wouldn't bring input focus to the address bar when certain keyboards were active.
Input improvements
We fixed an issue resulting in the enter key not working properly in Facebook Messenger.
We fixed an issue resulting in the Delete key on the full touch keyboard layout unexpectedly inserting a period in UWP apps.
We fixed an issue resulting in a stutter when selecting long strings in certain single line editable text boxes (for example when naming favorites in Microsoft Edge).
General improvements
RS4 builds include many of the same fixes included in the latest RS3 builds.
We are introducing a new color wheel to Color & High Contrast Settings to help you get a feel for the effect of each of the different available color filters.
You may see a Microsoft Edge shortcut on your desktop after upgrading to this build. You can delete the shortcut, upgrade from this build and it will not return.
We fixed an issue resulting in Mod Organizer no longer load mods into Skyrim in recent flights.
We fixed an issue resulting in the last flighted build sometimes green screening with a SYSTEM_SERVICE_EXCEPTION in win32kfull.sys.
We fixed an issue resulting in the WIN+X menu sometimes unexpectedly missing the accelerator key underline hints.
As always, make sure you check out the Windows Blog for the full changelog.
Zac Bowden is a Senior Editor at Windows Central. Bringing you exclusive coverage into the world of Windows 10 on PCs, tablets, phones, and more. Also an avid collector of rare Microsoft prototype devices! Keep in touch on Twitter: @zacbowden.
I've been getting frustrated with the enter key not working in messenger

Muito novo ainda e com muitos bugs pelo que pude perceber pela lista de "melhorias" acima. Não recomendo testarem até terem algo mais estável.

what about 16299 release for insiders? I'm isntalling right Now.

I believe you would find that in the post which was made yesterday to discuss16299.

ADMIN: Reply bug in page (this page) detected when try to reply to other user. Please check

We fixed this, we fixed that... this doesn't look as something new to test. We expect new features in new branch, not bug fixes. We expect bug fixes in the current branch.

This is expected. The work behind the scenes needs to be done before major new user-facing features get checked in.

Now that Win10 growth has flat-lined, and even Gates made it official that he's left the Windows ecosystem for Android and the Google Play store (yes, with MS apps), we need to stop the "Windows Phone is dead" and begin the "Windows is dead". Microsoft is just one of many app developers now.
.
Also, the site needs to move from Windows Phone Central, to Windows Central, to Microsoft Central. Even Microsoft, with the Windows Store to Microsoft Store, is dropping the "Windows" branding.
.
I was about the last man standing with my HP Elite x3, but just order the family new iPhones. I selected Apple over Google because Chrome still has a long way to go as a PC OS. I know that over time my ecosystem and services will follow my phone technology (like almost everyone else), and I feel Apple just has a more well rounded ecosystem. Plus, I don't feel they'll abandoned their consumers.
.
Nadella didn't like seeing Apple and Google's taillights. Well, after 3.5 years of Nadella, Microsoft certainly can't see Apple or Google's taillights now. Problem solved, I guess.

Thats what I am saying Bill Gates don't even use windows or phone. I have spent alot of time with windows since windows Sam and 1.0. Every build of redstone keeps geeting more and more useless crap that you got to get rid of. Like WTF with the Ad apps theres like 4 in one app folder. Next this new look, I hope we can turn this crap off. I chose speed over looks. Like most people. Windows is so slow. Windows Defender Lags Redstone so bad, Look at task manager. And people really need a AV, really 40 some years the computer has been around and people still dont watch what they download. As far as Microsoft Being in the taillights, there is no taillights microsoft isnt even on the race track. Google will be next, look at Android 8.0 and tell me you dont see software 10 years old or older, They just renamed the software. You know like the new look of Hulu Remind anybody of Microsoft Zune software. These companies must hire the laziest people in the world.

ditching my Win Mobile will ultimately result in ditching everything else MS too, geez Im even steering my career towards a path with less MS influence... like many others once im gone there is no coming back, the only problem i have now is do i go apple or android... I cant believe im seriously considering it. MS has become less relavent with younger people, to Quote someone I spoke with recently "MS has nothing appealing" they have lost the mind and souls...

Apple wheresmycaramel. Two reasons....intergrated ecosystem, and two apple goes with caramel.

thats for sure.....all MS is seeing now is a cloud of dust from apple and google who shot off to the future and MS is stuck in Nadellaland and the past.

That's true, the first month after they start a new branch is usually "work to update onecore" then features start to peek

remember rs4 (skip ahead) will not take off new features until fall update is done

i agree they should have fully made it operational before releasing it like win 7 and 8, i went back to 7 runs like a dream

WOW! Windows Central app icon on spot on this build news. Congratulations 🎉 guys!

Yes! Windows Central is trending :-) !!!

Kind of a bummer for me. My SP3 was in the skip ahead ring until the booting error broke it. Now the ring
is closed and no fun for me!

I now using the build 16288.1, very disappoint the Edge performance, pretty slow and become an eat memory monster (compared to Firefox), will the new build can fix these problems?

The latest build is 16299 for fast ring

Nadella is killing Windows.

Nadella HAS KILLED WINDOWS....there fixed that for you woskam.

We fixed an issue resulting in the last flighted build sometimes green screening with a SYSTEM_SERVICE_EXCEPTION in win32kfull.sys

Hurrah! Was seriously contemplating leaving the skip ahead ring cause of this bug!

Yeah not to sure about that. I just had the GSOD SYSTEM_SERVICE_EXCEPTION in win32kfull.sys.
It would normally happen 3-4 times a work day. Only once so far so guess it is an improvement.

Had to drop out of Skip Ahead because the last attempted update (16362) hosed my Windows install after throwing a KERNEL_SECURITY_CHECK_FAILED GSOD. Wish eligibility was able to be recovered via my Insider account.

I'm loving Fluent Design System! Also in this build Windows 10 is already starting to show consistency! I bet by the time RS4 comes out in April 2018 the old complaint of 'no consistency' in the UI will be dead.

Works great on my Lumia 950 XL. NOT! https://www.youtube.com/watch?v=NNFe0SnFdtU

What about icons arrangement on desktop?
When i put icon let's say somewhere the icon goes to wrong lcoation.
Windows Central Newsletter
Thank you for signing up to Windows Central. You will receive a verification email shortly.
There was a problem. Please refresh the page and try again.