Windows 10 build 17025 now available for Insiders in the Fast ring
Windows 10 Insider Preview build 17025 is now available with yet more changes and enhancements. Download now!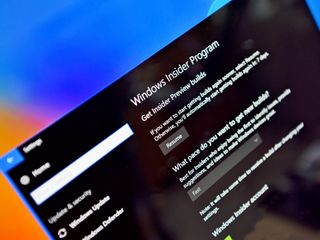 (Image credit: Windows Central)
Microsoft is rolling out a new Insider Preview build for those in the Fast ring today that brings yet more improvements and changes to Fluent Design, Ease-of-Access and more. Today's build is 17025, so let's check out what's new.
What's new?
Revamped Ease of Access Settings: This build adds new Ease of Access settings to make your device easier to use and fit your needs. We also grouped related settings together which help you see, hear or interact with your computer to assist in discovering settings more quickly. Additionally, we heard your feedback and improved setting descriptions to help you more easily understand the available accessibility features. Go to the Ease of Access section in Settings to see what's available to make your computer easier to use!
Controlling your Startup tasks: Continuing our work from the previous flight, with today's flight we've updated the Advanced options under Settings > Apps & Features so that UWP apps that are configured to run at startup will now have a new option to see all available tasks specified by the app developer and their status will now have a new option to see all available tasks specified by the app developer and their status.
Evolving the Microsoft Yahei Font: As our Insiders from China likely know, Microsoft Yahei is the font we use to display Windows UI text in the Chinese (Simplified) language. We've heard your feedback, and with this build we're updating this font to improve the legibility, symmetry and appearance.
Continuing our effort towards Fluent Design, in this build you'll notice that not only have we soften our light press effect based on your feedback, we've also enabled Reveal by default in CalendarView (seen, for example, in the Clock and Calendar flyout). UWP apps leveraging the Preview SDK for this build or higher will see this change automatically.
As always, you can check out the Windows Blog for the full changelog, including a list of known issues!
Windows Central Newsletter
Get the best of Windows Central in in your inbox, every day!
Zac Bowden is a Senior Editor at Windows Central. Bringing you exclusive coverage into the world of Windows on PCs, tablets, phones, and more. Also an avid collector of rare Microsoft prototype devices! Keep in touch on Twitter: @zacbowden.
Is there anybody out there ....🤐

Yes! Downloading this build now

Comments are way down on the site. I feel bad because the guys at Windows Central have been awesome, but Nadella has pushed people away from Microsoft and any excitement about their future.
.
I've replaced the Band with Fitbit, Groove with Spotify, Windows Phone with an iPhone, and was actually going to buy a Cortana speaker this week, but thought "Why the hell am I doing this?"

Microsoft doesn't want us as customers. That's really, really clear at this point.

Ease of access to settings? They are getting really bored out there...

I hate how now on every page of setting you have few lines more about support and questions. So misleading and in fact useles. Decision made by some beurecrat :/

Luckily they fixed the volsnap.sys error resulting in green/blue screens during restart. Nearly had to reinstall, untill on some MS forum I found a fix.... Almost made me stop being an insider....

Anybody else been having problems with modern apps (such as Twitter) not remembering their Window size and position?

Hopefully they fix touch keyboard. Its tiny on my 4k tv after the fall update.

Having this huge(small keyboard) problem since very long now. If you adjust it in settings it becomes positively miniscule!

I sent in feedback. There was another option to resize the keyboard by dragging the edges. Not anymore... So I'm stuck with a tiny keyboard.

I'm also getting this - been driving me insane!! Tiniest keyboard, also ignores all DPI settings changes. Further to this, since the fall update, it now launches the keyboard at startup on both my front room TV computer (stupidly small keyboard that's hard to get rid of) and my work pc which has no touch screen at all -_-

Oops. Reset my pc which was in skip ahead . Now I can see the skip ahead option & select it, but it goes back to the next version of Windows! (:-((. Anything I can do to get back to Skip ahead? Thanks.

now that FCU is out there is no skip ahead, fast ring is the fastest ring again

Iep, onscreen keyboard is riddled with bugs, better fix ease of access...

Windows Mobile may be dead, but windows 10 is still the best operating system in the world, fact.

For you and for people who like it (Windows 10). Fact. Not for me, not the best OS, fact. I don't even have it as main OS nor secondary, fact!

I hope this time around they can do it WITHOUT toggling on restricted access to my primary profile as the ****ing default and driving me nuts for over an hour trying to figure out why I can't sign in with my damn profile and blocking me from system restores and OS rollbacks

I thought everyone said stay off insider builds after fall creators update.

MICROSOFT MESSED UP AGAIN, SEEMS THERE IS AN UPDATE FOR THIS IN THE FAST RING, BUT DOESN'T WORK AS OF THIS OCTOBER 27, 2017. CRASHED MY ON SSD DRIVE WITH GREEN BACKGROUND, HAD TO INSTALL MY CLONED SSD, ALWAYS CLONE YOUR DRIVES FOLKS, EASY TO REPLACE HARD DRIVE AND KEEP GOING. STILL WAITING FOR THE UPDATE TO THIS BUILD TO WORK.

I saw the updated build was ready, tried to install and screen goes to green, has a cute little message saying "they RAN INTO TROUBLE", "WE WILL RESTART FOR YOU" i SPENT SEVERAL HOURS WITH A WINDOWS 'TECH'......TOTAL WASTE OF TIME. ANYWAY GOOD LUCK EVERYONE!!!

The latest build has a weird one second lag when I click the time/calendar on my taskbar. Besides that, glad Microsoft is still pushing out updates.

Is it possible to upgrade or update my PC from insider preview build 14931 to 17025 using flash drive after download the ISO file without having product key issue as I did with 16299.15.170928?

Help admin, can I update from insider preview build 14931 to this new build 17025? Admin pls reply!

Not sure if anyone else is have these issues but, several exe files now expire and won't start, cortina doesnt work, nor does the windows start button respond. There may be other issues that I haven't found yet although my laptop has been getting progressively more sluggish with each successive build. I guess it's time to bring it into the Microsoft store at Chinook mall to see what the experts there can determine is wrong.

windows 10 ver 1709 build 17025 TO mush poor Performanc and TO mush slowly 1) The installation time of this Windows is too long??? 2) The installation Does Not loging in Microsoft account ??? 3) TO mush poor and TO mush slowly speed internet, Booting, Performanc windows 10 pro???? 4) TO mush slowly speed internet ???

5) first installed very late for update minutes 30 in page blue ??? 6) TO mush slowly Performanc and copy Files and open Folder???? 7) remove name windows 10 ver 1709 build 17025 in desktop? 8) High battery consumption ??? 9) Does Not have smart translator windows 10 pro???? 10) Does not have artificial intelligence??? 11) Sound is too mush weak in this version ??? 12) Erorr don't have permission to save in this location??? 13) Microsoft Egde Big prablems TO mush poor Performanc and TO mush slowly Hangup ? please Fixed Big problems And update soon Thanks
Windows Central Newsletter
Thank you for signing up to Windows Central. You will receive a verification email shortly.
There was a problem. Please refresh the page and try again.