Windows 10 gets integrated into Telstra's Discovery Stores in Melbourne and Sydney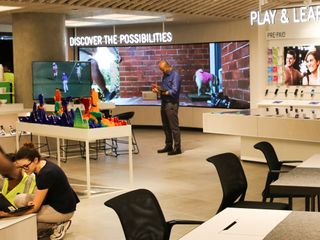 Windows 10 is being used by Australia's wireless carrier Telstra to help customers at its Discovery Stores in Melbourne and Sydney. Among other things, the OS helps to run the stores' unique way to help customers shop for new smartphones.
Apps that were built with the Windows 10 Universal Windows Platform are also used in both stores to run displays that allow customers to learn about and demo devices. Finally, Telstra plans to purchase 5,000 Surface devices over the next few years that will replace the desktops used by workers in its 370 stores.
Elop's effect. Lol Posted via the Windows Central App for Android

OMG, its Elop's cancer
Just like NOKIA started with using WP7 at Lumia 900 and etc. Then they considered it as the major OS they use and abandoned there own OS "Symbian". Then tadaaa, Elop's plane succeeded, THE COMPANY GOT ACQUIRED
I think we will hear soon that MS acquired Telstra

A CEO doesn't have full Control of a Company. There's an entire board of directors and owners too. The decision to kill Symbian and bring in Windows was probably taken long Before Elop entered the scene, they just wanted someone with Microsoft-experience to lead the charge.

Lol I read "Tesla".... I struggle to develop apps for that amazing car, hopefully my next one :P

Omg lol
I thought we were joking only

I think Elop got recruited for this reason...they cleared had a partnership with Microsoft in the works and probably needed someone experienced to lead the way ... Partnership first and then Elop, not the other way around :)

Looks cool to me, could do with stores like that in the uk

I came here for the Elop comments and I was not disappointed :-)

Windows 10 devices still not available from even those stores. Pretty disgusted with Telstra.
Windows Central Newsletter
Get the best of Windows Central in in your inbox, every day!
Thank you for signing up to Windows Central. You will receive a verification email shortly.
There was a problem. Please refresh the page and try again.